Deutsche Börse/Roger Mayne, Photographers' Gallery |

reviews, news & interviews
Deutsche Börse/Roger Mayne, Photographers' Gallery
Deutsche Börse/Roger Mayne, Photographers' Gallery
Mid-century street photography rubs shoulders with this year's prize shortlist
Roger Mayne, Girls dressed up for a 'teenage night' at a Sheffield Club, 1961
Lending its name to a major photography prize for the 12th year running, Deutsche Börse has joined the ranks of business organisations known to many for their involvement in the arts rather than what they actually do. Unlike Taylor Wessing or Man Booker, the clue is in the name: German Stock Exchange is reasonably self-explanatory, at least if you speak the language.
The nominated projects from the shortlisted artists for 2017 occupy the gallery's upper floors. Entering the fourth floor you are confronted with Dana Lixenberg's large black and white portraits from the Imperial Courts housing project in Watts in Los Angeles, a community which faces serious economic, political and social issues and gang violence (pictured below right: Dana Lixenberg, Wilteysha, 1993). Shown as a counter to sensational media imagery, these formal portraits of young people look by turns dreamy, bold, blank and resentful, but they do not look hopeful. Black history in America casts a long shadow. Headphones give a background of subdued conversation from Lixenberg's recordings.
Through a curtain is a darkened room with slideshows and film (yes, film) documenting a 17,000 kilometre road trip by Taiyo Onorato and Nico Krebs through the region between Central Asia and Europe. Mixed with images from the archives of the Ethnological Museum in Berlin, they show man's impact on these remote and inhospitable parts of the world, an impact which seems at once adverse and transient. One particularly resonant image shows a man-made artefact set against a forbidding landscape (pictured below left: Taiyo Onorato and Nico Krebs, Well, 2013). In this show the land seems to be the star, shrugging off the decline of communism and the growth of a new society.
Sophie Calle's My mother, my cat, my father in that order, 2012, presents text and images about death: the effect is powerful but depends significantly on the text. Some of the images – for example the ram's head and the stuffed giraffe – might be thought too personal to have a universal appeal. Others, for example the road sign saying "End", are obvious. The shot of a woman – presumably the artist's mother – laughing in the sea; sturdy and handsome in the prime of life, could break your heart.
The last section of the prize exhibition is Awoiska van der Molen's black and white abstracted landscapes. Large prints of dark mysterious lands with no titles and no clue as to where in the world they are. These are wonderful pictures. There is a diptych which is as delicate and precise as any Japanese screen. The images stand on their own with no need of captions or explanation. If you were in any doubt about photography's status as art, look no further.
After all this you can go down to the second floor to see Roger Mayne's photographs from the Fifties and Sixties of the streets of London and later Sheffield, bursting with life (pictured below: Men and Boys in Southam Street, London, 1959). Modern photographers can only envy his pictures of children playing in the streets. They don't do it any more, and if they did a photographer would have to adjust his exposure for the flashing blue lights of the police cars arriving to ask what he was up to. Despite their poverty these people own their space and time and the pictures exemplify what Shirley Baker called the camera's magic ability to convert the here and now into the there and then at the press of a button. There is also some correspondence with the Arts Council who offered Mayne every assistance short of help.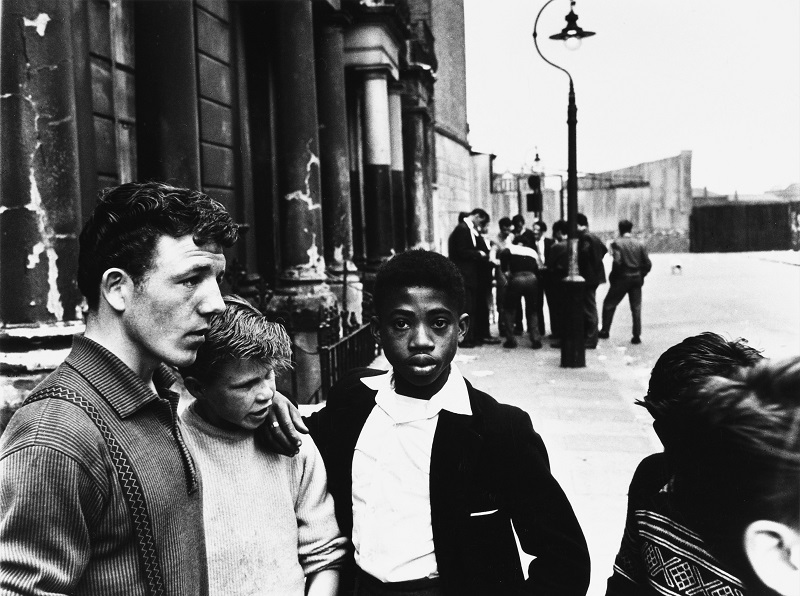 After seeing both exhibitions I found myself comparing Mayne's images with Dana Lixenberg's. Mayne's pictures are about street life and although the subjects show some awareness of the camera the images are very different from Lixenberg's formal portraits. But also the community histories are different. Mayne's subjects are not an ethnic minority and their ancestors were never slaves. Does it show? Go and see for yourself. That's the thing about the best photography. It makes you think about the world.
Modern photographers can only envy Roger Mayne's pictures of children playing in the streets
rating
Explore topics
Share this article