Dorothea Tanning: Collages, Alison Jacques Gallery |

reviews, news & interviews
Dorothea Tanning: Collages, Alison Jacques Gallery
Dorothea Tanning: Collages, Alison Jacques Gallery
An exhibition offering an intriguing glimpse into the complexity of this overlooked artist's work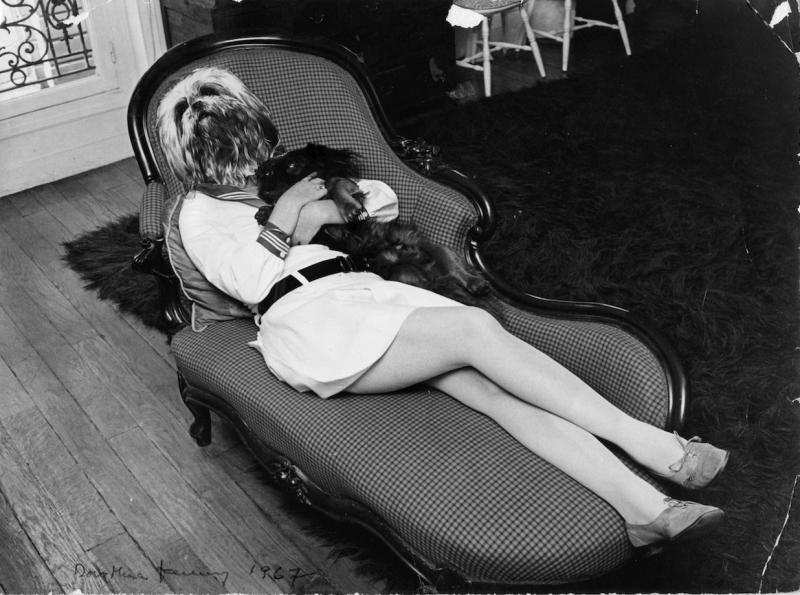 'Dorothea Tanning as a Dog', 1967
In Dorothea Tanning's Victory, a piece of charred toast is mounted on a black background and framed in gold. The work comes dangerously close to pure jest but instead propels itself into a critique of female domesticity and then down a road of historical influences from Surrealism and Dada straight through to stark 1960s Minimalism. Tanning made this piece in 2005, when she was well into her nineties, and it's a delightful example of her late work. Victory is witty and proves why collage is so exciting as a medium, its juxtapostions colliding to provide multiple meanings and paths of interpretation.
Tanning first began exploring collage in the 1940s, although it was not until the 1980s that she considered the medium as a more focused part of her art production. A small, beautifully selected display of her collages at Alison Jacques Gallery is a fantastic opportunity to discover an under-explored area of the artist's oeuvre.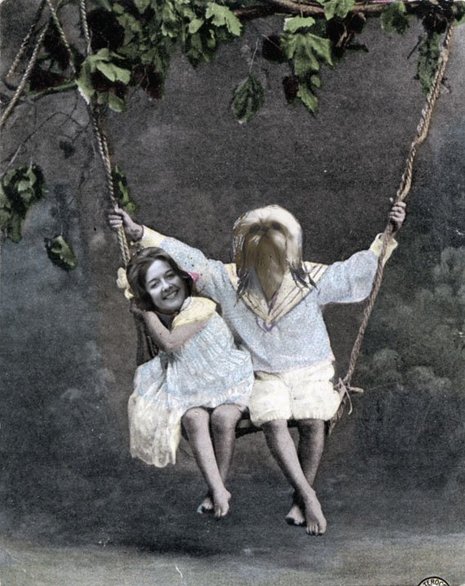 The exhibition is the first in Europe since Tanning's death this January at the age of 101 and although the display is limited to only 20 works, the collages span the breadth of her career. One of the best aspects of this show is the way that it highlights Tanning's engagement with feminism and sexuality while revealing an often touching and comical vein in her work.
In Oh, Dorothea Tanning (1945) a newspaper clipping of a group of marching little babies is crumpled and torn suggesting a disdain for the role society is pushing the artist towards as a new young wife. Over 30 years later in works such as Mayhem with Tepee (1979) and Glad Nude With Paws (1978) the female body is dissected and anonymous, reduced to hips, tits and bums. In two collages from 1967, Dorothea Tanning With Her Smart Dog (pictured right) and Dorothea Tanning as a Dog (main picture), the faces of her beloved dogs are laid over human faces, resulting, respectively, in an image of a smiling girl next to her dog-headed companion on a swing and Tanning herself with a canine head reclining on a chaise longue. Again the manipulation in the collages is incredibly simple, but here they reveal a child-like sense of humour.
In the 1980s, Tannings collages took a definite turn as she started using the materials she had to hand in her studio, including her own earlier paintings and drawings. In Emotion II, 1988 (pictured left), the sensual female body appears again but this time floating amongst abstract forms, which upon closer inspection appear to be recycled ripped remnants of her own watercolours and colour studies.
In one of the two earliest collages on display, Chess Tournament at the Julien Levy Gallery January 6th, 1945, we see Tanning herself and her husband Max Ernst along with a row of male players each attempting (unsuccessfully) to play a game of chess against a blindfold chess-master, while Marcel Duchamp calls out the players' moves. The photomontage is curiously superimposed with an upside-down ivy branch, reminiscent of burning flames, which alludes to the intensity of the moment portrayed. As the story goes, Ernst fell in love with Tanning over a game of chess and it is tempting to recall such biographical details when looking at the young American sitting amongst the male European avant-garde exiled in New York. Tanning hated being confined to categories such as "Female Surrealist" or "wife of Max Ernst", despite the obvious influence both had on her.
The exhibition at Alison Jacques is far from confining, and instead offers an intriguing glimpse into the complexity of this overlooked artist's work.
It highlights Tanning's engagement with feminism and sexuality while revealing a touching and comical vein
rating
Explore topics
Share this article