Fetes and Kermesses in the Time of the Brueghels, Musée de Flandre review - all the fun of the fair |

reviews, news & interviews
Fetes and Kermesses in the Time of the Brueghels, Musée de Flandre review - all the fun of the fair
Fetes and Kermesses in the Time of the Brueghels, Musée de Flandre review - all the fun of the fair
Bruegel's heirs star in a low key but revelatory exhibition in the Flemish countryside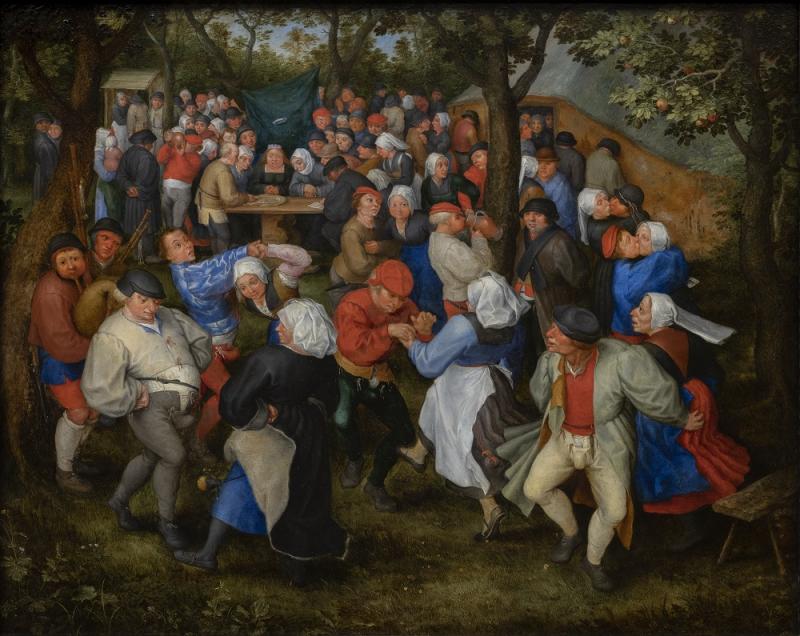 Jan Brueghel the Elder, 'Wedding Dance' c.1597
Cassel in Flanders is surrounded by the gentle and verdant landscapes that inspired Pieter Bruegel the Elder to create the populous and festive scenes for which he is still known and loved, 450 years after his death. Now the small town is celebrating his celebrations with a show at the new Musée de Flandre dedicated to his country fairs and weddings.
Such an out-of-the-way exhibition was never likely to be packed with priceless masterpieces. If that is the type of show you are looking for, you'd be advised to head for the commemorations in Vienna: we know of no more than four country fairs by the hand of Bruegel and none of those are included here.
Fortunately, Bruegel had two talented sons, a large number of interesting contemporaries and plenty of artistic heirs, many of whom took his many innovations on board in order to show peasants at play in various degrees of debauchery. It is equally lucky that his wedding feasts make for captivating engravings, and Cassel does feature some of these.
Pieter Bruegel the Elder was not the first to see the picturesque potential of rustics carousing in more or less rural settings. This show includes, for example, a wonderfully flat-footed couple who appear in an etching by Albrecht Dürer. Bruegel père was, however, the first to capture such scenes from an elevated viewpoint which allowed for a rich depth of field in which numerous narrative scenes could play out within the same composition. It is hard to re-imagine the extent of this innovation from a time before you could reach such a vantage point via camera-equipped drone.
Such complex top-down narrative scenes are the stars of this show. The more you look, the more vignettes appear. There are flushed faces and staggering gaits, couples embracing with hands disappearing up skirts, partygoers urinating in the street, distant processions with saint-like effigies, monks heading for brothels, and moralistic fools appearing to pass judgement on all and sundry.
Bruegel's elevated viewpoint allowed him and his followers to stagger the action and build up dramatic crowd scenes in layers from back to front. There is none of the mathematical perspective that characterises the southern Renaissance in this period. But thanks to an imaginative leap, and his genius for visualising, this innovative 16th century painter was able to give recessive scale to his figures, his taverns, his churches and his distant coppices.
The human interest is strong, and the landscapes in which these parties unfold are gentle and welcoming towards both those who work the land, and to those who own it
There is often some confusion about the Bruegel family. Is the "famous" one Pieter Bruegel the Elder (1510/20-1569), Pieter Brueghel the Younger (1564-1636) or Jan Brueghel the Elder (1568-1625)? Well, the beauty of this exhibition is that distinctions like these hardly matter. There are fabulous paintings by both sons. Pieter the Younger offers maypole dancers and an unlikely peasant "king" raising a glass. Jan the Elder not only mastered crowd scenes, he infuses them with a watery light that gives his festive occasions a sense of enchantment.
Nor does it matter that at least half the works in Cassel are not even products of this estimable family business. The elevated viewpoint of the original Bruegel was imitated to great effect by artists like Jacob Savery, David Teniers the Younger, and David Vinckboons. The latter is best represented here by his drawing of The Fair of St George with Audernarde Town Hall, 1602.
This densely populated scene with a pub in the foreground and fortified town hall floating above the saint's procession in the middle distance, not only renders visible the joy of a feast-day, it also conveys the pleasures of a well-composed landscape. Vinckboons frames his intricate and inviting drawing with an ink-washed sky that matches those grey, damp skies which the Lowlands tend to offer. (Pictured below, David Vinckboons, Paysans et soldats faisant la fête, Amsterdam Rijksmuseum)
This should not come as an afterthought, but life was not easy for the 16th century peasant. The pleasures of seeing these labourers letting their hair down, in this sober gallery setting, are, upon reflection, an example of class tourism avant le lettre. And with so much clumsy dancing, public fornicating, and even open defecation, the activity of peasants is often grotesque. But is it less grotesque than the superior enjoyment of these satires?
Pieter Bruegel the Elder, it should be said, took pains to protect his many subjects from the judgement of his audience. His peasants tend to carouse in moderation. For the extremes of bad behaviour the visitor to Cassel can look to Vinckboons or Ambrosius Benson. It should be said that all the painters in this show represent the vitality and energy of Flanders' lower classes. And in the interests of balance, there are even galleries devoted to fêtes gallantes, those no less compromising scenes of the leisured classes sitting around in the grounds of their chateaux, playing music, drinking wine and getting amorous.
In both cases, the human interest is strong, and the landscapes in which these parties unfold are gentle and welcoming towards both those who work the land, and to those who own it. They are also accommodating to the eye. So these revels, whether in high society or among the common folk, are urgent invitations to look, to let one's gaze travel around dynamic compositions, and to feel a vicarious thrill at the merrymaking. It's an inspired, well-conceived and well-staged show: all the fun of a feast but with revelatory intent.
Pieter Bruegel the Elder was not the first to see the picturesque potential of rustics carousing in rural settings
rating
Explore topics
Share this article