Foragers of the Foreshore - London's mudlarks on show |

reviews, news & interviews
Foragers of the Foreshore - London's mudlarks on show
Foragers of the Foreshore - London's mudlarks on show
The director of Totally Thames introduces this year's festival, including an exhibition of mudlarks and their finds
Sunday, 01 September 2019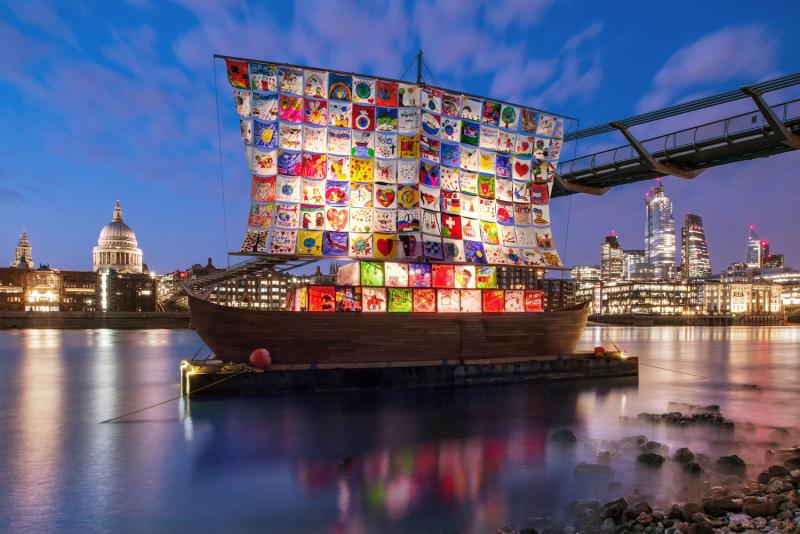 The Ship of Tolerance is among this year's finds at Totally Thames 2019
Over the weekend, exhibitions and installations have started to bubble-up on the riverside walkway in London. Still-life photography of mudlark finds and a "scented history" of Barking Creek outside the National Theatre. Artwork from a dozen national and international river cities at the Royal Docks. An installation of 550 jerry cans at the Oxo Tower.
A 60-foot wooden Ship of Tolerance on the Thames (
main image
) by Millennium Bridge. These, alongside an outpouring of races, regattas, swims, waterfront festivals, theatre, dance, music, film, talks and walks makes up this year's
Totally Thames
, a September-long season of river-themed events.
I founded the festival in 1997 with a hair-raising wirewalk across the Thames. The following years have seen all manner of river and riverbank creativity from public feasts on Southwark Bridge to an opera using ships horns, whistles and hooters. We have commissioned sculptures on the foreshore that were revealed and concealed by the tides, a contemporary music programme performed within the bowels of Tower Bridge, a vast floating hippo, a choral work for HMS Belfast that used the ship itself as a percussive instrument. The capacity the Thames has to yield stories and provide inspiration for creativity never ceases to amaze and excite me. (Although it wasn't part of the festival, in June 2012 I was also Pageant Master of the Queen's Thames Diamond Jubilee Pageant.)
The capacity the Thames has to yield stories and provide inspiration for creativity never ceases to excite me. This year, Totally Thames focuses on mudlarkers – the amateur enthusiasts who comb the Thames foreshore in search of treasures revealed with the turning of each tide. A programme of guided foreshore walks and talks will run alongside an expansive exhibition of found historical artefacts and spectacular multi-media artworks over four floors of the Bargehouse - this will be the biggest exhibition of mudlark finds there has ever been.
One of our pop-up exhibitions outside the National Theatre is of Hannah Smiles' reverential, still-life images of mudlark finds. They capture the extraordinary diversity of artefacts that have been discovered on the Thames foreshore: trade beads destined for Africa, a medieval pilgrim badge, a convict gallows token, shards of 17th-century ceramics, an abolitionist's clay pipe bowl in the shape of weeping slave's head. These, and so much more, have been discovered by some of London's most prolific mudlarkers.
I first saw Hannah's work in exhibition last year, where I met a number of the mudlarkers whose finds she had so lovingly documented. Florrie Evans, a mudlarker herself, was there too. Florrie had written the interpretation material and curated a showcase of mudlark finds. That evening inspired the mudlark thematic and collaboration we are exploring in Totally Thames this year.
Totally Thames commissioned Florrie to curate an exhibition and Hannah to create a new body of work based on portraits of the mudlarks themselves. I had been expecting a load of beardy blokes and was surprised with the diversity of people who forage the foreshore. I was amazed by the depth of their archaeological knowledge, intrigued by the fresh perspective they gave to London's past, and deeply moved by their personal tales of what the Thames foreshore meant to them. I felt it important that we record the oral history testimonies of twenty men and women who have been mudlarking for many years, and for these to be accessioned into the permanent collection at the London Metropolitan Archives. The best finds of these twenty form the core of our Bargehouse exhibition.

The objects our mudlarkers have chosen to share are visceral portals into the past, fragments of lives and histories long forgotten, but they are also ways of orienting the mudlarkers in the present. A Victorian thimble Florrie finds fits exactly the little finger of her young daughter. A Tudor flute found by Malcolm, a music producer, thrills him with how it would have brought pioneering sounds over by ship from Africa. Trade (or "slave" beads) found by Fran bring her into deeper connection with and exploration of her own Caribbean routes, and a coin bearing an Elizabethan inscription "make god my helper" found by Nicola gives her the courage she needed one day to quit her job and become an artist. Sometimes, Nicola tells us, objects find people as much as people find objects.
The exhibition at the Bargehouse also includes work by artists who integrate mudlark finds into their practice and we investigate the issue of the plastic pollution that litters the Thames today. There are experts on hand to identify objects that members of public have found on the foreshore and a programme of foreshore walks and talks from the mudlarkers themselves and inter-tidal archaeologists.

Join us here and at the hundred or so other events that make up Totally Thames 2019.
Totally Thames runs from 1 to 30 September
Foragers of the Foreshore is at the Bargehouse, Oxo Tower Wharf, SE1 9PH from Wed 25 to Sunday 29 September. Admission free
This will be the biggest exhibition of mudlark finds there has ever been
Explore topics
Share this article