George Condo: Mental States, Hayward Gallery/ Drawings, Sprüth Magers London |

reviews, news & interviews
George Condo: Mental States, Hayward Gallery/ Drawings, Sprüth Magers London
George Condo: Mental States, Hayward Gallery/ Drawings, Sprüth Magers London
Behind Condo's scribbles and disfigurement lies care and honesty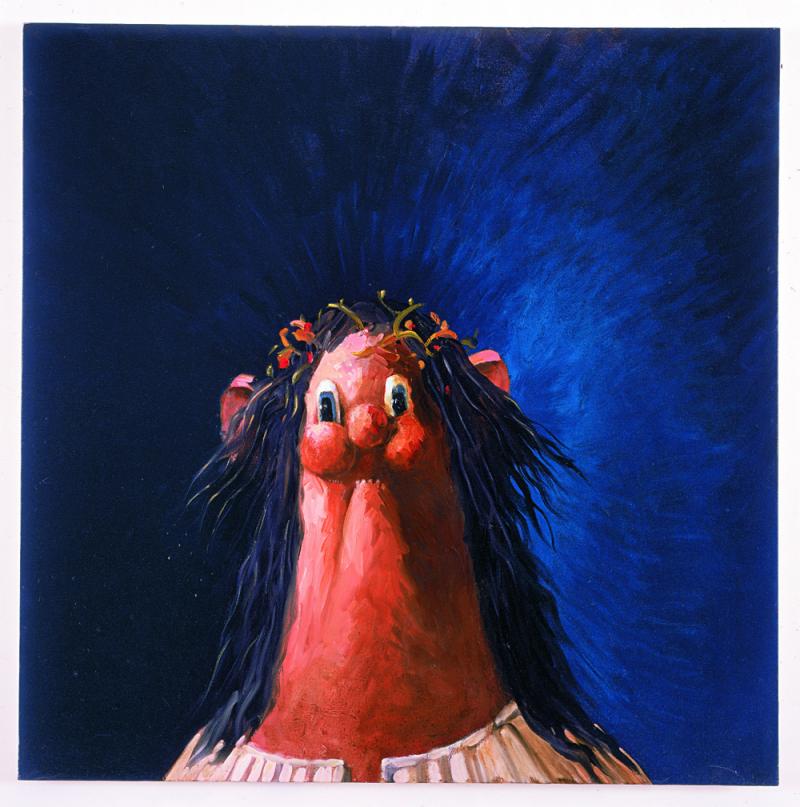 George Condo's 'Jesus' (2002)
The easiest mistake to make in appreciating George Condo would be to assume that his manic style reflects a manic creation or a manic practice. Some of Condo's paintings and drawings, with their childlike loops and gurning, disfigured faces, look like he made them in a fit of violence or some hysterical trance, but the real surprise of two new shows at the Hayward Gallery and at Sprüth Magers in Mayfair is the care and the calmness that lies behind them.
Condo has developed a language of painting which mixes quotations from earlier artists with a cartoonish accent, adding his familiar grotesquerie: heads collapse in on themselves, teeth dominate a face, eyes are misplaced or even missing. It's gruesome, no doubt, but it's not gratuitous. What Condo has said he wants to do is express emotional extremes by dislocating and disfiguring the body; whereas a traditional portrait has to do with a subtly anguished look, or even hinting symbols, Condo paints emotional honesty. He does not paint how we look - but how we feel. If ever anger or joy or grief has made you want to tear yourself apart, you will understand.
This is different from a lot of what has come before. He is not using some angry Abstract Expressionist technique to produce a non-figurative splurge of his own emotion but is trying to take the figurative a stage further to portray the feelings of others. His predecessors here are Bacon and Picasso, and there are plenty of reminiscences of the latter in this show - clowns and Cubist faces to start with. He is not as revolutionary as Picasso or as confessional as Bacon, but he has the ambition.
By and large I am not a fan of this style of portraiture, as particularly manifested in the "Mania and Melancholy" section of the show at the Hayward. I think it can be too obvious: he hits you over the head with maniacal erotic desire or rage, as in Nude Homeless Drinker (1999) (pictured above). They are horrifying, but what more?
It's beautiful - an attempt to hide our madness as well as a defiant/sad/ mischievous admission that this is impossible
Because it eschewed the obvious horror, the best picture in the entire show is Jesus (2002) (main image), in which a bullet-headed Christ, with oranges for cheeks and lozenges for eyes and a chin that falls straight into his neck, stares piteously at you. The rich skin tones are beautifully painted with thick strokes, while a deep-blue background flows from the centre. This painting stopped me because of its calmness and precise lack of hysterical content. It is affecting and honest and the style serves that purpose all the more.
That is not to say there isn't much else to appreciate. You might interpret some of his "painting-drawings", massive canvases where he starts with a pencil, some acrylic paint or graphite in one corner and loops and twists and twirls his way around the entire surface, as furious or deranged. They look like the sort of thing you do as a child, before you proceed to fill in the spaces with different colours, but Condo has drawn his repertoire of characters and symbols into them: the butler's tuxedo, the gurning faces, random eyes and random teeth, some sexy women with tantalisingly tenuous fingers. There is clearly a lot more care than you initially think, and his lines are controlled and defined, not random, however they might first appear.
The best example at the Hayward is the massive Internal Constellation (2001) (detail pictured right), with its jumps and bumps, but you can see equally as good ones at Sprüth Magers, which has this kind of painting-drawing to excess. One of my favourites here is a work where you see an entirely sky-blue canvas until you look down at the bottom and note that his loops have been painted over and only a few have escaped. It's beautiful - an attempt to hide our madness as well as a defiant/sad/mischievous admission that this is impossible.
I fear that Condo's superficial mania or grotesque cartooning will put off visitors to the Hayward and Sprüth Magers. They do look in some cases hideous or ugly - but the tenderness of spirit and careful technique which go into making them reward a hard look past the scribbles.
I think it can be too obvious: he hits you over the head with maniacal erotic desire or rage
Explore topics
Share this article