An Open Book: Chantal Joffe |

reviews, news & interviews
An Open Book: Chantal Joffe
An Open Book: Chantal Joffe
The lives of artists, confessional poetry, and a cold bath with John Updike
Tuesday, 15 September 2015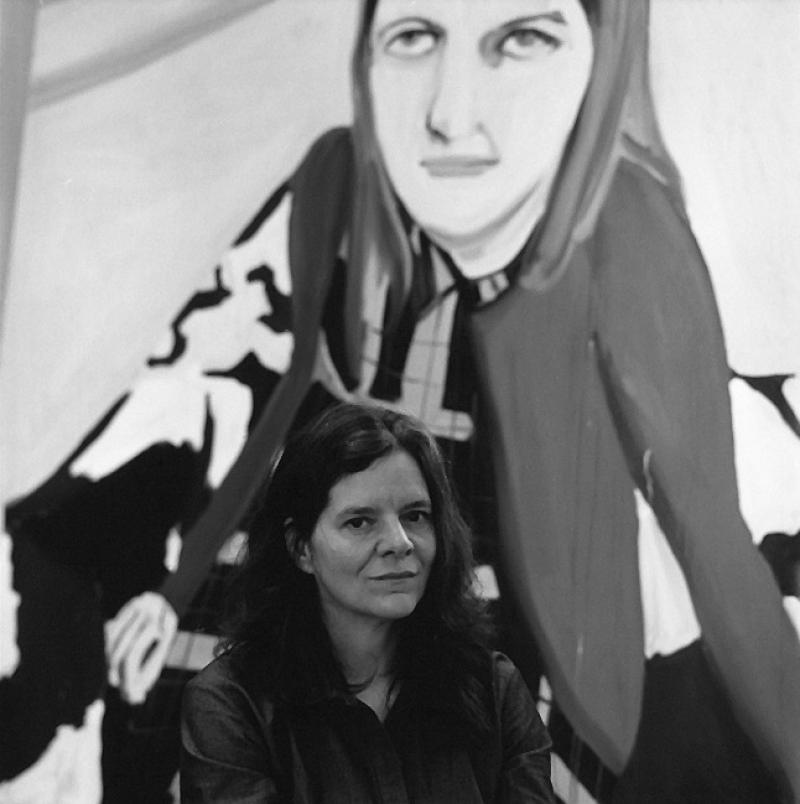 Chantal Joffe: Women feature large in her paintings
Huge canvases, bold, expressive brushwork and a full-bodied, vibrant palette. Chantal Joffe's figurative paintings are certainly striking and seductive. Citing American painter Alice Neel and American photographer Diane Arbus as two abiding influences, Joffe's portraits are predominantly of women and children who often convey a sense of awkwardness and social unease.
As well as portraits painted from personal and family photographs, her inspiration has also come from pornography and fashion magazines. She has exhibited widely and internationally, and in 2006 received the Charles Wollaston Award from the Royal Academy. Joffe currently has a joint exhibition –
Friendship Portraits
– with the artist Ishbel Myerscough at the National Portrait Gallery.
What books are you currently reading?
At the moment I'm reading Agnes Martin: Her Life and Art by Nancy Princenthal. I'm also reading Jane Eyre aloud to my daughter. I'd forgotten it – the sense of her despairing boredom, her "stagnation" on that cold winter's day when she walks to Hay to post a letter for Mrs Fairfax. It reminds me of when I was at art college, my friend and I used to sit dangling our legs through the bannisters outside the studios, wishing aloud that something exciting, anything, would happen – and then in Mr Rochester rides on his big horse and literally slips at her feet. I was trying to read Harper Lee's Go Set a Watchman but couldn't keep going after she casually killed off Jem.
Who are your favourite novelists?
Far too many to list, but one of my all-time favourites is John Updike, the Rabbit books in particular. Lying in the bath reading Rabbit, Run again, it seemed to me to be my favourite novel – maybe all good books feel like that when you are reading them. I remember where I was when I first read it, in my boyfriend's mother's garden when I was 25. I read it voraciously, annoying everyone by not putting it down (it was all four Rabbit novels in one volume). I read it all afternoon, then I had a bath and stayed in it for two hours, annoying my hosts. What I love is that you don't care just how badly Rabbit behaves in leaving his pregnant wife – you join Ruth in loving his hopelessness. The outpouring of detail in the writing; the puffy hamburger buns, the crust of make-up on Ruth's face, the colour of her shoes' twisted straps – I can see it all. I can taste the boiled hotdogs, the shoefly pie, feel the heft of Ruth, see the light on the kitchen table. You want Rabbit to keep running. Tonight my bath water got cold as I read on, the way it did 20 years ago. That really is a really good book.
Do you have a favourite non-fiction writer?
Janet Malcolm is one of my favourite non-fiction writers. I love The Silent Woman about Sylvia Plath and Ted Hughes. She did what seemed impossible and shed new light on their relationship. Also her book about Gertrude Stein and Alice B Toklas. I like the way she ferrets people out of history.
Do you read poetry?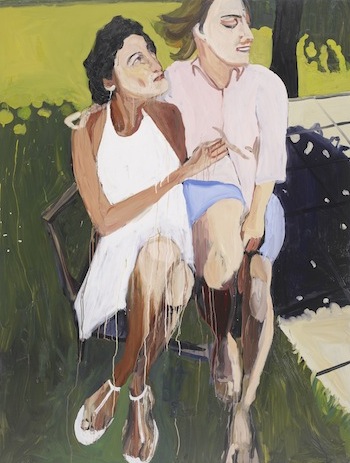 Anne Sexton (pictured right: Chantal Joffe's Anne Sexton with Joy, 2008), Emily Dickinson, Robert Lowell – I'm reading these three poets a lot at the moment. I've been enjoying Lowell's series of poems about the break-up of his marriage to Elizabeth Hardwick and his new relationship with Caroline Blackwood (Lucian Freud's ex). In many of the poems he's still longing for Elizabeth, but at the same time incredibly excited by the newness of his life with Caroline. Everything is described with such clarity – their life in a crumbling country house in England, the largeness of Caroline's eyes, the birth of their son Sheridan. I was trying to remember where I had seen the photographs of them, when I remembered it was all from the poems I was reading.
There is a great biography of Anne Sexton by Diane Middlebrook where she had access to the therapy tapes. It's one of those books you can pick up and open anywhere and start reading as if Sexton's life is somehow carrying on in some parallel universe.
Crime or sci-fi?
I don't really read sci-fi or crime, although I enjoyed the Mr Ripley novels by Patricia Highsmith
Tell me about your favourite books on art.
I like artist memoirs and biographies: My Life with Picasso by Francoise Gilot, Utopia Parkway about Joseph Cornell by Deborah Solomon, Diane Arbus by Patricia Bosworth and Night Studio by Musa Myer, in which Myer tells a great story about her father making biscuits with her, becoming more interested in making a beautiful cookie of a horse and completely losing interest in her. And I've just finished reading Painting and Talking by Catherine Lampert, which gives a great insight into what it feels like to sit for Frank Auerbach.
Which fictional character did you want to be as a child?
Probably Harriet the Spy from the book of the same name by Louise Fitzugh.
Has a book or a poem ever affected your outlook on life?
Books and poems are always changing my outlook. Elena Ferrante's novels altered my understanding of my own past and also my thinking about friendship. Reading Franny and Zooey by JD Salinger when I was 15 changed how I saw the world. I go on re-reading it every few years to remember who I was when I first thought about shining my shoes for the fat lady. There's a good Doris Lessing quote about getting older. She says the higher up the tree you go the more the view changes. It's about how books change every time you re-read them.
Why do you read?
I read to lose myself. For the sheer joy of that.
Gallery: Click image to enlarge. All images © Chantal Joffe, courtesty of the artist and Victoria Miro

There's a good Doris Lessing quote about getting older. She says the higher up the tree you go the more the view changes
Explore topics
Share this article