An Open Book: Bruce McCall |

reviews, news & interviews
An Open Book: Bruce McCall
An Open Book: Bruce McCall
The distinguished writer and illustrator talks compensatory learning and the lure of Atlantic liners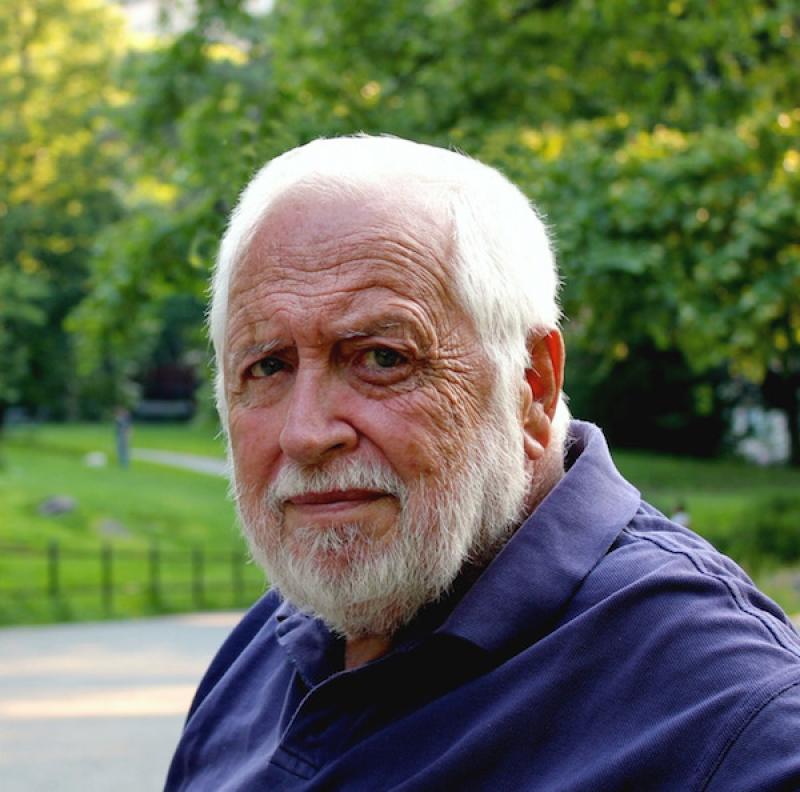 Bruce McCall: 'I am by necessity an autodidact'
Polo played in surplus First World War tanks; zeppelin-shooting as a gentlemanly leisure pursuit; the mighty vessel RMS Tyrannic, proud host of the Grand Ballroom Chariot Race and so safe "that she carries no insurance". These are just some of Canadian satirical writer and artist Bruce McCall's ingenious retro-futurist creations.
Polo played in surplus First World War tanks; zeppelin-shooting as a gentlemanly leisure pursuit; the mighty vessel RMS Tyrannic, proud host of the Grand Ballroom Chariot Race and so safe "that she carries no insurance". These are just some of Canadian satirical writer and artist Bruce McCall's ingenious retro-futurist creations. Slyly merging meticulous realism and madcap fantasy, they depict – with parodic faux-nostalgia – a world that never quite existed in order to comment on the one that does.
The prolific McCall worked on the original National Lampoon and Saturday Night Live before making his New Yorker debut in 1980; he's since contributed more than 65 distinctive covers and over 80 "Shouts & Murmurs" articles. He's also published several books, including Zany Afternoons and All Meat Looks Like South America, soon to be followed by memoir How Did I Get Here? – "the baffled chronicle of the career of an illustrator/writer who had no reason not to spend his life clerking in a bank in Simcoe, Ontario."
What books are you currently reading?
Weather Experiment, by Peter Moore; Neither Here, Nor There, by Bill Bryson; The Speechwriter, by Barton Swain; The Book of Aron, by Jim Shepard; Look Who's Back, by Timur Vermes; The Bottom of the Harbor, by Joseph Mitchell; The Fall of the Ottomans, by Eugene Rogan. This is an eclectic mixture, because I am by necessity an autodidact – when you have dropped out of high school halfway through and your formal education stopped right there, you hop on a treadmill of compensatory learning and can never jump off, because you know you're stupid and will never catch up with your better-educated peers.
Non-fiction is more efficient than novels in my ongoing quest to understand the world and how we got here. History and biography hog about 75 percent of my reading, with just enough fiction to get me through dinner party small talk. (Nobody gives a damn about the fall of the Ottoman Empire or the invention of weather forecasting, do they?) Half the books on any given list of mine are duds; I acquire books by subject matter – Arctic exploration is irresistible, and not necessarily because a review has recommended them. Many authors are tin-eared, longwinded blowhards, against which I am defenceless.
Who is your favourite novelist?
Vladimir Nabokov, for reasons I can't possibly explain. Well, one example: in the beginning of The Gift, Nabokov describes a pantechnicon – I think the Brits still call it a moving van; he assails the block lettering painted on its side as "a dishonest attempt to climb into the next dimension."
Charles Dickens had thunder in the blood and his novels always went swirling over the landscape like giant calliopes. As an adolescent, I soaked myself in his antic, dramatic, funny, ever-surprising tales, for the need to suck the emotional passion out and rub it all over my starving psyche. As I grew older and less heavy-breathing, Dickens' charms faded, but I'm glad I read him, even Barnaby Rudge and Martin Chuzzlewit.
Living favourites are John Banville (his inept Dashiell Hammett homages excepted), Colm Tóibín, Philip Roth, Richard Ford, Julian Barnes and his evil twin Mr Amis, and many one-hit wonders I won't bother to remember/list/recommend. Saul Bellow is dead, but more alive than most living writers.
Most women in fiction I follow are as human and flawed as the men
Do you have a favourite non-fiction writer?
Legions of them: Roger Angell, John Lahr, John McPhee, Rick Atkinson, Clive James, Adam Gopnik, David Remnick, Alan Moorehead, Adam Hochschild, Bill Bryson, Joseph Mitchell, Daniel Okrent, Jonathan Raban before he turned novelist on us, A. J. Liebling – and, although better known as a poet, John Malcolm Brinnin, author of The Sway of the Grand Saloon, a social history of the North Atlantic from the early 1800s to the 1970s, and my all-time favourite non-fiction book. (I should confess that Atlantic liners rank among my personal Top Ten favourite subjects.) The very title sways and rolls. Brinnin swans around on sundry A-Decks with the swells, and packs in many fey anecdotes about the pampered rich, but he prowls engine rooms and steerage quarters just as often. RMS Berengaria, a famed Cunarder, was demoted to the humdrum life of a cruise ship late in its career, whereupon it was known among the wags as the Bargain Area. You don't get such esoteric nuggets from dull writers, bub.
Patrick Leigh Fermor demands inclusion, notably for his scholarly, charming, deliciously vivid tour of every island nation in the Caribbean, The Traveller's Tree. It was published in the early Fifties but still amazes today for its insights and descriptive grace. (I have a house in the Caribbean; everything that makes the place alluring and weird and tragic in Fermor's telling is today precisely as it was in 1952.)
Do you read poetry? If so, is there a poem or a poet you always return to?
My meagre early school curriculum omitted poetry. The New Yorker magazine did publish Ogden Nash's witty little rhyming verses, all but forgotten today. Not by me; I never tire of zingy treats such as "A girl who is bespectacled,/ She may not get her nectacled,/ But safety pins and bassinets/ Await the girl who fassinets."
As for capital-P Poetry, because I lack the ear or the brain or both – and what the hell, let's throw in taste too – I have always found the vast gulf separating a profound poem from a mediocre one unswimmable. The one halfway famous poem that ever stuck was Cargoes by John Masefield. Middlebrow, corny, old-fashioned, sure – but then why can I recite most of it from memory, some 60 years later? You might say, because I have crummy tastes in poetry.
Are there any graphic novels/ comics/ illustrations that inspire you?
No. For whatever reason – and I suspect it was because the absence of an early comic-book immersion denied me the necessary understructure – the few graphic novels I've attempted to enjoy (aside from the work of the transcendently great Art Spiegelman) this art form never caught my fancy. And I speak as a writer/illustrator who should lap them up.
I grew up in Canada during World War Two, which meant black-and-white Canadian comics – an oxymoronic word cluster if ever there was one. For some weird reason, probably linked to paper rationing, American comic books only trickled across the border. My alternative was Chums magazine from the early Twenties, in fat bound annual volumes that my father consumed in his teens and never got around to throwing away. Stuffy, prolix, literate and laced with tales of derring-do as public school lads went off to defend the Empire, Chums was everything comic books were not, and I'm grateful for the difference.
Crime or sci-fi?
Edmund Wilson once wrote, of ancient mystery/detective/crime stories, "Who cares who killed Roger Ackroyd?" Amen, Bunny!
Science fiction is a playpen for geeks. I fail to understand why sci-fi proselytisers go on and on in praising these fantasists for voyaging to the Crab Nebula five thousand years in the future, or the past, and concocting alleged metaphors for the sins and problems of our civilization. Why keep coining metaphors, when they could do the same job right here on earth, within the existing rules, eg the laws of gravity, which is harder to do than writing in an open-ended medium where if anything doesn't seem right, you can just change anything and everything? Boo.*
*Well, Jules Verne and H G Wells did have their prescient moments.
If you could be any fictional character, who would you choose?
I never had a fictional hero. The sort of fiction I've read all my life is too honest and too real to produce larger-than-life characters of such surpassing dash and virtue ad nauseam that hero-worship follows. I might try high-hatting you by citing some Dostoevskian or Beckettish figure, but you wouldn't believe me if I did.
Which fictional character can you imagine falling in love with?
Same as above. But then, I haven't read deeply in the bodice-ripper genre. Most women in fiction I follow are as human and flawed as the men. Maybe Elizabeth in Pride and Prejudice would light my fire, but this is probably because she was played by Jennifer Ehle in the TV series, whom, if I were a stalker, I'd stalk.
Which four writers would you invite to your ideal dinner party, and why?
A gaggle of cronies gathers every month or so at a restaurant on the Upper West Side for lunch. It would be great to have dinner with them, because lunches are necessarily short: Marshall Brickman, Dan Barry, Chip McGrath, John Weidman, Dan Okrent – all of them creative overachievers, all of them funny, all of them the kind of friends you'd want to take home to Mom, if Mom had a really big dinner table.
Which book made you think: "I must get this for all my friends"?
Fewer and fewer. I used to loan out books I was particularly mad about to friends; within a couple of weeks, I'd forgotten the loan and the book and so had they, so I never got them back. Hey, books are expensive!
Which books have changed your worldview?
Every one. That's a key reason to read, isn't it? – to expand, deepen, challenge and shake up your beliefs through the medium of words.
Why do you read?
For pleasure
For consolation
To grow my brain cells (High school dropouts are forced to become autodidacts or end up as American politicians)
Find Bruce McCall's published work on Amazon
Gallery: Click image to enlarge. All images © Bruce McCall
Non-fiction is more efficient than novels in my ongoing quest to understand the world and how we got here
Explore topics
Share this article