An Open Book: Conrad Shawcross |

reviews, news & interviews
An Open Book: Conrad Shawcross
An Open Book: Conrad Shawcross
The sculptor talks about his fascination with Charles Babbage and Ada Lovelace and about the big ideas that inform his work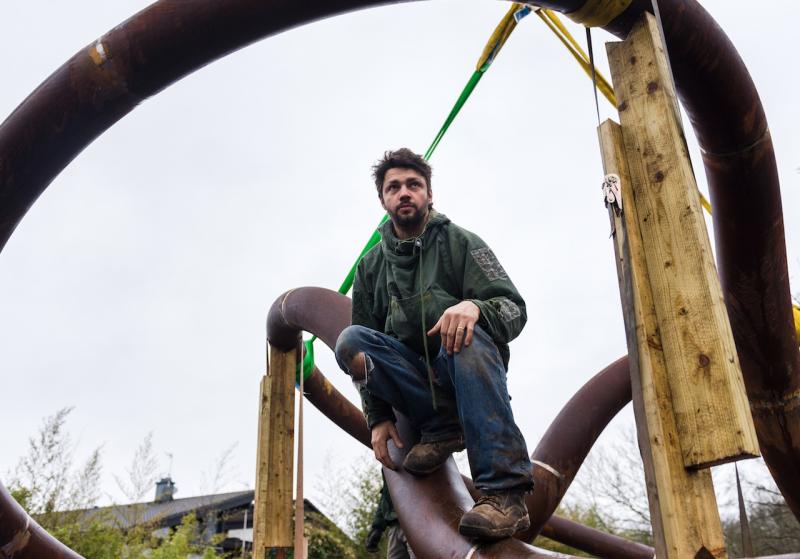 Conrad Shawcross installing Three Perpetual Chords in Dulwich Park earlier this year
From complex machines, whirring busily but with no useful function, to structures that allude to the fundamental building blocks of the universe, Conrad Shawcross (born 1977) uses sculpture to explore the big ideas of philosophy and science. A graduate of the Ruskin School of Drawing and Fine Art and the Slade School of Art, he bacame the youngest living Royal Academician in 2013. This year – punctuated by a series of prestigious public sculptures – has been his busiest yet.
Three Perpetual Chords
, commissioned to replace the Barbara Hepworth sculpture stolen from Dulwich Park in 2011, was unveiled in April and an installation in the Royal Academy's Annenburg Courtyard coincides with the Summer Exhibition. A vast, 14-metre-high sculpture,
Paradigm
, constructed from weathered steel, will mark the opening of the Francis Crick Institute in King's Cross, London, this autumn
.
What books are you currently reading?
A book by Doron Swade called The Cogwheel Brain. It's all about Charles Babbage and I came across it doing a project about Ada Lovelace (Lord Byron's brilliant, mathematician daughter). Babbage used notation to describe movement. Doron Swade (an expert on Babbage and the history of computing) is like the Indiana Jones of computing; he set up the Difference Engine using Babbage's documents, and through that they may be able to decipher Babbage's code – it's equivalent to the Rosetta Stone. Babbage's notation is like hieroglyphs, similar to the notations that choreographers use to document moment but a far more abstract system that only it relates to machines. It describes the ratios, how the cogs are all inter-related, how the drivetrain would work and how speed and rpm would be translated, and how it would look from the input to the output. Really fascinating.
Who is your favourite novelist of all time?
Being married and having kids means that you don't actually have that much time on your own, which is great in lots of ways but it also means that those moments when you can just sit and read are quite rare. Paul Auster was someone I read a lot as a young man – Moon Palace was my favourite. In the Country of Last Things was one that I really liked, but I wasn't so keen on The New York Trilogy.
Do you have a favourite non-fiction writer?
Well, Doron Swade, certainly, but there's also Benjamin Woolley who wrote a great book, which is all about Ada Lovelace called The Bride of Science. That's one I really enjoyed. A great hero of mine is a guy called Edward R. Tufte who wrote Envisioning Information. It's an academic treatise on how you transcribe numbers and information into a visceral, accessible thing – like a railway timetable. He has collected timetables from all over the world, particularly those that don't work very well. When information is envisioned in a slightly ineffective way it makes it more interesting, because you can see how complex, how philosophical and how problematic it is to represent the idea of time and space and locality in a linear way. He went to Japan and all over the Far East and collected the ways that time and distance and location are represented differently. I think in London we take it for granted that we have an incredibly advanced clear system on the tube, for example, whereas if you go to other countries – and it's partly because you're not familiar with it – but it's often just not as clear or effective. That's something I really enjoyed and he continues to write very interesting stuff on that subject.
I was fascinated with the language of the machine and all the words that come with a new invention
Do you read poetry?
I tried to a lot during The ADA Project, 2013, Particularly Byron's poems to get into that frame of mind. But I do find it very difficult – particularly with these older poems – to enter into it. I see poetry, certainly in Victorian times, as equivalent to contemporary art now. When these poems came out it was the sensational thing of the time and you could compare Damien Hirst a few years ago to Byron – behaving scandalously and working in a medium that was totally shocking. It was an unprecedented medium, but at the time people understood it; the impact of it was huge and people absorbed it and debated it. It worries me a bit because I wonder whether in 150 years' time all these strange objects that artists are making now just won't be of interest, or won't be understood, or just won't feel relevant to anything. I'm not say that poetry isn't relevant now, but it doesn't jump out and grab people like it used to. Maybe it's partly because I'm dyslexic I've just never experienced that immersion in the medium. The beat poets, and concrete poetry are something that I do have a much stronger reaction to.
Is there a poet or poem you always return to?
I really love Carol Ann Duffy, and read her a lot when I was younger. One of the only poems I know by heart is an anonymous one called The Man of Double Deed, which for some reason I've got in my head from when I was a kid. It was in a book called The Rattle Bag which was edited by Seamus Heaney and Ted Hughes – so a great collection of poems – but I was always using it whenever I had to learn a poem or stand up and recite something.
Allen Ginsberg 's Howl blew me away as a young man and The City Lights Pocket Poets Anthology is a book I always keep close – a collection based around the Sixties' and Seventies' movement in San Francisco. These poems really did affect me and still do.
Do you read about art?
I do, but not as much as I should. It's low down on my list of priorities, because I see my practice as trying to make art not about art but about big ideas, big questions within science or philosophy that change our sense of reality. I studied art at university but was always surrounded by other subjects. I had friends who were artists, but also writers and philosophers whom I was getting a lot from.
Do you enjoy graphic novels?
I find some very beautiful, but it's not something I've ever really got into. As a kid I didn't get obsessed with comics and things.
Any genres you can't get on with?
Maybe I haven't given it a chance but I can't see myself ever getting into romantic fiction. My sister, when she was a kid, was reading trashy romances all the time. She's a very, very smart girl, but she still devours them to relax!
Have you ever read a self-help book?
Do Haynes Manuals count as self-help books? There was a whole period of my life when I would pore over Haynes Manuals. I was particularly obsessed with the manuals for my Ford Capri and Leyland Sherpa. I was fascinated with the language of the machine and all the words that come with a new invention. Back in the day, words like "manifold" were taken from the lexicon of everyday life and superimposed onto this new medium, the machine. A lot of beautiful words like "cog" and "sprocket" came out of nothing, but there was this incredible need for every component that had just been invented to be named. It's the same with the computer now, all these terms like "wi-fi" and "the cloud". Recently, I've been reading books on parenting, looking at ideas of communication with children, how to make them listen and how to listen to them, how to understand each other better.
How have books influenced your work?
My parents are both academics [the historian William Shawcross and the critic and essayist Marina Warner] and writers and I know how serious that is and how much hard work is involved. I am just an impatient maker and my enthusiasm dominates me and so I often rush things. I dip into things. I've been exposed to wonderful things through my education and through my family, but I'm a gleaner, sadly not a academic researcher. I don't spend hours in the British Library; I just pick things up and play with them, use them and misunderstand them. I appropriate things and put them into the world, but it's not necessarily rigorous. But this is maybe why they are successful as art works and not a scientific models. Where they fail is where they succeed .
One of the things I've always liked to do is a rapid random jump inside a thesaurus or reference book. You start on a random page, or look something up, and then follow the references at the bottom of the page. You find yourself circling around the same subject, but also going out into new subjects. It's almost like one of those old-fashioned, choose-your-own destiny novellas: at the end of the page there are three options, and you can see where it takes you. You find yourself in uncharted territory, but everything in the book is connected, essentially.
Do you ever read to relax?
I try to when I'm on holiday. I'm going on holiday this summer so I will take a few books with me. I'm going to ask my mum for some recommendations because she's just read a lot of novels for the Man Booker Prize. I think she knows me well enough to tell me what I should take. We're coming to the end of a really crazy period of work so it's a good opportunity to start to relax.
Which fictional character would you like to be?
In my 20s I had an alter ego who I was quite obsessed with called Bruce Springshaw, who was the driver of the Soul Catcher [one of Shawcross's earliest works, made in 2001, featuring a black Ford Capri kitted out with scaffolding poles and fishing rods]. I used to dress up as him: this Eighties guy, a working-class hero who came from nothing, rose up the ranks of this fictitious organisation, the IBLS [Investigative Bureau into the Location of the Soul] and then disappeared without trace in his tragic lonely crusade to find souls. I also played the role of a frustrated archivist who tried to collate all the material relating to the IBLS, and who was trying to find Bruce. It was a bit of a dog-chasing-its-own-tail kind of a game. In terms of literary references he was a combination of Captain Ahab (Herman Melville's Moby Dick, 1851) and Sam Quint, the doomed old fisherman in Jaws, with a sprinkling of Descartes thrown in.
Which four literary figures – writers, songwriters, or fictional characters – would you invite to your ideal dinner party?
Captain Ahab and Sam Quint, although it's going to be very violent – they're not going to get on at all. And let's get PJ Harvey there too. One of the things that absorbed me most as a kid was the idea of the world not being known beyond the map; sailing around the world when everyone thought it was flat was a crazy thing to do. So maybe we could ask Ferdinand Magellan also. They're all nautical – PJ Harvey and a load of sailors! Maybe Harvey wouldn't want to come. If it's going to be nautical, perhaps we could invite the late Donald Crowhurst. Tacita Dean did some amazing work about him (Disappearance at Sea, 1996).
Why do you read?
To learn; I read for work. It isn't recreational for me. It's a way of understanding and researching stuff.
Gallery: Click image to enlarge

I see my practice as trying to make art not about art but about big ideas, big questions within science or philosophy that change our sense of reality
Explore topics
Share this article