Opinion: Paintings with nothing to lose but their frames |

reviews, news & interviews
Opinion: Paintings with nothing to lose but their frames
Opinion: Paintings with nothing to lose but their frames
Sometimes frilly, always unwanted: a new show highlights the curse of frame shadow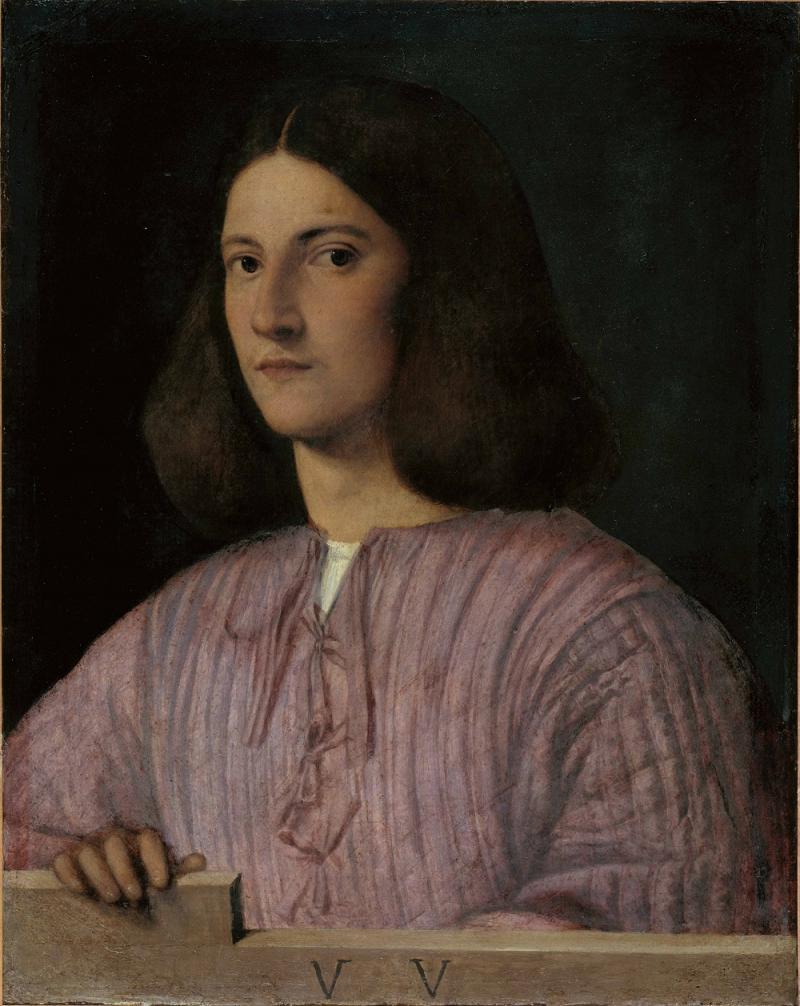 Beset by frilly frame shadow: Giorgione's 'Portrait of a Young Man' c.1497-99
The dazzling, controversial, fascinating exhibition In the Age of Giorgione at the Royal Academy inadvertently provides a striking example of an unavoidable and perhaps insoluble problem common to almost all exhibitions of painting – especially those with a high proportion of loans – in public museums and galleries.
A significant number of the paintings on view, including several of the Giorgiones at the heart of the visual essay being presented, not to mention works by Dürer and Bellini, are visually vandalised. The image is disfigured and its proportions distorted by a horizontal dark shadow, occasionally even frilled, which extends across the top of the painting, measuring anything from an inch or more in depth.
Renaissance paintings obviously were not created to be seen in artificial light, but by diffused daylight, or candlelight. Although they are best seen in toplit galleries, today they often have to be protected from natural light. Hitherto, no lighting system had been devised that could ameliorate or eradicate what this reviewer clumsily calls "frame shadow", but now there is, we understand, an advanced new system available but at a staggeringly high cost; if and when such a new lighting rig comes down in price, the problem may be eradicated.
the gallery manager, lighting technicians and others, spent a week and more trying to optimise the conditionsLoan exhibitions are particularly vulnerable. The art does not of course belong to the host institution; it arrives with constraints and conditions imposed by its owners. These might include frames (frequently historic in themselves) often of huge depth and unsuited to modern viewing conditions, glass and other impediments, and often understandable conservation issues. There is no way that a painting can be reframed to counter the problem of lighting and there is also a trade-off between training artificial light on a painting, and ensuring that the shadows cast by visitors themselves do not impede viewing.
The time constraints inherent in a loan show make it very different from installing a permanent gallery for a permanent collection. In the case of In the Age of Giorgione, the gallery manager, lighting technicians and others, spent a week and more trying to optimise the conditions. Everyone did their best; but the best is not quite good enough.
The problem can easily apply to later work; a sliver of examples would include the great Cézanne exhibitions held in Paris in the late 20th and early 21st centuries bedevilled by "frame shadow" cutting into the blue skies of Provence, and a major Dérain show at the Courtauld Gallery a decade ago had the same problems.
So with the best will in the world paintings are often not seen in optimum conditions, although both we and they have made such special journeys to meet each other. Sorry, Giorgione; there is no way you can put your absolute best image forward, but even what we can see is far, far, better than nothing.
A number of paintings on view, including several Giorgiones, are visually vandalised
Explore topics
Share this article