theartsdesk in Amsterdam: Being Kazimir Malevich |

reviews, news & interviews
theartsdesk in Amsterdam: Being Kazimir Malevich
theartsdesk in Amsterdam: Being Kazimir Malevich
A retrospective of the Russian suprematist may be bound for Tate Modern, but the Stedelijk is the place to catch it
Saturday, 23 November 2013
Kazimir Malevich: 'Bathers seen from behind', 1908-1909
All eyes were on the Rijksmuseum when it re-opened in April after a 10-year refurbishment, but across the Museumplein, Amsterdam's gallery of contemporary and modern art, the Stedelijk, was already settling into its new look, unveiled six months before. With its world-beating collection and extended galleries, it is already an attractive destination, but a remarkable exhibition of the art of Kazimir Malevich and his contemporaries makes the Stedelijk reason enough to hop to Amsterdam right now.
Kazimir Malevich and the Russian Avant-Garde (until 2 February 2014), gives something of a foretaste of the Malevich show coming to London in 2014: Tate Modern is a partner in the Stedelijk project. But because many of the works in the care of the Stedelijk may not leave Amsterdam, the show is also to some degree a one-off. The gallery's exceptional collection spans the whole of Malevich's long and evolving career, and relates to contemporary European art movements - Impressionism, Cubism, Fauvism, Expressionism, Futurism and beyond. But it is Malevich's own Suprematism that underpins the show's star turn.
The Stedelijk has recreated this landmark show with the help of a single archive photograph
Turning the corner from Malevich's early work, robust depictions of workers and colourful Cubist street scenes and still lifes, there is a room so surprising that it's hard not to gasp. In 1915, Malevich staged a ground-breaking exhibition called 0-10, in which 39 entirely new abstract paintings were hung at irregular intervals and heights, each small canvas dominated by planes of colour floating on a white background. The Stedelijk has, as far as possible, and using some of the original works, recreated this landmark show, with the help of a single archive photograph. And dominating the whole, breath-taking affect, is a single black square with white surround, hung high in the corner, in the position normally reserved for the religious icon.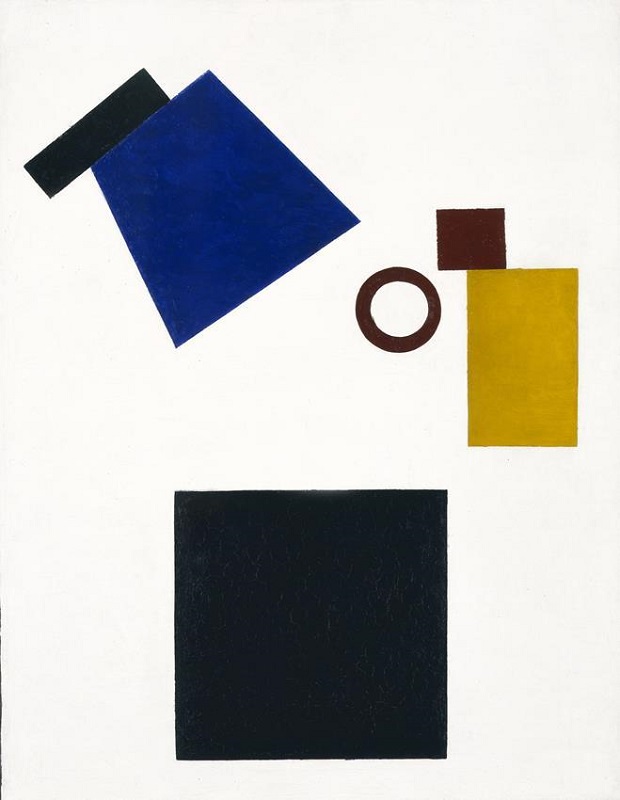 The black square was to become Malevich's trademark – it appears in isolation, and among clusters of drifting shapes. It caused some critics, of course, not for the first or last time, to despair that here was the end of painting. But the 0-10 exhibition was not absolutely the first manifestation of the black square, which was the artist's the ultimate separation from the tyranny of the object. For that, the exhibition revisits what remains of an avant-garde opera. (Picture above, Suprematism: Self-Portrait in Two Dimensions, 1915)
On 3 December 1913, the same year that The Rite of Spring was scandalising Paris with its complex rhythms, stomping choreography and ritualistic subject matter, the futurist opera Victory Over the Sun was receiving the first of its two performances, to a full house at Luna Park Theatre in St Petersburg. In July of that year, Malevich, his artist friend Mikhail Matyushin and writer Aleksei Kruchenykh published a manifesto denouncing the Russian language as symbolic of all that was wrong with the old order. It was to be replaced by a new language, Zaum. The libretto of Victory Over the Sun, written mostly in Zaum, and a short filmed extract from this incomprensible opera is shown in the exhibition, alongside Malevich's designs for the set and costume. And yes, there is the prototype for the black square, in a design for a backcloth.
Victory Over the Sun, in as much as it is about anything, is the story of aliens ransacking the solar system. The second act is set in the new world, Country 10, and culminates in an aviator crashing his plane on the stage, emerging unscathed from the wreckage, and singing a triumphal song in Zaum. The actors, wearing Malevich's characteristically geometric designs, stamp and strut and declaim. It is fantastically entertaining – for a few minutes, at least. It has to be said, that a production at the Barbican in 1999 received a mixed reception. Perhaps one short extract is enough.
Malevich's abstract works, increasing in scale and confidence, culminate in the all-white canvasses of 1918-1920, at which point he departed from painting and took to devising theoretical, three-dimensional abstract, architectural constructions and desirable objects such as the Suprematicist half-cup. The story continues with his theoretical work and teaching on colour, and a return to figurative painting, a period often overlooked in the enthusiasm of admirers for his Suprematist abstracts and mannequin-like figures.
Two extraordinary private collections have helped to make this show possible. One belonged to the Ukrainian literary and art critic Nikolai Ivanovich Khardzhiev, who died in Amsterdam in 1996, only three years after moving there with his wife Lidiya Chaga. While some items remain in Moscow, the Stedelijk has stewardship of the rest, including marvellous drawings. Moscow-born George Costakis, of Greek parentage, similarly amassed a vast collection of work, now divided between Moscow and Thessaloniki, and on loan to Amsterdam. In the Stedelijk's generous space and complemented by its enviable permanent collection, Kazimir Malevich and the Russian Avant-Garde is an illuminating and often very beautiful show.
Kasimir Malevich and the Russian Avant-garde at the Stekelijk Musem, Amsterdam, until 2 February 2014, then the Bundeskunsthalle, Bonn, from 11 March to 22 June, then Tate Modern from 17 July to 26 October
Overleaf: a gallery of images from the exhibition
Click on the images to enlarge
Subscribe to theartsdesk.com
Thank you for continuing to read our work on theartsdesk.com. For unlimited access to every article in its entirety, including our archive of more than 10,000 pieces, we're asking for £3.95 per month or £30 per year. We feel it's a very good deal, and hope you do too.
To take an annual subscription now simply click here.
And if you're looking for that extra gift for a friend or family member, why not treat them to a theartsdesk.com gift subscription?