William Turnbull, 1922-2012 |

reviews, news & interviews
William Turnbull, 1922-2012
William Turnbull, 1922-2012
Dundee-born artist's artist who worked in highly diverse idioms was always preoccupied with space and mass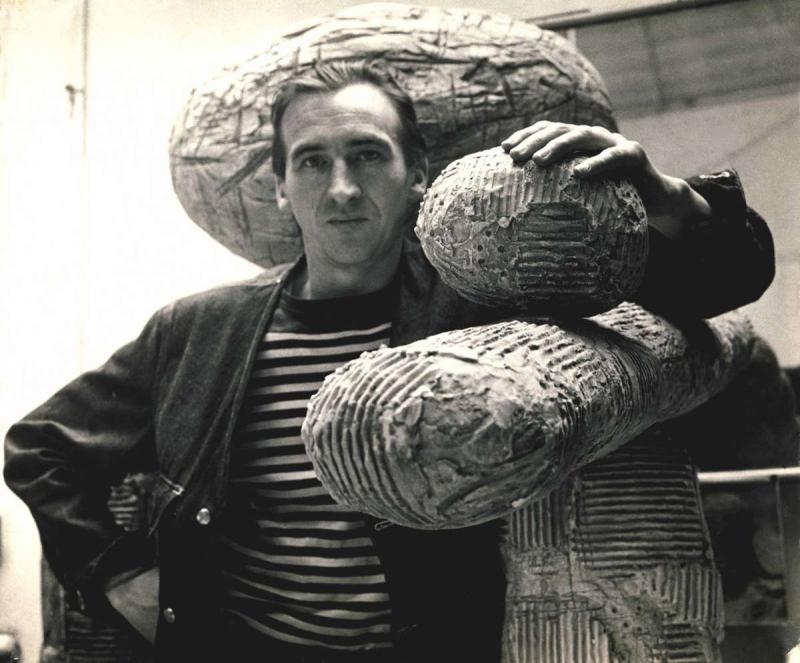 William Turnbull: 'his instinct was towards a classical refinement of form'
William Turnbull was a Dundee shipyard engineer's son who became a highly respected fixture on the London art scene for over six decades, principally as a sculptor, but also as painter and printmaker.
While he never quite became a household name, Turnbull had a reputation as an artist's artist who worked in highly diverse idioms – from a classically slanted primitivism to the fringes of pop and minimalism – bringing to bear an approach that was distinctively cool, some might argue a touch dry.
Born in 1922, Turnbull had the sort of hard-grinding early career that is unimaginable today, but typical for the working-class artist of the time. When his father was laid off during the Depression, Turnbull left school to work as a labourer and painter of film posters. Taking evening classes at Dundee University, he got a job as a commercial illustrator at the local magazine publisher DC Thomson, while friends at art school introduced him to Monet and Cézanne, which was about as avant garde as art got in Scotland in the pre-war years.
If Turnbull never entirely allied himself with any one tendency he was far from a maverick in the contrarian sense
Like many artists of his generation, Turnbull was liberated by the Second World War – during which he served in the RAF – which gave unprecedented opportunities for advancement and mobility to those who survived. After demobilisation he enrolled at the Slade, and like many of his contemporaries was disillusioned by the narrowness and parochialism of the British art education of the time. Turnbull became part of the Independent Group at the ICA, the crucible of British pop art, with Richard Hamilton and Eduardo Paolozzi, though he had little interest in popular imagery as such. His instinct was towards a classical refinement of form, underscored – particularly in his early career – by an angst-ridden rawness typical of the immediate post-war period.
Turnbull took part in the groundbreaking New Aspects of British Sculpture at the 1952 Venice Biennale and in 1957 travelled to New York where he met Rothko and Barnett Newman; and for some time he produced paintings that were strongly influenced by their colour field work.
After marrying the Singaporean artist Kim Lim in 1960, he travelled extensively in the Far East producing sculptures that were reminiscent of Brancusi, with pared-down monumental forms stacked in totemic arrangements. (Pictured right, Night, 1962-3, National Galleries of Scotland). In the mid and late Sixties his work took a different direction again, employing modern materials, including Perspex and particularly polished and painted steel, placed in floor and space-defining arrangements that appeared aligned with American minimalism.
In 1973, following a major retrospective of his work at the Tate, which allowed him an overview of his career to date, he abandoned this path in favour of a return to more organic cast bronze forms.
If Turnbull never entirely allied himself with any one tendency he was far from being a maverick in the contrarian sense, still less a revolutionary – and he certainly never played the working-class hero. Rather, a mixture of natural dignity and clubbability made him an enduringly popular figure in the art world, a fact that undoubtedly helped his career. An uncharitable retrospective view would be that his art is a touch genteel, that he turned the influences of artists far greater than himself into a kind of contemporary academicism.
That certainly isn't the view of the many art historians, curators and museum directors for whom he is one of the most significant British sculptors of the 20th century. Turnbull came onto the scene at a time when to espouse any form of modernism was to put oneself in a position of confrontation – when the individual was forced to be of his or her time. On the one hand, Turnbull's abiding preoccupations, with space and mass, were essentially timeless. Yet on another the best of his work confronts these old classical issues in a way that is elegant, enigmatic and very much of its time – and in an entirely good way.
Like many artists of his generation, Turnbull was liberated by the Second World War
Explore topics
Share this article