Martin Gayford: The Pursuit of Art review - devotion, distilled |

reviews, news & interviews
Martin Gayford: The Pursuit of Art review - devotion, distilled
Martin Gayford: The Pursuit of Art review - devotion, distilled
Pilgrimages to visit artists and artworks given vivid, personal life
Sunday, 15 September 2019
Martin Gayford in north India
This is a book about experiences that go beyond reading about art. Martin Gayford's 20 short essays about press trips and self-motivated travel concern meetings – in the flesh, in real time and space – with art that includes murals, sculptures and glacier waters, and with artists through interviews and studio visits.
For a book whose title is a riff on Nancy Mitford's touching novel,
The Pursuit of Love
, it is also a subtle paean to the enormous variety of objects, buildings and paintings that we deem art, as well as its history and practitioners.
The reader is of course at a remove and in a sense, Gayford here is the curator, travelling a museum without walls. He stresses the essential necessity of encounters in real space and time – not at second or third hand – and with the artists themselves. Here though lies a contradiction: as most of us know, a mismatch can exist between an artist's understanding of their work and what the audience sees.

From India to Iceland, Gayford travels to interview artists and to see art. The collection is a trip through history. We visit prehistoric cave paintings in France, the greatest examples of which are now closed to the public due to the harm mere breath causes; nearby caves provide facsimiles for the tourists. In Tamil Nadu in south India we see huge Hindu temples heavily-encrusted with external sculptures of gods and mortals reaching into the sky. Their exuberance is an antidote to the serenity of the most famous mausoleum in the world, the Taj Mahal, an image of India which lurks behind many Westerner's conceptions of the subcontinent.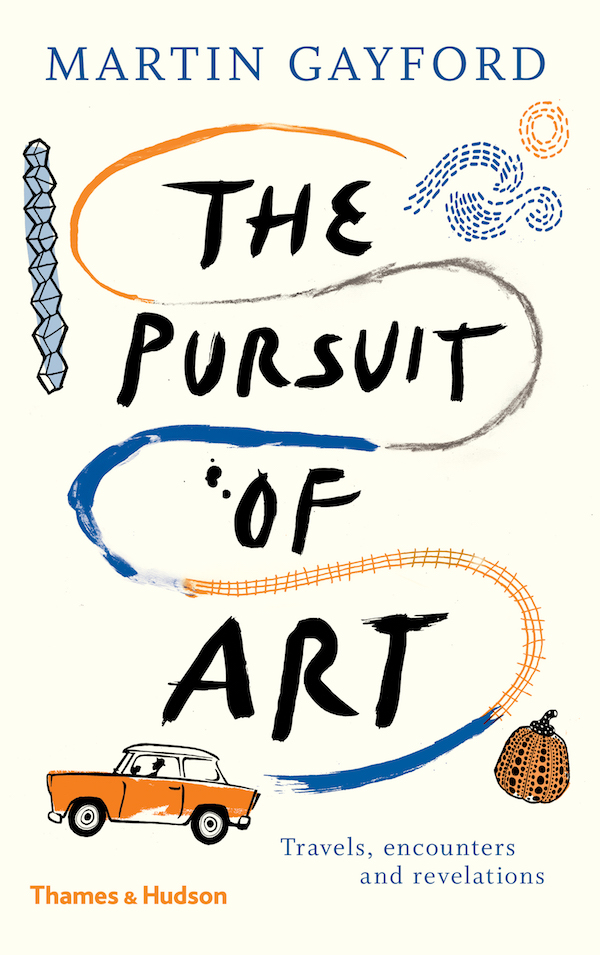 The essay on Jenny Holzer is a surprise. The artist is best known for her aphorisms, mottoes, and clichés in digital and neon forms; her last UK work comprised phrases projected onto the façade of Blenheim Palace. It is fascinating to learn that a life-saving inspiration was Leonardo's Lady with an Ermine. First happening upon it in tiny reproduction, she told herself the rather androgynous female was actually a self-portrait. The lady was an artist, so she too could be one. Chance can inform so much. The misinterpretation of a casual remark by Frank Stella to Carl Andre about a wood sculpture he was working on set Andre along the path towards his austere, minimalist mindset where the material was the message, the only human intervention being that of arrangement.

Throughout the book, Gayford reminds us that artists past and present are in dialogue with each other. Though he does not think of Roni Horn as a Victorian, he draws parallels with her passion for lists and taxa that lay behind her deeply improbable work Water, Selected, 2003-2007. The 24 tall glass cylinders containing water from different Icelandic glaciers was conceived as a library of water and exhibited in a remote part of Iceland. Horn was on hand to explain what was obviously a quite astonishing experience for all concerned.
There is a very bumpy journey to remote Romania to visit Brâncuși's Endless Column. At almost 100 feet high, the masterpiece of modernism is a tribute to the fallen of World War I and known to the majority of its viewers though photographs. For some reason, two other difficult-to-view works, Gate of Silence and The Endless Kiss, are not mentioned in the course of the arduous trip – irritating for readers hungry for some kind of completion.
But we share the author's frustration as he seeks out the paintings of Lorenzo Lotto in northern Italy only to come up against that classic Italian trope: unexpected and unexplained closures. The title of the essay, 'Desperately Seeking Lorenzo Lotto', says it all. It is often only by serendipity that he gets to see Italy's masterpieces outside of major museums. But of course we remain envious of journalists' special access to the Sistine Chapel sans intolerable crowds – and beyond, to areas not usually publicly accessible.

For anyone with the slightest interest in the visual arts this is a charming, disparate, readable collection distilled from decades of devotion to art. And even if you know an artist's work, you might be second-guessed by what the artist thinks they're doing compared to how their work appears to the public. Insights are sometimes as confusing as they are illuminating.
a charming, disparate, readable collection distilled from decades of devotion to art
rating
Explore topics
Share this article