Patrick Barwise and Peter York: The War Against the BBC review - we won't know what we've got until it's gone |

reviews, news & interviews
Patrick Barwise and Peter York: The War Against the BBC review - we won't know what we've got until it's gone
Patrick Barwise and Peter York: The War Against the BBC review - we won't know what we've got until it's gone
No government has attacked the BBC more determinedly than 21st century Conservatives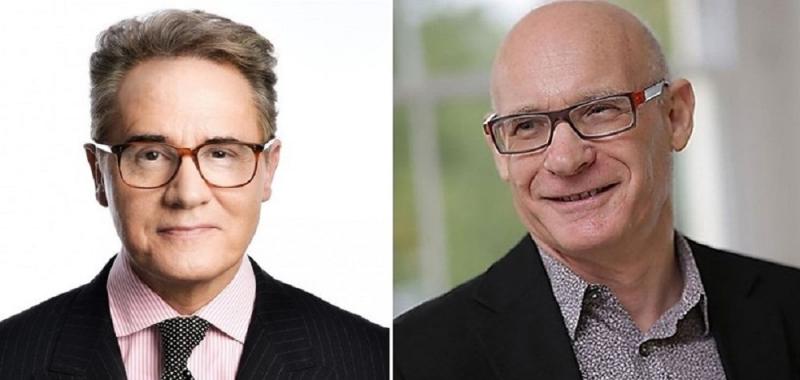 Peter York (left) and Patrick Barwise make the case for Auntie, who must be cherished
When in June 2019 the BBC announced plans to restrict free TV licences to households with at least one person aged over 75 in receipt of Pension Credit, there was of course, an outcry – naturally, the BBC itself copped the blame.
Just as
Chancellor
George Osborne knew it would when, flushed and arrogant with unexpected election success, he strong-armed it into accepting responsibility for funding the scheme Gordon Brown had introduced.
Osborne's move, behind closed doors, was "easily the most damaging example of the government raiding the BBC's income to fund a welfare benefit that should be funded out of general taxation," write Patrick Barwise and Peter York in what would once have been branded a Penguin Special about "how an unprecedented combination of hostile forces is destroying Britain's greatest cultural institution" and why we should care.
Inevitably, the Daily Mail foamed at the mouth with faux concern for the "3.7million over-75s" whose "vital lifeline" was about to disappear. Katherine Rushton, who I remember as a timid cub reporter on the Bookseller, quoted Tory rent-a-gobs – much the same bunch who'd long expostulated about the wasteful BBC. An article by Rushton from June 2015 on the Corporation's "staggering waste" and a follow-up by from Max Hastings, outraged at the BBC's "bloated army of jobsworths", are two of many pieces cited as evidence in this detailed and well-documented book of a determined attempt by an unholy alliance that includes right-wing Conservatives, Brexiters, Paul Dacre and Rupert Murdoch to destroy the BBC by taking a wrecking ball to its very foundations. It's a perfect storm of "technology and consumption trends, cumulative funding cuts and endless attacks" from across the political spectrum at a time when No 10 is occupied by "the most hostile prime minister the BBC has ever faced", one with no regard for democracy and lacking a moderating deputy, as had been the case with Margaret Thatcher and William Whitelaw.
Barwise and York, respectively Emeritus Professor of Marketing and Management at the London Busines School, and cultural commentator and management consultant most famous for The Official Sloane Ranger Handbook, began work in spring 2018, the idea hatched at an awards ceremony at which they were handing out baubles. A vast amount of water has gushed under the bridge in that time but the case this perhaps unlikely couple makes for the BBC has grown more urgent, Johnson and his Brexit cabinet emboldened by the 2019 election while at the same time growing more anxious about their need to control the agenda.
Barwise and York leave no stone unturned as they investigate the charges made against the BBC, and the Corporation's own transgressions. The Jimmy Savile scandal is examined, BBC management found wanting long before the Newsnight debacle. Yet though they acknowledge that Thatcher "forced through [Savile's] knighthood at the fifth attempt" and Princes Charles lauded him they place insufficient blame on the wider Establishment, including the security services, who were clearly as aware as the BBC of Savile's depravity yet somehow escaped censure.
As the authors point out, the BBC – a supplicant, dependent on the government for the 10-year renewal of its charter and its funding – has difficulty defending itself. Detractors and governments of both stripes have accused it of bias. Yet it has long been the envy of the world, BBC World Service respected internationally and a prime example of Britain's soft power which domestic governments over the last decade have either failed to understand or failed to appreciate. As to drama, documentaries and light entertainment, anyone who's spent time in the US and watched PBS cannot fail to have noticed how much of its output comes from across the Atlantic. And unlike PBS (whose domestic news and documentaries are themselves peerless) the BBC has no need to be on a 24/7 fundraising drive.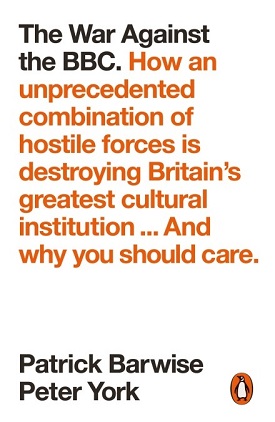 At least not yet. Barkwise and York show that – contrary to nonsense in the Mail and the Telegraph, and the bile that drips from government lips – the BBC is excellent value for money, the license fee less than the cost of a weekly coffee and cookie. A subscription service would incur a much higher cost. BBC studios generally turn a profit, which is reinvested in programmes, sales of which generate further revenue. Meanwhile, subscription video-on-demand services such as Netflix and Amazon push up the cost of talent while themselves failing to make money and contributing nothing to the British exchequer. The BBC has from its earliest days been an innovator but the more it innovates today the more its competitors complain. In 2007, a BBC proposal to create a one-stop online viewing platform with ITV and Channel 4, free and mostly without advertising, was nixed by the Competition Commission which should surely have had other things to worry about. By the time the joint-venture Britbox was launched in 2019, YouTube et al had long ago staked out the turf. James Murdoch, meanwhile, complained about "free, state-sponsored news" and said the BBC should not be in the business of "competing with professional journalists".
All so much nonsense of course, though there is now a widespread view that the BBC has in prominent positions journalists who seem to feel their job is to relay the government line: Laura Kuenssberg's endless reliance on "senior No 10 sources" is a case in point; so too Andrew Marr's government toadying, despite his being quoted as saying journalists "must ask awkward questions". And of course, over climate change and Brexit in particular the BBC fatally misunderstood the meaning of "balance".
Yet as the old saying goes, we don't know what we've got till it's gone and the diminution of the BBC – an organisation reduced to penury, struggling to make ends meet – would be a disaster for the British as individuals and Britain as a nation. Young writers would have vastly fewer opportunities. Music, already on its knees with Covid, would be damaged beyond repair, for the BBC supports five orchestras, three choirs and a big band, and sponsors and covers the Proms, Glastonbury, BBC Young Musician of the Year and Cardiff Singer of the World.
The War Against the BBC is an important book which puts its case well, almost half dedicated to detailed appendices and notes. That makes it an unlikely read for those who most need enlightening, so it's to be hoped that Penguin – whose founding mission was not dissimilar to the BBC's – will give copies to every MP and journalist, and to "influencers" (hideous word) in the hope that a grown-up debate may ensue. As they note: "If we create enough noise and nuisance then the government will have to listen".
The diminution of the BBC would be a disaster for the British as individuals and Britain as a nation
rating
Explore topics
Share this article