Sunday Book: Günter Grass - Of All That Ends |

reviews, news & interviews
Sunday Book: Günter Grass - Of All That Ends
Sunday Book: Günter Grass - Of All That Ends
Hail, and farewell, to a puckish giant of post-war literature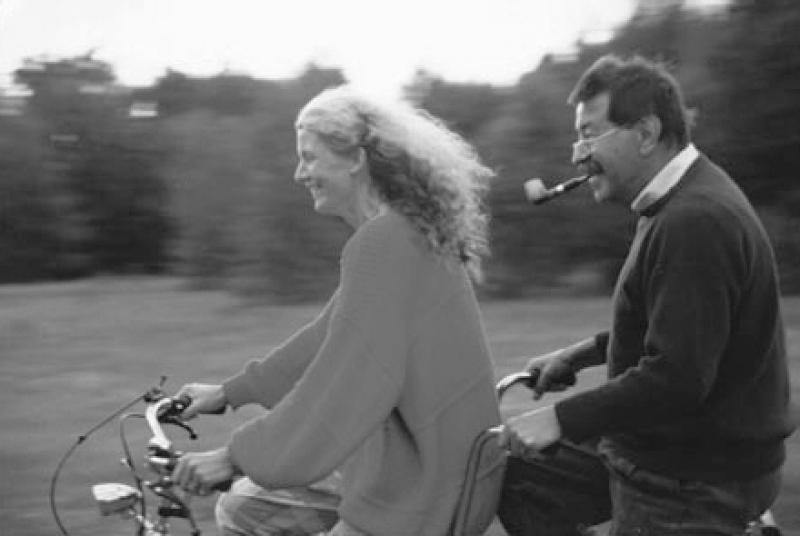 Freewheeling memories: Grass with his wife Ute Grunert
In this, his final book, the late German author and Nobel literature laureate tells us that he used to disgust his children with offal-heavy dishes rooted in the peasant fare of his forebears. As modern kids, they turned their noses up at "pigs' kidneys in mustard sauce", "breaded brains with cauliflower" or "chicken gizzards in lightly spiced broth".
Now, our bland tubes of homogenised innards disguise their beastly origins: "Whatever used to grunt, moo, cackle, neigh, is turned into sausage."
You might say that Günter Grass passed the (almost) 70 years of his writing life in a struggle with the sausage-factory of history, ideology and - not least - fallible human memory itself. His fiction and essays, poems and polemics, raised a raucous cry of protest and warning against forgetting either the Nazi past, or the more veiled brutalities of the present day. Right from the moment that (in his world-shaking debut novel) little Oskar Matzerath pounded his tin drum and screamed in anguish at the adult insanities of fascism and war, Grass spoke for the lowly creatures crushed or swept away by the grand parade of dogma or dictatorship.
If the rats, flounders, snails, crabs and toads that swarm through his work stand for our animal natures that no pompous blueprint will ever quite subdue, they also represent their crawling, scurrying, swimming and hopping selves. In "Dances of Death", one of the prose-poems that Grass mixes with lyric verse and his own skilful drawings in this valedictory volume, he wonders why he goes out to collect the flattened carcasses of frogs and toads, "dried to scarred leather". He arranges them in a circle and then "Quickly, before the music ends, my pencil renders them immortal." Fragile beings squashed by the cruelty and oblivion of big ideas and great events have always found a friend in Grass.
In 2006, as he prepared to publish his memoir Peeling the Onion, we learned that this lifelong champion of frailty, eccentricity and imperfection had fallen short of sainthood himself. What mattered about the bare two months in early 1945 that the 17-year-old conscript from Danzig (now Gdansk) spent in the 10th SS Panzer Division was not that horribly commonplace experience, but its later excision from his personal record. His silence endured even as the author of The Tin Drum, Dog Years, The Flounder and From the Diary of a Snail matured into both a world-ranking novelist, and a political moralist whose voice carried first across post-war Germany, then around the planet. Opinions still divide over the memory-lapse of this great remembrancer. As teenage cannon-fodder for Hitler's demented, last-ditch Armageddon, he could hardy have resisted call-up. Nonetheless, he might have waited less than six decades before coming clean.
Autumnal, elegiac and tinged with a twilight charm that never dissolves into sentimentality, Of All That Ends showcases Grass the poet of humble things and domestic delights, rather than the social critic or the controversialist. True, he takes the occasional sideswipe at a wealthy and apathetic nation of "good citizens turned good consumers", and reserves some parting venom for the consensus politics of "Mutti" Merkel. Her glares and smiles keep docile Germans, "meek as lambs", in order.
Mostly, however, we stay within the octogenarian Grass's workshop, mooch around his kitchen, or else wander though the mushroom-rich woods and heaths near his Baltic home. With horizons diminished by age, he celebrates a spell of "rediscovered happiness" as he tinkers, still expertly, with lines, with metaphors, with memories. His poetry of bent nails and fading leaves, of stones and feathers and fungi, seeks inspiration in the beauty and utility of "found objects".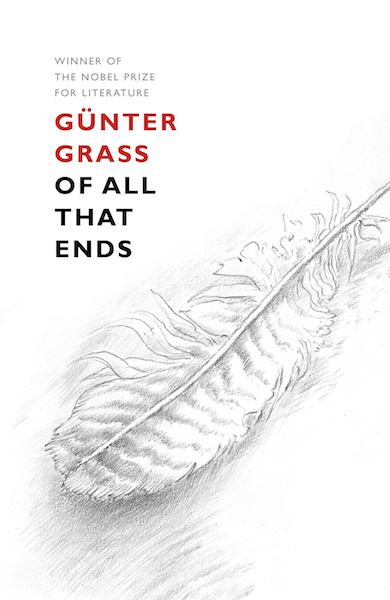 Grass compares himself to a gardener. This supreme handyman among authors - who first trained as stonemason, then studied graphic art - has always cherished the down-to-earth values of the artisan against the follies of mystics, metaphysicians or political absolutists. The "snail" who wrote speeches for West Germany's Social Democratic chancellor Willy Brandt - who, unlike Grass, had actively resisted Hitler - believed in gradual but inevitable progress in tune with nature, and with human nature. Here, this worshipper of small, unofficial things reminds us that he loves Rabelais because the scurrilous Frenchman "pissed in the soup of pious thought".
Unsurprisingly, a sunset wistfulness pervades the book - but then Grass notes that melancholy has always formed "part of my make-up… Without it there would be no art." Yet a devil-may-care graveyard humour banishes the blues. Grass describes the simple, sturdy coffins that he and his wife had made by the local carpenter; no frills required, since "we weren't looking for comfort". The couple enjoy their "trial lie-in", but then an odd sort of felon steals the caskets. Even more mysteriously, they return with two dead mice "of delicate beauty" lying inside. Grass draws the mice, lovingly. His smooth transitions between prose, verse and artist's pencil confirm that this master-craftsman took pride in good work to the end.
Without the epic mischief and audacity that Grass brought to the post-war novel, the careers of writers as different as Salman Rushdie and John Irving - both acknowledged disciples - could never have developed as they did. But in "Balancing the Books", Grass eyes up the "wooden shelf" that carries his life's work with a rueful ambivalence: "They ceased to be mine long ago/ and yet they're still a heavy burden." No matter: "I only know I had to write" those words. Ever since his youth as a firebrand member of West Germany's Gruppe 47, he drew on Camus's interpretation of the myth of Sisyphus. The existential boulder-pusher embraces rather than resents his destiny, and that stone "longs to roll back up the mountain".
Forget those superhuman fantasies that wrecked Grass's country, and his century. Just keep the ball rolling, and the ink flowing in an "endless line", a line "that has no goal/ Its only meaning its own breath". In Breon Mitchell's finely-tuned translation, this piquant miscellany shows that Grass traced the line of his fate right to the bottom of the page. It came, for him, in April 2015. Readers will find plenty of bittersweet enjoyment as they follow him - even if, like me, you're with those pampered kids when it comes to "calf lung hash" or "goose giblets stewed with sweet raisins".
Of All That Ends by Günter Grass, translated by Breon Mitchell, Harvill Secker £12.99