Timothy Day: I Saw Eternity the Other Night review - heavenly harmony, earthly discord |

reviews, news & interviews
Timothy Day: I Saw Eternity the Other Night review - heavenly harmony, earthly discord
Timothy Day: I Saw Eternity the Other Night review - heavenly harmony, earthly discord
How mavericks and sceptics made the English choral style
Stephen Cleobury and the King's College choir
In 1955, Sylvia Plath attended the Advent Carol Service at King's College in Cambridge. Like countless other visitors, listeners and viewers before and since, she was entranced by "the tall chapel, with its cobweb lace of fan-vaulting" lit by "myriads of flickering candles", and above all by the "clear bell-like" voices of the choristers, with their "utterly pure and crystal notes". The American poet told her mother in a letter that "I never have been so moved in my life".
For a century now – the first Christmas service took place in 1918 – the "unearthly silvery glitter" of carols sung by the King's College choir has spellbound people everywhere who otherwise have no connection with Cambridge, choral music, the Anglican communion or even Christianity itself. "Why did they sing like that?" the music historian Timothy Day asks in this eye-opening – and ear-opening – book, subtitled "King's College, Cambridge, and an English Singing Style". Day investigates the creation of a style, and the evolution of a tradition, that now feels as anciently English as the tentacular late-Gothic stonework of King's chapel itself. Along the way, his meticulous history of a special choral sound opens out into an exploration of the ever-shifting bonds between music and society, and art and faith.
Day begins by busting a few cherished myths. There's nothing especially venerable about the King's choral style and its many offshoots, with their vibrato-free purity, "immaculate blend" of voices, "unerring precision", emotional restraint and "absolutely level dynamic" stripped of all extremes. Neither does it represent a widespread and ancient "cathedral sound" practised at a uniformly high level for centuries across the Anglican foundations. As with so much in English and British life, this hallowed tradition in fact began with the Victorians. By the mid 19th-century, choral singing in cathedrals and colleges had decayed so far that the organist-composer SS Wesley deemed it a "source of grief and shame". Boy choristers were shrill, screechy and ill-disciplined; most adult "lay clerks" took time off from artisan's or shopkeeper's jobs to bellow out ragged anthems. The church hierarchy, like genteel society as a whole, thought music an effete and frivolous pastime. Day plunges deep into the archives to trace the quarrels over pay and duties that set singers and organists – some of them genuinely talented – at odds with Deans and Chapters in provincial cloisters from Hereford to Durham. Resembling sub-plots from a Trollope novel, these ecclesiastical wranglings do tend to drag on like a February evensong. Still, Day makes it clear that a noxious alloy of snobbery and machismo for long impeded the progress of English music, both sacred and secular.
In the later Victorian age, a handful of gifted and dynamic individuals began to raise both the standards and the status of choral music: first in Anglican institutions, then far beyond. John Stainer, for instance, revived musical life at Magdalen College, Oxford and at St Paul's Cathedral, later becoming a government-appointed "Inspector of Music" whose benign influence extended to elementary schools. His stellar career – matched by such figures as the polymathic Walter Parratt at St George's Chapel, Windsor – embodied the "new authority of music" in English high culture. Day fruitfully suggests that the Romantic writers' and thinkers' "reinvention of childhood" lent a fresh aura of transcendental innocence to the voices of college and cathedral choristers. No longer a plebeian rabble of shouty scamps, now they became little angels in surplices with a vocal hotline to heavenly bliss.
At Oxbridge colleges, reformed choir schools and the recruitment of properly-qualified choral scholars reflected the new respect now accorded to music education. At King's, Cambridge, the chapel choir's ascent to national and global celebrity began with Arthur "Daddy" Mann, organist and choirmaster from 1876 to 1929. Reading Day's account, it shocks to realise that, for all his musical achievements, many Fellows of King's looked on the warm-hearted, inspirational "Daddy" as a social and intellectual inferior – a college servant roughly on a par with the Head Porter. For all their patrician condescension, standards soared under this much-loved "outsider". Day explains that the King's sound of Mann's period would have been comparatively fruity, lush and ripe, rooted in "a lost world of Victorian melodrama".
The crystalline precision and "angelic" austerity now ascribed to King's really began under the stewardship of Boris Ord, the German-origin music director who took charge in 1929. Ord steered the King's choir into the age of regular recording, broadcasting (the BBC had first transmitted the Service of Nine Lessons and Carols in 1928) and international renown: he led its first European tour in 1936. Under Ord, who drew his influences both from the modern scholarship that brought medieval and Renaissance music back to performing life and the "anti-Romantic" musical ideals of the era of Stravinsky, the King's style approached its apogee of reticent eloquence. Under his regime, emotion was not so much suppressed as "purged of any taint of sentimentality or exhibitionism". For all the historical learning behind his practice, Ord crafted a cool-headed, hard-edged, even Modernist sound.
Along with that aesthetic austerity went a personal asceticism that, in some eyes, slipped over into outright repression. Discussing both Ord and his great successor, David Willcocks [pictured above by the BBC], Day treats this stiff-upper-lip aspect of the English "cathedral tone" with sympathetic insight. Veterans of the world wars, their lives branded by trauma and loss, Ord and Willcocks knew plenty about the chaos of modernity. In their choirs, they sought to tame it in fiercely controlled singing noted for "sheer beauty", always sustained by "the radiance of the tone and the purity of the intonation". Day quotes the textile artist Kaffe Fassett who, as a young Californian in the chilly England of 1964, felt lonely and alienated until he discovered the King's choir. Then he realised that "behind the frosty exteriors there was a deep love of exquisite beauty"; even, indeed, an "English soul".
In the Sixties and Seventies, the all-conquering choir that Willcocks perfected from 1957 onwards embodied a version of that "English soul". He made it famous across the world through records, broadcasts and tours. Inevitably, rivals arose – sometimes led by King's alumni– to challenge his preeminence with more overtly emotional, dramatic and "continental" approaches to choral sound. Up the road at St John's College, Cambridge, the Welsh-born George Guest ran a choir unafraid of rich timbres, wide contrasts and a "continental tone". At Magdalen, Oxford, Bernard Rose also cultivated a more open and expressive sound; his reaction to Willcocks's recording of a Byrd Mass at King's was to think: "Why can't he just let them sing?" Meanwhile, the former King's student John Eliot Gardiner launched his Monteverdi Choir as a provocative antidote to the "traditional" purity of Ord and Willcocks, pursuing in its place "vocal colour and rhythmic pungency". As for the Catholic choir of Westminster Cathedral, under George Malcolm it went all out for guts, punch and flavour: "no more emasculated angels on Christmas cards". Even at King's itself, under Willcocks's successors Philip Ledger and Stephen Cleobury, the choir's sound frequently became broader, sharper, more deeply coloured: the voices of "earthlings" rather than cherubs. Listen to recent carol services and you won't hear much of the watery, wan and pinched tone stereotypically blamed on King's by its critics.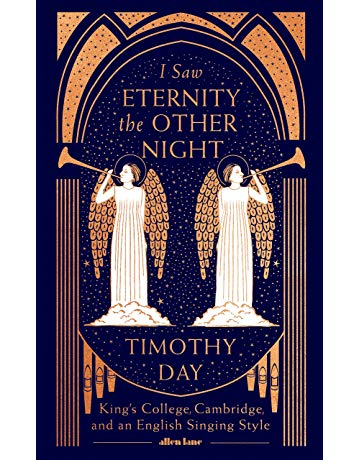 Day chronicles the emergence of the many professional soloists and groups – such as The Clerkes of Oxenford, the King's Singers, The Sixteen and the Tallis Scholars – who can trace a direct line of descent back to the King's choir, even if they broke with its habits of restraint and reticence. He piles career details into these sections, which means that they sometimes have the overloaded feel of an inventory or genealogy. The book, though, closes with a subtle and searching meditation on the rapport between this beloved choral sound and the religion whose liturgy it served.
Remarkably, the sound of King's and its choral cousins has been nurtured in both repertoire and performance not by people of firm faith but by agnostics, sceptics and semi-believers. Howells, Parry, Vaughan Williams, Britten, David Willcocks himself: the creative minds responsible for the revival of church and choral music in Britain often had no settled belief in a personal God. Even John Rutter, everybody's favourite composer of contemporary carols, merely calls himself an "agnostic supporter of the Christian faith". Out of this seeming paradox – of a moribund tradition of religious art restored and reinvigorated by non-believers – Day weaves an powerful argument about the kind of sacredness found in music itself. He celebrates the value of a musical practice that fosters "dignity and reverence without dogma". This Christmas, as at every Christmas, millions of listeners will have relished the ethereal King's choir but fretted at their distance from the doctrines that lie behind the carols' words. One of the many revelations contained in Day's erudite, original and surprisingly moving book is the discovery that we owe this sound of angels to musicians plagued by the same, wholly human, fears and doubts.
I Saw Eternity the Other Night: King's College, Cambridge, and an English Singing Syle by Timothy Day (Allen Lane, £25)
No longer a plebeian rabble of shouty scamps, choristers now became little angels in surplices
rating
Explore topics
Share this article