Requiem, Opera North review - partnership and diversity |

reviews, news & interviews
Requiem, Opera North review - partnership and diversity
Requiem, Opera North review - partnership and diversity
Choral-orchestral performance meets contemporary dance in cross-cultural fusion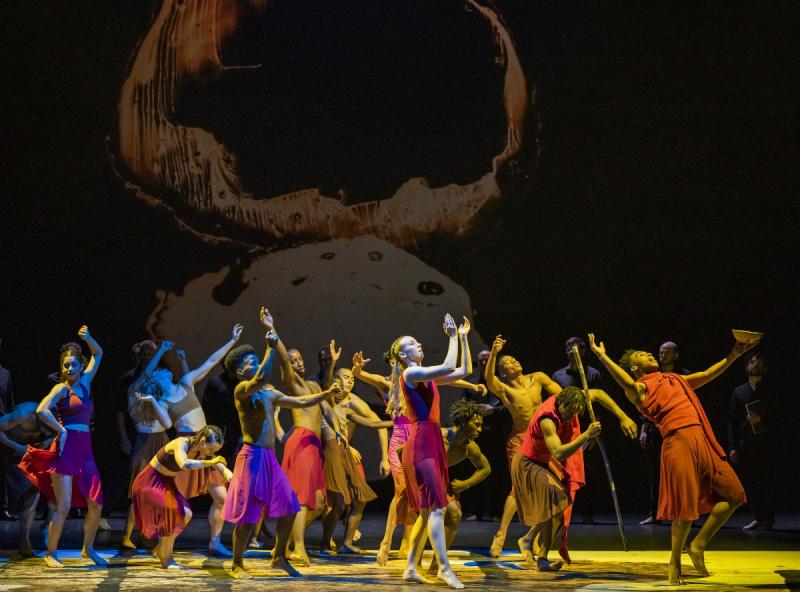 Mourning is followed by celebration: dancers from Phoenix Dance Theatre and Jazzart Dance Theatre in After Tears: After a Requiem
Innovation is always a risky business. Opera North's vision and ambition for this production is to create, in effect, a new genre: a combination of staged choral-orchestral performance with contemporary dance.
Partnership and diversity are the buzz words – good ones, too – and the concept brings together the opera company's soloists, chorus and orchestra with dancers from both Leeds-based Phoenix Dance Theatre and South Africa's Jazzart Dance Theatre, plus some help from Capetown Opera.
The link here is choreographer Dane Hurst, until recently artistic director of Phoenix and now its artistic consultant and guest choreographer, and since last year artistic director of Jazzart. His inspiration was the Covid experience and a desire to mark the loss it brought. The production is a part of LEEDS 2023 Year of Culture and supported by the British Council.
It's a double bill, in which the first part is danced to Mozart's Requiem, with soloists and chorus on stage and frequently taking part in the movement, which itself tells a story. The second is danced to a new work: After Tears: After a Requiem, a "response piece" by South African composer Neo Muyanga, which has no soloists but also involves the chorus in the action, which is more akin to a ritual of memorial and hope, including speech and chanting by the dancers.
The contrast of mourning and celebration is underscored by the set, costume and video design by Joanna Parker and the lighting by Peter Mumford – sombre colouring and semi-gloom for the Mozart, light and bright colours for the Muyanga piece.
It's a lovely concept, and so sincerely intended to be both serious and uplifting that you can only admire its aspirations. As with any truly ground-breaking achievement, there are challenges, too, and perhaps some aspects that would be tackled differently if the entire thing were thought out again from scratch.
Musically, the striking thing is how Opera North's music director, Garry Walker, and his forces capture the concision and intimacy of Mozart's Requiem. With a classical sized orchestra and nimble speeds, it's some distance away from the bigged-up versions dominated by Süssmayr's trombone parts that are still often heard, and the dance interpretation reflects that, too.
Soloists Ellie Laugharne (soprano) and Ann Taylor (mezzo) bring purity and humanity to the vocal picture – the former (pictured above) in particular taking a significant and distinguished part in the choreography, too – while Mongezi Mosoaka from Cape Town Opera and Simon Shibambu are well chosen to complement them, Mosoaka's warm and well tuned tenor bringing distinction to every solo and ensemble, while Shibambu has a resonant but attractively cantando bass to offer.
Neo Muyanga's music for After Tears: After a Requiem is never going to challenge Mozart's for inspiration, but it has mellow, tonal harmony combined with lively and foot-tapping percussion rhythms. The choral writing sounds remarkably hymn-like for a scenario that is supposed to be referencing truly African traditions, though a few whoops, shouts and ululations liven things up. The chorus read their parts from the book in this – whereas for the Mozart they sing from memory – which makes a difference in the extent to which they can really be part of the stage show.
But Hurst uses them in lines and blocks to populate his stage impressively, and in both pieces they are committed to his concept as actors as well as singers. It's maybe an aspect of the styles he uses that in the more westernized contemporary dance of the Mozart their neo-classical gestures come more naturally than when they need to sway and groove for Muyanga's beat.
There's a story to each of the pieces, which is helpfully explained in the programme book: in the Mozart we see souls arriving in a "waiting room" but still able to reconnect with the past: then they move to a place where they're greeted by "guardians" who have accompanied them in life. I'm all for narrative dance, even in contemporary style, and the scenario gradually cuts loose from the separate numbers of the requiem mass, so that the narrative continues between and across them. It raises the question of whether there was much point in displaying English translations of the text as side-titles, as I think Hurst's concept is very much that of the Requiem as a single, connected soundworld rather than an attempt at illustrating it verse by verse – but of course people expect to see texts in anything "operatic" these days.
The dance quite often takes its cue from pace and rhythm in the music – liveliness and jollity when the tempi are fast, and a beautiful solo for the Lacrimosa. But it is a bit odd that when the words finally speak of eternal light dawning, we actually see the stage light fading.
After Tears: After a Requiem has three parts to it: "arrival" after a moment of calamity, "ceremonial", seeking guidance from the ancestors, and linking of hands, joining in hope for the future. The middle one of those seems rather overlong, but the ending (pictured below) is exuberant.
Further performances in Leeds on 1, 3 and 4 June
It's a lovely concept, and so sincerely intended to be both serious and uplifting that you can only admire its aspirations
rating
Share this article