theartsdesk in Stockholm - HK Gruber and sacred monsters |

reviews, news & interviews
theartsdesk in Stockholm - HK Gruber and sacred monsters
theartsdesk in Stockholm - HK Gruber and sacred monsters
Viennese composer, conductor, chansonnier and double-bass player is a force of nature
Wednesday, 29 November 2017
HK Gruber and members of the Royal Court Orchestra in 'Frankenstein!!'
It was excellent, flesh-creepy fun back in 1978, when a young Simon Rattle conducted the Liverpool world premiere with the composer declaiming, but how well has Austrian maverick H(einz) K(arl) "Nali" Gruber's "pandemonium" for chansonnier and orchestra Frankenstein!! stood the test of time? One word: brilliantly.
In the hands of the master, who not only conducted its bewitching chamber version but also kazooed, crooned, falsettoed and shouted his way through his absurdist fellow Vienneser H.C. Artmann's contemporary children's rhymes, its performance as a centrepiece of the Royal Stockholm Philharmonic's 32nd "composer festival" took on living-legend status. I don't apologise for shooting to my feet at the end, and others quickly followed suit.
Genius Gruber, 75 on 3 January, is an overwhelming life-force, still giving the next generation's equivalent, the equally wacky and tear-jerkingly funny Gerald Barry, a run for his money. As chansonnier, he's consummate, and not just in his own music. I doubt if there is a performer alive with quite the range and authority in the songs of Kurt Weill, a crucial figure for Gruber's development as a composer, and Hanns Eisler. A lunchtime recital of those miniature masterpieces with the orchestra's regular pianist Stefan Lindgren was my introduction in the first batch of events - and no ordinary concert, at that. The stunning 1926 deco Konserthuset's smaller auditorium, the Grünewald Hall decorated by the Swedish artist of that name to resemble a renaissance theatre, was lined with dining tables, to which we carried our soup. The RSPO has been managing this clever idea for some time, and Brecht might have been amused at the idea of culinary music for the bourgeoisie, but it was the right setting. Bei Himmel, there was even a reference to the soup being superior in Ira Gershwin's text to Weill's Song of the Rhineland.
Gruber used a microphone for his affable spoken introductions, but not for the songs themselves; his projection was effortless. He can tune into a healthy baritone when he really needs to sing, but needless to say, the words come first (in an hour-plus interview which we'll run on his birthday, he told me of his mission to pass on this very specific style, with its rolling rrrrs, to younger performers). Before I was enlightened, I'd assumed Lindgren was his regular pianist; his little rubatos and sudden elegances accorded perfectly with his singer (and the next afternoon he made a sharp impact in Stravinsky's Symphony in Three Movements).
That was especially evident in the fullest of the Eisler accompaniments, even if I mistook Gruber's ironic spoken preface and looked in vain for the Mahler touch among the jazz - and I'd forgotten what a big, symphonic treatment Weill serves up for Brecht's Matrosen-Song, one of the great songs from Happy End; assumptions that Gruber wouldn't be likely to sing the greatest of them all, Surabaya-Jonny, were confounded in the subsequent interview when he told me that he does, but delivering it in a whisper.
Our interview in a suite on the roof of the hall took place from sunset to a dark in which both of us were happy to sit: the brilliant light was gone before 4pm, but at least it obliged this time (on a visit to the 14th 'composer festival' in 1999 devoted to Anders Hillborg, Pär Lindgren and Jan Sandström, my first to Stockholm, the drizzly grey meant it never truly became light - that's the risk of November in Sweden). That evening I plunged into the London fogs of Bram Stoker's Dracula, as adapted by the Russian-born, Sweden-based composer Victoria Borisova-Ollas for the Royal Opera. A far from dishonourable shot at a diffuse narrative, albeit one you'd have thought tailor-made for music; like many contemporary composers, Borisova-Ollas finds greater interest in the orchestra than she does in the vocal lines, and the only climaxes that properly delivered were the blood-suckings, spine-tinglingly played by the Royal Court (in other words Opera) Orchestra under Karen Kamensek.
Elswehere, you were waiting for the voices - especially those of the fine romantic leads, Elisabeth Meyer as Mina and Ola Eliasson as Dracula (pictured below) - to move fully into the limelight; it never happened. Still, there was plenty of dramatic contrast, the ensemble was much stronger than in the Don Giovanni I'd seen here in 2014, and Linus Fellbom's impeccable production proved superlative in utilising old-fashioned theatrics rather than relying on video gimmicks to chill the blood. Never dull - that's a high commendation for new opera.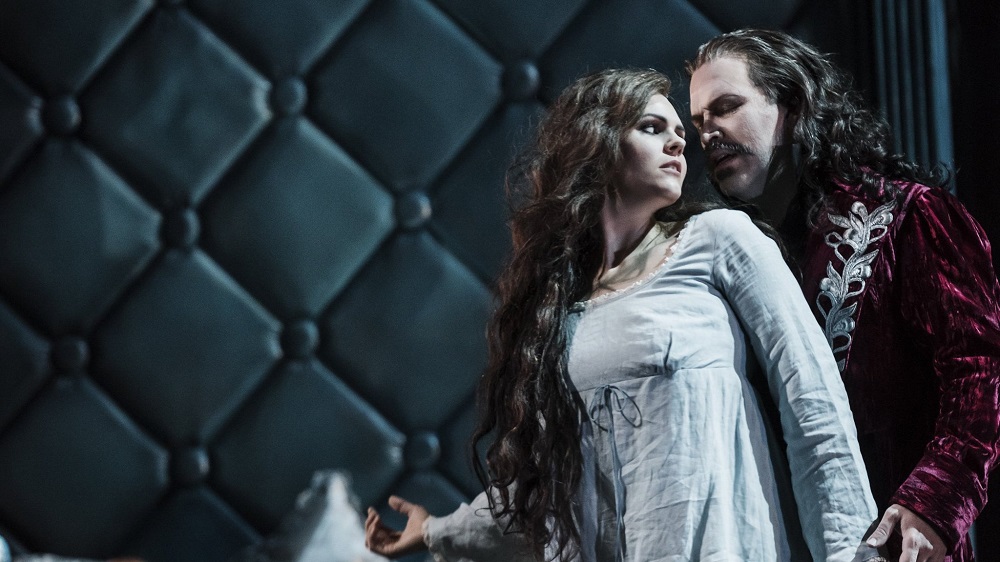 Borisova-Ollas shares with Gruber at his less inspired a love of orchestral busy-ness that doesn't always go very far. That felt like the case in the only disappointment of the festival events I heard, his recent Piano Concerto premiered at the beginning of this year by the same commissioner-soloist, Emanuel Ax. Interesting to hear the American playing against his usual Brahmsian-rich grain, though everything was keenly profiled.
The other two Gruber works in the symphony concert followed a clearer trajectory. Charivari (1981, rev. 1984/1999) takes off from the whole of Johann Strauss's II's Perpetuum Mobile - such a wittily-scored piece in itself - to implode the whole Viennese jokiness with smeary dollops of the "Wiener Blut" waltz up to a climax where the piece's ostinato, played straight and then re-ordered, becomes the chimes of Big Ben. This is a personal homage to the Englishman Gruber sees as his salvation, head of contemporary music at Boosey & Hawkes and Weill scholar extraordinaire David Drew. Dancing in the Dark takes its name from an image of Fred Astaire tapping in pitch-black, and this, achieved by the percussion hitting the rute or birch switch on a hard surface in original rhythmic tattoos, is surely where the piece should end; a riotous, dancing, short second movement seems surplus to need.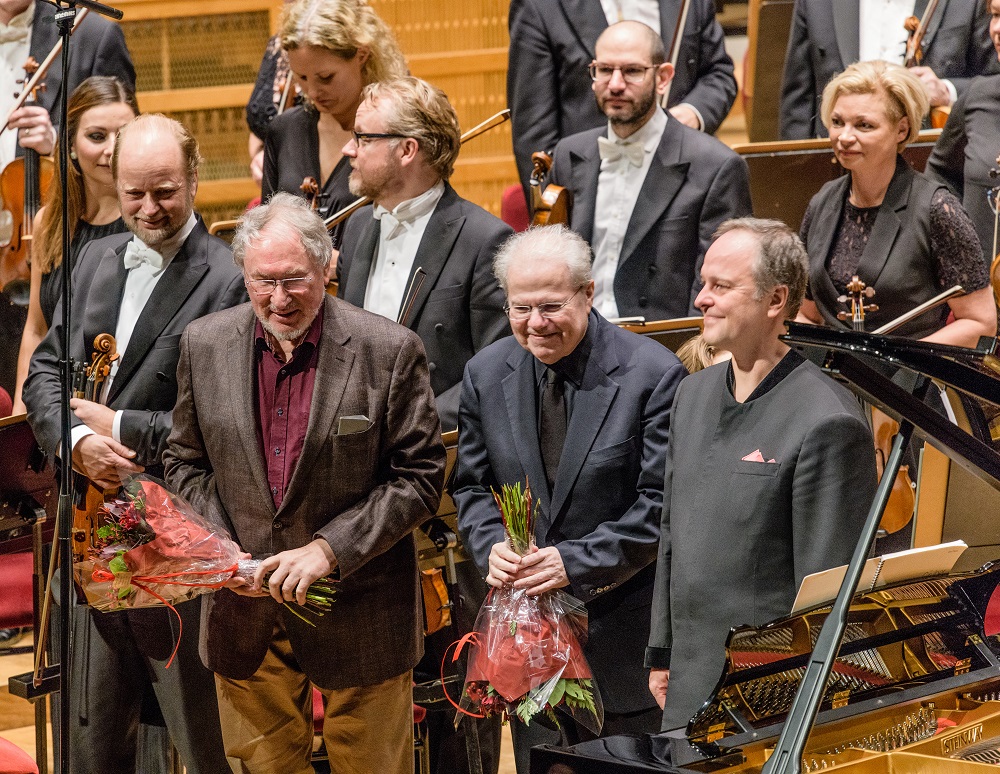 Dancing in the Dark's saturated early stages, leading from trombone to Wagner tubas, is part homage, part parody to the central European sound; Rattle, Frankenstein!!'s saviour, encouraged Gruber to compose it for the Vienna Philharmonic, which by that stage he was conducting. The Royal Stockholm Philharmonic sounded every inch as opulent, and with principal conductor Sakari Oramo at the helm (pictured above with Gruber and Ax) nothing was going to pass unfocused. Bumping into Gruber the next morning, I found him waxing lyrical about the performances – his works had never sounded so good, he said, even under his own baton. And Oramo's way with the Symphony in Three Movements by Gruber's main god, Stravinsky, never sounded like this before, either; any questions over structure were swept aside by the sheer beauty and focus of the unusual colour-combinations.
This second performance of a big programme was another afternoon event, so I got a ticket for a rather unusual Puccini Turandot that night – one mounted by the pocket forces of Stockholm's hugely popular Folkoperan, playing as usual to a packed and diverse audience. If they were there for a musical, that's what in essence they got, though Puccini was played absolutely complete – albeit with a transposed "Nessun dorma" for a lightish tenor (Matthias Zachariassen), an orchestra including six violins and a chorus of 12, coming over powerfully in the small theatre at the heart of the lively Södermalm district.
The singing, led by AnnLouice Lögdlund's experienced Ice Princess (pictured above by Mats Bäcker) was fairly rough but hit the spot; Mellika Melouani Melani's production painted the grotesque, violent fairy-tale with broad brushstrokes – refugees, boys in underpants, white socks and plimsolls as Turandot's unlucky suitors, faceless plastic "sirens" in fur coats played by male dancers, a braided princess with a screaming little girl as her alter ego, even an overtone singer before the work proper began – and couldn't help but entertain. It didn't quite add up but again, like the Dracula, it was never dull.
Still, for focused excess, Frankenstein!! had to be the highlight of the three days, taking place on the Sunday afternoon while a lively flea-market brought plenty of punters in the square outside despite freezing temperatures (pictured below). Conducting the extraordinary players from the Royal Court Orchestra – that's to say the same ensemble for Dracula - Gruber prefaced it with the Transformation-Scenes of his colleague in what became known in the late 1960s as the Third Viennese School, Kurt Schwertsik.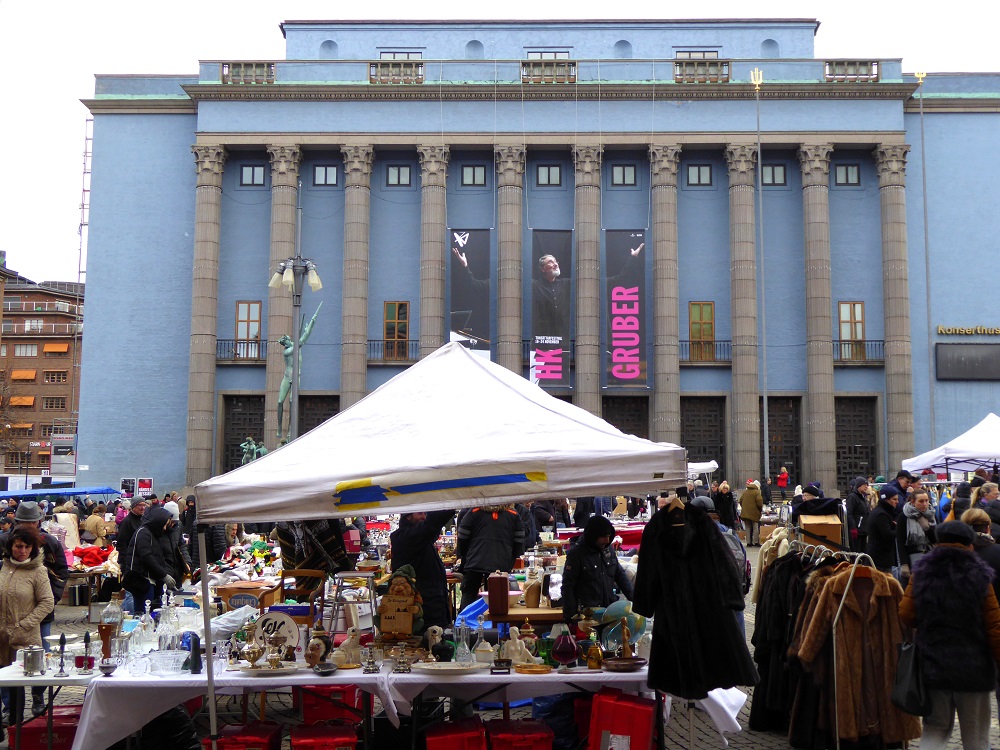 The pair's MOB-art pieces – short, full of impact, but not minimalist or necessarily easy to listen to – were a healthy reaction against the stranglehold of Boulez and the Darmstadt School on contemporary music, especially rigid in Vienna. Schwertsik's miniatures had it all: quirky melodies taking off from the French musiquette style of the 1920s, unorthodox combinations of instruments within the chamber ensemble, bracing rhythms, a touch of profundity beneath the surface in a moody duet for violin and piano.
They made the perfect double bill with Frankenstein!!, also not without its pathos. That included a superb cello solo delivered straight-faced by Erik Wahlgren, like the wonderful violinists' chameleonic performances throughout; they changed instruments with the utmost professionalism. But eyes were mostly on Gruber's tour de force as he switched between conducting, ranting to the audience and blowing on various wind appliances. The only pity was that even the small hall hadn't filled up. And there should have been a special performance for schools; if anything can turn teenagers especially on to "classical contemporary", Frankenstein!! is it. No doubt about it, Gruber hasn't dated.
The performance of 'Frankenstein!!' with the composer as conductor and chansonnier took on living-legend status
Share this article