First Person: Robert Hollingworth on I Fagiolini's 'Leonardo - Shaping the Invisible' |

reviews, news & interviews
First Person: Robert Hollingworth on I Fagiolini's 'Leonardo - Shaping the Invisible'
First Person: Robert Hollingworth on I Fagiolini's 'Leonardo - Shaping the Invisible'
Images reflected in music 500 years after the ultimate Renaissance man's death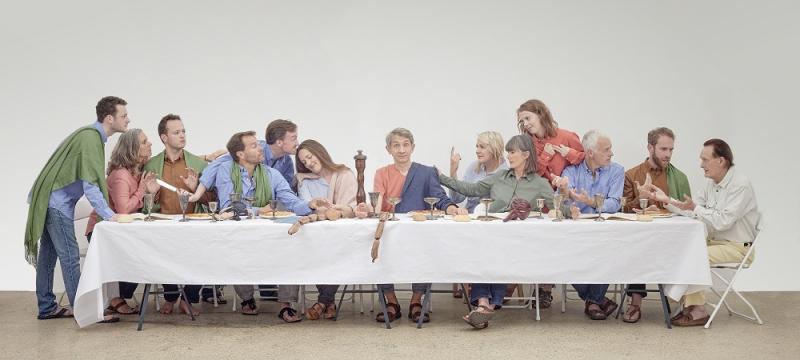 I Fagiolini at supper. No comparison between Robert Hollingworth and Christ intended
Leonardo da Vinci died 500 years ago on 2 May this year. We all know he was a painter, sculptor, architect, engineer, pioneer of flight and anatomist – yet according to Vasari, Leonardo's first job outside Florence was as a result of his musical talents.
We call him the "universal man," the ultimate polymath, but he would have called himself a "
monomath
" – bringing everything he did under one central embrace - the rational laws of God's creation. These laws were mathematical, and it is on this foundation that he revered music as the only serious rival for his divine "science" of painting.
I Fagiolini's project with Leonardo specialist Professor Martin Kemp is unusual in not going down the obvious historical rabbit hole ("music Leonardo might have known" really has been done) but instead trying to follow Leonardo's own example by getting creative. We've taken some of his most interesting images (designs and drawings as well as paintings) and reflected them in pieces of vocal music that have some sort of connection. A simple example might be Leonardo's Salvator Mundi paired with Tallis's (and Howells') Salvator Mundi. A less obvious connection occurs between a Bach fugue which sub-consciously absorbs the "musical" proportions of the body in Leonardo's iconic Vitruvian Man.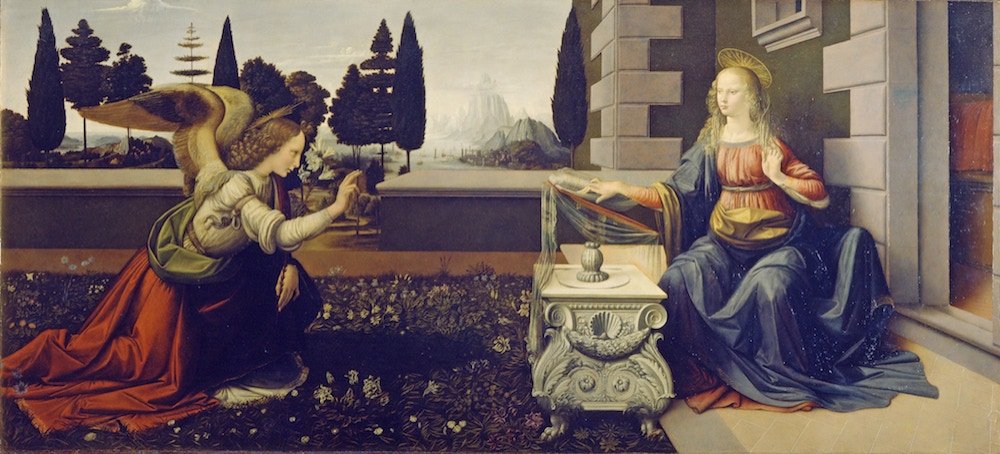 My favourite Marian motet by Spanish composer Victoria matches Leonardo's Annunciation (pictured above) – though the choice here was less about matching the subject matter and more inspired by the famously beautiful drapery of the Virgin and the Angel's dresses. The basic material of Victoria's sumptuous vocal texture feels a perfect match; this sounds as if I've disappeared entirely up my own derrière until you hear it!

Or there's Leonardo's battle image (pictured below) – with horses shrieking and a body being trampled underfoot – that has a fantastical side to it with the unlikely costumes and postures.
The fantasy is matched by I Fagiolini's recording (and film) of Janequin's Battle Piece for four voices complete with written out horses hoof sounds, exploding canons and whizzing arrows – all slightly Monty Python-esque . We had some fun in the post-production but a "clean" version is also available for purists.
There's further comedy in Leonardo's Five Grotesques (very popular in the years after his death) matched by a raucous madrigal comedy, The Last Supper (more Victoria and also Rubbra Tenebrae – "One of my disciples will betray me") as well as Monteverdi for Mona Lisa. There are staggering discoveries too, like Daniel-Lesur's Le jardin clos, a 12-voice aural miasma of it's-not-erotic-it's-just-a-very-religious-text to accompany Leonardo's overly good-looking St.John the Baptist; and a thrilling commission by Adrian Williams on a new poem by Gillian Clarke.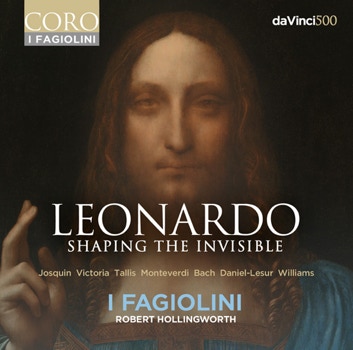 What's glorious about the concert version is hearing Martin (as a world authority on Leonardo) talk about the images and drawing parallels with the music (bit of help from me) and then having time to absorb both in live performance. The title, "Shaping the Invisible,", is Leonardo's own: in his Paragone (a comparison of the arts) he stressed that painting was the greatest artform but that music was better than poetry: writing: "And in shaping corporeal things, the poet is much less able than the painter, and for invisible things less able than the musician."

The whole project has given I Fagiolini the excuse to look back over 30 years of glorious music and choose the finest pieces while learning a bit more about Leonardo – so "Double Greatest Hits," if you like.
Touring to the Barbican on Sunday (28 April) and Bristol (2 May), with further dates here
The basic material of Victoria's sumptuous vocal texture feels a perfect match for Leonardo's 'Annunciation'
Share this article