Greig, I Fagiolini online review - poetry and music to redeem a damaged world |

reviews, news & interviews
Greig, I Fagiolini online review - poetry and music to redeem a damaged world
Greig, I Fagiolini online review - poetry and music to redeem a damaged world
Voces8 spring festival marks Earth Day by 'Re-Wilding the Wasteland'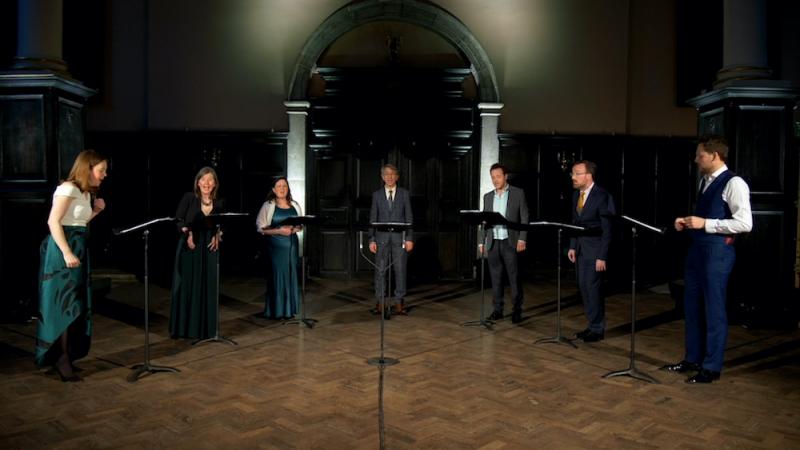 I Fagiolini, with director Robert Hollingworth (centre)
I Fagiolini do not just do choral concerts. Indeed, director Robert Hollingworth claimed in the pre-concert chat, he finds choral concerts boring.
Instead what he and his group provide are experiences that go beyond straight recitals, bringing together elements of
poetry
, theatricality and unlikely juxtaposition, making old music sound new and allowing
new music
space to breathe alongside established classics.
At Christmas I reviewed their contribution to an earlier Voces8 online festival, in which they combined Charpentier, Howells and Dylan Thomas. Also around the same time they released a short film dramatising Janequin's extraordinary cantata "The Hunt". The latest product of Hollingworth's restless and fertile imagination put TS Eliot's The Waste Land alongside music that made a journey from bleak despair to the regeneration of hope through the natural world. Once again, it baked together disparate ingredients to make a dish that was intriguingly textured, distinctively flavoured and very nourishing.
As a teenager I was somewhat obsessed with The Waste Land. Of course I didn't understand it, but I enjoyed the experience of being baffled by it, I loved its changes of register and combination of high and low culture. I had a cassette of Paul Scofield reading it, which I loved, but it could not be further from the performance of Tamsin Greig (pictured below). Where Scofield was craggy, owlish and – yes – a bit ponderous, Greig had a greater variety of pacing, more sharply-drawn character, but also some slightly disjointed rhythms. But she captured the capriciousness of the poem, and its bleached view of a hollowed-out world.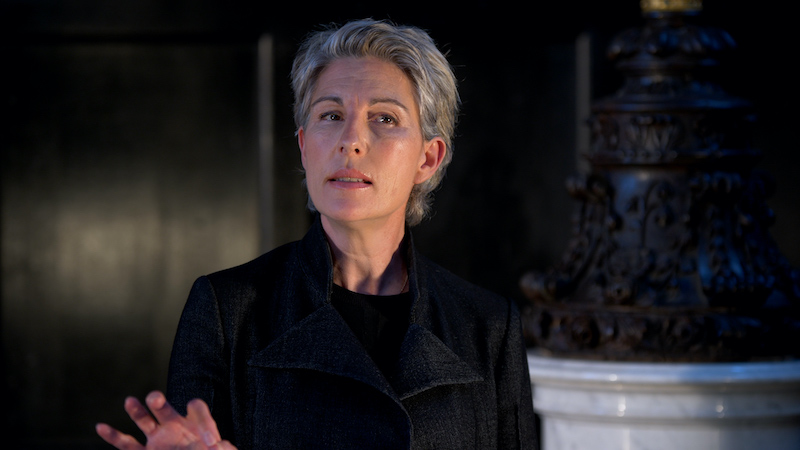 Hollingworth spotted a connection between Eliot's ravaged post-war world of 1921, the religious intolerance of the 16th century and our modern world of nature in crisis. These elements are drawn together by the austerity of Victoria's Tenebrae Responsories, mid-20th century classics and the hopeful perspectives of a handful of new commissions. The most striking of these for me was Ben Rowarth's response to Byrd's Deus venerunt gentes. I am not familiar with Rowarth's work but was immediately taken with his swooping and drooping lines weaving around Byrd's harmony. Piquant chords using Renaissance-style false relations achieved a stained-glass window monumentality, and I would like to hear more of his music.
Shruthi Rajasekar also blended cultures in Ganga's Peace, nodding towards Indian music in the portamento at the start and later the rhythmic verbalisation of nonsense syllables. At times the choir found a glassy sound, at others a warmth that spread through the final "shanti" section. The final number, Joanna Marsh's The World is Charged, offered a redemptive message through pastoral imagery. It had a hymn-like simplicity, enriched by a lush harmony and directness of expression. The music was solid and carefully wrought, the singing restrained and measured.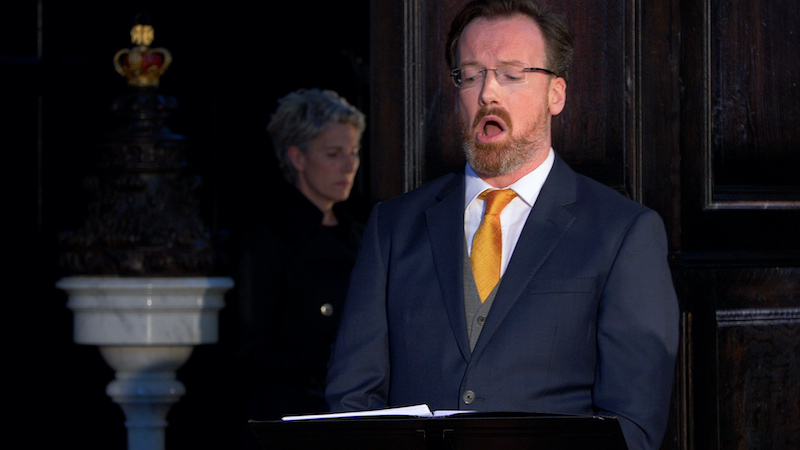 The singing in the Victoria and Byrd – right in I Fagiolini's wheelhouse – was hard to fault. The Victoria has its sorrow baked into the music and was sung here at its original lower pitch; it's a miracle of four-voice writing and the singers lingered just enough over the moments of harmonic tension, but never too much. Rebecca Lea's deft soprano plucked notes from the air, and elsewhere Greg Skidmore (pictured above) sang with character and precision. But it is invidious to single people out: everyone was superb.
Perhaps the highlight was Kenneth Leighton's setting of Gerard Manley Hopkins's "God's Grandeur". It was muscular and covered a lot of musical, textural and emotional ground in a brief span. Leighton is a composer I always feel I should know better and I Fagiolini were persuasive advocates here.
This concert was the last in Voces8's Live from London: Spring festival. As with the Christmas festival that I covered for theartsdesk, it brought together a fantastic range of artists in generously-filled and well-produced concerts, each of which deserved its own attention. They are available online for another week and – in addition to I Fagiolini – I would draw your attention to Joanna MacGregor's revelatory recital of piano music by black female composers and Voces8 in Bach's B minor Mass with the Academy of Ancient Music. The season pass offers a range of delights – and I am already looking forward to the summer festival.
In Victoria's 'Tenebrae Responsories', the sorrow is baked into the music
rating
Explore topics
Share this article