theartsdesk in Treviso - cultural patronage, Italian style |

reviews, news & interviews
theartsdesk in Treviso - cultural patronage, Italian style
theartsdesk in Treviso - cultural patronage, Italian style
High-level attention to detail in the Fondazione Benetton's support for the arts
Soprano Alena Dantcheva and Accademia d'Arcadia pay homage to Galileo in San Teonisto
Fortunate those Italian towns and cities whose Renaissance rulers looked to the arts to enrich their domain. Now neglect of cultural heritage can be laid at the doors of successive governments, but regional enlightenment can make a difference even in the era of Salvini. Treviso, clutching the inevitable title of "the Venice of the mainland" and only 30 kilometres distant from that still dreamlike city, was lucky to have a cultured centre-left mayor for five years between Lega Nord representatives, one of them convicted for trying to form an armed criminal gang during the late 1990s; sadly in 2018 the pendulum swung back to a Salvinisto. All the more reason, then, for the phenomenal work of the Fondazione Benetton Studi Ricerche to take even more responsibility for the restoration of the place's glories and its cultural events.
One of the Foundation's two main buildings, the Palazzo Bomben, was hit in the catastrophic Allied bombing of 1944, missing its target (a marshalling yard) and destroying in five minutes part of the old town along with an estimated 1400 citizens; it was uncomfortable to be a Brit watching the ceremony to mark the 75th anniversary on the steps of the finely-frescoed Palazzo del Trecento. Having decided in 1987 to turn Benetton family money from industry and sports – the rugby team Treviso Benetton had just tied with Leinster in Ireland the weekend I was in town – to culture, Luciano Benetton engaged the architects Tobia Scarpa and Umberto Zandigiacomi to restore Palazzi Bomben and Caotorta as "spazi" for public initiatives and research (pictured below by Corrado Piccoli).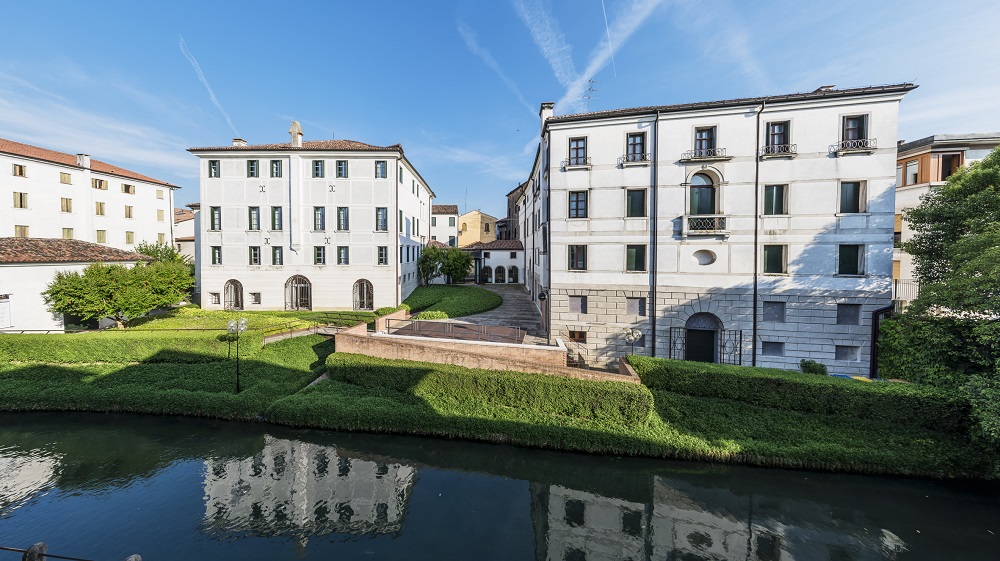 Both had suffered from decades of serious neglect when the project began in 1999 (the complex was completed in 2003). Now, with a very originally planned, asymmetrical garden in between and a walkway across to the other side of the Roggia canal, Caotorta has a library and archive open to all and Bomben, transparent in its vast reception area, boasts exhibition spaces, a handsome wooden auditorium and conference rooms.
Chamber concerts can be held here, but the ideal venue for early music, with perfect acoustics for choirs, is the Church of San Teonisto, originally dating from 1434. Another victim of the bombing, but long neglected and plundered before that, its interior, inaugurated as a performance space in 2017, is another triumph of the imaginative Scarpa (pictured below by Corrado Piccoli; the jagged line up top is to mark out where the walls stopped and open air left by the destroyed roof began). The Civic Museums, which house archaeological finds and fine paintings including two masterpieces (a Bellini Madonna and Lorenzo Lotto's Portrait of a Friar) in state-of-the-art displays around a cloister garden, returned San Teonisto's works of art along with others. Hung as in a picture gallery, they include a fine work by Carlo (Carletto) Caliari and Jacopo Lauro's Madonna of the Rosary, but lack their crowning glory, Veronese's The Wedding at Cana (attribution recently questioned; possibly the work of his younger brother Benedetto Caliari), stolen by Napoleon, removed to Milan's Brera Gallery and now in Montecitorio (wonders could be done with a good digital copy, for completeness' sake).
Fondazione Benetton's 2018-19 concert season in San Teonisto, under the auspices of the Casa Cozzi outside town which now hosts musical courses and masterclasses, married science and music in very Benettonesque harmony. The last concert, which I was lucky to witness, celebrated Galileo Galilei in a quasi opera knitting together works by Galileo's lutenist/composer father Vincenzo, his younger brother Michelangelo and their contemporaries, culminating in a plangent performance of Monteverdi's Lamento della Ninfa from the fascinating soprano Alena Dantcheva and a strong vocal trio of "shepherds". Sensual beauties from the Accademia d'Arcadia, one of so many top-notch Italian early music groups gracing the early music scene today, met with some rather more visceral images in Gianmaria Sortino's video montage, interweaving images of Galileo's scientific research with a contemporary narrative of eye surgery. No clashes, no pretentiousness, only the highest poetry on both the audio and visual fronts.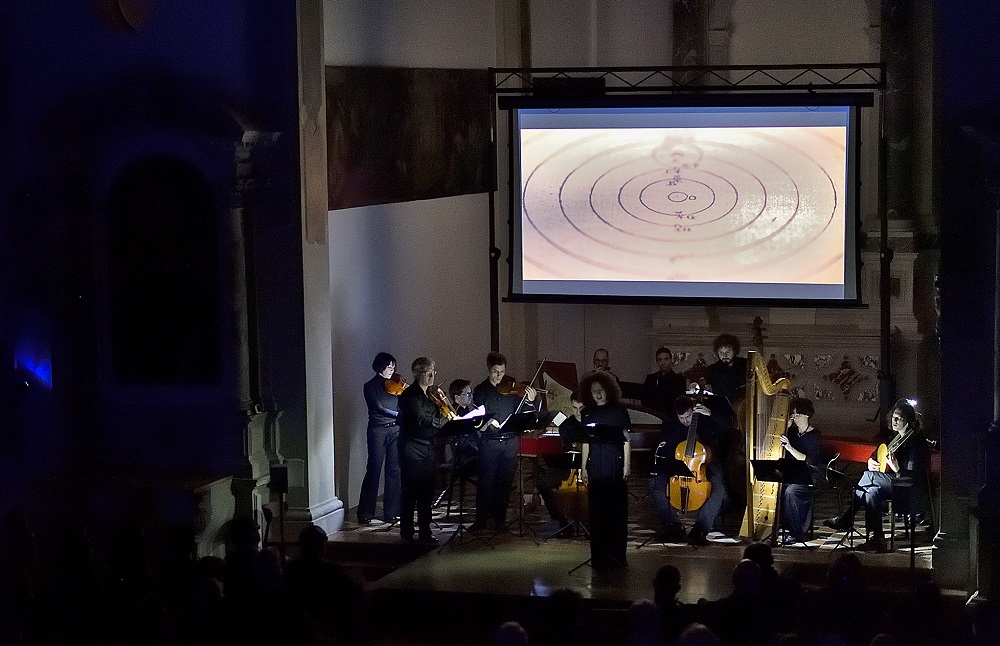 Galileo's incarceration and transcendence chimed with the conversion of the 1830s Habsburg Prison opposite the neoclassical portico of Treviso's Duomo – there's a Titian within, though an odd one – into the striking whitewashed Gallerie delle Prigione. Most of the rooms are small, as one would expect with prison cells, and keep their original barred windows, but they suit the small (10x12) panels of Imago Mundi, the itinerant art project promoted by Luciano Benetton. From this vast assemblage, the exhibition I saw started with Visual Poetry in Europe, selected squares dealing with the link between word and image – splendid, but the artists should be paid – and moved on (as Poetic Boom Boom) to the work of the artist-poet Sarenco and his Logomotives group, founded in 1983: something of a revelation to me in the playfulness of reinvention, an echo of Duchamp's light-of-touch referencing.
There is strong radical tension in Sarenco's Poetical Licence, a photo taken of conflicts in Belfast, but also wit in his 14 ironic takes on the stations of the cross, Let's Go to School, the largest single exhibit in the largest room (pictured below by Marco Pavan/Fabrica), in Paul de Vree's reconstructed Singer sewing machine with additional letters making up Kissinger I and in further artistic word-player from other members of the movement.
Awkward for the curator that women were not part of the Logomotives group; though they came as something of an afterthought in the last of the upstairs rooms, the most exquisite work in the entire exhibition was in pages of handmade books by Raffaella della Olga, very much an artist of today.
Yesterday's decorative art meets the present's graffiti all over the city, in the frescoed facades which date back as far as the 13th century, the Fondazione Benetton is rescuing and safeguarding a cultural heritage in partnership with the city council by restoration and research. The fruits of the Foundation's Studi Ricerche to register all the decorated surfaces within the city walls are handsomely documented in one of the many books produced to swooningly beautiful standards of production, Treviso Urbs Picta (image of buildings in Calmaggiore pictured below).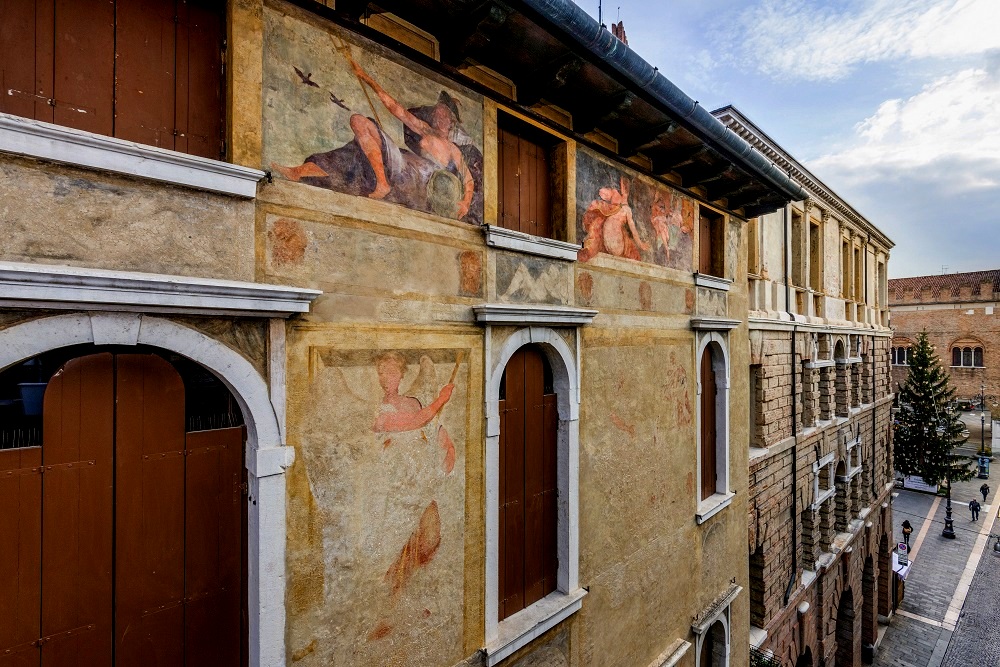 It's not a handbook to take with you as you wander these amazing streets and along the canals, but a perfect grounding in what to see (there's also a detachable map which can accompany those excursions). Equally well-made volumes on the gardens or managed natural zones of the world awarded the International Carlo Scarpa Prize appear every year, part of the Foundation's landscape research centre headed by a scientific committee. There's even a prize for a promising scholar of the history of games. With education projects in local schools, no aspect of cultural and environmental life in Treviso is left unexplored by the Foundation. A Utopian ideal, seemingly realisable at a time when we need it most.
No clashes, no pretentiousness, only the highest poetry on both the audio and visual fronts
Explore topics
Share this article
Subscribe to theartsdesk.com
Thank you for continuing to read our work on theartsdesk.com. For unlimited access to every article in its entirety, including our archive of more than 10,000 pieces, we're asking for £3.95 per month or £30 per year. We feel it's a very good deal, and hope you do too.
To take an annual subscription now simply click here.
And if you're looking for that extra gift for a friend or family member, why not treat them to a theartsdesk.com gift subscription?