From cancellation to new vigour: pianist and artistic director Joseph Middleton on Leeds Lieder |

reviews, news & interviews
From cancellation to new vigour: pianist and artistic director Joseph Middleton on Leeds Lieder
From cancellation to new vigour: pianist and artistic director Joseph Middleton on Leeds Lieder
One of our most enterprising younger-generation performers on renewing a major festival
Joseph Middleton knocking elbows with countertenor Iestyn Davies in the autumn festival of 2020
April 2020 was to have been the celebratory 10th Anniversary Festival of Leeds Lieder, the organisation I've been fortunate enough to direct since late 2014.
I'd called the Festival
Ode to Joy
and in a curious turn of programming, geekery had come up with an opening gala I hoped would appeal to our audience: an acrostic programme that spelt out "Happy Birthday, Leeds Lieder" using the highways and byways of the song literature. It included a starry line-up of friends and tickets had flown out of the box office, continuing Leeds Lieder's success for growing audiences over the past few years. In a nod to my feelings about
Brexit
, I'd managed to sneak in a rarely performed version of Schiller's
Ode to Joy
set by
Schubert
. Beethoven's famous version celebrates the power of music and of connecting with people across borders, and I'd hoped this programme would do the same. With Vaughan William's
Serenade to Music
at the end of the programme we were in for a treat.
But of course, the writing was on the wall for that festival, and by mid-March we had to admit defeat and cancel dozens of concerts, masterclasses, study events, open mic poetry evenings, a late-night informal Lieder Lounge, all our education work and an ongoing series of workshops pairing local Leeds poets with 13 outstanding postgraduate composers. Mounting even a modest Festival like Leeds Lieder is an extraordinary amount of work. It turns out that cancelling Festivals is just as daunting as putting them on. In a little office tucked behind the organ pipes in Leeds Town Hall we employ a staff of five very part-time individuals and enjoy support from a hard-working board. We collectively set about undoing all the work we'd spent 18 months planning.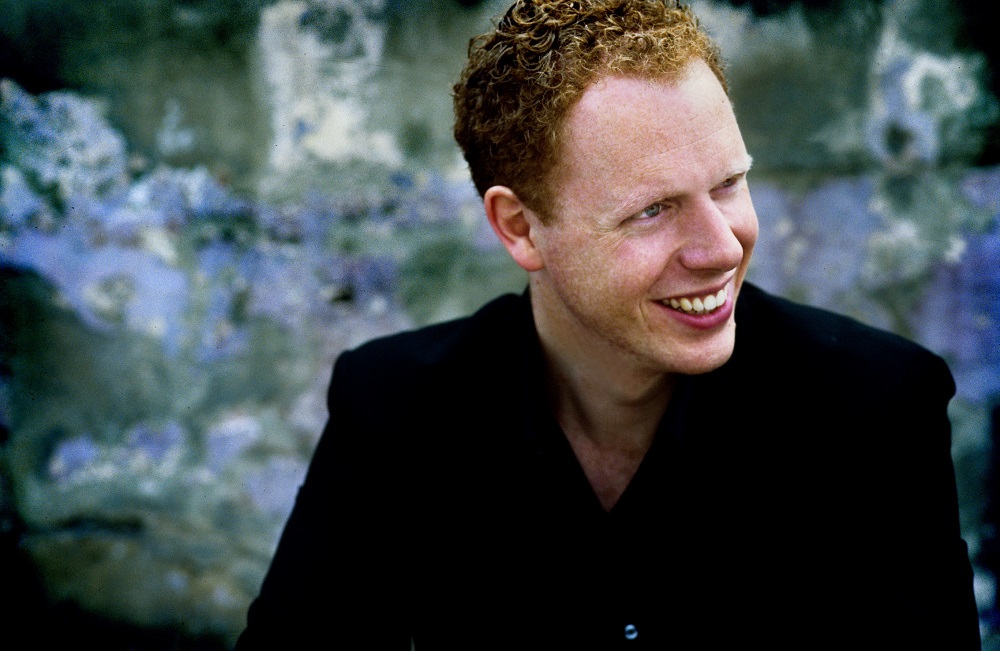 With my other hat on, that of travelling minstrel, I was acutely aware of cancellations elsewhere. My diary was being decimated and the schedule continues, over a year on, to be like working in quicksand. At Leeds, it was decided early on that we wanted to pay all our freelancers, performers, education leaders and commissioned composers. Everyone would be paid in full and we wouldn't, as I was finding to be the case with most other cancellations, use the force majeure clause in our contract. The Leeds Lieder audience was extremely generous in donating vast swathes of ticket revenue, and an on-line crowd fundraising initiative brought in more money. The generosity of the Arts Council ensured that we wouldn't be left in too precarious a position and so, with the 2020 artists supported, we turned to reacting as nimbly as possible to a new way of working. Despite the overwhelming obstacles placed in the path of musicians by the double whammy of an atrocious non-deal for musicians post-Brexit, and the crisis of the pandemic, exciting discussions in the classical music world that had been bubbling for years now had the opportunity to emerge with a new and fresh vigour.
Working with our friends at Leeds Town Hall, we set about reaching new audiences, keeping a dialogue with our current audience and exploring working in a new paradigm. We became our own broadcaster and thought hard about what, and who we programmed. The world was changed again one year ago by the tragic killing of George Floyd in Minneapolis. By late summer, it was becoming clear that at Leeds Lieder we were not only going to have to adapt to the advice coming out of Number 10, but that we should also use this time to explore how Lieder and song could remain relevant to a 21st century audience. Our work should reflect what was happening around us.
Sarah Connolly and Joseph Middleton perform Ivor Gurney's 'By a Bierside'
October 2020 saw Louise Alder, Iestyn Davies, Ian Bostridge and me take to the Town Hall stage. Even with social distancing, and with strict health and safety measures in place, the hall is so generous in size that we were able to attract, for Covid times, a big live audience. We live-streamed these concerts and reached new audiences all over the globe. Barbara Hannigan, that extraordinary trailblazer, was in touch with me early in the pandemic to ask if I would join her Momentum Equilibrium scheme whereby a Festival or artist invites a younger colleague to join them on stage, supporting them financially, and giving them a much-needed platform. This is something Leeds Lieder had been doing for years (our Young Artist scheme attracted the likes of Elizabeth Watts, Nicky Spence and Catriona Morison early in their studies, and each reigns supreme on the world stage today).
We have supported 13 artists under the auspices of Momentum this year, inviting them to appear alongside the likes of Dame Sarah Connolly and Gerald Finley.. For the Autumn concerts Benson Wilson brought a Maori War Song (pictured below) which, sitting alongside Louise Alder's first Strauss Four Last Songs made for heady listening. Nardus Williams shone bright in Brahms and Harriet Burns as the perfect Schubertian. In the Spring we returned to the Town Hall again and Fatma Said, who previously delighted our audiences with Egyptian Song, made a welcome return, Fleur Barron placed Asian music, much of it by women, alongside western art song with thrilling results. How many times have Chinese folk songs been heard on the concert platform? Ashok Klouda joined her for music by Borodin and Libby Larsen. Kitty Whately, like Fleur, is doing much to introduce audiences to music written by women and brought Machonchy and Rebecca Clarke to the stage.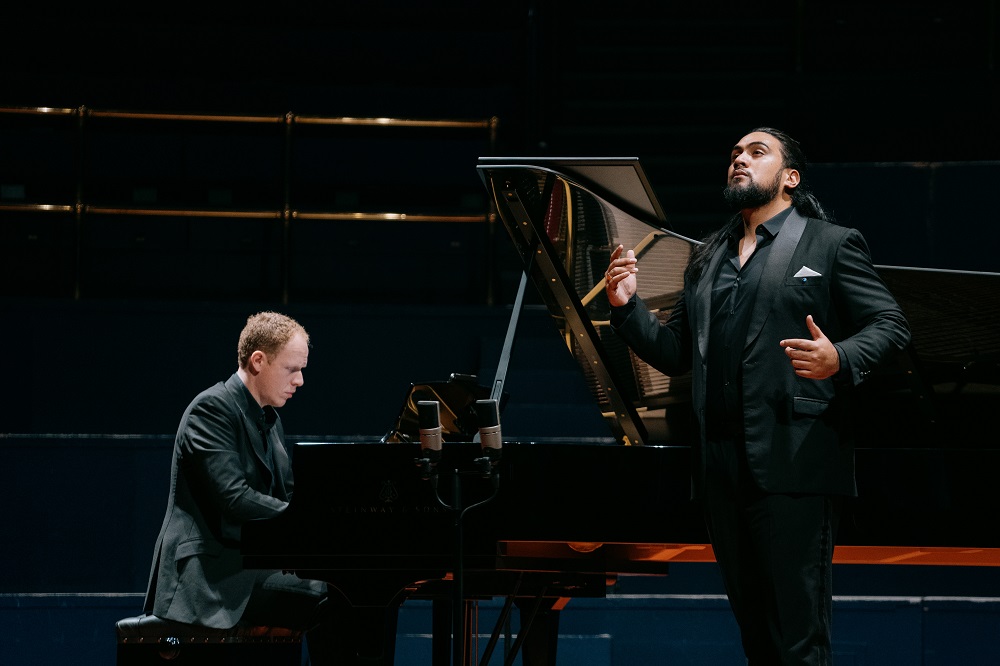 Our June Festival (already postponed once, from April 2021) contains more artists than ever before, from a kaleidoscopic array of backgrounds. Masterclasses given by Sir Thomas Allen, Dame Felicity Lott, Iain Burnside, James Gilchrist and Anna Tilbrook offer young singers and pianists, as well as the audiences watching them, the opportunity to expand and develop their appreciation of the art form. Study events and pre-concert talks illuminate the music. New talent is on evidence at every turn – artists such as Ema Nikolovska have programmed the likes of Errolyn Wallen and Tomislav Zografski alongside Schubert and Clara Schumann. The Hermes Experiment will work with local poets to create new improvisations and will perform Raymond Yiu and Ayanna Witter Johnson. Mahler sits next to Liza Lehmann in A Spiritual Solstice, performed by Alice Coote and Christian Blackshaw. Mark Padmore and colleagues Iestyn Davies, Peter Brathwaite and me, join Olivia Jageurs and Ben Goldscheider for a rare performance of the complete Britten Canticles. The indefatigable Graham Johnson brings one of his Songmakers' Almanac programmes, and Gilchrist and Tilbrook place Schubert alongside a Leeds Lieder premiere, the cycle Under Alter'd Skies, by Jonathan Dove.
The closing recital stretches the conventional song recital to the limit. No programme will be announced or printed. A world premiere commissioned by Leeds Lieder includes a new cycle by Hannah Kendall and the concert will ask: In this modern age of gender fluidity and identity awareness, how can the notion of art song, steeped in centuries of patriarchal tradition, keep pace and maintain its relevance? What relationships can be drawn between performer and audience, particularly coming out of a Pandemic? The audience will choose part of the programme, like a jukebox, and Carolyn Sampson, Roderick Williams and I will attempt to tackle the knotty issue of gender politics in song head-on with a wide-ranging programme from across Europe and spanning centuries in our search for answers. The audience will be invited to contribute, join the debate and encourage us on our journey. I hope you'll join us either in person, or online. The programme has the potential to open many doors, and I for one can't wait to throw myself into it and see which way the wind blows. Whatever happens, I know that I'll leave the 2021 Festival and start planning the next thinking, through Schober's words set by Schubert: "Du holde Kunst, ich danke dir!" – "O blessed art, I thank you!"
Louise Alder and Joseph Middleton perform 'Beim schlafengehen' and 'Im Abendrot' from Strauss's Four Last Songs
By late summer 2020, it was becoming clear that our work should reflect what was happening around us
Explore topics
Share this article