Chetham's Symphony Orchestra, Chetham's Chorus, Threlfall, Bridgewater Hall, Manchester - a thrilling triumph |

reviews, news & interviews
Chetham's Symphony Orchestra, Chetham's Chorus, Threlfall, Bridgewater Hall, Manchester - a thrilling triumph
Chetham's Symphony Orchestra, Chetham's Chorus, Threlfall, Bridgewater Hall, Manchester - a thrilling triumph
Truly awesome Mahler is the highspot of Chetham's 50th anniversary year
Some of the near-500 performers conducted by Stephen Threlfall in Chetham's anniversary Mahler 8
As end-of-term concerts go, Mahler's Eighth Symphony is a biggie. In fact it's hard to imagine any place of secondary education where they would even contemplate it.
As end-of-term concerts go, Mahler's Eighth Symphony is a biggie. In fact it's hard to imagine any place of secondary education where they would even contemplate it.
But for Chetham's School of Music, the "Symphony of a Thousand" was a doable task, and for Stephen Threlfall's last public appearance for Chetham's as director of music it became a thrilling triumph. They're only part of the way through celebrating 50 years of Chetham's existence in 2019 – this was number 32 in a 50-concert series running through the year – but of those 50 it will probably be remembered the longest.
Recorded for Radio 3, with school Patron HRH The Earl of Wessex present and joining the universal standing ovation at the end, it aptly drew together both the students of today and some alumni and guest players. Around 130 made up the total muster of Chetham's Symphony Orchestra, and with Chetham's Chorus augmented by Leeds Festival Chorus and St George's Singers, and Chetham's Children's Choir augmented by Manchester and Hereford Cathedral choristers, there were pretty near to 500 performers (which is about as big a battalion as you ever get for a Mahler 8).
Soloists – some Chetham's alumni themselves – were sopranos Gweneth Ann Rand, Ailish Tynan and Caroline Taylor, mezzos Kitty Whately and Margaret McDonald, tenor Mark Le Brocq, baritone Gareth Brynmor John and bass Paul Carey Jones.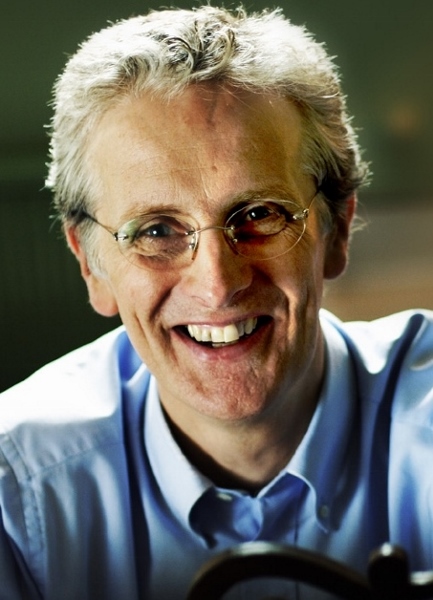 As a team they would have been the envy of any promoter, and perhaps the greatest excellence of this concert lay in their being together to do it. That in itself was a tribute to Stephen Threlfall (pictured left), and he knew it, giving full rein to those whose top registers could soar above the textures – the two high sopranos and tenor in particular, high Cs and Bs flashing out like shooting stars above the surging sea of sound.
There was opportunity, too, for Kitty Whately's gentler qualities to bloom in her solo as one of the More Perfect Angels in Part Two, the setting of the closing scene of Goethe's Faust, and also for Gareth Brynmor John's as Pater Ecstaticus, along with Paul Carey Jones's as Pater Profundus. Caroline Taylor, stationed on high in the auditorium to sing the Mater Gloriosa's benedictions at the close, floated her tone down like gentle rain from heaven.
The most distinctive quality of the whole performance was created by Stephen Threlfall: his skills as a conductor have long been clear to all who have seen him in action over the years here, and the geniality, cheerfulness and energy of the man shone through every bar of this concert.
His speeds were always vigorous, and at the same time he'd coached his vast orchestral forces to deliver the kind of clean articulation that's needed in the generous Bridgewater Hall acoustic. When Mahler writes a quaver followed by a semiquaver rest and then a semiquaver note, it's not just another dotted quaver, and it didn't sound like it either. The Chetham's Symphony Orchestra strings might not have delivered the stratospheric acrobatics occasionally demanded of them to absolute perfection, but they could create some wonderfully warm tone, and once we were into Part Two the woodwind and brass shone brightly, the remarkable and rapid dynamic contrasts coming through with precision and impressive effect. There were excellent solos from the departmental principals, too.
The choral singers, welded into two full choirs and a children's chorus from their disparate origins for this occasion, made a robust sound en masse, even if the occasional lead in the welter of counterpoint came over rather more gently than might have been ideal.
They began with wondrously warm sotto voce tone in Britten's setting of "God Save the Queen", which was actually the first item on the programme – after the heroics of Mahler its calm assurance and unalloyed joys became a distant memory, but it was a remarkable thing in itself. Threlfall had everyone completely on his side, and if beginnings and endings are the key to the impact of a performance, this one was truly awesome.
The geniality, cheerfulness and energy of the man shone through every bar of this Mahler 8
rating
Explore topics
Share this article