Christmas on theartsdesk: Brainteasers, Bran Tub, and the Best of 2011 |

reviews, news & interviews
Christmas on theartsdesk: Brainteasers, Bran Tub, and the Best of 2011
Christmas on theartsdesk: Brainteasers, Bran Tub, and the Best of 2011
There's a host of goodies to look forward to over the seasonal period
Wednesday, 21 December 2011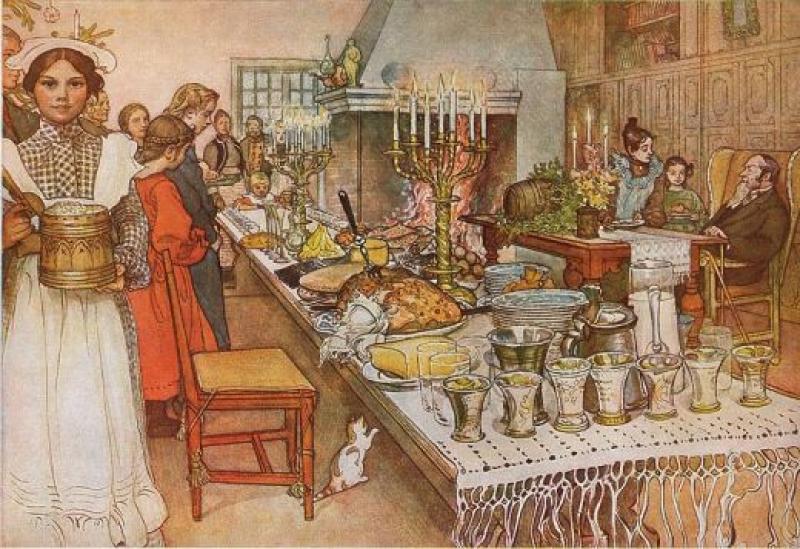 A veritable feast of seasonal sustenance awaits theartsdesk's esteemed readers
Any day now most of us will be hunkering down and for the most part drawing a curtain about the world outside. Before that happens, we'd like to tell you about theartsdesk's plans for Christmas and the New Year.
As well as posting our usual range of reviews (coming up in the next couple of days, some terrific writing on theatre, film and television), we also have a selection of seasonal treats. On Christmas Day we are publishing a bumper arts quiz specifically tailored for readers of theartsdesk, who know their cultural onions. (Sample questions: "In Tinker Tailor Soldier Spy what type of mint do we see George Smiley eating as he prepares to confront the mole?" "Which new opera divided critics in its depiction of senile sex, boob jobs and drug overdoses?" "What was L.S. Lowry's day job?") We very much hope there will be plenty there to keep you entertained and your grey matter exercised.
This is traditionally the time of year when the newspapers sum up the previous 12 months. Elsewhere you will find the theatre critic pondering the year in theatre, the film critic the year in film, the opera critic the year in opera... and so on. We certainly did that last year, and at the end of 2009 – our first Christmas – we gave great thought to summing up the cultural decade that was. This year we have decided to do things a little differently.
As we hope you will appreciate, theartsdesk is very much a writers' site. The deskers, as we call ourselves, have a broad frame of cultural reference, much as our readers do, and indeed most of us write about more than one art form. To make a virtue of that breadth, each of our writers will be offering their own take on 2011. From Boxing Day through to 2 January, each day four deskers will cast a discerning eye over the year as they have seen it. You can expect everything to covered: highlights and letdowns, Leonardo da Vinci (La belle ferronnière, pictured left) and Little Mix. We will also each recommend one thing to look forward to in 2012. In addition, our Disc of the Day slot is mutating this Christmas into Disc of the Year as our new music writers cast their eye back over the best releases of 2011.
Then on 1 January we have a New Year Bran Tub tickets competition where the tickets are all for shows we recommend but you don't know what you'll win.
Meanwhile, if you're planning to head out to a play or a musical, we suggest you consult our theatre guide, in which we rate each production out of five, offer a brief description, a short line from the original review to which there is also a link. The same goes for cinema. If you're aiming to catch a movie, let us help you choose with our comprehensive film guide.
Finally, there are still three shopping days to Christmas. If you're still stuck for a last-minute gift for relatives or friends, allow us to direct you to the best DVDs. We recommend them in five different categories: comedy, dance, classical, film and TV box sets, and new music. We even can even point you, if you're feeling exceptionally festive, towards the best new releases on a Christmas theme.
We hope you agree that there's plenty to look forward to and to keep an eye out for over the next few weeks. A Merry Christmas to you from all at theartsdesk.