Classical CDs: Hellscapes, harpists and fairy mounds |

reviews, news & interviews
Classical CDs: Hellscapes, harpists and fairy mounds
Classical CDs: Hellscapes, harpists and fairy mounds
Contemporary ballet, epic symphonies in new clothes and renaissance madrigals
Ending with a bang - composer Thomas Adès
Thomas Adès: Dante Los Angeles Philharmonic, Los Angeles Master Chorale/Gustavo Dudamel (Nonesuch)
I have been eagerly awaiting this disc of Thomas Adès's Dante since seeing the Covent Garden production in late 2021, which grabbed me, no natural balletomane, with a firm grip. I realised at the time that it would work – indeed probably have most of its subsequent life – as a concert work. In that respect, its 90 minute duration is cunningly broken up into three standalone sections that can be programmed separately. But it's only in hearing the three together, with their distinctive soundworlds and approaches to the subject matter, that the true weight and magnificence of the project fully comes across.
This is an Adès at ease with himself, at ease with his material, at ease with his means, and prepared to delight as well as dazzle. The opening "Inferno" section is a series of discrete dances, vignettes that depict the various groups of lost souls encountered by the poet on his journey. In musical terms this means Adès a sequence of set-pieces, somewhat in the manner of The Nutcracker "but in hell". Quoting freely from Liszt, Berlioz and Puccini, the music swings between evoking Hollywood orchestration in "The Gluttons", an elliptical, elusive "Pavan of the Souls in Limbo" and a frenzied Offenbach galop of "The Thieves". This ends with a bang – but the kicker is the freezing evocation of Satan himself that ends the first part.
"Purgatorio" is from a completely different world, uneasy and chilly. Adès uses a sample of a Sephardic cantor of the type associated with the Ades Synagogue in Jerusalem. The whole section has a middle-eastern accent, described by Adès as "a kind of cleansing". It is certainly more serious, more earnest music than the technicolour of "Inferno", and sets up the ecstatic final section, "Paradiso". This again takes us somewhere different, infused with light, circling chord patterns ever ascending, leading to the LA Master Chorale's hymnic entry of consolation and redemption. It is music that reminds me of the concertos In Seven Days and Concentric Paths, patterns always repeating, always slightly different, striving and reaching. The LA Philharmonic under Gustavo Dudamel are terrific, and not just in the primary coloured "Inferno", where it is kind of easy to be terrific, but in their chameleon-like transformations between movements. In particular, the gleaming, glistening sounds of the final few minutes, coloured with glockenspiel, harp and piccolo, spiralling into the heavens, are truly moving as well as impressive. Bernard Hughes
Bruckner: Symphony No.6 Camerata RCO, cond./arr. Rolf Verbeek (Gutman Records)
Here is top-quality, highly enjoyable chamber-scale Bruckner for people drawn, say, to the arrangements commissioned by the Viennese "Verein für musikalische Privataufführungen" a century ago. Or it might also suit people who couldn't resist the glorious sleaze and squeeze of Uri Caine's "Wagner e Venezia" (1997). Or could it also be a means to soften the hearts of people who normally say that they really can't stand Bruckner? Hearing this this ten-piece ensemble is a very different experience indeed from a full orchestra. The whole thing has a sense of tingling immediacy, of nowhere to hide, of every player as soloist, and that much is palpable from the very first bar. Think how the insistent quiet triplet figure on the violins sounds in a large orchestra: recessed, ethereal and distant. In this chamber version the two violins play it one-to-a part in octaves, and - like every member of the group - they are centre-stage. Then in bar 7 comes a reminder of how London's loss has been Amsterdam's gain, when we get our first taste of the glorious sound of horn-player Katy Woolley and her hand-hammered Alexander 103. Listening on, I find I am particularly drawn to one very special section. I can't help going back again and again to the ending of the adagio. It is beautifully paced, and the heart-melting string playing has been excellently recorded.
Camerata RCO was set up by a group of friends who are all members of the Royal Concertgebouw Orchestra. They formed a flexible chamber music ensemble a few years ago, and they have a growing catalogue of recordings. The instrumentation here is exactly the same as for the Hanns Eisler/ Erwin Stein/ Karl Rankl Vienna arrangement of Bruckner 7, which Camerata RCO has also recorded. The group consists of just five string players plus clarinet, horn, accordion, piano and timpani. And that's it. Curiously, only five of the players here for the 6th symphony – or exactly half the group – are the same individuals who played on the group's Bruckner 7 recording. "No.6" is a brand new arrangement by Rolf Verbeek, who also conducts it. Let's hear it for symphonies in miniature: played by instrumentalists at this level, they are definitely worth investigating....even (or perhaps especially) for Bruckner-phobes. Sebastian Scotney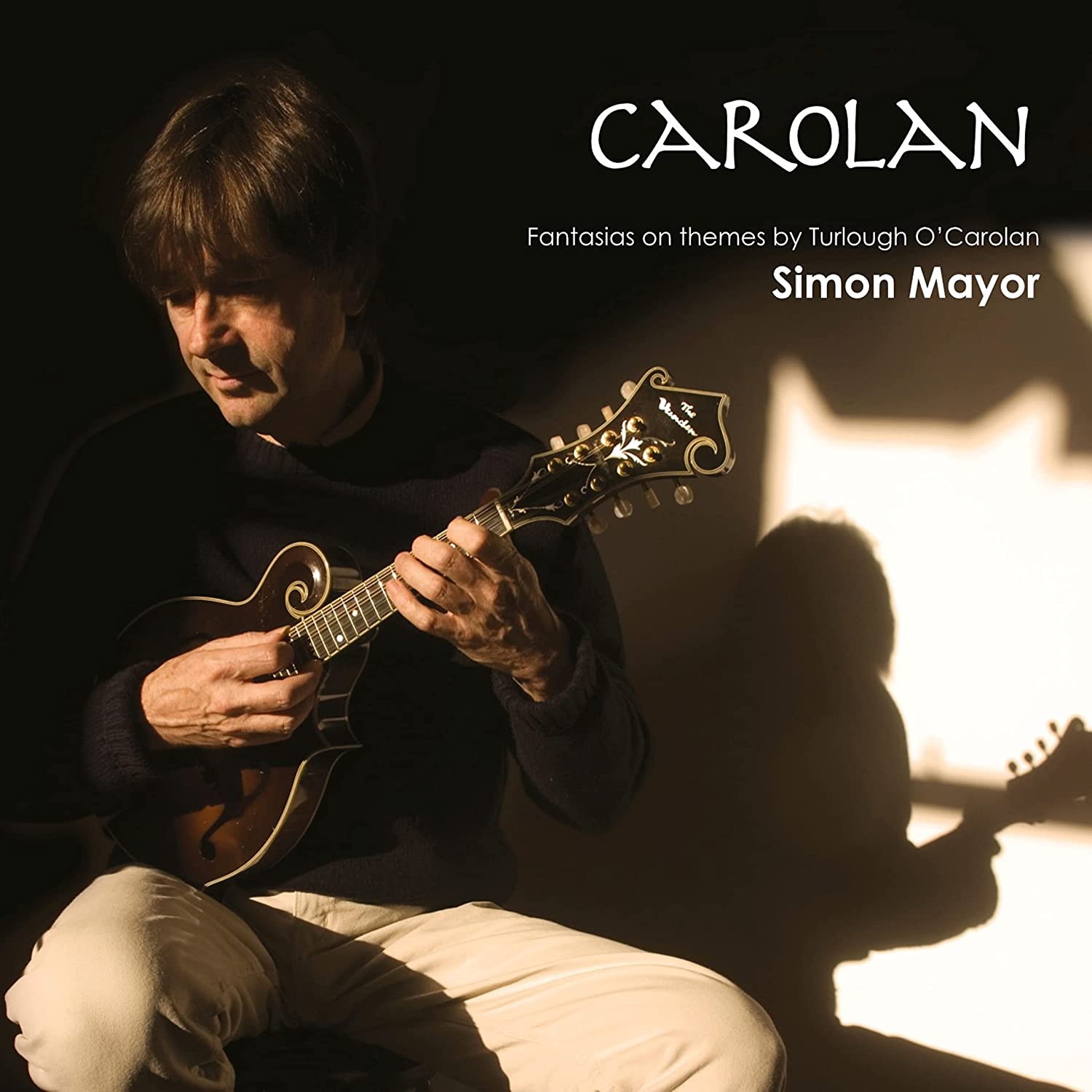 Carolan: Fantasias on themes by Turlough O'Carolan Simon Mayor (Acoustics)
Turlough O'Carolan (1670-1738) was an Irish harp virtuoso who lost his sight as an 18-year old after catching smallpox. He spent much of his life as an itinerant musician, earning a living by dedicating pieces to wealthy benefactors. Blindness meant that O'Carolan couldn't notate his own music, and a concerted effort to transcribe and preserve his work only began at the end of the 18th century. And though he played the harp, only the melodies survive, which means that anyone performing O'Carolan's music today has considerable freedom with regard to how the tunes are accompanied. On this disc, mandolinist Simon Mayor describes having "decided to go beyond simple harmonisation by varying tempos and incorporating changes of key and mode", though his interventions sound unfailingly idiomatic and respectful. Overdubbing means that Mayor can double on violin and guitar in most tracks, and he's joined by cellist Florence Petit and and bassist Hilary James, whose vocals in "The Snowy-Breasted Pearl" are a highlight.
Carolan was a sophisticated composer, aware of musical developments in mainland Europe. Mayor describes him as a baroque crossover artist, the winsome "Carolan's Concerto" allegedly written to impress Francesco Geminiani. I'm especially fond of "Carolan's Dream", its melody probably filched by Carolan from a folk tune. Here, Mayor gives us a solo guitar transcription and a meltingly beautiful string quartet version. Fresh details emerge with each hearing – try Mayor's clever recasting of "Sí Beag, Sí Mór", where neat production values and an intricate arrangement make just two musicians sound like a chamber orchestra.
Franck: Piano Rarities – Original works and transcriptions Jean-Pierre Armengaud (piano) (Grand Piano)
The welcome César Franck revival rumbles on; we'll review Warner Classics' Franck box set in a few weeks, and here's an interesting collection of piano music from veteran French pianist Jean-Pierre Armengaud. Three out of five of the pieces here are transcriptions; I'd argue that the Prélude, Fugue et Variations, originally an organ work from 1863, sounds far more appealing in Harold Bauer's piano arrangement. Armengaud's prelude is tender and lyrical, the ensuing fugue's lines nicely delineated. The final section's baroque flourishes look ahead to the opening of Saint-Saens' Piano Concerto No. 2, composed just a few years later. The tone poem Les Éolides is heard in an effective transcription by French composer Gustave Samazeuilh. Franck's claggy harmonic language is easier to make sense of when you can hear the notes clearly, and Armengaud keeps the music moving. Though even he can't save an organ Prière from turgidity, the work sounding like an extended stretch of background music.
The Prelude, Chorale and Fugue is marvellous, though, its three movements lasting around 20 minutes. Intensely chromatic and brilliantly organised, Armengaud is superb in the fugue's radiant B major conclusion, the resonant acoustic really suiting the work. As a closer, there's the posthumously published introduction to Ruth, Églogue biblique, a large-scale early work for voices and orchestra. Armengaud's conviction brings it to life, though it's a pity that the sleeve notes don't provide much information about the piece. Decent engineering and excellent sleeve art, though.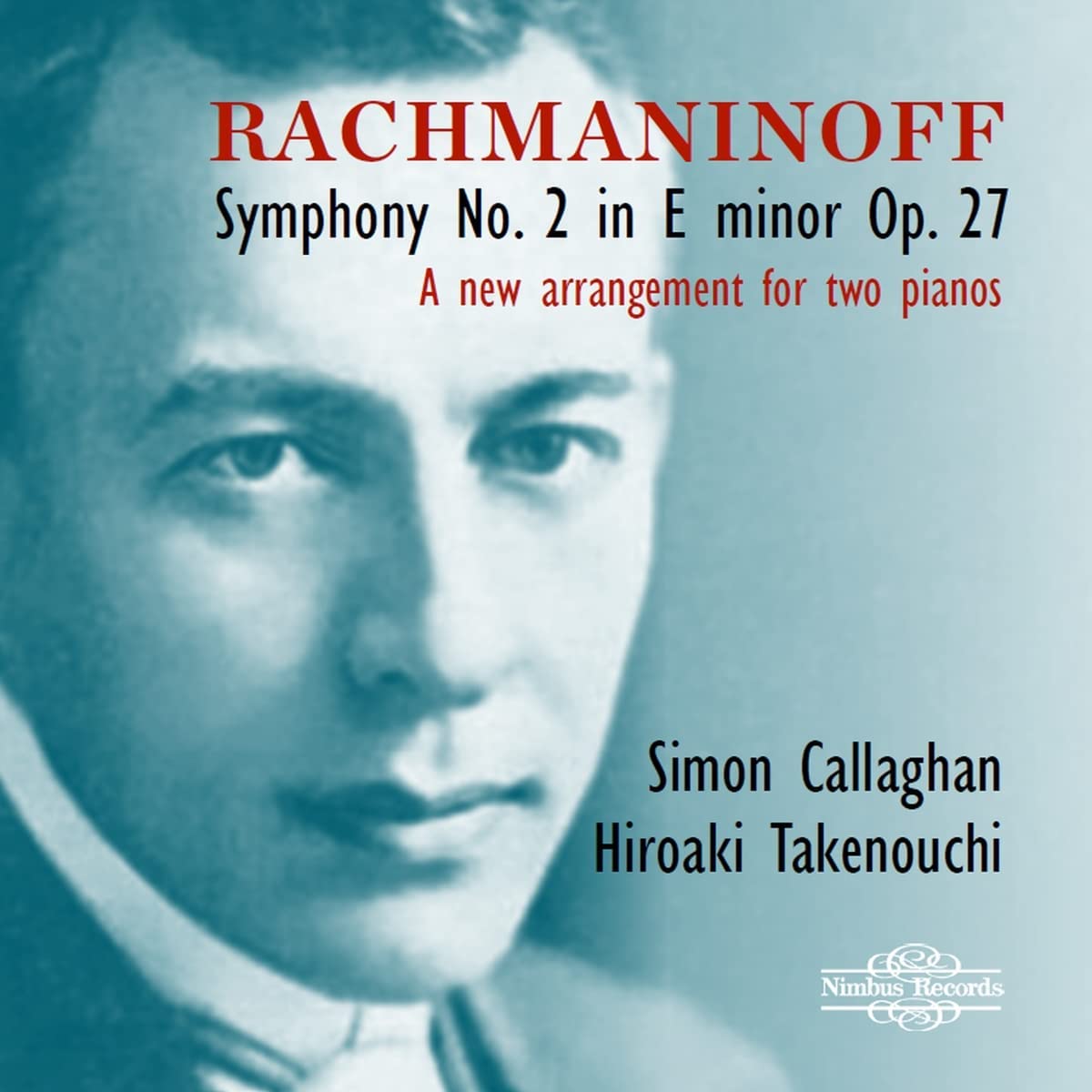 Rachmaninov: Symphony No. 2 Simon Callaghan and Hiroaki Takenouchi (pianos) (Nimbus)
This two-piano transcription of Rachmaninov's Symphony No. 2 is a blast. Simon Callaghan and Hiroaki Takenouchi point out that keyboard arrangements of orchestral works flourished in the 19th century and offered amateur musicians the chance to explore new works. Rachmaninov made four-hand arrangements of his 1st and 3rd Symphonies, and a two-piano version of No. 2 made by one Vladimir Wilschau was published in 1910. Callaghan and Takenouchi's take on the piece was an attempt "to create a true piano work, rather than a less-than-satisfactory imitation of the orchestral version". The first draft was premiered in 2017, the score subsequently revised in an attempt to achieve the "beautiful economy" heard in, say, Rachmaninov's own keyboard version of the Symphonic Dances.
You hear things in this performance that usually slip by unnoticed. The first movement's doomy climax is genuinely terrifying, the pealing bell sounds accentuated. And the reprise of the lyrical second theme has such warmth. The movement's coda has a real kick, the final bass note like a poke with a sharp stick. Rachmaninov's scherzo zips along, the slow accelerando two minutes in immaculately controlled, the central fugato crisp and full of purpose. The "Adagio" never loses shape, and the finale doesn't feel a bar too long, its second subject sounding here as if it's absconded from a piano concerto last movement. The last few minutes are exultant. This recording was released in late 2022 and I'll retrospectively add it to my 'best of year' list, as it's that good. Beautifully recorded too, the two pianos nicely separated. If you love this symphony (and who doesn't?), you need this CD.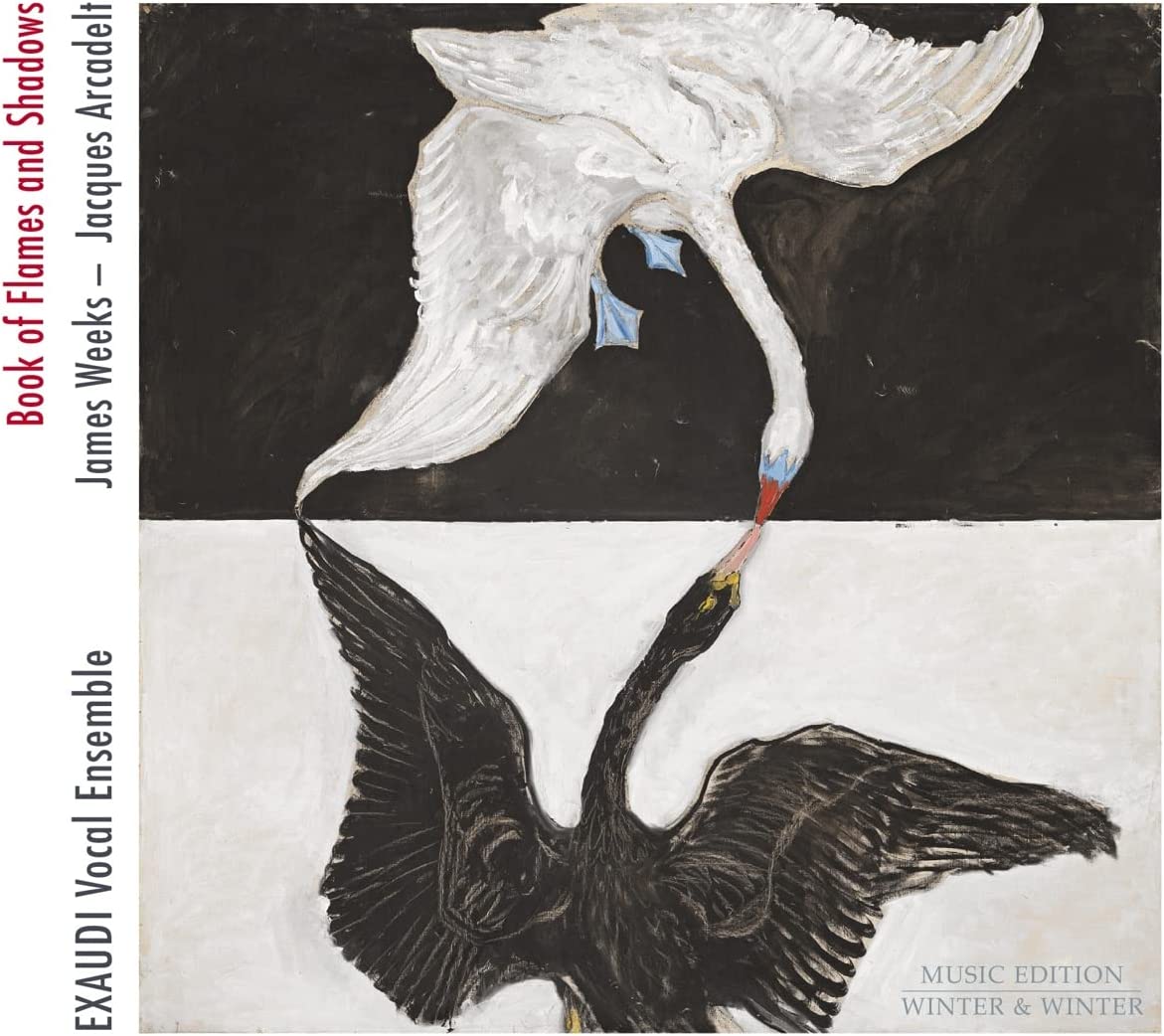 Weeks/Arcadelt: Book of Flames and Shadows EXAUDI (Winter and Winter)
I hadn't listened to the music of Jacques Arcadelt (1507-1568) since I was a student and I suspect, in my youthful impatience, wrote him off for his austerity in comparison with other madrigal composers of the time. But his succinct and no-frills writing for vocal consort has a lot in common with that of James Weeks (b.1978), whose exquisitely crafted music has long enthralled me with its subtle allusiveness and avoidance of bombast. The music is stylistically different but comes to an extent from the same place. On Book of Flames and Shadows Weeks and Arcadelt are intertwined, throwing light and revelation on each other. Weeks is artistic director of EXAUDI, and he has long made mixing old and new music a signature feature of his programming for them. EXAUDI are six-strong on this recording, but the Arcadelt is sung by four male voices alone, Tom Williams's countertenor offering a steely focus to the top line. These madrigals are interspersed with the movements of Weeks's Libro di fiamelle e ombre, which explores the same world – and sometimes even the same words – from a 21st century musical perspective.
Weeks revels in microtones and fleeting motifs, padded with plenty of empty space. The singers are often on the point of disappearing into nothing, but with each gesture carefully placed and weighted. In the "Dardo" movement little fall-offs colour the almost-spoken notes and in "Io" isolated chords fade in and out as if Weeks is playing the ensemble like a mixing-desk. The other piece is Fantasie, a delicate duet between mezzo Lucy Goddard and Sophie Appleton (violin). The first section emerges from nothing, the voice and violin notes often merging into one, in fragments that vanish the moment they appear. The second section is an extended (nine minute) dream sequence which is giddy in the most tasteful way, Lucy Goddard delivering a hypnotic, spell-binding tour-de-force. Bernard Hughes
Johanna Summer: Resonanzen (ACT)
If one puts one's trust in the buzz from musicians, then the excitement around German pianist Johanna Summer (b.1989) is only going to get louder. Igor Levit calls her "outstanding… focused… engaging". German jazz piano icon Joachim Kühn has drawn attention to the strength of her imagination. In fact, she will be joining Levit and Fred Hersch onstage in a few weeks' time to improvise on Beethoven and Schumann at the Lucerne Festival.
She was the pianist of BuJazzO, the German national youth jazz orchestra, and won several prizes for her jazz playing. She has her own trio (several examples are on her YouTube channel) , but it is solo piano playing, and specifically using classical sources as the basis for improvisations is the route her albums and her increasingly visible career in the Germanic world are currently following. She was born in Plauen, just half an hour on the train from where Schumann was born, Zwickau, so it was natural and almost necessary that her first album should take Schumann works (Album für die Jugend and "Kinderszenen") as its starting point. For her second album she has cast her net wider, with the composers' names as titles. So far I have found her take on Grieg's Lyric Piece "Norsk" Op.12 No.6 the most compelling on the album. This is strong, muscular, unabashedly confident playing, with Grieg in 1867 very much seen through the prism of later eras. In other places she does the jazz thing of revealing the tune teasingly and slowly. So "Schubert" slides in and out of the A flat major impromptu. A fine Bechstein in the Ölbergkirche church in Kreuzberg in Berlin has been well recorded by Emmanuel Uch. Sebastian Scotney
Adès is prepared to delight as well as dazzle
Explore topics
Share this article