Classical CDs Weekly: Coriún Aharonián, Beethoven, Humphrey Procter-Gregg |

reviews, news & interviews
Classical CDs Weekly: Coriún Aharonián, Beethoven, Humphrey Procter-Gregg
Classical CDs Weekly: Coriún Aharonián, Beethoven, Humphrey Procter-Gregg
Uruguayan modernism, iconic piano concertos and violin sonatas from an influential Mancunian
Stewart Goodyear recording Beethoven in Cardiff
Coriún Aharonián: Una carta Ensemble Aventure, SWF-Sinfonieorchester Baden-Baden/Zoltán Peskó (Wergo)
Uruguayan composer Coriún Aharonián (1940-2017) was born in Montevideo to Armenian parents. His output is described here as "a complex melange of influences" – namely European modernism and indigenous music. Aharonián himself talked about mastering "the models created in the centres of cultural power… without losing connection to one's own community" as the route to creating a distinct, independent style. Though stylistically very different, the pieces on this disc occasionally suggest the music of Hanns Eisler, another composer who sought to blend high modernism with accessibility. The first piece here, 1990's Gente, is a good starting point, a punchy eight minute chamber work constructed from snatches of street song and hints of dance music. Steel drum and marimbula give the music extra bite, and there's some superb trombone writing. Both ¿Y ahora? and Los cadadias make oblique reference to tango rhythms, their bitterness reflecting Aharonián's frustration at the dance's marketing "as a saccharine social diversion… an exotic caricature of itself."
Una canción (1998) does make explicit reference to Eisler, Aharonián using material from three Eisler lieder alongside quotes from Latin American protest songs. Not that you need to know the source material; Aharonián's clean lines and ear for colour make his music immediately appealing. Una carta's fifteen instrumentalists call out a motif heard in Gente over a growling bass ostinato, and the only piece here composed for orchestra, 1993's Mestizo, opens with thunderous drum beats. The disparate elements form pithy blocks of sound, Aharonián comparing the way in which they interact to "people interacting in a crowd." Aharonián's is a highly individual voice, and one you're glad to make the acquaintance of. The performances on this Wergo anthology are impressive, the incisive Ensemble Aventure chamber performances coupled with a 1993 archive performance of Mestizo conducted by Zoltán Peskó. Fabulous sleeve art too.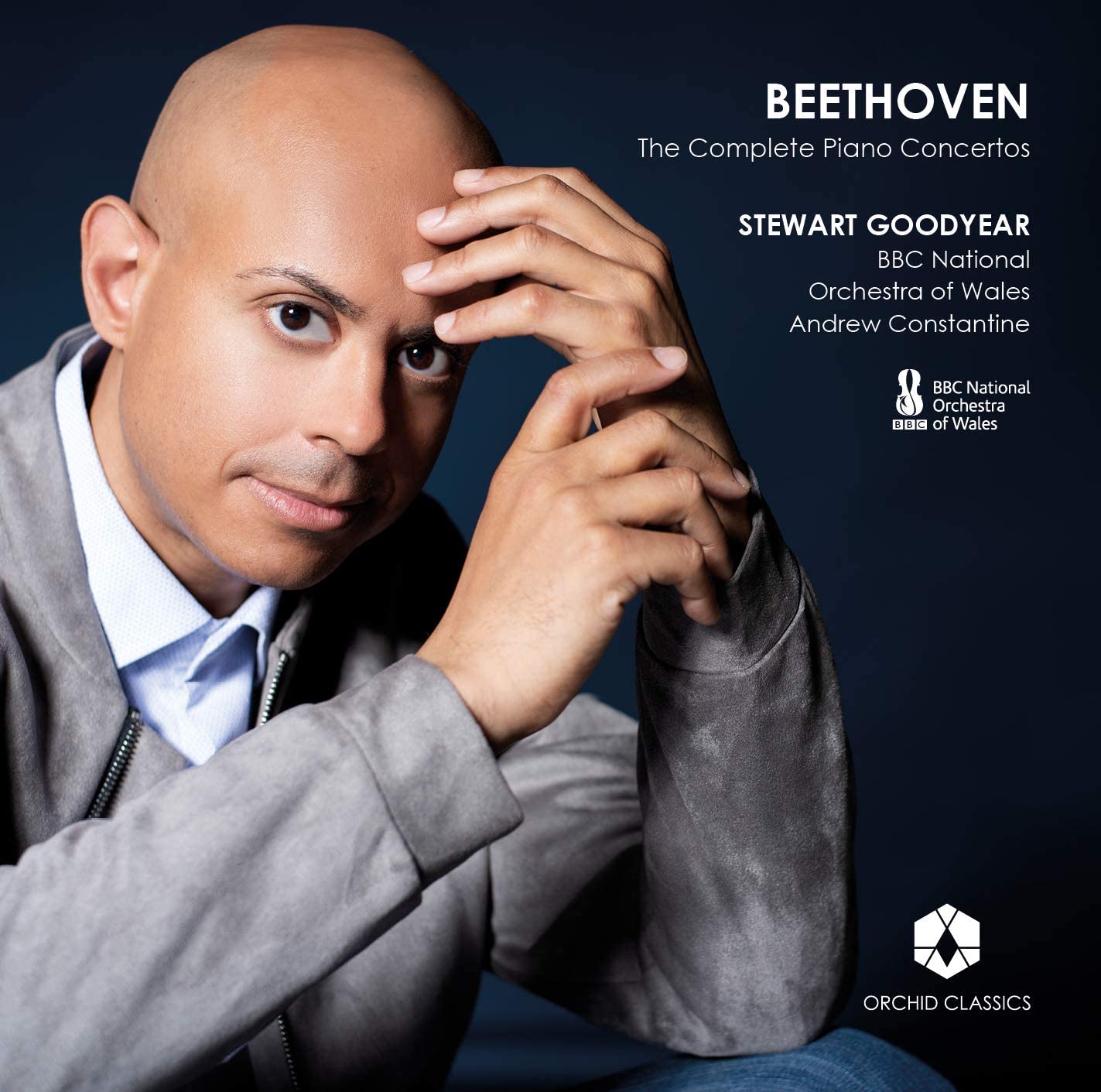 Beethoven: Piano Concertos 1-5 Stewart Goodyear, BBC National Orchestra of Wales/Andrew Constantine (Orchid Classics)
There's another impressive new set of Beethoven's five piano concertos on Hyperion with Stephen Hough, which we'll get to in a few weeks. Stewart Goodyear's set hit the doormat first, though, and it's a wowzer. Before Goodyear plays a note, one's ears are tickled by the crisp, alert playing of Andrew Constantine's pliant BBC National Orchestra of Wales, easily matching any starry mainstream European competition. You sense that they're responding to Goodyear's deft, bright-toned pianism; the first two concertos have an elan, a carefree ease that's irresistible. No. 1's whimsical second subject is perfectly done, Goodyear's exuberance matched by perky winds. We get a rapt Largo and a perfectly paced rondo finale. No. 2, actually the first to be written, follows the same template. So well, in fact, that you worry that Goodyear and Constantine won't manage the shift to No. 3's darker palette. Happily they do, Goodyear successfully balancing gravitas and dry wit, the last movement's shift to C major brilliantly handled.
I didn't find No. 4's opening underplayed; Goodyear lends a winning urgency and tension to the music, Beethoven's sunlit uplands not without shadier corners. Constantine's lower strings are suitably gruff in the slow movement, and the finale zips along. No. 5 never sounds pompous or overblown, with a sparkling first movement cadenza and plenty of bounce in the finale. Goodyear in his booklet introduction describes working his way through an LP set of the Beethoven sonatas at the age of three and first tackling individual movements from the concertos from the age of nine. He describes the works as "pursuits of unbridled joy", and we hear this in these performances. This music is in his blood. A superb release, beautifully engineered.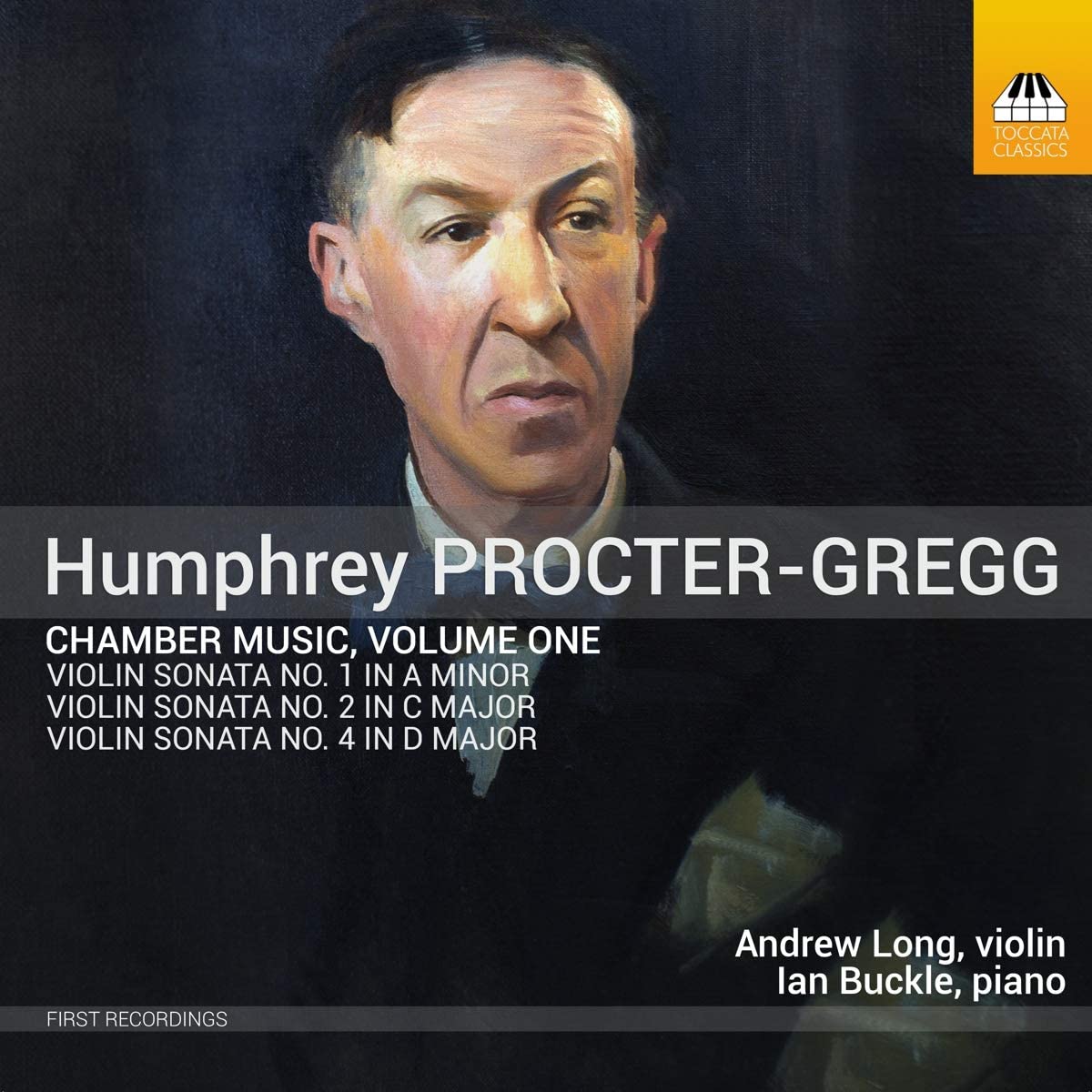 Humphrey Procter-Gregg: Violin Sonatas 1, 2 and 4 Andrew Long (violin), Ian Buckle (piano) (Toccata Classics)
Humphrey Procter-Gregg founded Manchester University's Music Department, becoming its first Professor of Music in 1954. He studied at the RCM and at La Scala, was a close friend of Sir Thomas Beecham. While his conservative tastes didn't endear him to all his students, he was a hugely influential figure in Manchester, designing the university's concert hall and founding the Ad Solem Ensemble. There's a nice anecdote in this disc's booklet about Procter-Gregg's chance meeting with Rachmaninov in 1930, the two men sharing their dislike of contemporary music and bonding over a mutual love of tunes. Three of Procter-Gregg's Violin Sonatas are collected here, each one an expansive three-movement work. They're deceptively rich pieces, their salon-like surfaces concealing a wealth of harmonic and melodic ingenuity. You hear this at the outset of the Sonata No. 1 in A minor, the initially calm violin melody imperceptibly darkening within seconds. The finale's changes of metre are effortlessly managed by violinist Andrew Long and pianist Ian Buckle, their conviction bringing the music to life. Sonata No. 2 is longer and more distinctive, the the first movement's structural intricacies belied by the serene opening theme. There's a scherzando middle movement, the weighty finale carrying most of the sonata's emotional weight.
No. 4 dates from 1969 during Procter-Gregg's retirement in Windemere. The language is more chromatic and exploratory, the transitions between themes more subtly managed. There's a sublime Andante and a complex finale, the quiet closing bars highly affecting. This music deserves to be heard, and you can't imagine a more persuasive case being made for it. We get good notes, and it's fitting that the disc was recorded in the concert hall which the composer helped to create.
Explore topics
Share this article