Classical CDs Weekly: Stravinsky, Vivaldi, John Williams |

reviews, news & interviews
Classical CDs Weekly: Stravinsky, Vivaldi, John Williams
Classical CDs Weekly: Stravinsky, Vivaldi, John Williams
Iconic ballet music, baroque concertos and four decades of film scores
Saturday, 08 September 2018
Nifty coordination from the Bugallo-Williams Piano Duo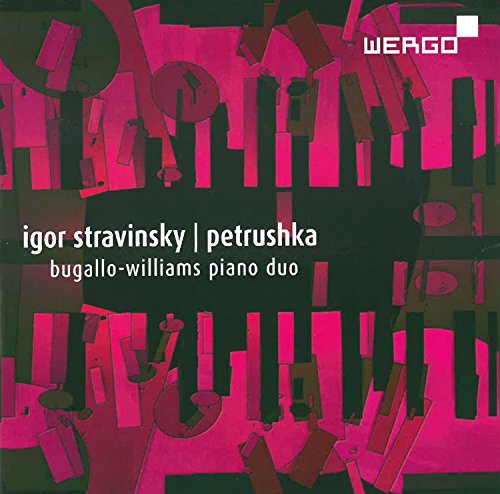 Stravinsky: Petrushka, Agon (arranged for piano duet and two pianos by the composer) Bugallo-Williams Piano Duo (Wergo)
Stravinsky's long career is traversed in black and white here, with ballet scores early and late accompanying a pair of shorter works. Petrushka and Agon are both masterpieces of orchestral colour, but the composer's piano duo reductions are so skilfully wrought that you never feel short-changed. Helen Bugallo and Amy Williams give us Stravinsky's piano duet transcription of the fuller textured 1911 score. It's as tight a performance as you'd expect from two players sitting inches apart, but there's plenty of flexibility and fun too. Stripping away the orchestra allows us to marvel at the squelchy Debussian harmonies accompanying the puppets' awakening, and the ensuing Russian Dance is winning. It sounds here like genuine folk music, the pair's deceptively nippy tempo still allowing every detail to register. This is easily the equal of any orchestral perfomance I've heard, with a devastating pay-off.
Stravinsky's two-piano version of Agon is a real rarity. The original's miraculous scoring (with mandolin playing a key role) is one of this late work's joys, but there's a lot of magic in the Bugallo-Williams' performance. Jagged fanfares kickstart the ballet, still sounding very much like trumpets here, and the famously off-beat "Gaillard" retains its charms. This brilliant synthesis of Stravinsky's mature and late styles deserves to be much better known. There's even a pair of castanets in the "Bransle Gay", deftly added by Amy Williams' left hand. As bonuses, the pair give us the duet arrangement of the spiky string quartet Concertino and the two-piano version of Scherzo à la Russe. It's a lot of fun.
Vivaldi x2 - Double Concertos for Horns, Oboes, Violin & Cello, Oboe & Bassoon La Serenissima/Adrian Chandler (Avie)
Of Vivaldi's 500 or so surviving concertos, over 50 are for pairs of instruments. Eight of them are squeezed onto this effervescent disc – easy enough when they last around nine minutes each. Wind players will already know several of them, but few of us can hope to reach the heights scaled here. Literally so in the case of the RV 539 Concerto for two horns. Fiendish enough on a modern horn, here we get Anneke Scott and Jocelyn Lightfoot squeezing out volleys of impossibly high notes with gleeful abandon. The period instruments' limitations reduce what can written in terms of accompaniment, so there's a fair bit of static F major noodling. But it never gets dull: Vivaldi's rhythmic ingenuity and lithe, springy backing from Adrian Chandler's La Serenissima keep things buoyant.
It's not just horns. Two double oboe concertos are terrific, RV535's spare, arresting opening movement in contrast to the frenetic scurryings of the A minor concerto. Rachel Chaplin and Mark Baigent are exceptional soloists, Chaplin joining bassoonist Peter Whelan in an exuberant G major work. Adrian Chandler teams up with Vladimir Waltham on cello for a pair of violin and cello concertos, the disc closing with Vivaldi's improbably named Concerto per SASISPGMDGSMB (the booklet explains the lengthy title) where everyone gets the chance to shine. Uplifting, joyous music-making, and wonderfully engineered. Good sleeve art too.
John Williams at the Movies Dallas Winds/Jerry Junkin, with Christopher Martin (trumpet) (Reference Recordings)
The Dallas Winds is a rarity in that it's a professional wind band, 50 woodwind, brass and percussion players tackling "an eclectic blend ranging from marches and Broadway show tunes, to soundtracks and big band standards". This is an unabashedly popular release, but that's all the more reason to investigate it. John Williams' fecundity means it's easy to take him for granted, and in his eighties there's little evidence that he's slowing down. If you're tempted to dismiss him, listen carefully to his 1975 score to Spielberg's Jaws, a sophisticated, knowing blend of Stravinsky and Debussy with a main theme that's surely one of the greatest bits of incidental music ever written. Jaws isn't included here, but there's plenty more good stuff in Williams' back catalogue.
The optimism of the Superman march feels oddly poignant heard now, a jubilant, affirmative blast of brassy noise. The Star Wars main title music borrows heavily from Korngold's King's Row, to brilliant effect – I couldn't sit through the films again, but would happily listen to the soundtracks. Close Encounters opens with a piercingly dissonant note cluster, unexpectedly resolving to a punchy C major chord after 30 seconds, a moment that will make the unwary spill their drinks. New York Philharmonic trumpeter Christopher Martin adds a haunting solo to an excerpt from Spielberg's Lincoln, and there are extracts from JFK and ET. Jerry Junkin's forces play superbly, and audio buffs will note that this disc was recorded by the legendary engineer Keith O Johnson. Sonics are predictably stellar.
There's a fair bit of static F major noodling, but it never gets dull
Share this article