On the fifth day of Mozart |

reviews, news & interviews
On the fifth day of Mozart...
On the fifth day of Mozart...
Wednesday, 05 January 2011
Well, the main point is that people are talking about it, which has always been Radio 3 supremo Roger Wright's brief in previous projects (the Beethoven experience included popular downloads of the symphonies that broke all records, so to speak). More than a little Mozart is, of course, good for the health, as psychologists have repeatedly demonstrated. It probably wouldn't drive you mad even if you tuned in day after day, hour after hour.
Though you certainly wouldn't hear masterpiece after masterpiece. As Hans Keller pointed out, the early works were written by a child with talent and facility but "wrongly credited with prematurely developed genius (which we do find in Schubert and, above all, Mendelssohn)". But at the very least you're going to get an attractive if clichéd Rococo burble. And at best you will hear, or hear again, operas, concertos and symphonies which it would take a lifetime to get to know as they deserve.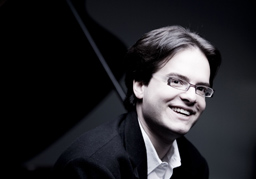 And in any case Radio 3 isn't just chucking it all together. Its themed days look good on paper - forgive me if I'm more often tuned to the World Service, for the simple reason that when I'm not listening to music, I don't always want to be listening to more music - and its careful smattering of live concerts feature many of its "own" artists. Like the fabulously subtle young Swiss pianist Francesco Piemontesi (pictured right), one of the BBC Young Generation Artists, who will be playing a concerto and solo pieces this lunchtime. And there's a special link with the King's Place Mozart festivities: theartsdesk will be reporting on Sir Colin Davis's concert with the Aurora Orchestra tomorrow evening. Who next for the full-works treatment on Radio 3? Mozart's greatest son and heir, Schubert, or the next in that songful line of descent, Tchaikovsky?
Explore topics
Share this article