First Person: Geoffrey Paterson on conducting the London Sinfonietta and working with Marius Neset |

reviews, news & interviews
First Person: Geoffrey Paterson on conducting the London Sinfonietta and working with Marius Neset
First Person: Geoffrey Paterson on conducting the London Sinfonietta and working with Marius Neset
The conductor's 51st concert with a legendary ensemble due at the Proms tomorrow
Friday, 02 September 2022
Georffrey Paterson conducting the London Sinfonietta in 'Viaduct' at the Queen Elizabeth Hall
By my count, tomorrow's Proms première of Marius Neset's jazz epic Geyser will be my 51st performance conducting the London Sinfonietta.
It's a tally that has crept up over the last decade, and is something I could hardly have dreamed of more than twenty years ago when I started to make regular trips into London to see Oliver Knussen conduct Sinfonietta concerts at the Queen Elizabeth Hall.
At that time it felt like a group with an almost mythic status, a name on the cover of Simon Rattle's Jazz Album I had grown up listening to, and also frequently printed after the words "commissioned by…" on the title pages of the contemporary-music scores I had avidly started to collect.
The Jazz Album was released in 1987, and featured the London Sinfonietta alongside soloists including Peter Donohoe and Michael Collins. I listened to this wonderful CD hundreds of time as a child, but of course we have long since been aware that it is not a real jazz album! Its subtitle, "A Tribute to the Jazz Age', as well as its list of composers (Gershwin, Bernstein, Stravinsky, Milhaud), gives that away, however thrillingly free and extemporised the final part of Prelude, Fugue and Riffs may sound.
In recent years, sparked by a request from the extraordinary saxophonist and composer Marius Neset to record an album of music he had written for his quartet and chamber orchestra, the Sinfonietta has taken several steps further towards the holy grail of genuine jazz-classical symbiosis. I jumped at the invitation to conduct this project and to collaborate with Marius on final tweaks to his score, and working with him has become an ongoing partnership I'm extremely proud to be part of. Some of the most inspiring experiences of my career have been alongside composers preparing premières of their work, with none more horizon-broadening than this first foray into the jazz world.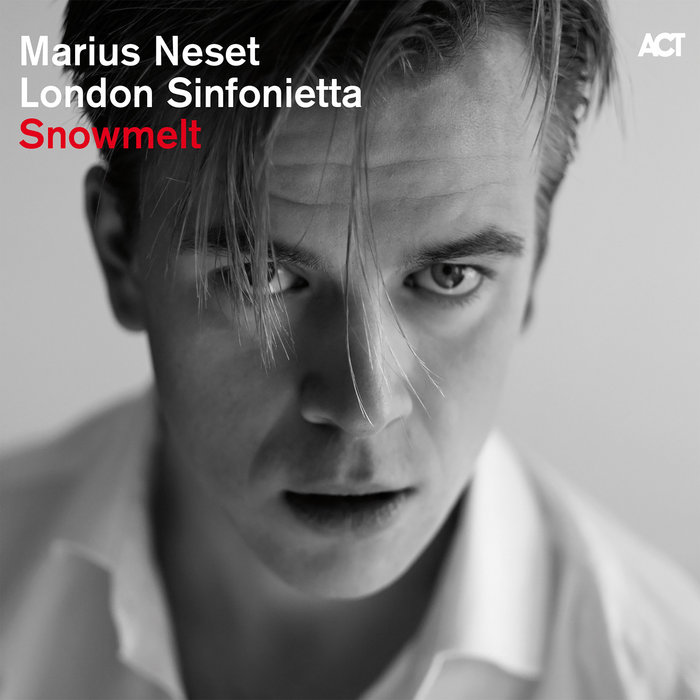 This album Snowmelt achieved something spectacular, Marius finding in his barn-storming music an ingenious solution to the pitfalls inherent in the integration of jazz musicians, who improvise different music each time they play, and classical players, who faithfully read the notated music placed in front of them. I was so happy that we never felt like a backing band, and certainly the fearsome difficulty of Marius' writing justified the involvement of an ensemble so renowned for its virtuosity. Our follow-up album Viaduct took this even further, with little perceptible sense of division between the two genres, a merging that demanded a greater symphonic breadth as much as it did a tightening of the Sinfonietta's jazz reflexes.
I've been lucky to conduct a huge range of different projects with the Sinfonietta over the last ten years. It's a relationship that has introduced me to composers I might otherwise never have encountered (a concert of Basque contemporary music in Bilbao comes to mind), as well as giving me the chance to immerse myself in the work of some of the great composers whose histories have been inextricably linked with this ensemble over the last half-century, chief amongst them the recently-departed and much-missed Harrison Birtwistle.
I've been involved in a number of projects in unusual venues and formats, most memorably a new work by Matt Rogers that I conducted in costume in the ticket hall of Kings Cross Underground Station. There have been operas by Pascal Dusapin and Tansy Davies, music by Samantha Fernando to accompany short-story readings at the Southwark Playhouse, Hans Abrahamsen's enormously difficult Schnee as a jump-in on four days' notice, and the unforgettable experience of conducting Steve Reich's City Life televised from an empty Royal Albert Hall as part of the audience-less 2020 Proms (Paterson pictured below by Chris Christodoulou).
The London Sinfonietta occupies a very special place in the landscape of British music-making. This has much to do with its longevity, its extensive discography, and the huge number of works it has commissioned over the 50-plus years of its existence, many of which have already transcended the 'contemporary-music' label and are recognised as bona fide classics of the late 20th-century and early 21st-century repertoire. I also think it is because the Sinfonietta's history allows it to offer a context for the very idea of repertoire in a field often defined overwhelmingly by the quest for novelty.
The Sinfonietta is not just about the brand-new, and its legacy can be seen in the creation of a musical literature, a body of work to be returned to again and again, that can be mentioned in the same breath as the undisputed masterpieces of this blurry-edged and centuries-old tradition we still call classical music. Many of its principal players, though hugely skilled in tackling the extreme technical challenges the Sinfonietta's programming requires of them, also hold principal positions in London's leading symphony orchestras, and bring with them the depth of experience and musical insight that a regular diet playing Beethoven, Brahms, Mahler and Stravinsky at the highest level all but guarantees.
As a result, the artistic philosophy and flexibility of the ensemble, its approach to the music it plays, is the same whether performing an experimental world première, a 1960s classic, a early-20th-century work (Warlock's The Curlew a recent example), or indeed when exploring a genre that fuses the worlds of jazz and contemporary-classical, such as the relationship with Marius Neset that reaches its third instalment at the 2022 Proms.
My impressions so far from the incredibly exciting score of Geyser I now have in my hands is that Marius is developing his compositional attitude yet further. Since Viaduct, he has written a saxophone concerto for himself and the Bergen Philharmonic in his native Norway, as well as a large-scale orchestral piece for the same orchestra, proving with these works an astonishing ability to write his music without jazz rhythm section, and in the latter without a single jazz musician involved.
They reveal even more clearly than in Snowmelt and Viaduct the deep influence Marius (pictured above) draws from some of the great composers of the 20th Century - Stravinsky, Messiaen, Ligeti, also looking back to Mahler - without losing any of the intensely individual musical personality that is already distinct in his early saxophone solo Old Poison (XL), a polyrhythmic primer worthy of Nancarrow.
Tomorrow, we will share this new work Geyser with the world, live at the BBC Proms and on BBC Radio 3. It's a project that fits so well within the gloriously rich and varied repertoire that the London Sinfonietta has helped to build and nurture since its founding in 1968, and it's a source of great pride yet again to have been given the trust and privilege to steer this collaboration between one of the world's most gifted jazz musicians and Britain's pre-eminent modern-music ensemble.
The fearsome difficulty of Marius's writing justified the involvement of an ensemble so renowned for its virtuosity
Share this article