First Person: violinist Abigail Young on getting back to her Japanese orchestra in Covid year |

reviews, news & interviews
First Person: violinist Abigail Young on getting back to her Japanese orchestra in Covid year
First Person: violinist Abigail Young on getting back to her Japanese orchestra in Covid year
Leader of the Orchestra Ensemble Kanazawa on the trials of returning to what she loves
Abigail Young leads the Orchestra Ensemble Kanazawa
February 2020: an item a long way down the agenda of the nightly news caused me to remark, fairly casually, "I wonder if that will affect me". I had already heard about Covid-19, the new virus emerging from China; now it was spreading into places where I earned my living. I was beginning to worry.
For the last 20 years or so I have been leader of a wonderful chamber orchestra in Japan, Orchestra Ensemble Kanazawa. It is a 50% job and I swing backwards and forwards between the Far East and London six or seven times a year, enjoying a richly varied life on two continents. In between trips to Japan I freelance in the UK. I have been lucky enough to guest lead many of the great British orchestras and can often be found toiling away in the pit leading the orchestra for Matthew Bourne's brilliant ballets; indeed in early January 2020 I had finished a long stint of The Red Shoes the night before getting on the plane back to Japan.
February was supposed to be a month to catch my breath; after more than a year of back to back projects and the recent death of my mother I was ready for some rest and a bit of fun. Next up in the work diary was three weeks in Japan in March and then a 10 day project in Korea, leading an orchestra for a festival there. I anxiously emailed the management offices: how was the situation looking? Might there be cancellations? It didn't take long. Korea cancelled first and shortly after it became clear there weren't going to be any concerts in March in Japan. Around me British musicians worked on, but the writing was on the wall; my career collapse was just a month ahead of theirs.
There followed some of the strangest months of my life. At first I enjoyed the novelty of unexpected time at home; I built huge Lego constructions, did jigsaws, listened to Shakespeare sonnets, planned the summer garden planting and got to know my neighbours a bit better as we applauded the caring professions on Thursday evenings (pictured below: Abigail Young by Ludo Kanta).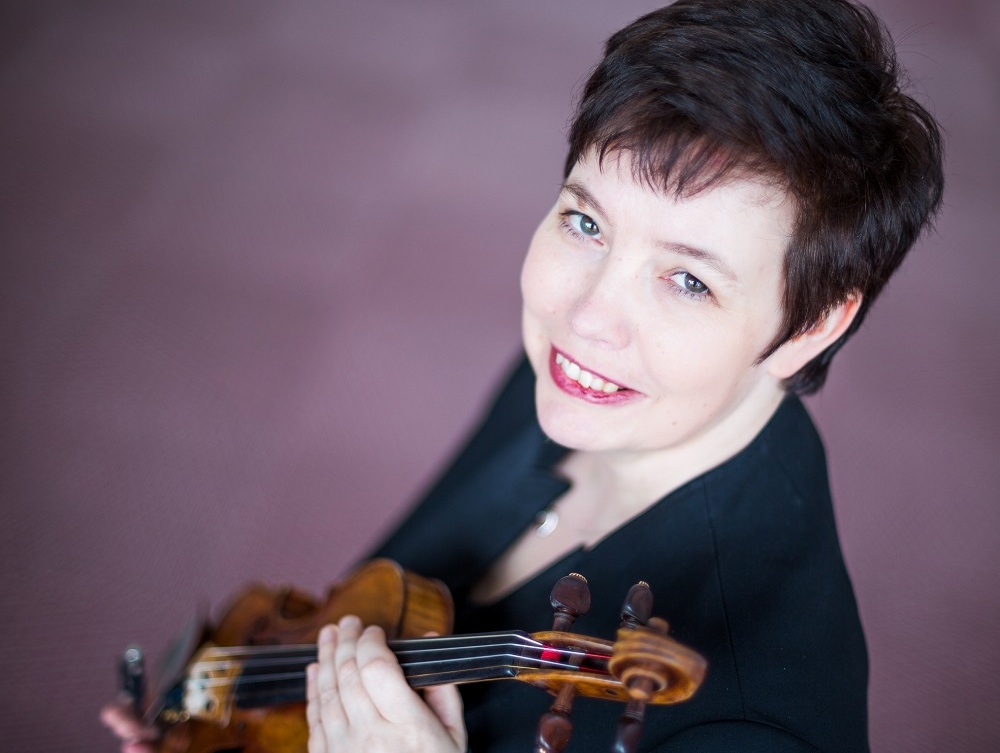 Japan slammed its gates to all foreign nationals and my passport lay idle in my hand luggage but emails discussed my return – probably July, maybe August, at the latest September. Perhaps for the sake of my mental health it's a good thing that the catastrophe unfolded slowly; month after month went by. My residency visa expired, new ones were not being issued; when they finally started I was not surprised to discover that the "entertainer" category was not high on the priority visa list. And of course in the UK the tiny amount of work that British orchestras were managing to do was very much "in house", no guests required. It was crushing to the soul. I longed to make music with my colleagues and to give of myself to an audience, that peculiar privilege that performers have to attempt to touch the very soul of those good folk who trust in you enough to buy a ticket.
Meanwhile Japan did well at controlling the virus. In a land of earthquakes, tsunamis and typhoons, metres of snow in winter and broiling summers, there is an existing feeling of combating natural disaster by mutual cooperation, a mentality of working together for the common good. And recent "closer to home" experiences with SARS and so-called "bird flu" mean the government is more alert to a possible pandemic and what actions need to be taken. Besides which, from my own observation, Japan is always gleamingly clean, and people here socially distance by nature; a bow is still preferred to a hand-shake and the throwing of arms around friends that we in the west indulge in is positively alarming to the Japanese. Mask wearing is universal; my friends here are politely mystified as to why anyone would not extend this small courtesy to their fellow man to try to protect the vulnerable.
So despite initial cancellations and lockdowns, from September my orchestra was working its normal full schedule, albeit with testing and socially distanced audiences. Meanwhile I waited, frustrated, in London. At last, in October, a chink of light. A Certificate of Eligibility arrived in the post , an appointment at the embassy with a whole extra new layer of paperwork, an anxious wait for a visa to be officially issued, and eventually a flight ticket in my email. I felt like I would not exhale again until my plane put wheels down on Japanese tarmac. I jumped through the final hoops: a negative test in London, yet another test on arrival in Tokyo, an obligatory app download, much scrutiny of paperwork and a two week quarantine in my little Kanazawa apartment. On 18 December I was back at work. Finally.
I approached that first rehearsal with some anxiety. 11 months is the longest time in my life that I hadn't worked. Would I be emotional? Would my concentration last for the requisite number of hours and more importantly would my playing still cut it? Everything was exactly the same, but a little bit different. On my arrival backstage at the hall, a machine took my temperature: you must record it along with your arrival time as you sign in. All the string players had their own music stands instead of sharing one between two. The brass had been issued with little pads used for pets to have "accidents" on, to empty their saliva onto between movements (an innovation I would be quite happy to see continue post-pandemic: I've never been a fan of the globs of spit brass players leave behind on the stage!). And of course everyone was in a mask, the wind players only removing theirs at the last minute in order to play.
So it was with some trepidation that I sat down and opened my music; what was this going to be like? And actually within the first few minutes I realised that my main emotion was an enormous feeling of normality. The sheer ordinariness and routine of a rehearsal, the interaction with colleagues, the working out of bits that didn't sound good, the mundanity of fixing a few bowings and sorting out some intonation; I just felt utterly relieved. A huge part of my brain could suddenly make sense of life again, the crucial part of my identity that is "working musician" that had been snatched away from me without warning was restored. Despite the mask, I could breathe again.
My heightened sense of awareness of what I'm actually doing as a violinist has shown me how very important live performance is and why it is so important that it be restored, for artists and audience alike. From a massive arena rock concert to a small chamber music society in their local church, that gathering in anticipation, the taking of seats, the frisson when the lights go down and out come the musicians, the collective intake of breath as we start; there is simply nothing like live music. The innovations that have been undertaken with streaming over the last year have been amazing and progressive, and have kept us all going up to a point. But I see here in Japan, more than ever perhaps in these uncertain times, a hunger for the live moment, a desire from the audience to be swept away from the world for a couple of hours. At a recent concert we played some particularly delectable Schubert; on the orchestra Facebook page the next day a listener remarked "the exquisite Schubert was exactly like being in heaven". This is why we do what we do.
Now I'm a couple of months in and the novelty has worn off. I was positively grumpy as I picked my way through the snow for an 8.45am bus call on a Sunday morning; my feet are still not loving being forced into wretched little pointy concert shoes after nearly a year of nothing more challenging than trainers; there remain the petty irritations that exist in every job. And Covid still casts a long shadow; even here in Japan, uncertainties from an economy that has taken a battering and the difficulties of planning ahead make musical life tricky. But I continue to be overwhelmingly grateful that I am able to work a normal schedule, unlike many of my friends and colleagues in the UK.
As we began to play at my first concert back after the long enforced break, l don't mind admitting a tear rolled into my mask. For what I had lost, and the dark days we have endured over this pandemic. For relief and joy at simply being back at a job that I love. For that fact that concert halls and theatres are still dark in so many places, their seats empty of audience, their stages void of musicians hungry to enthrall. It is my most fervent wish that the great beast that is live performance will awake with a gigantic roar in the near future. What cause for celebration that will be.
As we began to play at my first concert back after the long enforced break, l don't mind admitting a tear rolled into my mask
Explore topics
Share this article