Highgate International Chamber Music Festival opening concert review - top soloists blend to perfection |

reviews, news & interviews
Highgate International Chamber Music Festival opening concert review - top soloists blend to perfection
Highgate International Chamber Music Festival opening concert review - top soloists blend to perfection
Sheku Kanneh-Mason is only the best-known name in a quintet of leading string players
Superlative Schubert: Alexander Sitkovetsky, Natalie Klouda, Lawrence Power, Sheku Kanneh-Mason and Ashok Klouda
When celebrated individuals get together to play chamber music on special occasions, the result can often turn out as what the late cellist of the Borodin Quartet, Valentin Berlinsky, disparagingly called "festival quality" – meaning a clash, rather than a blend, of personalities.
That was never the case for a moment in the opening concert of the eighth Highgate International Chamber Music Festival.
Two of its three founders, violinist/composer Natalie Klouda and cellist Ashok Klouda, had invited two of the most experienced soloists in the string world - powerful personality Alexander Sitkovetsky and peak exponent of viola-playing Lawrence Power – and, currently, the most famous, 20 year-old Sheku Kanneh Mason. If Sitkovetsky led, no-one dominated, and a big programme culminated in a profound interpretation of Schubert's String Quintet (nothing less will do in this greatest of masterpieces).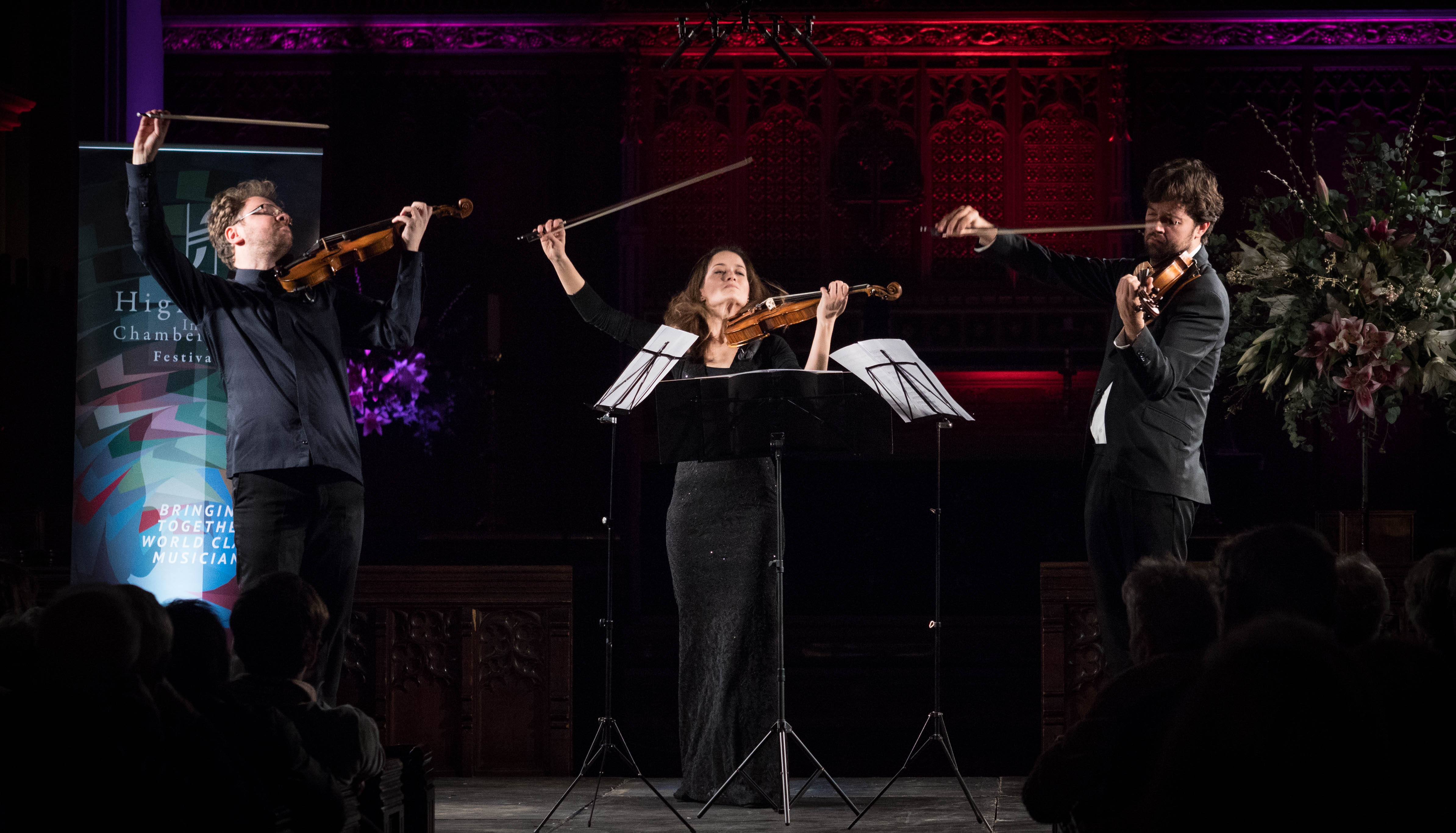 Sitkovetsky can generate a live charge among players, and not always where you expect it. The end of Dvořák's Terzetto in C, for which he teamed up with Natalie Klouda and Power (pictured above), suddenly took on an aspect of the demonic after so much leisurely lyricism, and that devilry carried over into the first movement of Beethoven's "Kreutzer" Sonata in an anonymous 1832 arrangement for string quintet. It works like a dream: the composer wrote that the sonata was composed "in the concertante style", and it verges on the symphonic. A lighter touch is needed for a finale seemingly tacked in a lighter vein, and there was nimble dancing here to offset the grand scale.
All of it resounded in what could seem like the dauntingly large and not especially friendly space of St Michael's Church. I was looking down from above, changing sides after the interval due to some welcome but rather over-vocal and thuddy kids on the south gallery. That meant standing to see in the second row for the Schubert, but it's welcome to be able to move with the hectic flushes of the dying composer's testament to life. Kanneh-Mason is always a joy to watch in the facial expressions which spell out his supreme musicianship; here he swapped the second-cello role with Ashok Klouda, which allowed him to sing the fragile lullaby bringing temporary peace to the unquiet opening movement and later to lean in to duet with Power, another supremely attentive musician (Kanneh-Mason pictured below in rehearsal).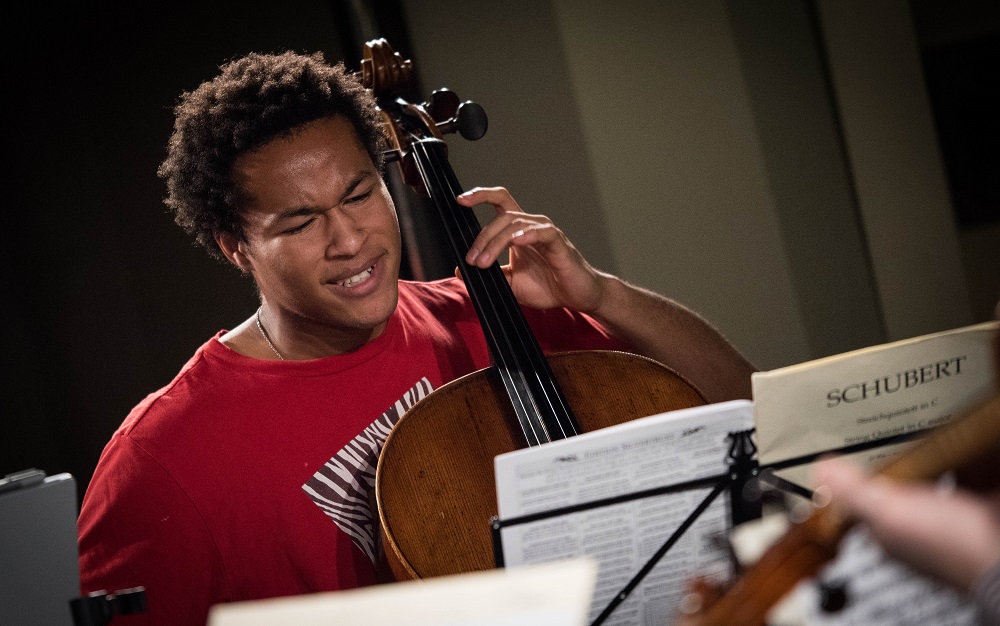 What has to be the best-loved of all Adagios went at more of an Andante pace, a stammering but passionate statement of love for life rather than the ethereal crossing-over it often becomes; that meant that the true spotlights of pulse-slowing, in the sombre move back from the cental protest to the recap and, most remarkably of all, at the dead centre of the Scherzo, had their proper gravity. There was plenty of it, too, in the Allegretto finale, where – again, I suspect, due to Sitkovetsky's powerful lead – the demonic was never long at bay. There are two dances of death in the second half of the work, and the players brought their full power and grit to a searing and sustained sense of shock. Then it was to be Ashok Klouda's solo turn in a late-night Bach Fifth Cello Suite, but with the main concert finishing at way past 10pm, those of us living on the west side of London had to beat a retreat, grateful for what we'd heard.
Nothing less than profound will do in that greatest of masterpieces, the Schubert String Quintet
rating
Explore topics
Share this article