Podger, Brecon Baroque, Hollingworth, Brecon Cathedral review - Bohemian footnotes yield the extraordinary |

reviews, news & interviews
Podger, Brecon Baroque, Hollingworth, Brecon Cathedral review - Bohemian footnotes yield the extraordinary
Podger, Brecon Baroque, Hollingworth, Brecon Cathedral review - Bohemian footnotes yield the extraordinary
Lively performances of music that makes unusual demands
Saturday, 26 October 2019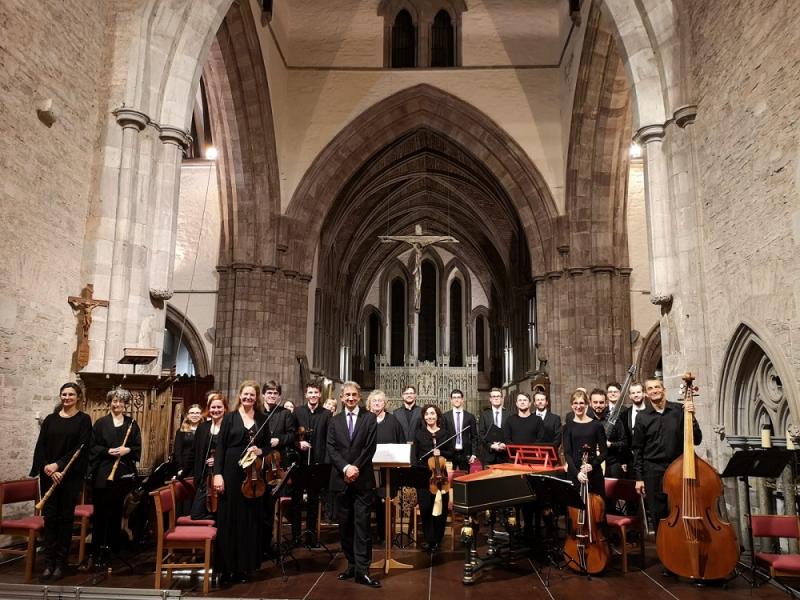 Mixed forces in unusual repertoire at the Brecon Baroque Festival
One of the more harmless pastimes of us retired academics is rummaging around among the so-called minor contemporaries of great and famous composers. It often turns out that quite a few of them aren't minor at all, or at least not minor enough to have to have retired academics dig them out.
And two such composers made up nearly the whole of this fascinating opening concert of the annual
Brecon
Baroque Festival, an event well worth battling through floods, high winds and falling trees to be present at, as was necessary on this occasion.
The 2019 festival is all about Bohemia, and the stars of the first night were the Czech baroque composers Jan Dismas Zelenka (1679-1745) and Heinrich Biber (1644-1704); Robert Hollingworth conducted Zelenka's Missa Dei Patris, and Rachel Podger, the festival's artistic director (pictured below with Brecon Baroque, second from left, by K Miura), played one of Biber's extraordinary Rosary violin sonatas. These composers are not unknown, certainly not to anyone who reads books on music history, especially the sort with footnotes. But knowing their music has been a somewhat rarer accomplishment.
One reason for this is that it is remarkably difficult to perform. Biber's violin writing, the most virtuosic of his day, is not just hard, it calls for playing techniques not required by the standard baroque repertoire. Zelenka's music - stylistically somewhere between Bach and Haydn - is in some ways even odder, strange in its discourse, strange in its harmony and rhythm, strange generally in its choices. It makes few concessions to the likely abilities of choral singers and not many to soloists: but then what baroque music makes more? It's only that Zelenka does it all so differently that one is constantly taken off guard by procedures so unexpected in music from a time one thought oneself familiar with.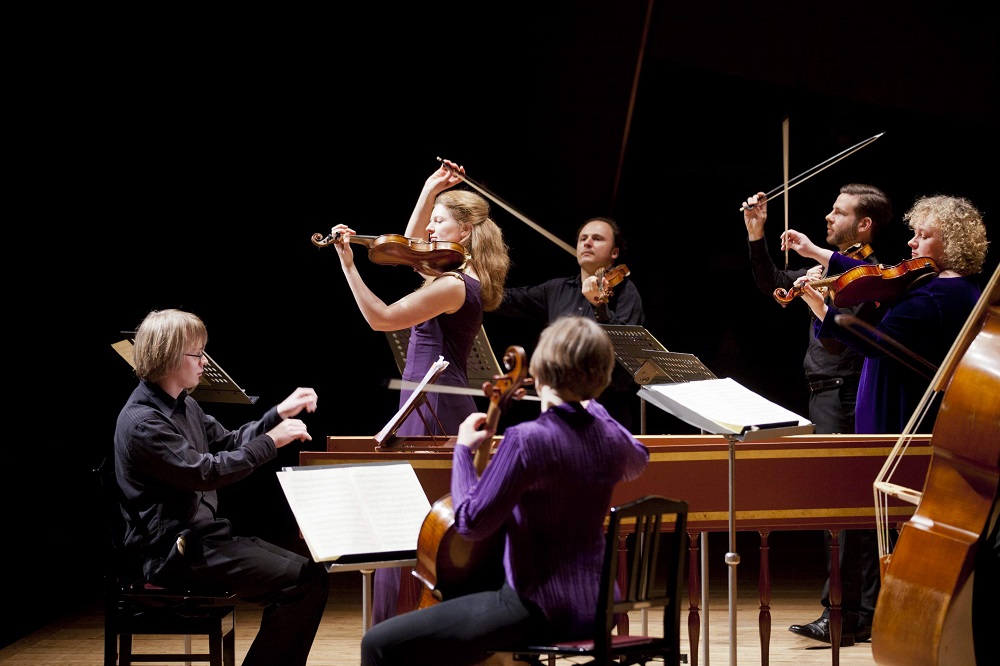 Hollingworth, in a brief introductory speech, compared Zelenka to a dog gnawing a bone, unable to let go of every nice bit. And immediately, in the orchestral introduction to the Kyrie of the Missa Dei Patris there was exactly that, short string figures repeated that didn't need repeating but took on a sort of mad importance simply by their unlikely repetition. This happens many times throughout the Mass, which Hollingworth spaced out over the whole concert, with other music by Zelenka, Biber and the German Pachelbel in between. Another trick of Zelenka's is what musicians call the interrupted cadence; this is a perfectly orthodox device, but Zelenka's cadences are so interrupted, and so repeatedly interrupted that they become a kind of fetish, almost - dare one say - a coitus interruptus.
But Zelenka isn't just eccentric; his music is evidence of an acute but oddly conditioned ear. His orchestral sonorities are sometimes little short of incredible, twittering and groaning, long bass pedals that you expect to lead to finishes (as in Bach) but don't, or the mercurial, quick-stepping fanfares that open the "Et Resurrexit". Above all his expressive line and his use of vocal ornament are utterly personal, utterly riveting. His Lamentatio pro Die Mercurii Sancto, a setting of part of the biblical Lamentations, is painfully beautiful music unlike anything in Bach or Handel to my knowledge, with an exquisitely shaped vocal line and rich, dark string sonorities like echoes from a deep tomb. George Clark sang it with fine feeling if not quite strong enough projection.
For the Mass, Hollingworth had a small, handpicked choir (a dozen voices, mainly, I think, from his own group, The 24), who also provided the soloists. They too were a shade underpowered but lively and committed, plainly enjoying themselves. Best of the soloists was the bass Stuart O'Hara in the Benedictus, a vaguely operatic setting with an element of vocal bravura that he managed with great aplomb.
Rachel Podger's playing of the Biber (Sonata No.11) was beyond praise, again, like the Lamentatio, music of vivid sonority with violin, unorthodoxly tuned, accompanied by organ and chitarrone. It's music that challenges one's fixed ideas about the way music should sound, and shows how much we miss in our settled picture of the Great Tradition.
Read more classical music reviews on theartsdesk
Zelenka does it all so differently that one is taken off guard in music from a time one thought oneself familiar with
rating
Explore topics
Share this article