Prom 65: Bruckner's Eighth, BBCSO, Bychkov review - a friendly giant |

reviews, news & interviews
Prom 65: Bruckner's Eighth, BBCSO, Bychkov review - a friendly giant
Prom 65: Bruckner's Eighth, BBCSO, Bychkov review - a friendly giant
First-rate conducting and playing bring warmth and humanity to an epic trip
Tuesday, 05 September 2023
Semyon Bychkov: 'listener-friendly finesse, even geniality'
Bruckner's behemoth has always had its fervent champions – and its muttering sceptics. The 85-odd minutes of his Eighth Symphony, finally performed after major revisions in 1892, build into a titanic testament. Advocates read into it enough apocalyptic doom and gloom to make Wagner sound like Offenbach.
Thank the gods, therefore, that the always-impressive Semyon Bychkov guided the BBC Symphony Orchestra through across these craggy Alpine peaks at the Proms with a listener-friendly finesse, even geniality. With its explosive timpani, tank-division horns and earth-trembling low strings, the Eighth will never rest easy on the ear – or in the mind. Firm, precise, never sluggish, Bychkov let us appreciate and enjoy each stage of this giant journey rather than aiming for one heaven-storming climax after another. I relished his granular detailing. As for the big metaphysical picture: let that take care of itself.
From the outset, the BBCSO strings (led by Igor Yuzefovich) played almost like an independent state, with a policy of grace, warmth and lyricism often at odds with the dread solemnity emanating from the brass. Bychkov made the most of this dialogue, or combat, as the great paragraphs of the first movement slowly unfolded. But not too slowly: here and throughout, a decisive tread prevented any lapses into stasis.
The wide arc of nine horns (normal and Wagner variety) fix Bruckner's mood and lead the pack at every turn; Martin Owen and his colleagues produced a glorious lustre and resonance in passages that delivered one slow-burn frisson after another. Indeed, Bychkov drew from the BBCSO the sort of creamy, luscious depth of sound that you might desire (but don't always find) from guest outfits with more spangled reputations. If the muscular, moody trombones (led by Helen Vollam) and the crunchy tuba (Ben Thompson) put their own stamp on proceedings, flutes and oboes took us into gentler, more mysterious corners of the Bruckner landscape. With its dissonant shocks and warring blocks of sound, the Eighth can send you not just sideways to Wagner and Mahler but, perhaps, forward to Stravinsky and even Bartok. Bychkov's clarity and articulation made the lurching drama of this orchestration glow. He avoided the sledgehammer monumentality that some devotees might expect, or even want.
After the shattering crisis of the opening movement faded into its final shrug of indifference, the scherzo showed composer, and conductor, at their most convivial and accessible. If not quite easy-listening Bruckner, the expansion of its almost merry bell-peal motif had a lilt and drive that shaded into positive jubilation. The arrival of harps added an enchanting touch as a rustic song trips across Alpine meadows. Bychkov kept the tone clear, bright and even festive, only to darken the skies powerfully as a Beethovenian climax seizes hold.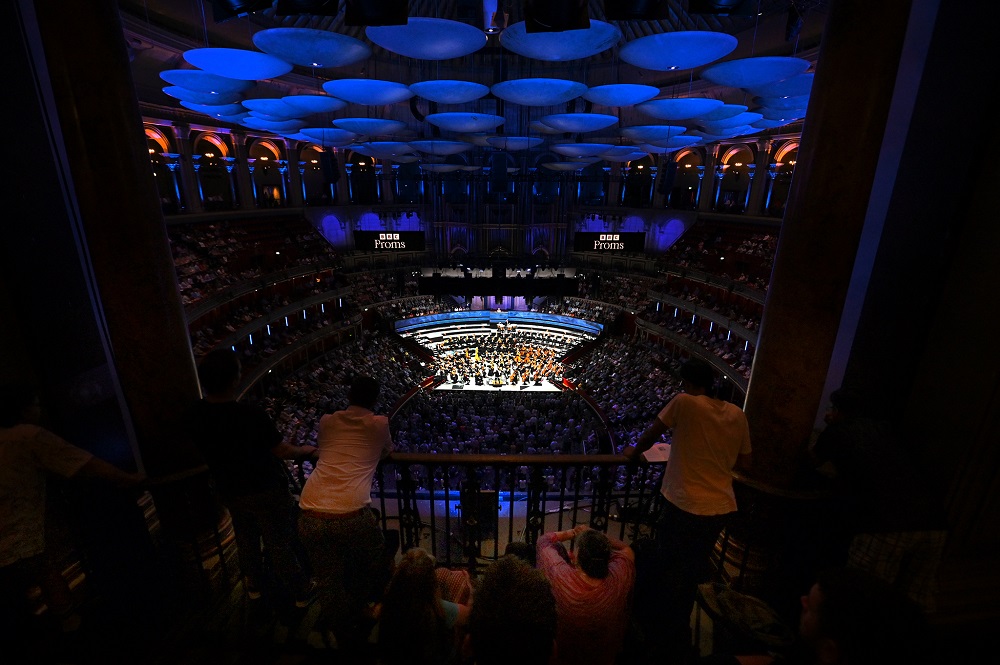 The centrepiece of his reading, though, came in the massive third-movement adagio. Expansive yet controlled, full of wistful yearning and snatched glimpses of ecstasy, here was an enraptured soundscape to match any of its Mahlerian counterparts. The solo horn (Martin Owen) again led the journey, with the creamy, unctuous strings ravishing beneath. The harps (Sally Pryce and Anneke Hodnett) sprinkled more stardust on this Tristan-like scene as the brass wrapped us in a sort of glossy foreboding. Yet there was an underlying gentleness, an absence of hysterics, to Bychkov's approach, even as scary cymbal clashes brought down the curtain.
The finale I find more difficult to love. Its endless trudge up one mountain peak, only to reveal another glinting beyond it, can be hypnotic but numbing too. Still, the brass felt ferocious, then majestic, the lower strings formidable – with truly mighty basses – while Antoine Bedewi's timpani capped a stellar evening of thrilling eruptions with divine thunder from first to last. Bychkov's crescendos gripped, his pace kept steady and compelling, and the long trek picked up a relentless, cumulative force along the way. The final major-key triumph satisfied but didn't stun; but then Bychkov had always focused our gaze on the magnificent blooms in the Bruckner meadow, not just the great green swathes. Would even this rendering have converted the sceptics? The middle movements, luscious and inviting, could certainly have done so. In any case, the BBCSO played their hearts out from first bar to last. No visiting ensemble with a grand capital city in its title could have better brought this hulking work to life. More than ever, we need to cherish and protect the outsize talents close to home.
Here was an enraptured soundscape to match any of its Mahlerian counterparts
rating
Share this article