Prom 72 review: Vienna Philharmonic, Harding - uncertain Mahler Six partly redeemed by brass |

reviews, news & interviews
Prom 72 review: Vienna Philharmonic, Harding - uncertain Mahler Six partly redeemed by brass
Prom 72 review: Vienna Philharmonic, Harding - uncertain Mahler Six partly redeemed by brass
Nothing like a blow or two from a giant mallet to kick a fits-and-starts performance into life
Friday, 08 September 2017
Look at me: Daniel Harding and the players of the Vienna Philharmonic
Outlines of a real face had begun to emerge in Daniel Harding's conducting personality. His youthful rise to the top initially yielded neutral concerts with the LSO and a glassy, overpraised recording of Mahler's Tenth in the Deryck Cooke completion with the Vienna Philharmonic.
But then I heard a supple, intensely lyrical Brahms Third in the Concertgebouw and what came across on CD as a fine live interpretation of Mahler Six from Munich. With last night's
Prom
we were back to the enigma, best summed up in Otto Klemperer's channeling of Brecht and Weill's Jimmy Mahoney and his refrain "aber etwas fehlt" – "but something's missing".
It's hard luck on Harding that he had to follow two stunning concert-hall Mahler Sixths from real electrifiers – Andris Nelsons with the Boston Symphony Orchestra at the 2015 Proms, and Paavo Järvi showing us how febrile and alive Tokyo's NHK Symphony Orchestra could be at the Festival Hall this March. The players really burned for those two, and while if you watch the Vienna Phil's filmed interpretations with Bernstein, you see him lathering up and the players looking impassive, there's the same volcanic intensity in the actual playing. Not for Harding, on this evidence. While there are more women in the orchestra than in previous years – and you have to take the management's word that all auditions are given behind a screen – it was no pleasure to watch this crew virtually ignoring their conductor.
The opening march sounded promising, with basses swelling their opening strut and horns very vocal in their underlining. It soon became clear that this was going to be a responsibly paced rather than a feral first movement – but then, with the varied recap of the sweeping lyrical melody which brings some relief to the fevered soul, security vanished as the players briefly got out of synch.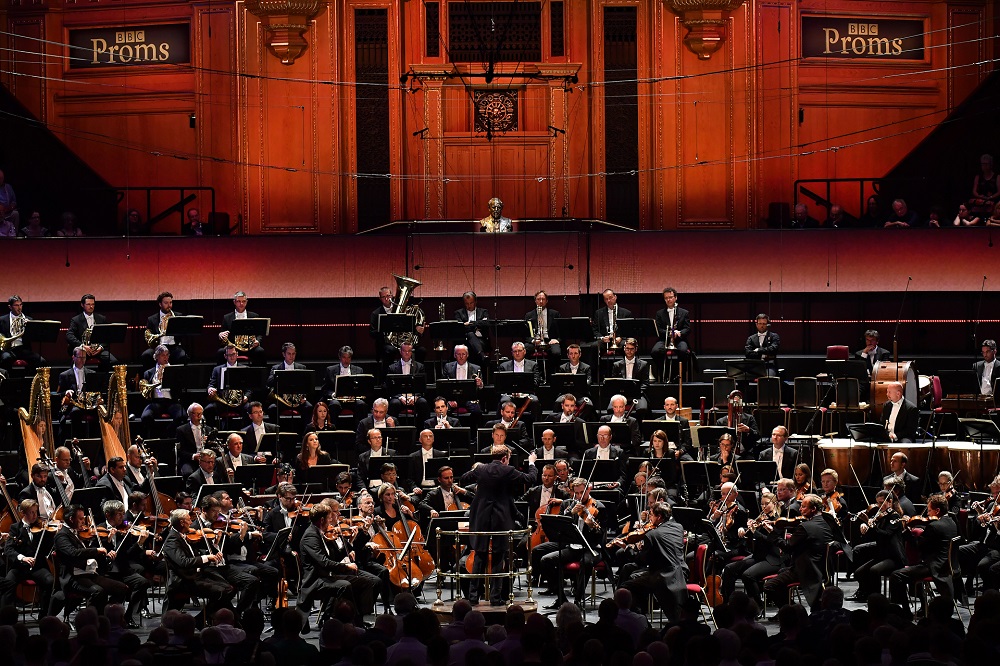 Perhaps that was the fault of the Albert Hall acoustics, a momentary lapse. But in the Andante – given the lack of initial white heat, it felt more unconvincing than usual second rather than third in an order Mahler himself changed several times – confidence seemed to ebb for longer. The opening flow didn't last, the first clarinet only just managed to get back on course after a late entry, and bumps beset what should be an organic rise to a heartfelt climax.
Scherzo and finale recovered their poise, but where were individuality or presence in an impossibly pallid woodwind section, all the more of a shock after so many excellent counterparts in earlier Proms? The horn section, and the solos of its leader, were the distinctive stars of the show, whether growling in grotesquerie or heartaching in the twilight zone. A lonely tuba waxed balefully eloquent in the slow introduction to the ultimate march mania and the trombone ensemble intoned beautifully. What, though, of the famous Vienna string sound? Nothing special at all from where I was sitting.
Until, that is, the two hammer-blows of fate – a giant wooden mallet, rather more effective than overloud bells of both cow and tubular varieties (try the gallery next time, perhaps) – galvanised everyone into action. And for the final rallying before disaster conclusively strikes, this sounded like a magnificent orchestra under a conductor who really knew what he was doing. Not enough, sadly. What a shame to have a last-minute dip in a season which has yielded more wonderful Proms than I've heard in any previous year.
Where were the individuality or the presence in a frustratingly pallid woodwind section?
rating
Share this article