Prom 72, War Requiem, RSNO, Oundjian review - the pity, and the spectacle, of war |

reviews, news & interviews
Prom 72, War Requiem, RSNO, Oundjian review - the pity, and the spectacle, of war
Prom 72, War Requiem, RSNO, Oundjian review - the pity, and the spectacle, of war
Britten's pacifist masterwork strikes with almost overwhelming force
Friday, 07 September 2018
Peter Oundjian conducts Allan Clayton and Russell Braun in Britten's 'War Requiem'
A day after John Eliot Gardiner and wandering violist Antoine Tamestit had converted the Royal Albert Hall into a sonic map of Hector Berlioz's Italy, conductor Peter Oundjian and his full-strength divisions transported us to the Western Front. Benjamin Britten's War Requiem, premiered in the rebuilt Coventry Cathedral in May 1962, combines the Latin text of the requiem mass with the First World War poetry of Wilfred Owen to speak, now as then, of fragile human understanding and affection in the face of overwhelming terror and violence. Yet its plea for the still, small voices of truth and love paradoxically depends on a musical armoury that should frighten the living daylights out of us.
Often dismissed as the graveyard of musical refinement, the trackless terrains of South Kensington can intensify the spatial drama of such a wide-screen work like few other venues. Oundjian deployed his giant forces to fill every corner of the stage – and the building – with urgent hubs of contrasting sound. Yet the various units Britten marshals – big mixed choirs with soprano, children's chorus with organ, full orchestra, tenor and baritone soloists alongside a chamber ensemble – have inherently unequal firepower. It takes shrewd generalship from the podium to manage the ever-shifting balance between them, and to make sure that the big choral guns don't unduly dominate. For a farewell gig after six years in charge of the Royal Scottish National Orchestra, the Canadian-born Oundjian directed a performance that did ample justice to the shattering climactic scenes of Britten's pacifist masterpiece. At the same time, he kept us alert to the smaller-scale drama that (in keeping with the composer's world-view) cherishes tenderness and intimacy in this fractured aural landscape of extremes.
Four years ago, a Proms War Requiem steered by Andris Nelsons (on active duty here last weekend with the Boston Symphony Orchestra) marked the centenary of the First World War's outbreak. In 2018, to commemorate its end, Oundjian led an army that at first glance looked almost too vast for even this mammoth shell-crater of a hall. The male soloists (tenor Allan Clayton, baritone Russell Braun) stood stage left by the chamber group, with soprano Erin Wall mid-stage behind the orchestra. Above her on both sides stretched the seemingly infinite ranks of the Huddersfield Choral Society and the RSNO Chorus. Offstage left, up in the heavens, the RSNO Junior Chorus and its organ added their gorgeous, otherworldly gloss to the mud- and blood-stained textures of the onstage action.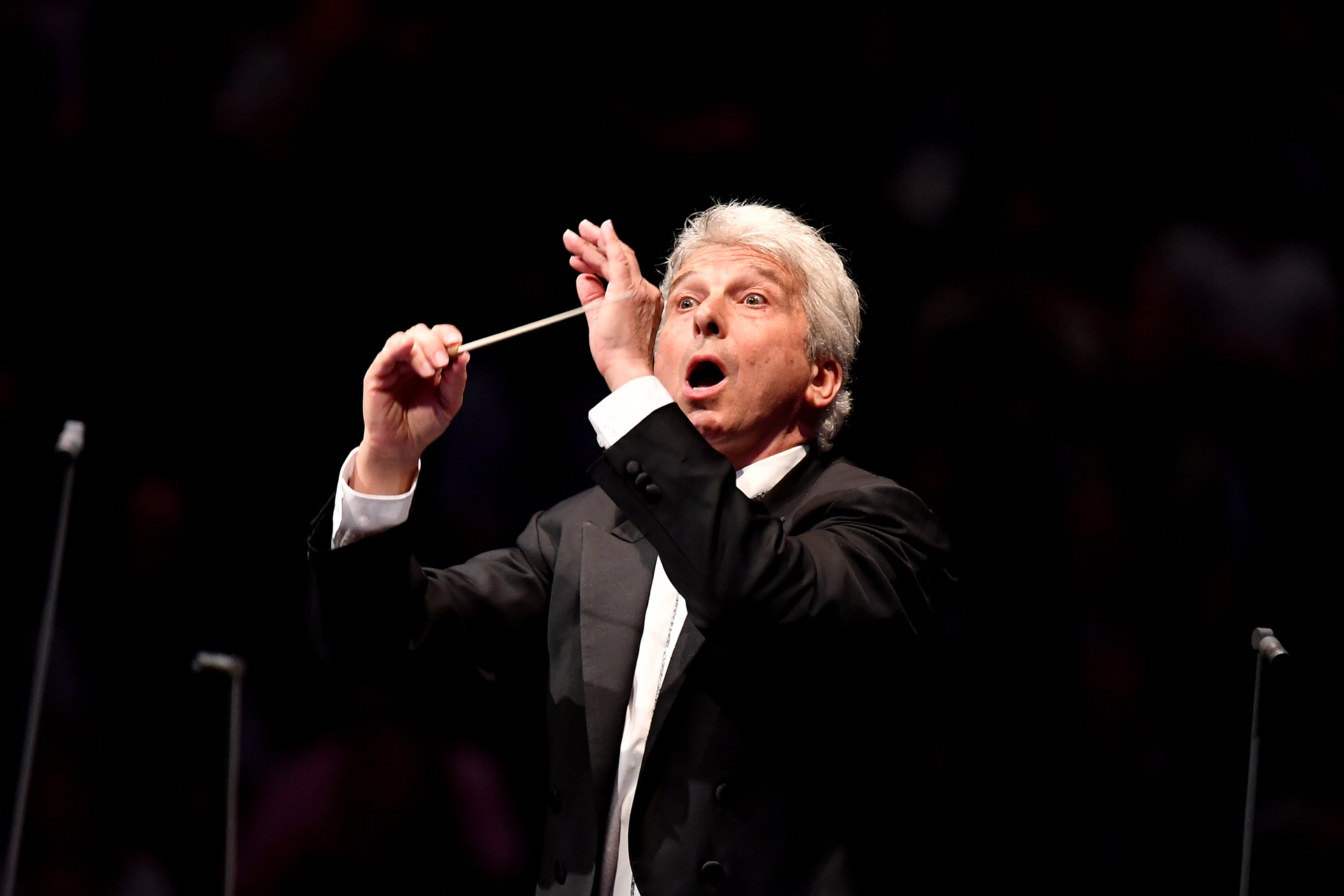 From the outset, the War Requiem has hauled in its wake a groaning baggage-train of political and personal contexts. As in the case, for instance, of Shostakovich's "Leningrad" Symphony, that can make any strictly musical judgment sound not just pedantic but heartless. The legacy of mass mourning from both world wars, Owen's own death just before the guns fell silent in November 1918, Britten's wartime flight to New York and his choice to register as a conscientious objector, his post-war emergence as a hallowed "national composer", the contemporary Cold War fears that shadowed the work's unveiling in Blitz-flattened Coventry: this packed agenda has long disarmed, or distorted, criticism. Bristly as ever, Stravinsky thought it all too sentimental. But in our postmodern times, the eclectic homage Britten pays to Mozart and Verdi (and, strongly audible I thought last night, Mahler) will no longer bother many.
Under Oundjian (pictured above), the teeming ranks of the Huddersfield and RSNO choirs brought delicacy as well as majesty to the great emphatic statements of the requiem setting: the recurrent, properly terrifying Dies irae, the slow-burn menace and explosive ending of the Libera me, the sweet consolation of the women's Recordare as it takes us back to twilit evensong in one of Owen's "sad shires" before the men smash into this hard-won rest with their Confutatis. Britten's ground-shaking blasts of big noise can only succeed if other crucial passages maintain a genuine piano hush. For all their numerical strength, Oundjian's battalions did that.
Massed voices aside, the ferocious spit, chatter and punch of brass and timpani punctuate the piece, from the Dies irae to the Sanctus. The RNSO heavy artillery delivered, often with a diabolical swagger. Stranded amid the vocal regiments, Erin Wall (pictured below) held fast to shine and soar in the Lacrimosa and the Sanctus. But, for all its bursts of brilliance, Britten's testament would hardly win the loyalty of generation after generation simply as a high-minded, technically polished and modern-flavoured pastiche. It's the heart-stopping Owen settings for tenor and baritone that breathe a unique life into this piece. Would Clayton and Braun, fronting the stage, survive against the crowded cavern in front and the clamour behind? They did, with Braun especially rich and firm, although it was a close-run thing. That great human wall of sound to their rear had its moments of excess capacity. The RAH could also feel like hostile terrain for the plucky little chamber ensemble as it battled to stand out as a separate unit.
Uncouple some of its heavy emotional baggage from the Requiem and you may start to hear it (as I did) almost as a sort of sublime anti-militaristic cabaret – it belongs, after all, to the early-Sixties era of Beyond the Fringe, early Private Eye and Oh! What Lovely War. Ironic intrusions and digressions barge into the Latin texts as Britten sets Owen's often bitter and furious commentary on "the pity of war" – above all, perhaps, in the lurchingly ambiguous music for the retelling of the Abraham and Isaac story ("The Parable of the Old Man and the Young") as a confidence trick that slaughtered "half the seed of Europe, one by one". Clayton and Braun brought out the sardonic, almost Weimar-nightclub quality of some of Britten's settings, with their satirical inversions and mockeries. There's angry mischief as well as solemnity here.
That said, the final duet of Owen's "Strange Meeting" attained all the devastated, post-traumatic serenity it merits. Britten's corrosive wit and astringency, you felt, earns him the consoling calm of the two singer-soldiers' "Let us sleep now", followed by the heavenward ascent of the merged choirs for In paradisum. Yet the grating C-F# tritone that governs the entire work never sounds completely resolved. Britten's beloved bells returned one last time to knell over a musical landscape that has reached an exhausted truce, but hardly real peace. Now the audience could play its part, by holding the long silence that – following the work's tradition – Oundjian sustained.
Would that, 56 years after its arrival, we could now treat this restless hybrid epic as a great period piece and little more. Oundjian and his tiered forces proved that it has lost none of its power, and penetration. Yet I was left yearning for a more compact, even more overtly dramatic, presentation. So roll on Daniel Kramer's stage adaptation for the ENO, which opens at the Coliseum in November with Martyn Brabbins (music director of the Huddersfield choir) as conductor and artist-photographer Wolfgang Tillmans as designer. That could prove a revelation.
Clayton and Braun brought out the sardonic, almost Weimar-nightclub quality of some of Britten's settings
rating
Share this article
Subscribe to theartsdesk.com
Thank you for continuing to read our work on theartsdesk.com. For unlimited access to every article in its entirety, including our archive of more than 10,000 pieces, we're asking for £3.95 per month or £30 per year. We feel it's a very good deal, and hope you do too.
To take an annual subscription now simply click here.
And if you're looking for that extra gift for a friend or family member, why not treat them to a theartsdesk.com gift subscription?