Rice, Ridout, Drake / A Human Document, Oxford International Song Festival review - a cornucopia of song, speech and vision |

reviews, news & interviews
Rice, Ridout, Drake / A Human Document, Oxford International Song Festival review - a cornucopia of song, speech and vision
Rice, Ridout, Drake / A Human Document, Oxford International Song Festival review - a cornucopia of song, speech and vision
Young artists, word, and image enrich two remarkable events in the Holywell Music Room
Wednesday, 18 October 2023
A perfect trio: viola-player Timothy Ridout, mezzo-soprano Christine Rice and pianist Julius Drake
The word "great" is going to be stated, or implied, rather a lot here. Christine Rice is, after all, one of the world's great mezzos, and her partnership with Julius Drake has long been something to seek out at every opportunity. Add to the mix a young viola player already in the top league, Timothy Ridout, and a programme featuring music by an individual voice among composers, Rebecca Clarke, and there was reason enough to travel to Oxford yesterday.
Hopes were movingly rewarded. But other riches emerged, thanks to the rainbow net spread wide of what is now the Oxford International Song Festival, formerly Oxford Lieder, masterminded by the pioneering Sholto Kynoch, The global reach was exemplified by a Korean baritone singing in Welsh and a French soprano delivering Finnish, two more than just promising young singers possessed of vivid communicative skills, partnered by two very fine pianists. I also discovered what I should have found out much earlier – that the late Tom Phillips, the day's featured artist in this year's festival theme of Art: Song - Images/Words/Music, was a truly great only-connecter.
Now kicking myself for not getting there at lunchtime to hear Lotte Betts-Dean and Joanna MacGregor, with Phillips texts read by Samuel West, in a lunchtime recital that according to Tom's widow, Fiona Maddocks, "had the audience whooping". But we also whooped, or at least cheered to the rafters, soprano Clara Barbier Serrano and pianist Joanna Kacperek (pictured right), the young song duo who punctuated the 5pm event's discussions of the amazing oeuvre between Bodley's Librarian Richard Ovenden, Maddocks – introducing an incredible range of work we also saw projected on the walls of the beautiful Holywell Music Room – and inspirational director Netia Jones, who became acquainted with Phillips' work as a 13-year-old and collaborated with him on a very singular kind of opera, Irma. What a polymath he was, how originally he applied his knowledge and how reassuring that he made his individual way in Oxford, which used to be less alll-embracing, at least in the 1980s when my bid to do a phD there, with willing supervisors in various departments, was rejected on the grounds that "we are not an interdisciplinary university".
Each musical strand had a watercolour roundel by Phillips inspired by the Debussy in question. Kacperek launched, burning the mists off the composer in a well-defined but still poetic "Jardins sous la pluie". I'm not one to comment much on concert wear, but the drops shimmering on her white dress had their equivalent in the painting. The third of her solos, L'isle Joyeuse, culminated in Dionysiac exaltation. Barbier Serrano hones her resonant soprano to white-note slivers of sound which suited Lili Boulanger's "Elle est gravement gaie" and Kaija Saariaho's "Rauha" ("Peace") to perfection, while the last verse of Marguerite Canal's "Les trois princesses" refined the sound to create a unique magic. I'll be looking forward to hearing more from this very stylish singer in a programme of commissioned and other works based on Irish writers in Paris at the Bloomsbury Festival on Sunday.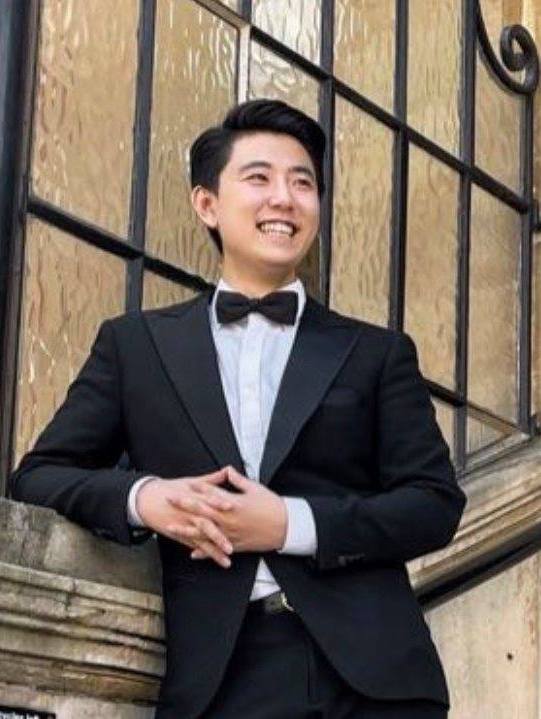 I'd been intending to slip out to catch an unusual Evensong at Christ Church Cathedral, but the allure of the whole Holywell Music Room recital proved too strong. Still caught what I really wanted to hear, Ireland's emotional "Greater Love Hath No Man", and got to lay a sprig of rosemary on Oxford founder St Frideswide's tomb. Then it was back to the recital venue of the day, and another young duo to preface the main event, south Korean baritone Edward Kim (pictured left) and Swedish-Taiwanese pianist Emily Hoh. Like Serrano, Kim personably projected the meaning of his chosen songs without the music in front of him: you'd be able to follow the enchantment of Loewe's "Tom der Reimer" without needing to read the text.
This happy outcome of the meeting of a mortal with a supernatural creature was in marked contrast to Rebecca Clarke's "The Seal Man" – more popular with singers than I realized, but who could convey its overwhelming power better than Rice with Drake? The emotions grew out of the great – yes – viola-player/composer's haunting response to an ancient Irish tune, connected with the strangeness of Masefield's poem about a girl who goes down to the sea with her irresistible new lover and, unlike him, cannot live in that element. Ridout's mesmerizing mastery gave us two other simpler folksong settings; but there was intense power in Clarke's fierce, only eventually stilled, setting of Blake's "Tyger, tyger", and what started as a conventional crepuscular love lyric ("June Twilight", Masefield again) ended with the passionate explosion of "Love, can this beauty in our hearts end?", one of many stunning full-pelt phrases from the mezzo.
Others came deep and rich in Handel's Arianna a Naxos, a mini-opera almost as powerful as Britten's Phaedra (another Rice glory), the deserted princess's emotions as she wakes up to find Theseus nowhere near, only to spy him from an eminence sailing away, charted with vivid but focused physicality, and enriched with immaculate dramatic timing in Drake's handling of Haydn's subtle piano (originally fortepiano) writing. Power of a more desolate sort came in the middle of Bridge's Three Songs for voice, viola and piano, "Where is it that our sould doth go", freely after Heine, where the viola goes its own way, but still doesn't console until the third song, setting Shelley's "Music when soft voices die". The final inspiration was to end with Brahms's supernaturally beautiful interweaving of voice and viola, perfectly realized here, in "Gestillte Sehnsucht" and the other-worldly "Geistlches Wiegenlied", Rice using her perfect technique and evenness throughout the range for tender introspection set against more suffering: the perfect end to a perfect programme, perfectly executed..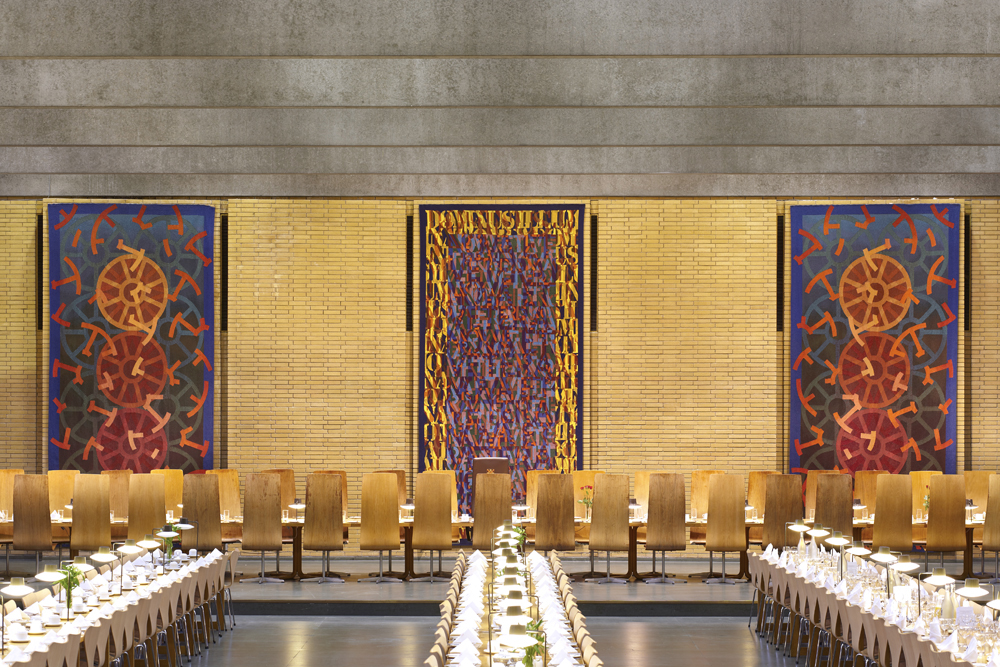 There's so much to follow up: another afternoon in Oxford is needed on the Phillips trail, not least to see the tapestries executed by Edinburgh's Dovecot Studios and hanging in the Dining Hall of his alma mater, St Catherine's College (pictured above courtesy of the Tom Phillips website). A 3pm view had been promised but was cancelled, another reason for returning soon.
'June Twilight' ended with the passionate explosion of 'Love, can this beauty in our hearts end?', one of many stunning full-pelt phrases from Rice
rating
Explore topics
Share this article