'Right now, we're in chaos': pianist and Leeds Lieder director Joseph Middleton on catastrophic cuts to arts funding |

reviews, news & interviews
'Right now, we're in chaos': pianist and Leeds Lieder director Joseph Middleton on catastrophic cuts to arts funding
'Right now, we're in chaos': pianist and Leeds Lieder director Joseph Middleton on catastrophic cuts to arts funding
A superb organisation is commended, then gets its grant axed for missing 'data collection'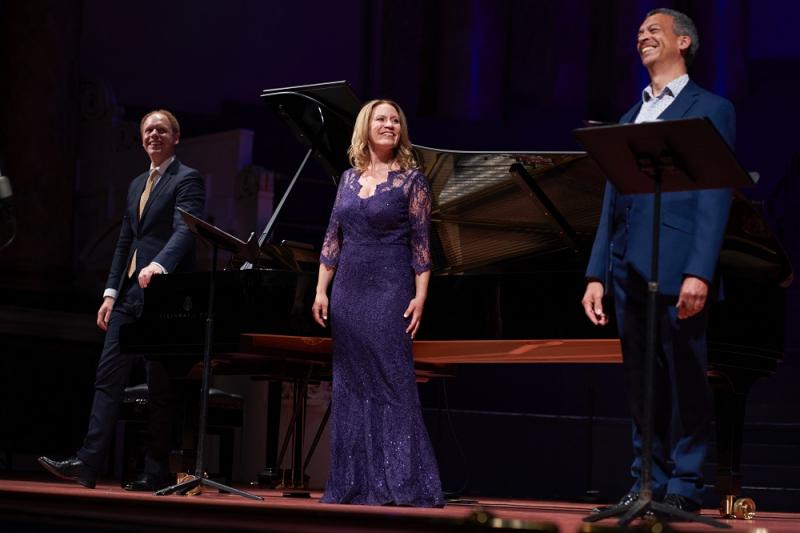 Joseph Middleton (left) with Carolyn Sampson and Roderick Williams at Leeds Lieder
"If you want a picture of the future, imagine a boot stamping on a human face – for ever." Replace a few of George Orwell's words in 1984 and most musicians right now would find alarming resonance in the statement: "If you want a picture of the present, imagine a boot stamping out classical music – for ever."
Orwell's slightly altered prophecy could be used to sum up the widespread cultural vandalism happening in the UK right now despite the fact we are world-leaders in this area (as everyone would know who watched the recent Coronation). Because of choices that are being made by a few in positions of power, we are being fast-tracked to a society where culture and especially classical music is being systematically stamped out of the communities in which we live.
The consequence of government policy in education and, by extension, the lack of funding for classical music from the supposedly politically independent Arts Council England (ACE) is having an alarming effect. The vast majority of people are effectively being barred from coming into contact with classical music, the exact opposite of what most of us working in this sphere are trying to achieve. Why would anyone want to support this direction of traffic?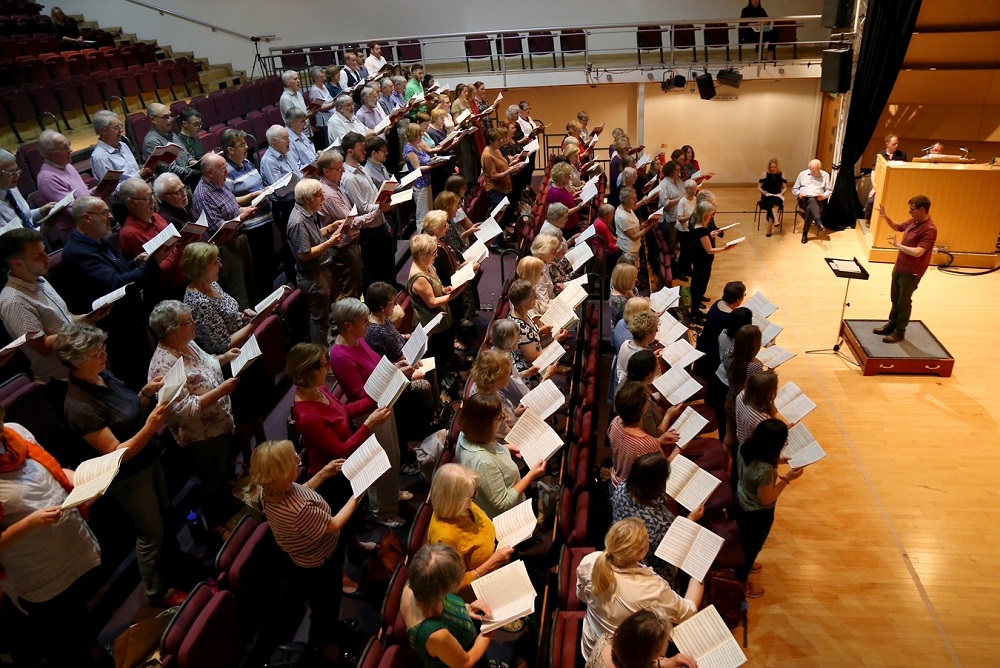 My main job is as a pianist performing and recording internationally, but since late 2014 I have also proudly been Director of a festival championing western art song in the North: Leeds Lieder. We are a small charity, with a modest turnover, but we have for years punched above our weight providing outstanding experiences for individuals from retirees to primary school children (choral rehearsal pictured above; Schools Culmination Concert pictured below). Without feeling abashed I can rejoice in the fact that we are a cultural success story: "A Northern Powerhouse of song" according to The Times.
But don't take my word, or indeed that of the national press for it, read exactly what ACE wrote in 2023 in response to our application for funding: "The Festival has gone from strength to strength over the last decade due to its ability to provide excellent opportunities to outstanding young artists alongside bringing famed international singers to England. The quality of the programming, performances, participatory work and digital content is testified by the continued interest in the festival from national media. The application shows how this will continue in the current project, bringing world-class artists to audiences in England." So far so good. Maybe with feedback like that we may continue to attract funding?
Our growth and ability to bring the highest quality art to as many people as possible has been directly in line with the excellent partnership we have enjoyed with ACE. Between 2015 and 2022 we had enjoyed a 100% success rate when applying for grants to support the Festival. In the pandemic they were particularly helpful, allowing us to act nimbly with their investment. We broadcast widely, programmed socially distanced concerts supporting scores of freelancers, and distributed high quality singing programmes to schools across Leeds to be used through home schooling. Arts Council funding has been the backbone of our success.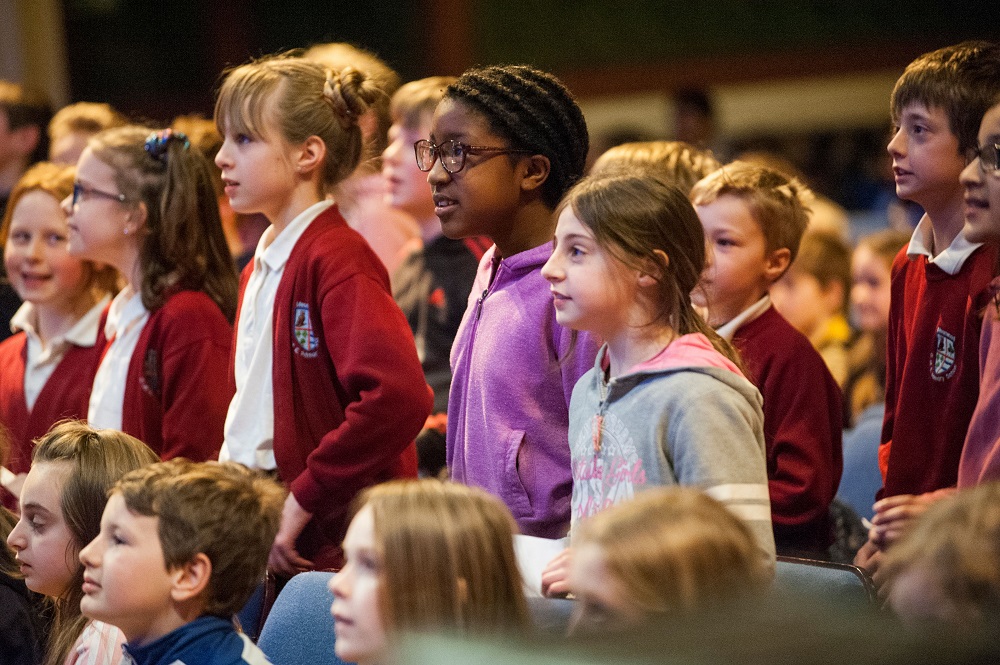 Our wider community receives a great deal in return for ACE providing a 5th of our annual budget, and not only artistic. In 2017 we commissioned an independent audience development review of our work as part of our ACE-funded grant. It found that for £30,000 investment from ACE, our four-day Festival ploughed more than £200,000 back into the local economy.
2023 for Leeds Lieder was to be a really exciting year: we have our biggest Festival to date planned for June 9-17. Tragically, our activity coming out of this year will look very different. Our application to ACE has been rejected. Our wings haven't been clipped so much as cut off. This is despite having scored top marks in their criteria for most of the application. To use ACE's own words again from our rejection letter: "The '23 Festival programme evidences clear commitments around: showcasing/commissioning work by women and ethnic minority composers; programming and supporting a wide variety of artists in terms of sex or ethnic background, with nearly 30% of headline artists being from global majority backgrounds…The application also evidences how the project creates a demonstrable, lasting benefit for participating groups, particularly through LL's schools programme, for which Leeds Music Partnership has helped LL to identify schools/academies with a high proportion of pupils on free school meals."
So what has gone wrong? Why will we have to use our reserves to pay for this year's Festival and already look to cut activity this year and next?
The most negative and detailed part of our feedback to the 200 A4 page application is around data collection. As a tiny team, partly manned by enlightened and generous retirees working for free, we are going to need considerably more investment if we are expected to also collate data on the scale expected by ACE. Is ACE asking the right questions? (Pictured below: Joseph Middleton. Louise Alder and audience).
We're told there is no money to support the arts. We're living in austerity. Yet someone found £4.4bn of public money to pay to British banks to cover default and fraud on the state-guaranteed loans made to businesses during the Covid lockdowns. At a cost of £116.8m to the taxpayer, Theresa May commissioned in 2018 a new (coined by Jacob Rees-Mogg) "Festival of Brexit". The Unboxed science and arts festival would "showcase what makes our country great today". While other thriving arts organisations were receiving cut after cut, money was ploughed into a government vanity project where the final evaluation has found that the festival brought together a fraction of the audiences initially hoped for (early "stretch" predictions of 66 million visitors to the festival were later scaled down to 9 million and in reality only 2 million went to a live event in England).
Stubbornness by individuals at the helms of funding bodies, politicians suffering from inverse snobbery married with a nervousness for championing anything cultural born of excellence and we are set on a course that is disastrous and in complete contrast with choices being made by most other western countries. For reference, France has just increased its culture budget by 7% and now spends £3.86bn on culture, a record. Germany has also recently boosted arts spending by 7% "in the face of the unprecedented crises of our time". By comparison, ACE now spends £629m a year in England. (Pictured below: mezzo Angelika Kirchschlager in conversation with Andrew McGregor).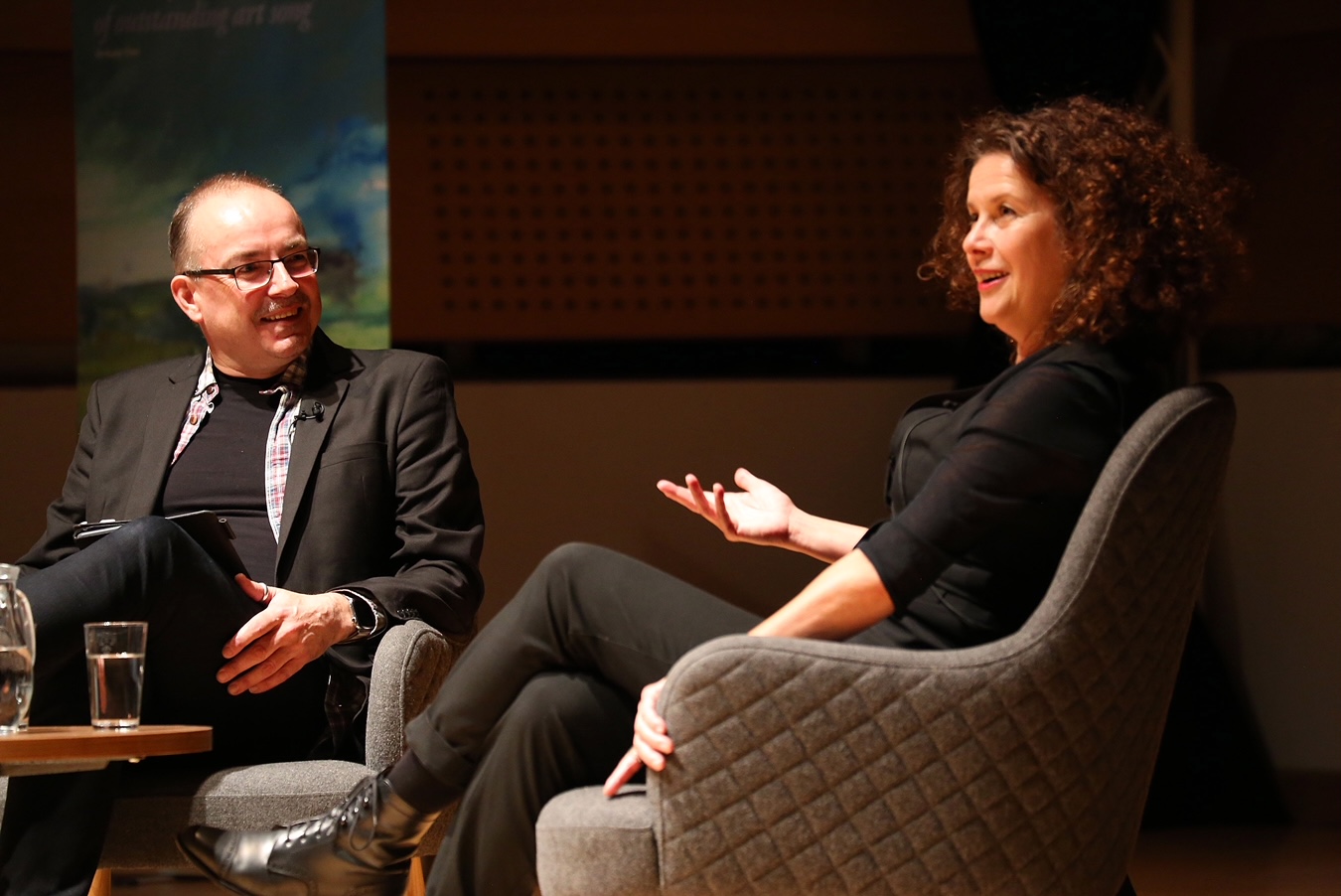 As an industry we want to get young people into classical music. We know it teaches empathy, creativity, critical thinking, team building, a feeling of self, good mental health and much more. We also know that at Leeds Lieder 58% of our YouTube viewers are under 34. But, without ACE investment we now cannot livestream any of the 2023 Festival. Overnight we have lost an opportunity to engage with a younger audience. We want to make art available to all regardless of background or socio-economic barriers. Filming our work and recording it meant we predicted we'd reach an audience of 300,000. Now it will only be for those who buy tickets and hear it in the concert hall. Our regular audience of around 3000. For the first time in recent years, this number is falling instead of growing.
Leeds Lieder's future education projects are now also in jeopardy and this is bad news at a time when the government is torching arts and humanities subjects. GSCE entries for arts subjects have dropped 40% since 2010 and the number of students taking Music GCSE has reached its lowest this century. This of course comes as no surprise since 2010 saw the introduction of the EBacc. With a generation of children failing to study music, it's blindingly obviously that in a few decades we won't have the teachers to teach music.
The elitism that certain corners of the political spectrum like to attribute to classical music is a self-fulfilling prophecy. No music in schools, only rich people can afford music lessons for their kids, only rich kids get to appreciate music. Job done. The Government is making sure vast swathes of the population are under-served in cultural provision. With only 5% of Leeds Lieder's annual budget coming from our local authority, surely in return for filling a gigantic hole left by excluding the arts from the EBacc curriculum an organisation like ours might expect some public funding? This new lack of investment at Leeds Lieder means another section of society will also lose out. (Pictured below: masterclass with Amanda Roocroft).
The problem with taking a scythe to the public funding of an organisation such as Leeds Lieder, just as you've built it into a force for good, is that the effects are wide reaching. We've worked out a pipeline at Leeds Lieder that involves bringing music to people from 8 years old to way beyond 80. There's a natural ecosystem. We understand it, but it's being tested the entire time by people who I don't think do. Children, young people, adults, audiences on-line and in concert venues, communities regardless of background are all culturally poorer than past generations. I believe there is also a kind of dishonesty at the heart of many recent decisions.
Levelling up is a catch-phrase constantly banded around, but if the government wants art to be experienced all over the country, invest in organisations already successfully doing this, like Leeds Lieder in Yorkshire, like the Britten Sinfonia in East Anglia, Psappa in Manchester, the Glyndebourne Tour to Liverpool, Canterbury, Norwich and Milton Keynes, all of whom have lost funding. All these organisations are now in jeopardy or have shut up shop. Many of us understand how to build culture into a community and we have given over our lives to champion this. The Government needs to ask, with total honesty, what kind of country do we want to live in? Nicola Benedetti borrowed the title of a book by Martin Luther King Jr for her Edinburgh Festival, "Where Do We Go From Here: Chaos or Community?" Right now, we're in chaos and simply going down the wrong path.
A further plea from so many great musicians in this moving YouTube film
Leeds Lieder's future education projects are now also in jeopardy: bad news at a time when the government is torching arts and humanities subjects
Explore topics
Share this article