theartsdesk in Bamberg: Top Town, Top Orchestra |

reviews, news & interviews
theartsdesk in Bamberg: Top Town, Top Orchestra
theartsdesk in Bamberg: Top Town, Top Orchestra
Conductor Jonathan Nott's world-class team is only one reason for visiting Germany's jewel
Sunday, 28 September 2014
The Bamberg Symphony Orchestra on the bridge to the Old Town Hall
As a town of 70,000 or so people, Bamberg boxes dazzlingly above its weight in at least two spheres. The Bamberg Symphony Orchestra, risen to giddy heights under its chief conductor of the last 14 years Jonathan Nott, is decisively among Germany's top five, and acknowledged as such in its substantial state funding (to the enviable tune of 80 percent, a figure known elsewhere, I believe, only in Norway). And a galaxy of great buildings has won the place UNESCO World Heritage status.
Strange, then, that the British don't seem to realise, as do the Americans, Chinese, Japanese and Italians – acknowledging the only town not so far north of the Alps equal to any of their own – that Bamberg ought to be German destination No. 1.
Visiting was a dream come true on both fronts. I've followed Nott's Mahler cycle on CD with the orchestra over its steady course; no accolade could be higher than the fact that several of its instalments are equal to the best on disc, culminating in a stupendous Sixth. If you've cracked Mahler in both sound and interpretation, and this team has, you're simply the best. As for the town's treasures, I was as ignorant as most Brits until I read Simon Winder's consistently funny but never facile cabinet-of-curiosities history book Germania.

Bamberg, writes Winder, is where he'd have moved with his family had it been viable. Partly because of its large working population and a thriving student community of 13,000 in the middle of the town's bourgeois island, it's no Disneyfied medieval playground like Rothenberg ob der Tauber, the place I made the mistake of visiting during time off from Wagner's Ring at Bayreuth in 1990; I should have come here. "Not only would I like to live in Bamberg," writes Winder in a section of Germania entitled "A glass pyramid filled with robin eggs" (all will be revealed), "but I'd cash in my next couple of decades out of sheer impatience to launch myself into the planet's most fortunate old people's home".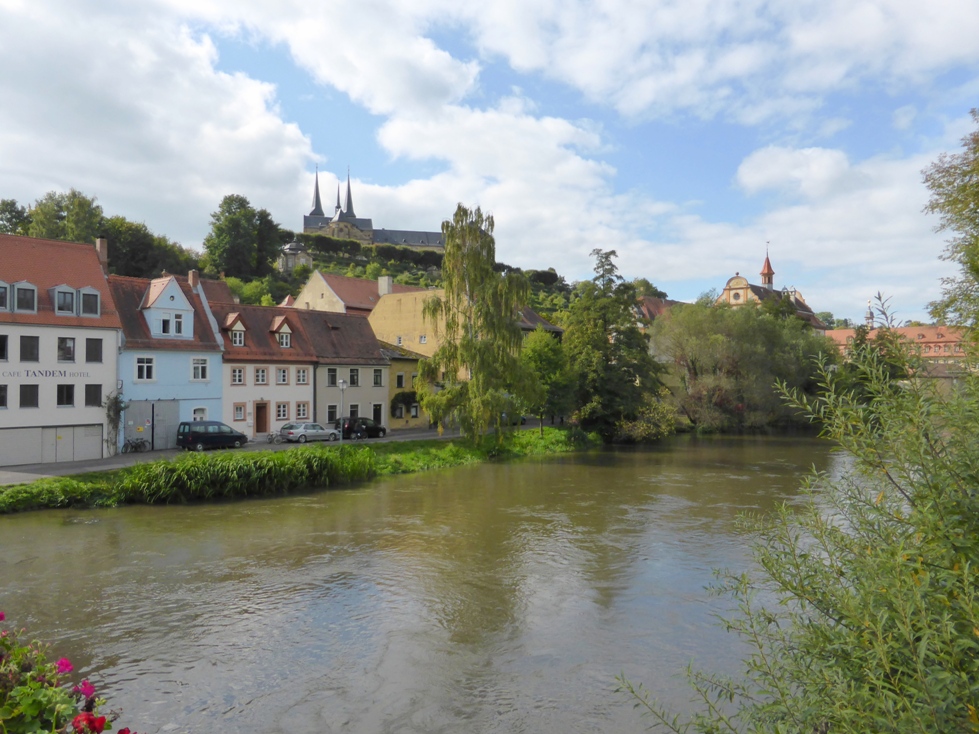 This is the group of ex-monastic buildings on the Michelsberg, one of Bamberg's famous Rome-imitating seven hills, now "carrying on the site's ancient historical function". Unfortunately cracks have opened up in the vault of St Michael's Church, meaning that no one can currently access it to see the famous painted "Heavenly Garden" of 578 plants and herbs – though it is possible to see the lovely Biblical herb garden outside. And may the building never fall, because Bamberg would be deprived of one of its crucial skyline views (pictured above from one branch of the river Regnitz).
The Michelsberg towers over the hotel where I stayed, converted from the 18th-century hospital which was part of Prince Bishop Franz Ludwig's enlightened lat-18th century scheme of reforms. It's only the shortest of walks across a footbridge from there to the Bamberg Symphony Orchestra's home, perhaps the only big modern building anywhere near the town centre. The Joseph Keilberth Hall, named after the orchestra's original guiding light, seems to have been not without its acoustic problems for a few years following its opening in 1993. But the great acoustician Yasuhisa Toyota gave it a significant makeover, at a special price because the orchestra's tour to Japan when he was 18 turned out to have been a significant event in his life. Its glass foyer was added even more recently by architect Peter Schmidt as the icing on the cake (pictured below by Peter Eberts).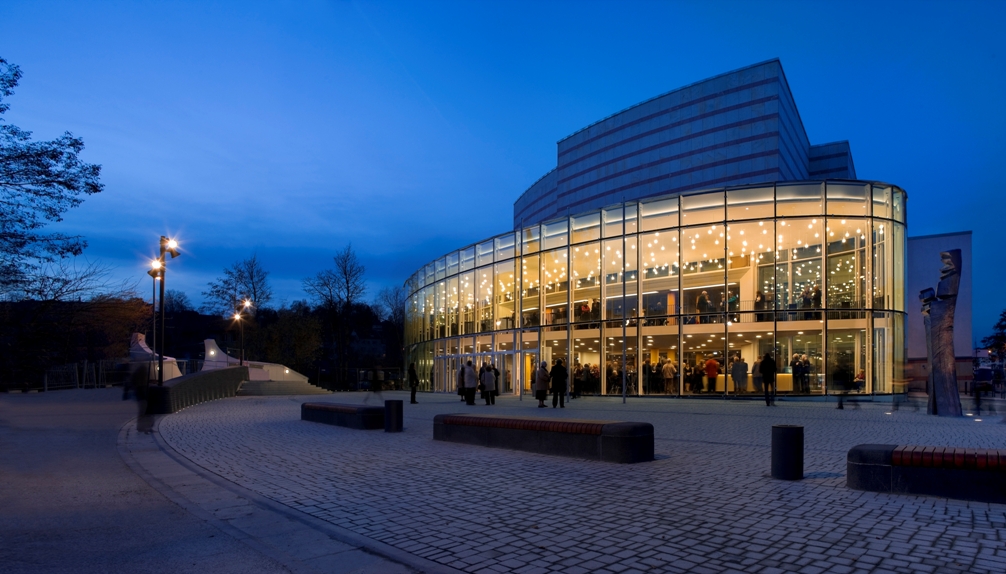 Before the 1990s, the orchestra played in the over-reverberant Dominkanerbau, now the University Aula, in the centre of town. The ensemble's origins are extraordinary, and they make sense of why I still find its cycle of Martinů symphonies with Neeme Järvi idiomatic as well as better than several by Czech orchestras. For this is, in effect, the German Opera orchestra which played at the Prague world premiere of Mozart's Don Giovanni and in the next century got another house to mark it out from the National Theatre where all operas in Czech are still performed. For obvious reasons, the orchestra was removed to the Sudetenland during the Second World War, then moved back to Prague under the express command of Goebbels (curiously, I can't find this prehistory on the orchestra's otherwise detailed website; it was related to me by Intendant Marcus Rudolf Axt, back from the Berlin Philharmoniker). Bamberg, along with Bayreuth one of the German towns closest to the Czech border, was the players' refuge after the war, and the Bamberg Symphony Orchestra, taking its name in 1946, became one of Germany's first postwar ambassadors around the world.
Keilberth may have been a quietly remarkable Kapellmeister responsible mostly for core repertoire, much loved and respected by artists and audiences alike, but more recently the orchestra has built up a healthy balance of the familiar with the new that its loyal followers – 10 percent of the population has a subscription – will always hear out attentively. That's partly to do with Axt's work with Sir Simon Rattle in Berlin, learning how far you can push in programming enterprise, but even more connected with Jonathan Nott's reputation in the contemporary repertoire (Nott pictured above by Thomas Müller).
Here's a conductor who really does seem to be able to handle anything; his galley years were spent in opera houses and with contemporary music groups on the continent, which means that he's largely unknown in Britain. And yet I'd rate him as one of the three best all-rounders among English conductors along with Mark Wigglesworth and Robin Ticciati (if I were to say "British" I'd have to add a fourth, Scot Donald Runnicles).
The season opener I heard was typical. Very possibly Richard Strauss's Alpine Symphony may have been one size too big for the nevertheless fabulous, bass-rich acoustics of the hall – Cologne would just about embrace it – but it was a showcase both for the warm, now muscled Bamberg sound and for Nott's way of keeping every phrase alive and moving; his training as a singer comes in useful (pictured left, special Alpensinfonie components: tenor tubas, thundersheet, wind machine and organ – the hall's 1993 instrument made by the firm of Georg Jann).
The concerto of the evening, now seven years old, was Jörg Widmann's for violin. Widmann is the orchestra's composer in residence for the next two years and one of the world's half-dozen best in my opinion. The work feels unusually noodly for Widmann – and Nott confirmed my feelings in an interview to appear on theartsdesk in a couple of weeks' time – but the non-stop half-hour solo part was flawlessly played and expressed by Petersburg-born, Berlin-based violinist Alina Pogostkina, as well as uncannily interwoven with orchestral sounds and solos.
Yet that wasn't the only contemporary component. Axt seems to be the first to come up with the idea of special commissions played not at the start of the concert – "parking-lot music", composer Anders Hillborg once told me it was called in America, because rich patrons parked their cars, or had them parked, while it was going on – but at the end. The notion of the encore! Series is to give today's composers a chance to reflect, in whichever way they choose, on the main work in the programme. So Swiss composer David Philip Hefti's "con moto" took some of Strauss's unusual chord-clusters around his Bavarian alp as well as a ghost of the mountaineers' theme, all in less than five minutes: a virtuosic tour de force for the orchestra, but rather confirming my feelings that too much contemporary music is about process rather than hooks, for where apart from the quotations were the foreground ideas? Still, the project as a whole, which should give the orchestra 40 or so new encore pieces, is one to be applauded.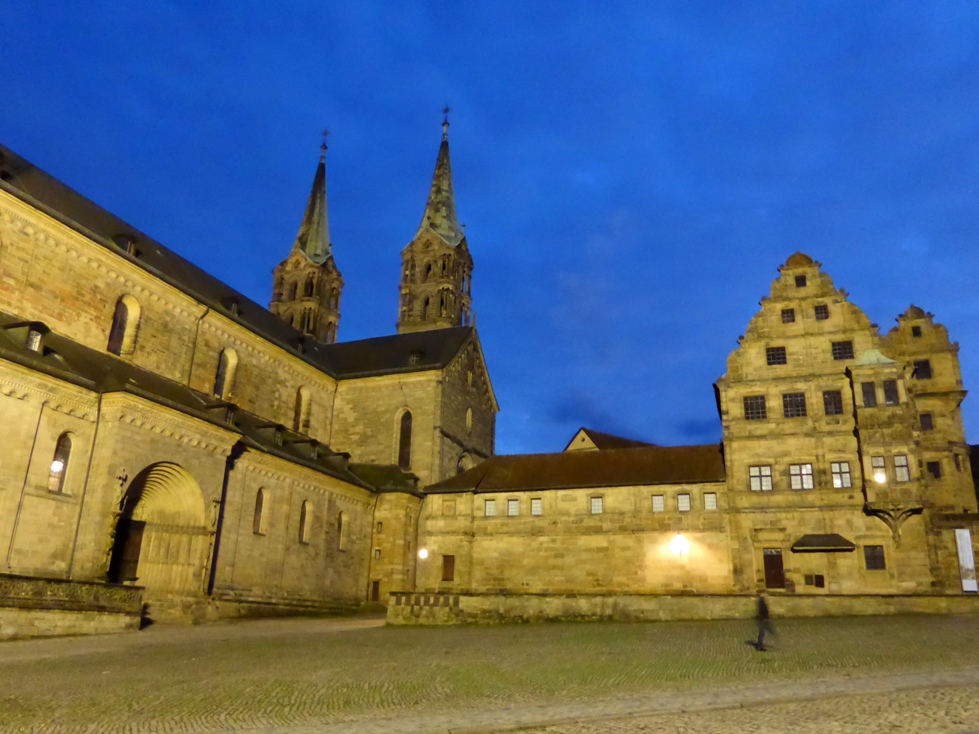 My time in Bamberg was broken up by some truly Alpine storms, long and loud – though the town is about as far north of the Alps in Bavaria as it's possible to get – and occasional bursts of brilliant autumnal light. The day after the concert began with a personal tour in the grey by the art-historian wife of an orchestral employee. As an enthusiast of ecclesiastical furnishings, I was happy to hear chapter and verse about the statuary in the great cathedral, and especially the story of how it exchanged its handsome Tintoretto – a work of interesting origin, rejected by the Jesuits of Venice as too impious – for the Veit Stoss altarpiece originally in the Upper Parish Church on the next hill along (where the Tintoretto now hangs).
The cathedral itself (Cathedral Square by night pictured above) is a masterpiece of late Romanesque merging almost seamlessly into early Gothic, with chancels at both the east and west ends. It's inextricably linked with the mythology around its founder Emperor Henry II and his saintly wife Kunigunde. Both were canonised by 1200, and Kunigunde's hold is encapsulated in a rather unsavoury story of "salvation": the bombers spared most of Bamberg in World War Two only because of a fog which made them turn westwards and destroy an almost as well-endowed Protestant neighbour; the more pious Catholics among the citizens declared that Saint Kunigunde had spread her mantle to protect their town.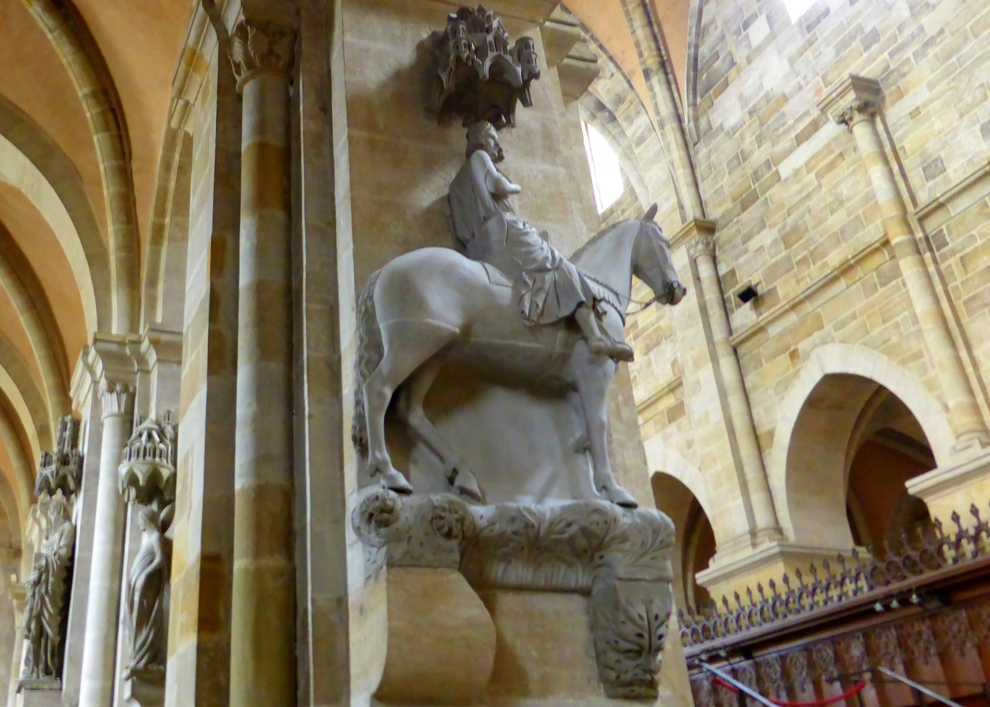 If there's an alternative ongoing "history" there, little is known about the famous Bamberg Rider (pictured left). The identity of the human in this, the first full-sized equestrian statue in Europe since the decline of the Roman empire, remains unconfirmed, though a plausible candidate in St Stephen, King of Hungary, brother-in-law of Henry II, slightly rocks Winder's pleasure in his apparent anonymity as "a contemplation of human vanity". Anyway, the Rider is only one of a collection of truly staggering statues and reliefs of extraordinary personality in the cathedral.
By no means did I cover the wealth of the ecclesiastical zone's treasures, though I took a magical walk by night around the totally deserted area and headed the following morning for the Carmelite Church's cloisters, graced with astonishing detail on every capital by Gothic stonecarvers aping Romanesque style. Humanity seethes on the "bourgeois island", as they've long called it, in the middle of town. The old Town Hall, built on a bridge-connected rock in the middle of the Regnitz, symbolizes one foot in the Bishop's domain, one in the people's.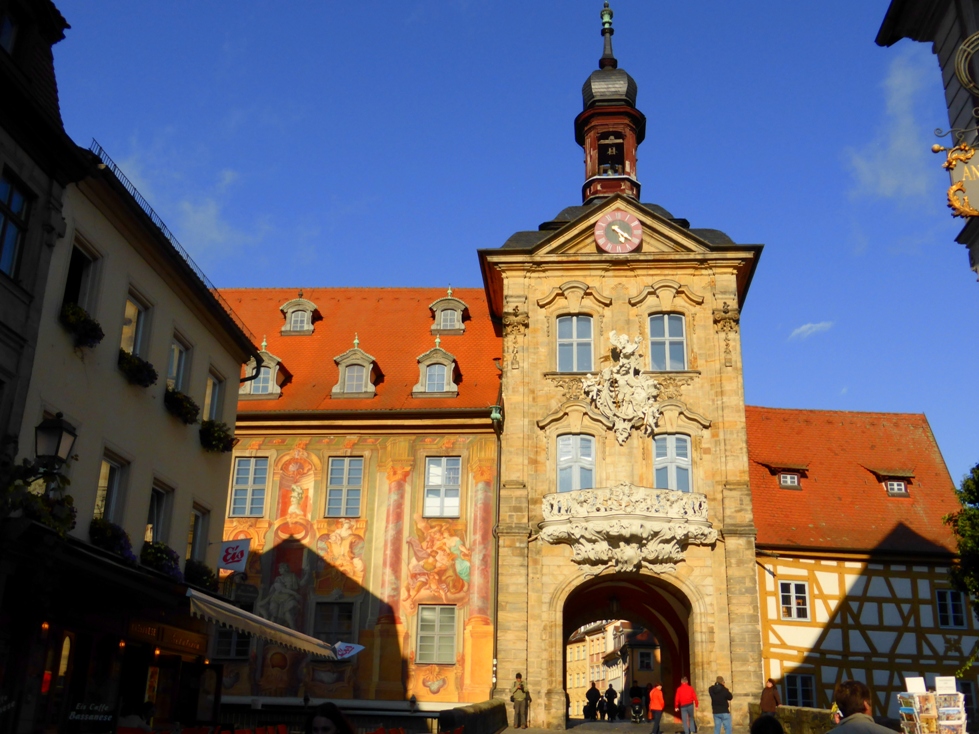 The top image of the Bamberg players on the bridge in front of the old Town Hall (also pictured right) serves as a reminder that this exact centre of town is barely 10 minutes' walk from their concert hall; in an atmosphere where musicians can stroll along the river to work and go home for lunch, is it any surprise that work is a pleasure, part of a fulfilling day rather than a struggle to commute to and from? The "bourgeois island" has everything they'll need. As well as the usual shops there's a market rich in produce from the fertile land around, the bulk of the university buildings – including the old slaughterhouse by the river converted into a library – and the Café Müller, its interior no rococo fancy full of little old ladies but a plain, cream coloured, mirrored room from the early 1900s buzzing with folk of all ages, none of them as far as I could see on laptops or mobile phones. I spent several happy hours here.
Unfortunately time quickly ran out, and I only just made what Winder had especially made me want to come to Bamberg to see: "perhaps the most wonderful room in the world", the Natural History Museum's Vogelsaal. This is another of Franz Ludwig's most enlightened gestures, to educate his flock in the wonders of nature. All white, gold and blue – albeit restored with some rather obtrusive modern lighting in 2009 – the "Bird Hall" contains the aforementioned glass pyramid (pictured in the foreground below), and among several others one with nothing but stuffed hummingbirds in it. Upstairs are toads in jars, puffer fish and corals with elaborate old labels, an astounding collection of Franconian fruits modelled in wax and a selection of fake fossils displayed to educate the public in the dangers of scientific credulousness.
"The room requires no soundtrack," writes Winder. "So many historical spaces need sprucing up with some mental Bach or Mozart, but the stuffed creatures and the delicate architecture chase off that kind of extra, as though you have come through to the exact, silent heart of Enlightnment idealism." I'd very much like to hear one Bamberg room "spruced up" with a soundtrack of E T A Hoffmann's opera Undine, and that's the still-intact auditorium of the Municipal Theatre, now encased in a modern framework, where Hoffmann conducted so many performances. He may only have been in Bamberg from 1808 to 1813 – Undine appeared in 1816 – but those were key years in the fostering of his imagination and the town's atmosphere informs many of the supernaturally inflected tales which poured from his pen shortly afterwards.
The doorknob in which appears the face of the old apple-woman in Hoffmann's unpromisingly-titled masterpiece The Golden Pot is still to be seen at No 14 Eisgrube, the winding street that leads up to Saint Stephen's Church. As for the theatre, it no longer puts on operas, only plays by a company which, a local told me, was an average regional ensemble compared to the world-class outfit of the Bamberg Symphony Orchestra.
To hear opera you'll need to take a train to Nuremberg; but since that city's Wagner Ring, currently in progress, has been hailed as a much better option than Bayreuth's at the moment, you might think of combining a trip to both places, as I intend to do next year or the year after, since one visit to Germany's greatest town was not enough. What could I tell you, for instance, about the market garden zone which is another, and this time unique, reason for Bamberg's World Heritage status, or the 1020 zodiacal cope of Henry II? No, there's much, much more to see.
The orchestra has built up a healthy balance of the familiar with the new that its loyal followers – 10 per cent of the population has a subscription – will always hear out attentively
Share this article