Damrau, De Maistre, Queen's Hall/ Aimard, Bamberg SO, Nott, Usher Hall, Edinburgh |

reviews, news & interviews
Damrau, De Maistre, Queen's Hall/ Aimard, Bamberg SO, Nott, Usher Hall, Edinburgh
Damrau, De Maistre, Queen's Hall/ Aimard, Bamberg SO, Nott, Usher Hall, Edinburgh
High-level communicators: soprano and harp, percussion-dominated orchestra
Saturday, 03 September 2011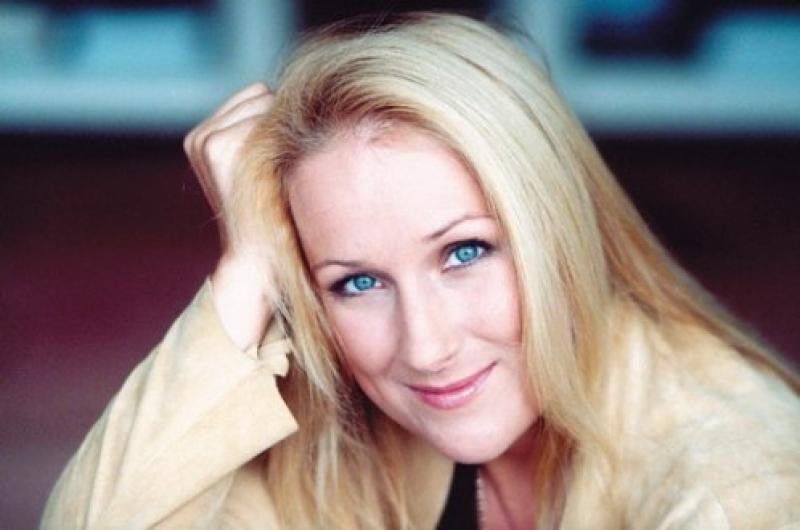 Diana Damrau: communicative song recital with harp as unexpected bonus
What do visiting German performers add to the Edinburgh International Festival's Auld (Scotland-France) Alliance thread? Simple: when they communicate as superbly as soprano Diana Damrau and Jonathan Nott's Bambergers, the music-making works at the highest level.
The fact that Damrau enlisted French harpist Xavier de Maistre for one of the most singular song recitals I've ever heard, and that the symphony concert set Messiaenic pianist Pierre-Laurent Aimard at its centre, simply gave us more for our money in a cavalcade of light to illuminate the grey tail-end of the festival.
Damrau has already earned her place in history as a live-wire interpreter of great coloratura roles like Strauss's Zerbinetta, on a level with Natalie Dessay and Edita Gruberová. Yet she's also a consummate recitalist, as Salzburg audiences have long known. Flexible musicality, a dynamic range from slivers of inward mystery to the brilliant money notes and an instinct for generous, only-connect programming made this a morning concert, albeit one of nocturnal enchantment, to remember.
Who would have thought that enlisting one of the world's top harpists could cast in such a fresh mould such familiar songs as Strauss's "Wiegenlied" - where the soprano left her BBC microphone to turn pages for her partner, since for once his unceasing figurations left him unable to do it himself - Fauré's "Après une rêve" and Duparc's "L'invitation au voyage" (luxe, calme et volupté indeed)? De Maistre's solo interludes were carefully chosen, too: Tárrega's Recuerdos de la Alhambra slipped in to the wispier start of the recital, and Fauré's Impromptu, hardly one of his more melodically inspired works, gave the instrument meatier free range between more impassioned mélodies.
Yet it was as an equal rhapsodist that De Maistre really served his singer, allowing Damrau the right space and time to colour the third verse of Debussy's "Claire de lune", to ring the changes on the far from arch, secret-rapturous "kling-klang" refrains of Strauss's "Schlagende Herzen" and to weave hypnotic mantras out of Fauré's "Les berceaux". Only, perhaps, in "Beim Schlafengehen", usually heard as the third of the Four Last Songs, did textures feel a bit stretched, but they would have done so in the piano version too - Strauss conceived orchestrally here - and the intimacy allowed Damrau to spin out the line on "tausendfach" in one miraculous breath, something I've never heard any other soprano achieve here.
After one pardonable gear-crunch as odd harmonics infected a coloratura cadenza in the official macaroon finale, Eva Dell'Acqua's "Vilanelle", Damrau rooted herself beautifully for a consummate encore - another nocturne, Giulietta's from Bellini's I Capuleti e i Montecchi; once again, and with disarming simplicity, De Maistre's harp put itself forward as the only possible partner for our heroine's melancholy. With a touch of bel canto thrown in for good measure, this is what the art of song recital should be all about.
Rather more exotic, profuse percussion rang around the wider spaces of the Usher Hall in the evening. Solihull-born Jonathan Nott's concert planning with his very own Bamberg Symphony and other orchestras has consistently been on a level with Rattle's work in Berlin, and the sound is getting there too. Yet to place one chewy Messiaen work in an orchestral programme may be admirably risky; to feature two in a row looks like overkill, especially when the variety of France's lurex visionary in steroidal birdsong and DayGlo constellations brings diminishing returns.
Still, concentration did not lapse given the Bamberger's precise colourings in this Chronochromie, from icicle-forming celesta alongside dynamically shaded xylophone and marimba to organ-pedal bass lines and earthshaking tam-tam. Nott kept the rhythms dancy and agile, especially in the strings-only ornithology of Chronochromie's "Epode", which was just as well because Messiaen ain't going nowhere or shifting his distinctive but limited means of expression either here or in Sept Haïkaï.
In the first two of these not quite epigrammatic enough impressions of Japan - who'd have known it from the results? - the piano role might well have been taken by the orchestra's player. But Pierre-Laurent Aimard came into his own for the big cadenzas of "Yamanaka", complementing the orchestra's rhythmic drive with disciplined energy of his own. And there were further, fresher sounds in the shape of hieratic trumpet backed by vibrato-free harmonica effects from the eight violins to hold the ear. Just.
'Nott, going easy on Bartók's narrative of a mysterious Eastern client lured by an urban prostitute, was clearly pacing his hard-worked orchestra'
The Messiaen strand paid off in the surprising connections with Bartók's complete Miraculous Mandarin ballet, composed over 40 years previously in 1918. That the Bamberg timpanist is a real artist I know from this team's most impressive CD release to date, one of the best Mahler Third Symphonies on disc. That the rest don't quite bite in relentlessly Expressionistic music came as a bit of a disappointment. But it may have been that Nott, going easy on the narrative of a mysterious Eastern client lured by an urban prostitute and fruitlessly assaulted by her pimps, was clearly pacing his hard-worked orchestra, for the full, incisive fury was finally unleashed in the big central stomp. The concert suite ends here; the ballet becomes ever more pantomimic as the thugs try every way they can to fell the formidable Mandarin.
This bit usually palls a bit; supertitle actions accompanying Salonen's breathtaking Philharmonia performance last season helped then, and would have needed to do so here, had Nott not pulled out his most impressive symphonic stops to try and reclaim illustrative music for the concert hall. The Edinburgh Festival Chorus's unsupernatural minute and a bit of wordless horror-song apart, the closing stages were perhaps the most convincing. Tonight the Bamberg/Nott lights go up again on Ravel, a more obviously enticing proposition; but they were extinguished most effectively in a concert which celebrated the euphoria, rather than just the emancipation, of the dissonance.
The Damrau/De Maistre recital to be broadcast on BBC Radio 3 on 15 September
Explore topics
Share this article