theartsdesk in Llantwit Major: Arvo Pärt in the Vale of Glamorgan |

reviews, news & interviews
theartsdesk in Llantwit Major: Arvo Pärt in the Vale of Glamorgan
theartsdesk in Llantwit Major: Arvo Pärt in the Vale of Glamorgan
The contemporary music festival receives a celebrated visitor
Sunday, 12 September 2010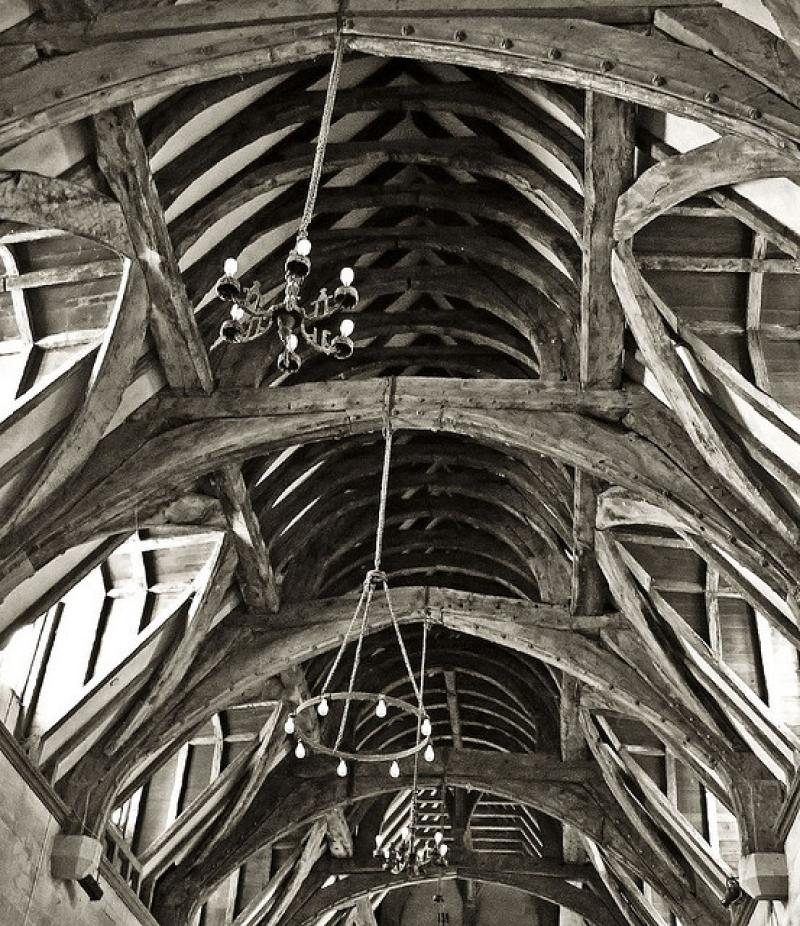 William Randolph Hearst imported St Donat's 14th-century oak roof from Bradenstoke Priory
Amazingly, the Vale of Glamorgan Festival has been on the go for more than 40 years, and has got better and better as it has gone along. Until recently, any kind of mould-breaking musical enterprise was likely to collide with the entrenched interests of the Taffia, the Cardiff and County Club, the Welsh Arts Council and the Land of Song.
John Metcalf, the festival's founder and guiding spirit, has somehow managed to thread his way through this hostile territory, and established a festival which is today the pride, if not of Cardiff, at least of Llantwit Major, 20 miles away on the south Glamorgan coast. Here the festival has its spiritual home in St Donat's Castle, where it shares house-room with Atlantic College, the school which pioneered the International Baccalaureate in the UK back in the Sixties.
St Donat's is a fitting locale for a maverick festival. The ruins were bought in the 1920s by Randolph Hearst, who restored them in typically megalomaniac fashion by carting assorted stonework and an entire 14th-century oak roof from Bradenstoke Priory in Wiltshire, and clinched the effect with an exquisite garden, curiously Italian in feeling, that slopes away to the Bristol Channel via a castellated harbour, with fantastic views of the great cliffs on the north Devon coast.
Concerts here are given in the modern arts centre or the mock Gothic, oak-roofed Bradenstoke Hall, which is a bit too resonant for some types of music, but ideal for responding to the extraordinary growly textures and warm melodies of the Amsterdam cello octet's concert last Wednesday. But the festival has long since turned itself into a minor tour of southern Glamorgan, taking in the rough Norman splendours of Ewenny Priory, by Bridgend, and the much less rough delights of Fonmon Castle at Barry and the Victorian church of St Augustine on top of a hill in Penarth from where, if you arrive in time, there is another terrific view of the Channel.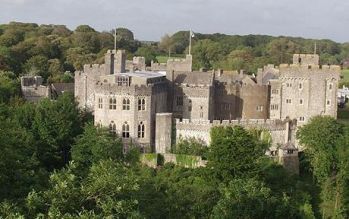 These antiquities, restored or otherwise, provide an oblique contrast with the festival itself, which eschews antiquities of any kind and consists exclusively of music by living composers. Needless to say, this has not endeared it to the generality of Welsh music-lovers. All the same, Metcalf has over the years established a loyal and not inconsiderable audience, different in some ways from the one you encounter at the Millennium Centre in Cardiff or Welsh National Opera, but not noticeably loopy or off-piste, neither exceptionally young nor exceptionally old: a good cross-section, no doubt, of the more enterprising elements that inhabit the woodwork of this, like every other, sizeable musical community.

Hearst probably wouldn't have liked the music Metcalf puts into his festival, but he would have appreciated the unstoppable enterprise that year in year out makes it happen. Metcalf's secret has long been to pursue his own tastes and interests (generally post-modern), and to assume that an audience will pick up the vibrations and trace them to their source. And he has been more often right than wrong. This year's focus has been on the Estonian composer Arvo Pärt, 75 this week; Pärt has been in attendance, a dozen or so of his works have been programmed, and the audience has turned up in numbers. Personally I find this inexplicable, but that's hardly the point. The other day a deeply serious, learned but far from humourless friend of mine, an authority on Bach and Boethius, announced that Pärt had changed his life. And on Thursday a packed Hoddinott Hall in Cardiff gave the composer a standing ovation after a superbly committed performance of his Fourth Symphony by the BBC National Orchestra of Wales under Pärt's fellow countryman Tönu Kaljuste.

Such a concentration of Pärt's work challenges us doubters to explain ourselves to ourselves. This is music that specifically and candidly rejects the normal tensions of Western classical music. Or rather, it draws on those tensions, then strips them of their busy, troubled, ironic elements and converts them into incantations. Plainchant and vocal polyphony are important sources, but by no means the only ones. The Fourth Symphony (for strings and percussion) draws mainly on disembodied fragments of the 19th century – as it might be, Brahms, or more especially Sibelius, whose own symphonies have something of the same obsessive, repetitive quality and the same kind of expressive naivety.
Even when he writes dramatically, his remorseless adagios and short-winded phrases tend to dissipate the narrative
Simplicity is both Pärt's strength and his weakness. There is a calm beauty in his manner of quiet, unprotesting assertion. But his music doesn't always survive direct contact or comparison with more complex styles. In my mind, the four-cello arrangement of his choral Da pacem domine, which figured in the Cello8ctet Amsterdam's Bradenstoke Hall concert, or his "new" orchestral piece In spe (a festival commission, but another, extended arrangement of a vocal work), are a pallid reflection of polyphonic composers like Ockeghem or Josquin; and his O antiphonen for cello octet (yet another transcription of a vocal piece) seemed too limited in range by comparison with the sparkling energy and textural brilliance of Fant de Kanter's Chasing Planes or Terry Riley's ArchAngels for the same combination. Even when he writes dramatically, as in the Latin cantata on the martyrdom of St Cecilia, Cecilia, vergine romana, his remorseless adagios and short-winded phrases tend to dissipate the narrative. The Estonian Philharmonic Chamber Choir's singing of this piece with Kaljuste and the BBC NOW in the Hoddinott Hall concert was both eloquent and intense. But an instant corrective was delivered by Arlene Sierra's vibrant Piano Concerto, subtitled Art of War, which showed how static harmony and obsessive rhythm can serve as a pivot for a mobile and eventful design. Huw Watkins launched into the solo part with energy and confidence, looking and sounding for all the world like the young Prokofiev. Pärt was unashamedly rebuked.

No doubt I simply lack the patience for his slow, ineffable music, or maybe I'm suspicious of the ungrounded piety I detect in work such as his -religious music for an age of unbelief. He certainly has his following, and John Metcalf's festival has served them well.
Hearst probably wouldn't have liked the music Metcalf puts into his festival, but he would have appreciated the unstoppable enterprise
Share this article