theartsdesk at the Southrepps Music Festival - world-class young musicians return to North Norfolk
theartsdesk at the Southrepps Music Festival - world-class young musicians return to North Norfolk
Pianist Martin James Bartlett and guitarist Sean Shibe help celebrate a big 10th birthday
Monday, 02 September 2019
Martin James Bartlett, David Parry and the Southrepps Sinfonia led by Benjamin Baker after the performance of Bach's D minor Concerto
When you've found some of the best young musicians in the world, and they've found that they love working in the peaceful surroundings of a magical spot in North Norfolk, you don't let go.
Tenor Ben Johnson and pianist Tom Primrose focused for a special-birthday Southrepps Music
Festival
on long-term visitors including BBC Young Musician of the Year 2014 Martin James Bartlett, award-winning guitarist Sean Shibe and
violinist
Benjamin Baker alongside a stunning newcomer and Bartlett's equal among more-than-promising
pianists
, Hungarian-born Daniel Lebhardt. With Britten's
The Burning Fiery Furnace
as the fierce centrepiece - Southrepps' first staged slice of music-theatre, opera, church parable, call it what you will - the 10th anniversary edition was unquestionably the richest ever.
Having missed the opening recital of Southrepps Young Artists alongside Johnson and Primrose, I arrived at my lodgings in Lower Southrepps in time to walk up through the fields to the Tudor-scalloped, tall-towered Church of St James in the main village for a lunchtime wonder which, along with its evening counterpart, would have been among the highlights of any festival in the world. "Love and Death", the theme of the programme, is also the title of Bartlett's thoughtful and even profound (yes, and not just for a 23 year old) Warner debut disc. That begins with Busoni's arrangement of Bach's "Ich ruf zu dir, Herr Jesu Christ", where you can tell within a few notes that there's a depth here which, for all the comparable thoughtfulness in programming, doesn't begin to pertain in Vikingur
Ólafsson
's BBC Music Magazine Award winning Bach CD for Deutsche Grammophon.
The chorale prelude arrangements were interspersed with Britten's comparable adaptations for tenor and piano. On Johnson's tenorial care and detail in Britten's own music, more anon; here he went straight to the heart of things – in terms of rarity, with Busoni's lovely song "Il fiore del pensiero" ("The Flower of Thought"); in profundity of feeling, with Schumann's "Widmung" ("Dedication") and "Wehmut" ("Melancholy") and Wagner's Wesendonck Lied "Träume". Each had a piano-solo counterpart, already featured on Bartlett's CD: Liszt's rolling piano transcription of "Widmung," his crazy, tremolo-laden homage to Isolde's Liebestod, and the melancholy-to-shattering central Andante caloroso of Prokofiev's Seventh Piano Sonata which, as we discussed at Southrepps two years ago, paraphrases the essence of "Melancholy", with the obvious parallel that no-one feels the pain and suffering in a superficially cheerful song.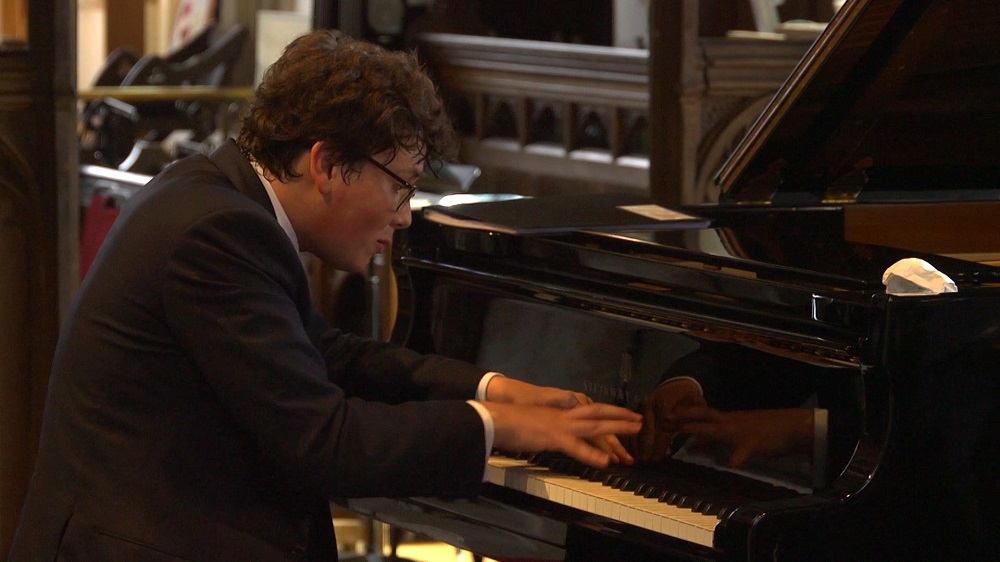 For Prokofiev in the 1940s, that had a special resonance. And how far Bartlett (pictured above) has come since he first performed the entire sonata at Southrepps shortly after preparing it for the Van Cliburn Competition. What was skimmed and even rushed now has weight and meaning. Clearly he's lived a bit. And deepest grief has to be sounded, too, in the masterpiece of Granados's Goyescas which gave the recital its title, "El amor y la muerte". The orchestral colouring here was simply astounding.
As if one extraordinary young pianist weren't enough in one day, we heard another later with an equally distinguished duo partner. Baker (pictured below) and Lebhardt are fine-tuned to each other in an easy, take-it-for-granted way that you don't often hear in recital. Wondering at their consonant trills in the middle of Mozart's E flat major Violin Sonata, K380, I realised what had forced them to perfect the art with the trills, or rather turns, which launch Beethoven's most ineffable Sonata, No. 10, Op. 96. There was a fascinating progression in this programme: from limelight on the pianist in Lebhardt's dizzying runs and flights for the Mozart to Beethoven's equal sharing, then what would count for melody broken up, but ever so seamlessly, in Cage's mostly consonant Six Melodies, and finally the violin to the leonine fore in Brahms's Third, D minor Sonata, Op. 108.
The final extension, and inevitably the crowning glory, came on the Sunday morning, when Baker kicked off with the ultimate challenge of the repertoire, Bach's Second Partita, culminating in its colossal Chaconne: perfect of intonation, warmed by vibrato at carefully chosen points, utterly meaningful in every phrase so that the listener couldn't lose focus. I heard conductor David Parry saying to Baker afterwards that it was the best live performance of the work he'd ever heard; that had been on my mind too, and I've probably heard far fewer than Parry.
A loyal supporter of the festival who lives in the area, Parry was in charge of the Friday night programme, and a better group of strings as led by Baker couldn't be imagined – an army of generals indeed (and plenty of women here, at least, including the superb viola-player Francesca Gilbert). Jonathan Dove, unable to be there, could be nothing other than delighted at the film capturing the professional string-orchestra premiere of his Out of Time, originally for string quartet. Too vibrant and kaleidoscopic for the "minimalist" tag, it gave he loyal and attentive Southrepps audience its second taste of consonant contemporary music in the festival; to balance it, they also got to enjoy a second serenade of better-known vivacity, Mozart's early D major Divertimento – his first masterpiece? – in the second half. They've also now had major chunks of Britten to contend with – hardly a challenge, you'd think, but local attendance must be cultivated carefully. At any rate their silent intensity was part of the magic in the Serenade for tenor, horn and strings; as Britten pointed out, the magic triangle of composer, performers and audience should be paramount, and in Southrepps it always is.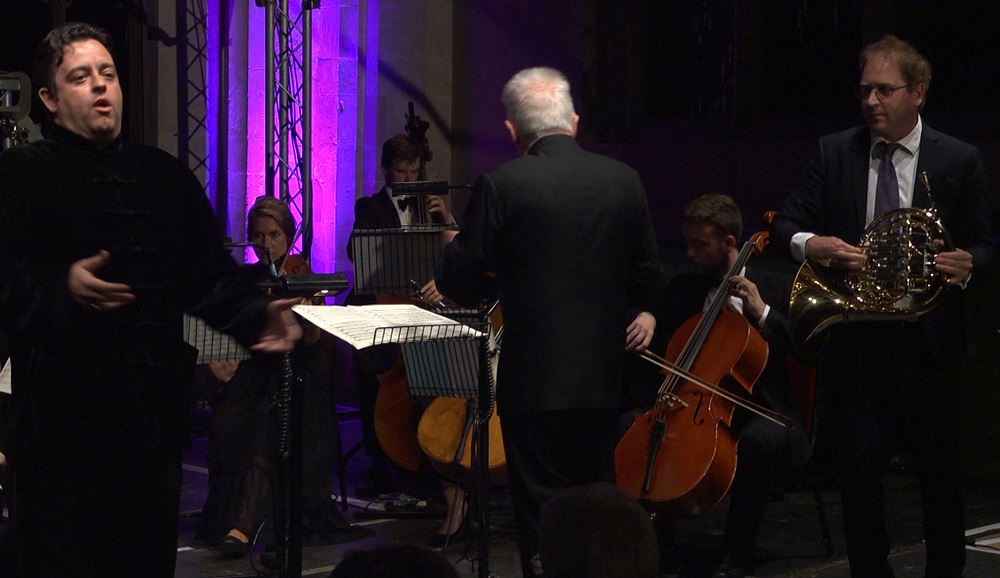 There's no more nuanced performer of this music today than Johnson – singing Jonson, among other poets. He negotiated every difficulty, including the terrifyng "Lyke-Wake Dirge", which defeats tenors of less grounded techniques and amplitude (I'm thinking of some major interpreters on the scene) and he had nothing but the best in his fellow-soloist, BBC Symphony Orchestra Principal Martin Owen (pictured above with Johnson, Parry and the Southrepps Sinfonia), fresh from his Proms success in Messiaen's Des canyons aux étoiles. Bartlett's first-half brilliance and occasional ferocity in the first half's Bach D minor Concerto brought yet another perfect partnership in an ideally balanced programme.
The biggest challenge was the staging of Britten's The Burning Fiery Furnace by Johnson, whose Nebuchadnezzar lorded it over everyone as a preening, fundamentally insecure populist statesman (scene pictured below). It's much the harshest of the composer's Church Parables, and you can hear how the composer was reaching out to new sounds in his eight-piece instrumental group, halfway to Birtwistle, brilliantly marshalled by Tom Primrose with superb playing from Danny Scott's trombone and Adam Howcroft's horn especially (hard sometimes to tell which was which, part of Britten's wizardry).
Yet it's not a piece easily warmed to, not even in the lamentations of the three Jews, striking a powerful note today as dishonoured refugees, despite the sympathetic promise of Huw Montague Rendall, Adam Temple-Smith and Lance Nomura. And though the choral work was first-rate - ending, like Owen in his distant Serenade horn call in the churchyard - the volume sometimes needed adjusting to the size of the church; someone should have been to hand to tell the excellent Ben McAteer, evolving from the role of Johnson's fellow peer in the ENO Iolanthe to Britten's Abbot/Astrologer, that less would have been more. Britten's cast is male-heavy - here soprano Billie Robson sang the roles of the Angel and Attendant - and so was this year's festival, unlike previous summers in Southrepps. But when it's all top quality, you just succumb to "it is what it is", accept there's no point in tokenism for its own sake, and marvel at the richness.
At the other end of the dynamic scale, Sean Shibe (pictured below talking between performances) returned to work his usual magic drawing listeners in to hear his guitar of myriad colours in Dowland, Bach, Poulenc and Albeniz. As he pointed out in his usual charming narration, the minor key turned out to be the default mode for what should have been a celebration of 10 glorious years, but there was no lack of contrast in the meditations; we just wanted half an hour more of the spell.
From a hardly threatening C minor, finally, to the light of a roof raising chorale in Mendelssohn's Second Piano Trio following the Bach Partita on Sunday morning. Cellist and now world-class conductor Jonathan Bloxham was the connection back to an unforgettable Southrepps 2016 performance of the glittering First Trio: the other soloists then had been Bartlett and violinist Agata Daruskaite. This gathering of equals brought back Baker and Lebhardt, who once again made light of sheer virtuosity in a joyful performance where you wanted to hear a typically incandescent Mendelssohn "faerie" scherzo all over again. The regulars got a chain of encores that night in the gala honouring a late, lamented festival stalwart, Michael J Waudby, including Baker duetting with his violinist girlfriend Marike Kruup (also in the Southrepps Sinfonia), but by then I had to be back in London, having notched up a chain of six unforgettable happenings.
There's no more nuanced performer of Britten's music today than Ben Johnson
Explore topics
Share this article