theartsdesk's Christmas Presents Guide |

reviews, news & interviews
theartsdesk's Christmas Presents Guide
theartsdesk's Christmas Presents Guide
Every Xmas desirable from tutus to guitars, boomboxes to trips to Florence
Xmas trip: Rowlandson's 'Doctor and Mrs Syntax with a party of friends, experimenting with laughing gas' at the Wellcome Collection's exhibition 'High Society: Mind-altering drugs'
With the lightning speed of online delivery, there is still masses of time to select the best and most enjoyable presents for Christmas, thanks to the taste and wisdom of theartsdesk's pack of writers.
With battered guitars, Belgian cartoons, Pacino's Shylock on Broadway, Australian festivals, Ballets Russes scarves, boomboxes, special edition CDs, advance booking on next year's hot shows, a subscription to
The New Yorker
and commissioning a portrait by a top artist among the cornucopia of suggested desirables, there really is something for everyone and for every purse.
Kieron Tyler
1.Although Phil Spector's A Christmas Gift For You album is the benchmark festive waxing, Tacoma's Sonics come a close second with the wailing "Santa Claus" and the bonkers "Don't Believe In Christmas". Originally heard on a super-rare local-issue album in 1965, here's a chance to pick up both cuts more easily. New York's Norton Records have even more Xmas cheer.
2. Know someone with piles of hissy old cassettes? Turn them into sparkling MP3s on your laptop with Ion's gizmo.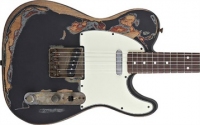 3. Want something special for a Clash fan? Do they still want to be Joe Strummer? They can get this close with a pre-distressed Strummer-model guitar (picture right).
4. For the psychedelically inclined. Next June, Donovan will perform his benchmark psych-folk album Sunshine Superman for the first time with a full orchestra at London's Albert Hall.
5. "For life, not just for Christmas". Sadly, many pets are not treated that way and these overwhelmed organisations pick up the pieces. Make a donation on behalf of a real pet lover.
Howard Male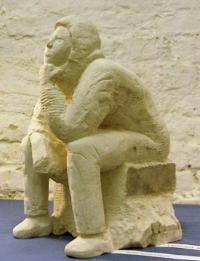 1. Arts Express visual arts charity offer day-long beginner's stone carving classes for £67 (pictured left). This comes with a personal recommendation!

2. What the Hell are you Doing? The Essential David Shrigley is nearly half price at the moment on Amazon. Arty, barmy, weird and often blackly funny – just what you need to get you through the festive season.
3. The innovative Chicago-based label Chess Records were recently profiled in a BBC4 documentary. A Complete Introduction to Chess is an excellent introductory Box Set for £25.47.
4. Fela Kuti seems to be everywhere at the moment, at least in spirit. But if you think your loved one is too clued-up to fall for the cuddly version of the African legend presented by the hit music Fela!, why not surprise him or her with Fela -The Complete Recordings – 27 CDs in a limited edition box set for £62.93 on Amazon
5. And finally something I'd want if I hadn't got it already: Steinberg at the New Yorker by Joel Smith. A beautifully designed book on the most underrated artist of the 20th century.
Jasper Rees
1. Not everyone's idea of musical nirvana, but to my mind the best post-Beatles recording by a former Fab remains Wings' Band on the Run, newly remastered with bonus tracks in a box set.
2. The greatest Florentine portrait-painter? Decide for yourself as Agnolo Bronzino gets his own once-in-a-century retrospective at the Palazzo Strozzi in Florence (picture right: Eleonora of Toledo with son Giovanni, c 1545). Ends 23 January.
3. Men Should Weep is a remarkable revival at the National Theatre of Ena Lamont Stewart's portrait of Glaswegian tenement life in the Depression. You can smell the poverty and the passion. Don't miss it.
4. Zeffirelli: The Complete Works is an indispensable record of the flamboyant maestro's work in opera, theatre, film and television. Monstrously heavy, lavishly presented by Thames and Hudson.
Judith Flanders
1. All dance-lovers will need to read Jennifer Homans' Apollo's Angels: A History of Ballet. I'm not sure anyone has ever written anything as scholarly and yet as thrillingly readable.
2. Donald Judd's miraculously minimal work is best seen in its own setting in the tiny town of Marfa, Texas. For those, like me, who have no hope of getting there, Marianne Stockebrand's book Chinati: The Vision of Donald Judd makes a pretty good substitute.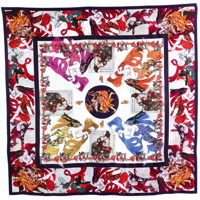 3. After Pina Bausch's Tanztheater Wuppertal recently made a memorial visit, bringing her early work, Iphigenie auf Tauride, I've become obsessed with the Gluck opera, in the original French version. I have a wonderful recording conducted by Ivor Bolton with the wonderful Susan Graham.
4. I'm not really a great fan of Frederick Ashton's ballet Sylvia, but I know why he wanted to choreograph it: Delibes' score is one of the most beautiful I know, and I play my recording, conducted by the wonderful Richard Bonynge, all the time. La Source and Coppélia are included, for a real orgy of ballet lushness.
5. The designer Erdem has produced a silk scarf (pictured above left) using designs that Bakst created for Diaghilev's Ballets Russes. It's well out of my price range at £185, but if a very flush Santa was dropping something down your chimney, this may be the dream-ticket.
David Nice
1. I'll be going back to the Diaghilev and the Golden Age of the Ballets Russes exhibition at the Victoria and Albert Museum several times, I hope, before it closes, but I want the exhibition catalogue so that I can spend a bit more time with some of the countless precious exhibits. Of course, what I really want for Christmas is the Goncharova backdrop for the finale scene of The Firebird - and the V&A is looking for a home, but mine isn't big enough, so this will have to do.
2. For the ultimate Christmas-and-beyond family saga, everyone has to have the full-length version of Bergman's Fanny and Alexander, but I suspect fewer folk will have seen the sometimes harrowing but always deeply human tale of his parents' early years together, The Best Intentions (pictured right) scripted by Bergman and directed by Bille August. Again, a film to watch any number of times for the pleasure of the cinematography and the performances of Pernilla August and Samuel Froler.
3. Stephen Sondheim's Finishing the Hat: Collected Lyrics (1954-1981), handsomely produced by Virgin Books, is the one to dip into between bouts of games and eating. Depending on the company you keep, there may be some spontaneous singalongs, too.
4. Don't brave the horrors of Simon Armitage's patronising Festival Hall packaging for Suzy Templeton's masterpiece animation of Prokofiev's Peter and the Wolf; stay at home with the DVD. It starts off as a very bleak winter's tale, with a good few disconcerting minutes before the music begins, but then kids of all ages will be enthralled. And laugh their heads off at the fat, clumsy cat who thinks he's a hunter.
5. A stocking filler full of wisdom, and the promise of fairer weather to come, is Tove Jansson's The Summer Book: a beautifully produced paperback from Sort of Books. A grandmother and granddaughter potter around a tiny island in the Baltic, musing on life and death. My favourite read in a novel-rich year, with Hilary Mantel and Margaret Atwood close behind.
Graham Rickson
1. Riccardo Chailly's new Leipzig recording of Bach's Christmas Oratorio - a modern-instrument performance which is lithe and full of bounce. Invigorating and sublime.
2. The Kings Singers dive into Bill Dobbins's big-band arrangement of the same work. At once deeply silly and highly entertaining, it just about comes off, despite occasionally sounding like a meeting between Kurt Weill and Ronnie Hazelhurst.
3. Vladimir Jurowski's London Philharmonic Christmas album, including Vaughan Williams's rarely heard The First Nowell, left uncompleted at the composer's death.
4. La Marque Jaune by Edgar P Jacobs (pictured left) - a visually stunning 1950s Belgian comic strip created by a colleague of Hergé. Loopy story involving the Crown Jewels, brainwashing and the editor of the Daily Mail. Ideal for those looking to brush up their French.
5. The Dangerous Journey - a new issue of one of Tove Jansson's final Moomin stories, perfect for a smart child. Luminous artwork and a quirky new rhyming translation.
Matt Wolf
1. Who doesn't love being present at a bona fide, stonking Broadway hit, though it's not every day such shows take on a Shakespearean hue? So why not take the plunge and book Premium Seats (translation: pricey but also good for centre-stalls star-gawping) to see Al Pacino's Shylock in the current Broadway production of The Merchant of Venice. The director Daniel Sullivan's acclaimed staging has been far and away the New York theatre event of the autumn, well, at least until a certain Spiderman came along…
2. Keeping with the New York state of mind, I can't be the only one chomping at the bit to see how the singular Robert Lepage fares with Wagnerians (and others) when his Ring Cycle for the Metropolitan Opera is fully unveiled in 2012. Opera singers get booked up years in advance, of course, so why shouldn't opera-goers be thinking at least that far ahead?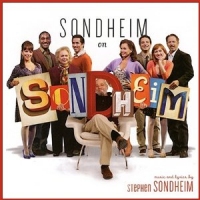 3. In an 80th birthday year that has been more packed with celebrations and encomia than even he could have thought possible, Stephen Sondheim has been an active contributor to his own, ongoing gala. So why not get in on the festivities courtesy the cast album of the recent Broadway revue, Sondheim On Sondheim, starring Barbara Cook, and also the master's own, thrillingly detailed Finishing the Hat - a self-penned book in which the Broadway great holds forth on what he would call (and has) "the art of making art".
4. More Sondheim? Mais oui! Couple springtime in Paris with a chance to see Le Diabolique Barbier de Fleet Street, otherwise known en Anglais as Sweeney Todd. Chatelet, the reigning Parisian site for Broadway shows, follows up its Leslie Caron/Greta Scacchi A Little Night Music with a new production of Sondheim's bloodiest show, running 22 April-21 May; Rod Gilfry, recently heard at the 2010 Proms, will be one of two alternating Sweeneys, and London-based American conductor David Charles Abell conducts.
5. For the Bardic boffin in the family, The Complete Arkangel Shakespeare comprises all 38 plays on audiobook, fully dramatised, with readers including Eileen Atkins, Sir John Gielgud and Joseph Fiennes - now only available second-hand, but there are several around on Amazon.
Veronica Lee
1. Remember novelty albums from your childhood? Over-30s certainly will, and now young 'uns can also discover the pleasure, with Harry Hill's Funny Times. Its 15 tracks are a mix of sketches and songs, the latter done in varying styles from pop and close-part harmony to brass band and Burt Bacharach. Fabulously silly.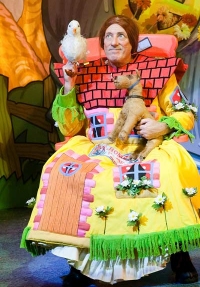 2. The second part of Paul O'Grady's autobiography, The Devil Rides Out, is just as good as the first instalment. It's funny and touching by turns and covers his twenties, when fatherhood and Lily Savage beckoned.
3. Stewart Lee's stand-up act has reached such a level of sophistication that it has been dubbed metcacomedy, and he brings the same incisive intelligence to bear in How I Escaped My Certain Fate, his autobiography-cum-analysis of British comedy in the past 20 years.
4. Yuletide demands a trip to panto, the greatest British artform, bar none. Highlights of this year's offerings are Pamela Anderson being a terrific sport in Aladdin at Liverpool Empire; Joan Collins making her debut in Dick Whittington at Birmingham Hippodrome, John Barrowman being gorgeous in Aladdin at Clyde Auditorium in Glasgow; and two great Dames in Jack and the Beanstalk - Berwick Kaler at York Theatre Royal (pictured left) and Clive Rowe at Hackney Empire.
5. My So-Called Life has the dubious honour being one of those gems (like the more recent Studio 60) that bonehead TV executives cancelled after one series. Following the life of 15-year-old Angela Chase (Claire Danes making an assured debut) and her high-school friends, it aired in 1994-95 and was astonishingly groundbreaking, covering as it did themes including child abuse, homophobia, bullying, gay parents and teenage drug use, and was told largely in Angela's interior voiceover. It's now available in a boxed set, so either wallow in quality nostalgia or discover a new joy.
Thomas H Green
1. Contenders for the best-loved animated films of all time, the Toy Story saga this year reached an apt conclusion with number three, a film that tuned poignantly into our relationship with childhood (much more so with men, I noticed). Beautifully constructed and told with feeling, the three films are now gathered in a box set which, since they bear multiple viewings, especially for the under-10s, will make an ideal surprise under the Christmas tree.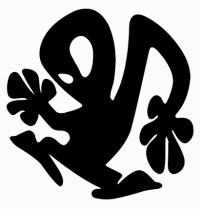 2. For 20 years DJ-producer Richie Hawtin has been at the forefront of techno music. His Plastikman incarnation (pictured right, the logo) defined a tougher, minimal direction for techno that has been much imitated ever since. Until the end of December, Hawtin is making available a limited edition box set called Arkives Reference which includes all six Plastikman albums, plus five CDs of rare and unreleased material, a DVD and a book that tells the Plastikman story in words and photographs. For the devoted techno-head this is all rather special.
3. For those of us who like a bit of jazz but don't know as much about it as we'd like, someone at Sony has shrewdly put together The Perfect Jazz Collection: 25 Original Albums, a smashing selection, taking jazz from its roots with Louis Armstrong plays WC Handy and culminating in Wynton Marsalis' Standard Time Volume 1 from 1986. Along the way it takes in Miles Davis, Dave Brubeck, Herbie Hancock, Nina Simone, Billie Holiday, Sarah Vaughan, Art Blakey, Duke Ellington, Chet Baker, Thelonious Monk, Weather Report and many more.
4. The last full-scale socio-musical phenomenon to sweep the UK was rave. In the initial Ecstasy-fuelled utopian explosion nothing better summed up how it had crashed into popular music than Primal Scream's transformation from sub-Stooges rockers into flop-fringed space cadets. This metamorphosis was captured for all time on the classic 1991 album Screamadelica. Primal Scream are touring the album in March which should be a heady celebration, and rare opportunity to hear songs from the album that have never been played live.

5. There is an exhibition at the Wellcome Collection in London until February 2011 which takes a rare opportunity to explore the vast role recreational drug use has played in mankind's history. From culture to hedonism, humanity's history is much entwined with drugs but, since we live in an age of prohibition and ignorance, debate on the matter is actively discouraged. Mike Jay, who worked with Wellcome on the exhibition, has put together a lavishly illustrated book High Society: Mind-Altering Drugs in History and Culture which will make an ideal present for armchair Thomas de Quinceys and Timothy Learys everywhere.
Bruce Dessau
1. The London Nobody Knows/Les Bicyclettes de Belsize (DVD) is two cult movies for less than the price of one. James Mason is your guide through the backstreets and byways of the capital, while Les Bicyclettes is an unashamedly joyous pedal through Hampstead Heath and its leafy environs. A must for budding psychogeographers with a romantic streak.
2. The best summer festivals quickly sell out these days, but early birds can bag pre-sale tickets for Latitude 2011 this December at 2010 prices. This all-encompassing event in Suffolk from 14-17 July cherry picks the best from music, comedy, theatre, dance...you name it Latitude has it. The line-up is not announced yet, but you can be sure you will love something.
3. Graham Greene's classic novel-turned-film Brighton Rock gets the remake treatment in 2011 with Sam Riley (Ian Curtis in Control) picking up where Richard Attenborough left off with a chilling portrayal of amoral Pinkie. The remake is set in mod-era 1964, so the shadow of Quadrophenia hangs frustatingly heavy over proceedings. Give the 1938 novel to your loved ones instead. (Pictured left, first US edition cover, by Georg Salter)
4. It is not every day your theatre ticket includes breakfast, but Duckie are no ordinary theatre company. Previous immersive shows have sent up the awfulness of the annual office party and the quiet desperation of the burlesque club. In Lullaby (Barbican Pit, 24 June-24 July) they intend to send their fans to sleep with music and stories. Don't forget your toothbrush.
5. There used to be heated debates in our household about whether The Wire was a better American drama than The Sopranos. And then Mad Men trumped them both. Catch up on the first three series set in the world of advertising. Except that this is about so much more than capitalism – secrets and lies and lots of cigarettes and alcohol.
Alexandra Coghlan
1. Forget the self-promoting, ghostwritten musings of Jordan, Gok Wan and Ronnie Corbett, Mark Twain's autobiography is celebrity memoir at its very finest. Restricted from publication for exactly a century since the author's death by Twain's own edict, at last we can be privy to the scandals, secrets and social insights of this great literary contrarian.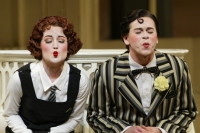 2. Jonathan Miller's beloved English National Opera production of The Mikado (pictured right, © ENO) celebrates its 25th anniversary in 2011 with a revival in February-March at the London Coliseum. With a cast including veteran Richard Suart and with the tantalising promise of role debuts from Alfie Boe and Sophie Bevan (Nanki-Poo and Yum-Yum respectively), what better way to combat post-Christmas malaise.
3. Young English vocal ensemble Stile Antico offer an alternative to worn-out carol CDs and Cliff Richard records in their latest release Puer Natus Est. Featuring works from William Byrd, Thomas Tallis as well as John Sheppard's astonishingly lovely motet Verbum Caro, the music here may be old, but the energy and beauty is still fresh and compelling.
4. You can never have too much of a good thing, especially at Christmas-time, so while waiting for Glyndebourne's new production of Handel's Rinaldo this summer keep yourself occupied with the composer's delicious pastoral take on Ariosto's Orlando Furioso. Scottish Opera's production of Orlando opens in Glasgow in February, and will be conducted by Paul Goodwin.
5. Even if you can't make it to French countertenor Philippe Jaroussky's London duet recital with Andreas Scholl (Barbican Hall, 7 December), you can still enjoy his trademark purity and expressive drama on his latest disk, Caldara in Vienna: Forgotten Italian Castratos Often overlooked for more famous contemporaries Vivaldi and Scarlatti, Antonio Caldara's operas combine psychologically inventive librettos by Metastasio with more than their fair share of melodic delights.
Peter Culshaw
1. Just Kids by Patti Smith is a nostalgic read of her childhood and relationship with photographer Robert Mapplethorpe, who died of AIDS. A lost world of New York in the Seventies is evoked with aplomb.
2. The centenary of Tolstoy's death is a good excuse to read about the great man with all his conscious or unconscious hypocrises and implacable sense of mission. Rosamund Bartlett's is the new biography, which I look forward to reading. I was transfixed by the earlier biography by Henri Troyat which I read last summer and which will be a hard one to beat.

3. The New Yorker remains in our short-attention-span world a beacon of long-form journalism. I find myself becoming fascinated with the history of lifts, or the bee crisis or whatever eclectic features they decide to run (pictured left). A sub would do nicely for Xmas, thanks. They also have a good selection of cartoons and diaries at their store page.
4. Support independent shops! In LondonLondon there's a couple of atmospheric streets that are always good for last-minute gifts - Camden Passage in Islington (clothes and a great chocolate shop) and Cheshire Street near Brick Lane.
Russ Coffey
1. Know someone who is always complaining about how Jonathan Ive's designs have just made everything too stylish? How about taking them back to a time when suits with trainers and a stolen VW badge was the height of fashion with this Run DMC-style boombox? (Pictured right)
2. iTunes may be cock-a–hoop now they've got the Beatles back catalogue. But let's face it, the Beatles fan in your life already has all of those. But do they have this magnificent collection of the acts the Fab Four nurtured around the time of their break-up? Available individually or as a box set.
3. Ever since it got its make-over courtesy of the production of "Masque of the Red Death", there has been something a little gothic about the Battersea Arts Centre, one of the country's most successful fringe theatres. This year's Christmas production is no exception. Already a hit in Australia, The Animals and Children took to the Streets is on until 8 January.
4. Do you know someone who's always looking for an excuse to go to the cinema? With a membership to the Picturehouse group – now nationwide – there'll always be a reason. And remember to check theartsdesk.com for what to see.
5. A friend's got the winter blues? You've got a bit of cash? Then why not splash out on a trip to one of Australia's longest and most varied arts festivals. The Perth International Festival runs until March.
Graeme Thomson
1. Beautifully shot by Michael Winterbottom, The Trip is a six-part BBC series with Rob Brydon and Steve Coogan (pictured below left) playing exaggerated versions of themselves, much as they did in Winterbottom's 2005 film A Cock & Bull Story. The flimsy premise is a gastronomic jaunt around northern England; the real voyage, however, is the one taken around the egos and insecurities of two middle-aged men as they compete like two rutting comic stags. Worth it for the "To bed!" scene alone.
2. Tired of bands entirely constructed from hype, posture and a million yesterdays? Meet Glasgow six-piece The Phantom Band, whose second album, The Wants, is an audaciously inventive, endlessly fascinating follow-up to their equally dazzling debut Checkmate Savage.
3. Heartstone, the fifth instalment in C J Sansom's Shardlake series, is as gripping and evocative as ever. A word of warning, though: Buy one, and you'll end up buying them all.
4. Anyone harbouring even the slightest doubt that Leonard Cohen is the most interesting, egotistical, conflicted and lethally charismatic singer songwriter of the past half century needs to watch Tony Palmer's riveting documentary Bird On A Wire, a deeply moving and suitably poetic film of Cohen's 1972 European tour.
5. Go and see the preposterously talented Anais Mitchell perform her folk-opera Hadestown, based on the Orpheus myth, at Celtic Connections on 21 January and Union Chapel, London, on 25 January. Failing that, get your mitts on the album, featuring Bon Iver and Ani DiFranco.
Ismene Brown
1. A great read: Bloomsbury Ballerina: Lydia Lopokova, Imperial Dancer and Mrs John Maynard Keynes by Judith Mackrell, the life story of an irresistible individualist in mesmerising times. It fits perfectly into the context of the inspiring Diaghilev exhibition at the V&A, already referred to by Judith Flanders and David Nice above. A jovially different take on it is the immortal 1937 spoof detective story A Bullet in the Ballet, by Caryl Brahms and S J Simon, in which Diaghilev's leading star is shot dead while dancing Petrushka.
2. Fun-lover: A made-to-measure tutu for your Christmas Eve and New Year revels, on eBay for £193 - delivered within 12-24 days: hurry and you can get to the party looking like a Trockadero.
3. Expand your culture horizon: learn a new language (French for Molière? Russian for Bulgakov? Arabic for al-Hamadani? Spanish for holidays?) with the astonishingly clever Rosetta Stone computer course which teaches you to speak, listen, pronounce, write as well as absorb declensions and boring stuff with an addictive format, all on your own and much cheaper and quicker than weekly lessons. Personally recommended - I learned Russian in two years.
4. Night out: See Matthew Bourne's Cinderella at Sadler's Wells (on till 23 January), which reinvents the fairytale in Blitz Britain with no loss of magical yearnings. On the same theme, for small ones the classic Disney cartoon Cinderella is a pleasure to revisit, and for older ones, David Lean's classic 1945 film Brief Encounter is a weepie about a railway station's role in heartbreak, and which inspired Bourne's original Cinderella concept.
5. The right ball shoes to see Cinderella in: Christian Louboutin's glorious Studio 120 peep-toe pumps for £1,225 (pictured right). High, white, exquisitely spangled, with red soles - you would kill rather than drop one of these.
Hilary Whitney
1. Phil Collins with hair! Lou Reed cuddling a really cute puppy! Ozzy Osbourne looking like a lovesick troubadour! Or a groovy teacher! Or anything but the Prince of Darkness! All these plus some classic shots such as David Bowie's 'guitar fellatio' can be found in Exposed: The Faces of Rock 'n' Roll, a collection of over 200 hundred snaps spanning the past four decades of legendary photographer Mick Rock's career – with an introduction by Tom Stoppard to boot.
2. Has your best mate/sibling/significant other developed an unhealthy dependency on compilation CDs and Pick of the Pops? Bring them bang up to date with a gift membership to The Album Club. Each month the lucky recipient will be sent the must-have CD of the moment – based on their personal preferences which can be updated at any point during the membership – as selected by Rough Trade record store in either CD or MP3 formats. Any albums that don't quite hit the spot can be exchanged.
3. Professional storyteller Patrick Ryan retells the stories that inspired seven of the Bard's masterpieces in Shakespeare's Storybook, such as the water demon who played tricks on his bad-tempered wife. Beautifully illustrated by James Mayhew, this is an excellent way of introducing young children to Shakespeare and includes 2 CDs for families who'd prefer to hear Patrick Ryan reading them.
4. To celebrate the 10th anniversary of their first-ever live performance The Futureheads asked four artists – David Shrigley, Stuart Semple, Pete Fowler and Lyndsey Jameson – to create a series of limited edition prints based on each of the band's albums (Fowler's is pictured left). All the prints are signed by the artists and are being sold to raise money for St Oswalds, a hospice in the band's native north-east.
5. Persephone Books reprint neglected 20th-century classics by mainly female writers from Richmal Crompton (you may not consider her neglected but did you realise that in addition to the Just William series, she wrote 40 other books?) to Betty Miller (mother of Dr Jonathan) and Katherine Mansfield. Beautifully produced, each book comes with a plain grey cover but the endpapers and matching bookmark that accompany each volume, are carefully chosen from vintage fabric designs to reflect the mood and date of the book.
Graham Fuller
1. Martin Scorsese curated the 15 features in The Elia Kazan Collection and directed the documentary that goes with it. Whatever one thinks of Kazan's motives and morals as a namer of names, his status as one of the most committed liberal voices in American cinema is unassailable - and no one else got so many great performances from the likes of Marlon Brando, James Dean, Montgomery Clift, Carroll Baker, Jo Van Fleet, Vivien Leigh, Karl Malden, Natalie Wood, and Warren Beatty.
2. The films produced by Bob Rafelson and Bert Schneider under their Raybert banner, subsequently as BBS when Steve Blauner joined them, were the bold, anti-establishment face of the New American Cinema between 1968 and 1972. The seven potent entries in America Lost and Found: the BBS Story were directed by Rafelson (Head, Five Easy Pieces and The King of Marvin Gardens), Dennis Hopper (Easy Rider), Jack Nicholson (Drive, He Said), Henry Jaglom (A Safe Place), and Peter Bogdanovich (The Last Picture Show). Full confession: the latter is a personal favourite and I wrote the essay that accompanies it.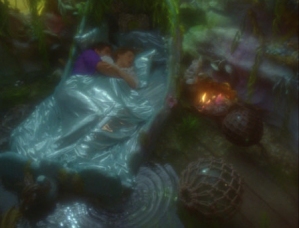 3. The witty Canadian maestro Guy Maddin started reinventing silent and early sound cinema in the mid-'80s and every few years comes up with another deeply pleasurable gem, The Quintessential Guy Maddin: Five Films fromt he Heart of Winnpeg. Stuff their stockings with Careful, Archangel, Dracula: Pages From a Virgin's Diary, Cowards Bend the Knee and Twilight of the Ice Nymphs, a film that's beyond gorgeous (pictured right).
4. Scrooge was the original title of Brian Desmond Hurst's 1951 classic, A Christmas Carol, still the superior version of Dickens' tale thanks to Alastair Sim's unimprovable humbugging. This edition was released in 2007 and has solid extras: a commentary track by George Cole and film historian Marcus Hearn, Cole's memoir of Sim (who was his adoptive father), a piece on Dickens, the 1935 film starring Seymour Hicks, and, not so great, a colourised copy.
5. It's not for Christmas Eve viewing with the kids but almost any other time will do for the Southern Gothic masterpiece, Night of the Hunter, directed in an exquisite Expressionist style by Charles Laughton in his only stint behind the camera. Robert Mitchum is the homicidal preacher with "LOVE" and "HATE" tattooed on his fingers, Shelley Winters the young mother he leaves at the bottom or a river, and Lillian Gish the fairy godmother who takes in the fleeing children. The extras include two-and-a-half hours of outtakes and behind-the-scenes footage, an archival interview with cinematographer Stanley Cortez, and an excerpt from The Ed Sullivan Show in which cast members perform a deleted scene.
Mark Hudson
1. Leah Gordon's Kanaval (Soul Jazz Publishing) - Get yourself heated with these extraordinary, surreal photographs of Haitian carnival: tarred, horned bull figures bearing whips and nooses, hooded ghosts and sinister masked judges. Generating an extraordinary incandescence beside being entirely in black and white, the pictures disturb through their sheer intensity.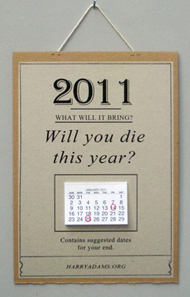 2. If you can't stretch to £1,000 for a limited edition sculpture by voguish taxidermist-turned-artist Polly Morgan (it includes a dead bird), £9 for a set a set of signed, numbered limited edition cards seems a bargain.

3, This limited edition Will You Die This Year? calendar (pictured left), containing hand-appended, randomly selected dates on which you may wish to end your life, signed by artist Harry Adams, seems the bargain of the season at a mere £5.
4. Designed to make the contemporary art experience available to everyone, Izo Brand oil paintings start at just £39. Created anonymously by professional artists in a fresh, timeless, modernist abstract vein, and identified via a stamp and number, they are designed to rise in value as the brand profile increases. From Archway Art Editions, Archway Market, London N19 or online.
5. Asger Jorn's Folk Art in Greenland through a Thousand Years (Koenig) - Take yourself somewhere even colder with this extraordinary view of sub-arctic art: Inuit carvings in wood and whale bone, many of them looking peculiarly modern in their stark monumentality. Superb photographs selected by the late Danish avant gardist Jorn. One in a series on Folk Art in the North.
A S H Smyth
1. On a list of things I'd like to be given this festive season - and therefore by extension would consider giving others - Phil Selway's Familial, the debut solo album from the Radiohead guitarist. Nice.
2. I love-hate Geoff Dyer for having already written everything I might ever have wanted to write. But the man's a genius, so what can you do? Geoff Dyer's Working the Room: Essays (pictured right) looks at the photography of Avedon, Lartigue and Martin Parr; revisits Rodin, Lawrence (DH) and jazz; covers Kapuscinski, Sebald and Sontag; and investigates reader's block, being an only child, and getting fired, plus a little something on "the Human Condition" (with particular reference to donuts).
3. If the festive season really gets on your yule log then may I recommend House, Seasons 1-6? Pour yourself a large fistful of something, and let the good doctor's unrepentant cynicism inoculate you against all that godawful Christmas cheer.
4. But if it doesn't… The Sixteen: A Traditional Christmas Carol Collection. If carols are going to be sung then they may as well be sung right. Never righter than with Harry Christophers and his crew. Volume II, just released, covers some of the less obvious stuff.
5. Bookworms and/or sufferers of Seasonal Affective Disorder (see above) will certainly appreciate a pass for January's Galle Literary Festival in Sri Lanka (26-30 January 2011), one of the most chilled and unpretentious weekends on offer in the Land of the Book Geeks. GLF 2011 features Andrey Kurkov, Jay McInerney, Damon Galgut, Louis de Bernières, Kiran Desai, Jung Chang, Orhan Pamuk, Chimamanda Ngozi Adichie and… Candace Bushnell. Tickets don't go on sale until the new year, but they're normally about $100 for the three days. (Fair warning: your gift will show all the more love if it comes with return flights to Colombo – approx £500 at this time of year.)
Adam Sweeting
1. The much-trumpeted TV adaptation of William Boyd's novel Any Human Heart, the saga of flawed author Logan Mountstuart, proved to be a bit of a dog (although we still love Matthew Macfadyen and Gillian Anderson), but it has had the effect of driving viewers back to the novel. Which is rated among Boyd's finest by connoisseurs. In fact it's high time I read it myself.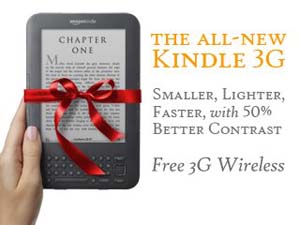 2. Instead of the good old paperback, you could read Any Human Heart (and much else besides) on Amazon's Kindle E-Reader. The latest version of the device is light, compact, has a high-contrast E-Ink screen you can read clearly in broad daylight, and can hold 3,500 books. Perfect for commuting, and brilliant for holidays because you no longer have to carry a ton of books on Ryanair. Much cheaper than an iPad too.
3. Steven Spielberg and Tom Hanks followed up their D-Day-and-beyond saga, Band of Brothers, with the ambitious 10-part series The Pacific, an astonishingly expensive recreation of America's war against the Japanese. Not everyone thought it was a match for Band of Brothers, though it was difficult to compare them directly since the narrative approach was completely different, but you'll only have seen it if you're a Sky Movies subscriber. Sounds like a job for the DVD box set.
4. The boom in tiny cameras capable of shooting very respectable High Definition video continues apace, perhaps because trying to cram video, music, web surfing and social networking into a mobile phone is just too much to ask. Kodak's Playsport is simple, reasonably rugged and works underwater. Better still, it's 40 per cent cheaper than it was a few months ago. Instead of watching TV programmes, you can now make your own for peanuts.
5. The BBC will unleash its all-new Upstairs Downstairs on us over Christmas, no doubt expecting to mop up all those heartbroken viewers pining for Downton Abbey, but can it really top the original ITV version from the Seventies? For not much more than 50 quid, you can watch all 68 episodes (plus five instalments of The Upstairs Downstairs Story) and make a definitive judgement.
Fisun Güner
1. In 1979 Kenneth Clark, the art connoisseur's connoisseur, published his influential book What is a Masterpiece? Aiming to "drive the final nail into the coffin of subjectivity", he identified the key characteristics of a great work of art. What Makes A Masterpiece? Encounters with Great Works of Art (edited by Christopher Dell; Thames & Hudson) is a beautifully illustrated hardback that takes a different approach: its aim is wholly subjective. Some 70 artists, critics, scholars and writers have each contributed an essay on a single artwork that has preoccupied, moved and engaged them. Contributors include Antony Gormley, Philip Pullman, Grayson Perry, Mary Beard and Quentin Blake. An immensely enjoyable and elucidating read.
2. You may not be able to afford an original artwork by contemporary artists Jake and Dinos Chapman (and even if you could, would you seriously want to give it away?) but a beautifully produced limited edition print by the artists may well be within your reach. Or perhaps even two prints? The White Cube gallery have two stunning Chapman etchings (editions of 250) inspired by Goya's brutal and haunting series of etchings Los Capriches. The brothers have chosen two images they have each worked on individually before, but for Dinos not Jake and Jake not Dinos they switched places and worked on the other image. A snip at £395 each + VAT.
3. It may not be the most adventurous gift for the art lover in your life, but this is a gift guaranteed to keep on giving throughout the year: a Tate Membership pacakage. Individual membership starts at £52 and members get an unlimited number of visits to paying exhibitions for a whole year, plus the use of the exclusive Members' Room at Tate Modern (where you'll find the most stunning views of the Thames). This year's Christmas gift package is part of a collaboration with contemporary artist Jim Lambie, so it includes a canvas tote bag and travel wallet designed by him. Stylish or what?
4. Google the words "commission a portrait" and you'll find any number of companies offering portrait painting services. But few are as impressive, or as well-appointed, as Sarah Stewart's Fine Art Commissions Ltd, based in St James's, Mayfair. Their artist list includes Nicky Philipps, whose double portrait of the Princes William and Harry was unveiled at the National Portrait Gallery in January this year, plus celebrated portrait photographer Fergus Greer, whose portraits of leading figures in the worlds of literature, politics, music and film have won him plaudits and exhibitions. A very special gift indeed.
5. If your budget doesn't quite run to an original work or a limited edition print, but you're still after that perfect framed gift, then V&A Prints is undoubtedly your first stop. They provide an online selection of more than 3000 images from the Victoria and Albert Museum, one of the most renowned collections of art and design in the world. From medieval paintings to icons of experimental photography and more (pictured above right is a 1952 fabric design for Heals by celebrated British designer Lucienne Day) they will almost certainly have just the thing. What's more, you can select size, frame (with and without) and whether you want the image on a canvas. Pretty much picture perfect.
David Cheal
1. The Art of Tim Burton is a lavishly illustrated overview of the director's career printed on high-quality paper, featuring more than a thousand of his project-artwork illustrations, plus thoughts and observations from Burton's friends and collaborators. An insight in into the weird imagination of an idiosyncratic director. £49.99 from Forbidden Planet.
2. Diaghilev is a limited-edition perfume created especially for the V&A's Diaghilev and the Golden Age of the Ballets Russes exhibition by scent maestro Roja Dove. The perfume is a rich confection, while the bottle and the box feature the Léon Bakst painting that was on the cover of the programme for Diaghilev's ballet Narcisse. £75 from the V&A Shop.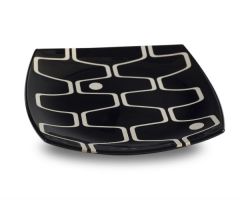 3. The Royal Festival Hall's "net and ball" motif was a vital part of the hall's original decorative scheme and was preserved and enhanced during its recent refurbishment (indeed, the carpet made in the pattern was actually listed so that it could be replaced only with one in an identical scheme). The Southbank Shop sells a range of items featuring the design, but my favourites are the bowls (pictured left), £30 from the Southbank Centre Shop.

4. John Pawson salad servers from the Design Museum Shop are on sale to tie in with its current John Pawson: Plain Space exhibition. These elegant utensils in dark wood, designed by the British designer and architect, are typically minimalist, contemporary, yet timeless. £60 from the Design Museum Shop.

5. For brightening up walls, especially youngsters' bedrooms, a set of Roy Lichtenstein Whaam posters will do the trick; featuring the pop artist's classic image of a fighter jet downing an enemy plane in flames ("I pressed the fire control... and ahead of me rockets blazed through the sky"), the image is split into two posters; each poster has a white border and measures 80 x 60cm, so the set of two together measure 80 x 120cm. £19.95 from Tate Online Shop.
Peter Quinn
1. Incomprehensibly overlooked for years (Drumming? Music for 18 Musicians? Different Trains? Hello?), Steve Reich finally received the Pulitzer Prize in 2009 for Double Sextet. Released this year on Nonesuch, the premiere recording by Chicago-based new music sextet, eighth blackbird, is brilliantly realised.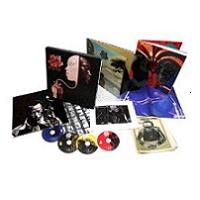 2. The extravagantly packaged Bitches Brew 40th Anniversary Edition (pictured right) provides the final word (surely?) on Miles Davis's innovatory masterpiece, one of the most influential recordings in the history of jazz. 3CD + DVD + Double LP + Extras = miles of Miles.
3. Those seeking more recent fare should investigate Alive by Phronesis, a piano trio led by Danish-born, London-based double bassist Jasper Høiby. Recorded earlier this year at The Forge in London's Camden Town, it's already notched up jazz album of the year in Jazzwise and Mojo.
4. Professor of American Studies and Ethnicity at the University of Southern California, Robin D G Kelley's painstakingly researched Thelonious Monk, The Life and Times of an American Original casts illuminating new light on the Monk mystique.
5. 'Tis the season to be jolly, so let us give thanks for The Larry Sanders Show: The Complete First Season. Starring Garry Shandling as the pained talk-show host, this sublime, trailblazing HBO comedy ran from 1992 to 1998. OK, it's a tad overdue, but hey (now). Complete Second Season also available.