The Triumph of Time and Truth, Higginbottom, Kings Place review – time well spent, despite the words |

reviews, news & interviews
The Triumph of Time and Truth, Higginbottom, Kings Place review – time well spent, despite the words
The Triumph of Time and Truth, Higginbottom, Kings Place review – time well spent, despite the words
Handel's music defeats plodding lyrics in a gem-studded rarity
Saturday, 20 October 2018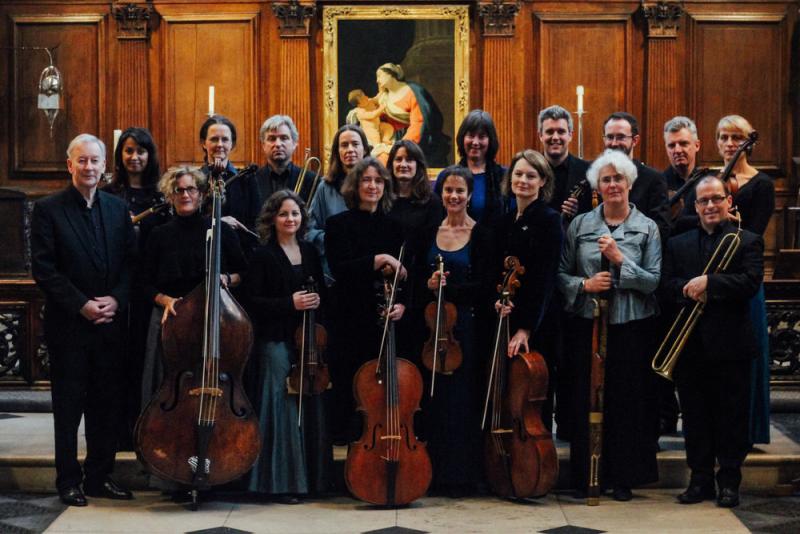 The Instruments of Time and Truth
You can always depend on Handel to turn verbal dross into musical gold. The chasm between lumbering doggerel and soaring sound can seldom have yawned wider, though, that in several numbers from the third, English version of The Triumph of Time and Truth. "Melancholy is a folly, Wave all sorrow until tomorrow," poor Mhairi Lawson had to sing, like some game trouper in a village panto scripted by the vicar after one too many cream sherries.
Then, as her
carpe diem
aria swings into "Life consists in the present hour", Handel at his finest blazes through with a bravura flame, tended by an accomplisehed soprano who knows exactly how to project every subtle touch of warmth, wit and grace into this music – never mind about the sometimes hopeless words.
The Triumph of Time and Truth is an elusive rarity that more than merited its revival at Kings Place. First composed, with an Italian libretto, in 1707, this stiffly allegorical oratorio went through two further versions over the 50-year course of Handel's career. Conductor Edward Higginbottom (pictured below by Phil Sayer) chose the final, 1757 iteration with those intermittently woeful lyrics by Rev Thomas Morrell. Handel by this stage was too ill for fresh composition, so much of the shaping and arrangement fell to his assistant JC Smith. The result, pleasingly packed with a richly satisfying if disconnected set of arias, choruses and recitatives, can sound in its stylistic sweep a little like a Handel greatest-hits compilation. In its eclectic strides over distinct phases of a great career, I was reminded once or twice of that other retrospective anthology, Bach's Mass in B Minor.
Higginbottom, the distinguished long-serving director of the New College, Oxford, choir who has now branched out into ambitious Baroque projects, drew on consistently impressive support from his five individual singers, from the Oxford Consort of Voices, and from the Instruments of Time and Truth. This inquisitorial-sounding outfit ("Nobody expects the Instruments of Time and Truth…") in fact consists of Oxford-based principals who serve in other leading period ensembles, such as the Academy of Ancient Music and Orchestra of the Age of Enlightenment. Band, choir (very effectively sited up in the Kings Place gallery) and soloists together drew every gramme of drama out of this endlessly various – and often ravishing – score. Higginbottom's alert and cleverly-paced direction put a spring in everybody's step, and for long stretches managed to weave one silk purse after another from the sow's ears of Morrell's pedestrian verse.
The story, such as there is one, puts Beauty (Katherine Crompton's soprano) in a dilemma. Should she persist in her loyalty to the vanity, pride and self-indulgence represented by Pleasure (tenor Nick Pritchard) and Deceit (Mhairi Lawson)? Or should she get real, face the facts of age and opt for the virtue and wisdom peddled by Counsel (counter-tenor Alexander Chance) and Time himself (bass Matthew Brook)? The Chorus regularly butt in and sing their piece to steer the heroine down the correct path; but do we ever for a second doubt the outcome?
It's a corny, often clumsy, scenario. We cease to care, however, when this stuffy Baroque moralism comes decorated in delights such as the galloping horn-powered hunting chorus ("Oh, how great the glory, That crowns the hunter's toil!"), Pleasure's lilting invocations of "Dryads, Sylvans with fair Flora", or the simply wonderful closing aria in which Beauty calls on "Guardian angels, oh protect me/ And in virtue's path direct me" – a show-stopping farewell flourish for Crompton. TTT (as I began to think of it) is crammed with those Handelian passages when seemingly contrived or formalistic staging melts into heart-stopping, or spirit-lifting, moments of pure musical joy.
All the soloists gave their best, and more – but a special shout goes to Matthew Brook, another luminous star of the Baroque repertoire, as a droll and roguish Time. He went the extra mile or ten to inject proper human drama into the clockwork motion of the allegory. The younger singers too enjoyed their spells in the sun: Alexander Chance, once or twice a little under strain early on, came good in his expressive, and virtuosic, later arias. As Pleasure, Nick Pritchard – who made a honeyed Ferrando in Così fan tutte at Holland Park this summer – lent theatrical swagger as well as passages of vocal brilliance to his role as tempter-in-chief.
With Lawson and Brook as her secure anchors on either side of the ethical divide, Crompton shone with a growing radiance – especially in those pieces (such as "Come, oh Time") when one voice and a single instrument (in this case William Whitehead's keyboards) join in delicate duets. Up in the gods, the Oxford Consort sang well above their 16-strong weight, filling mighty choruses such as the Messiah-like "Comfort them, oh Lord" with lustre and depth. Don't ask why such a hymn-like number should creep into a classical-pagan confection. Just enjoy!
Its creaking and fractured design, not to mention those chunks of verbal stodge, mean that TTT will always fight to win the place on the concert platform that its musical highlights deserve. Higginbottom's spirited, unpompous advocacy, together with a winningly enthusiastic cast and company, nonetheless made this a compelling account of an often inspired oddity. To be frank, Katherine Crompton's supremely tender closing dialogue with Frances Norbury's oboe on "Guardian angels…" would have justified the trip alone. Time well spent? Emphatically so.
Contrived staging melts into heart-stopping, or spirit-lifting, moments of pure musical joy
rating
Explore topics
Share this article