Acis and Galatea, English National Opera, Lilian Baylis House review - Handel for the hashtag generation |

reviews, news & interviews
Acis and Galatea, English National Opera, Lilian Baylis House review - Handel for the hashtag generation
Acis and Galatea, English National Opera, Lilian Baylis House review - Handel for the hashtag generation
This insta-update is hard to 'like'
Smile for the camera: #WhereshallIseekthecharmingfair? #Instaopera
If you go to ENO's Acis and Galatea expecting a grassy knoll draped decoratively with a Watteau shepherdess or two then you may be disappointed.
Launched in 2017, the company's reliably punchy Studio Live strand (stripped-back, small-scale, off-site performances) continues here with
Handel's
"little opera", reinvented for the Instagram age. #Nymphsandshepherds #Flockthis
Beanbags (candy-bright) are strewn across the turf (astro), bathed in the glow of the vending machines ranked across the back of the stage. "Work Hard, Play Harder" enjoins a balloon sign, while arrows point the way to "Groves of Delights and Crystal Fountains". Welcome to the festival-themed office party of Mountain Media, a Shoreditch-fabulous social media firm, whose employees' idea of a good time perhaps inevitably involves Hawaiian shirts, selfies (shared on the video screens that flank the stage) and plenty of booze.
Designer Justin Nardella may be both young and hip, but his set sadly is anything but. From its strenuous neons to its inflatable unicorn and primitive digital elements, the whole effect is effortful – of youth culture with its filter set to "middle-aged". The same feels true of director Sarah Tipple's concept itself, whose closing twist (no spoilers here) seems wilfully to misunderstand the evanescence of social media – trying for Dave Eggers' The Circle but not quite landing the final satirical blow. Have "the young" ever been seduced by an art form aping their world, or would they rather be drawn into another? I'm not advocating prim 18th century traditionalism, simply for a concept that doesn't beg quite so cravenly for approval, that doesn't try and stuff a cumbersome analogue original into a slinky new digital frame and call it current.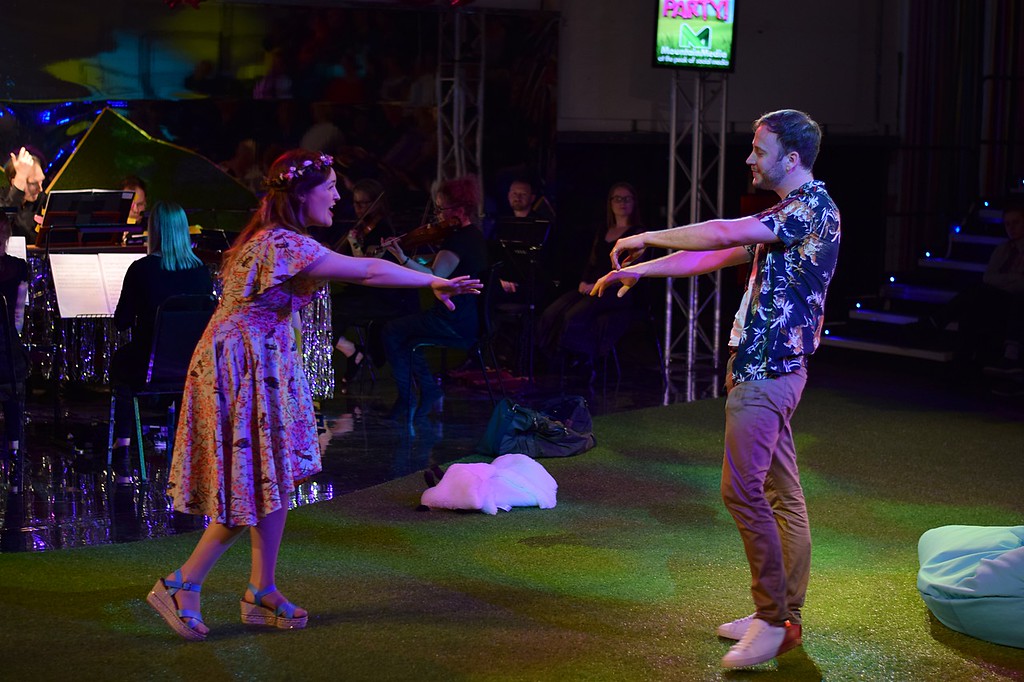 The decision to stage the performance in the traverse is also a baffling one, placing the audience in awkward proximity to ENO's Coliseum-calibrated chorus and leading to an uncomfortable stereo effect with the orchestral sound coming from one side and the singers from the other. The small theatre at Lilian Baylis House would have yielded ample musical intimacy in a more conventional setup, giving both audience and performers a more satisfactory, if less buzzwordily "immersive" experience.
Nicholas Ansdell-Evans conducts a deft, unfussy account of Handel's original, two-act score with a fine, eight-strong band drawn from the ENO Orchestra (including two recorders, who thrive in this intimate space) and a rather larger chorus. Shorn without obvious dramatic loss of one shepherd (Coridon, whose delicious "Would you gain the tender creature" is reassigned to Acis's sidekick Damon), the cast is a lean, youthful affair. Alexander Sprague's nicely blady tenor (at its best in the faux-military swagger of "Love sounds th'alarm") gives this preening, petulant Acis (pictured above with Lucy Hall as Galatea) some heroic aspiration, with Bradley Smith – softly grainy and characterful as a wooden flute – a fine musical foil as sweet-but-dim Damon.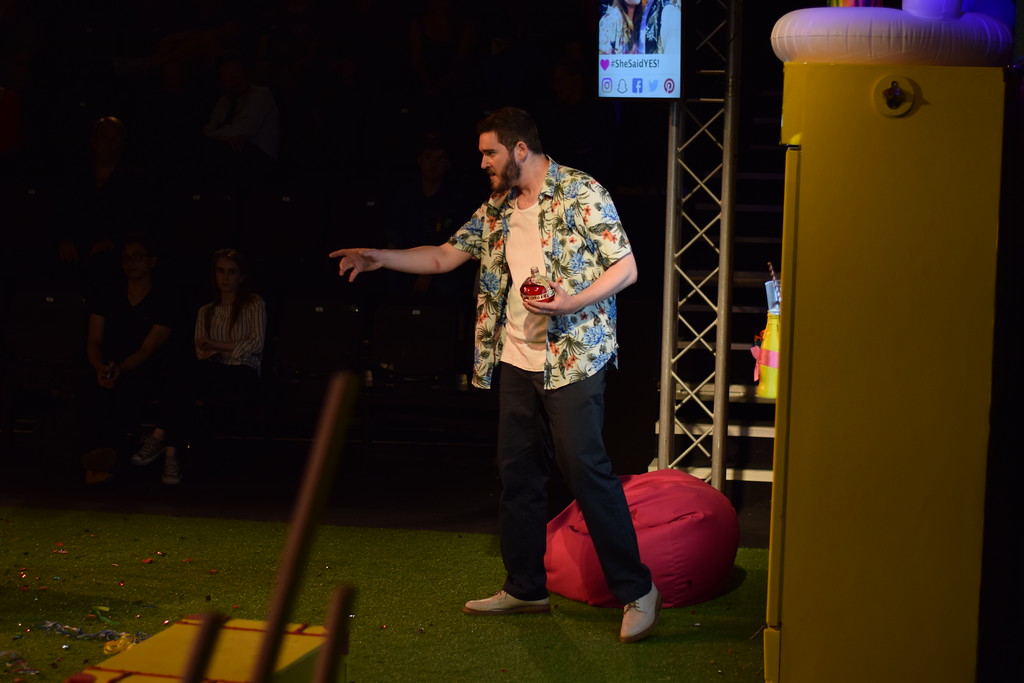 Lucy Hall's Galatea spins Handel's "Heart the seat of soft delight" (whose text makes little sense in the context of this rewritten ending) into softest whorls of melody, and tempers the nymph's gentleness with plenty of dramatic spirit, but Matthew Durkan's warmly sung, personable Polyphemus (pictured above, no cyclops here, just another colleague) becomes sympathetic to a problematic degree – the victim of cyber and workplace bullying rather than the monster-murderer Handel paints so coolly.
A masque with pretensions, Acis and Galatea is as slight as staged Handel gets – an attractive score in search of a plot. The trouble with Tipple's production is that it forces the audience to take it seriously. Murder among giants and nymphs is one thing, especially when the victim can be speedily and conveniently immortalised as a fountain, but a dead body at an office party is quite another. #buzzkill