Arena: Bob Dylan - Trouble No More, BBC Four review - up close and personal with Gospel Bob |

reviews, news & interviews
Arena: Bob Dylan - Trouble No More, BBC Four review - up close and personal with Gospel Bob
Arena: Bob Dylan - Trouble No More, BBC Four review - up close and personal with Gospel Bob
You gotta have faith: powerful music, with sermons interleaved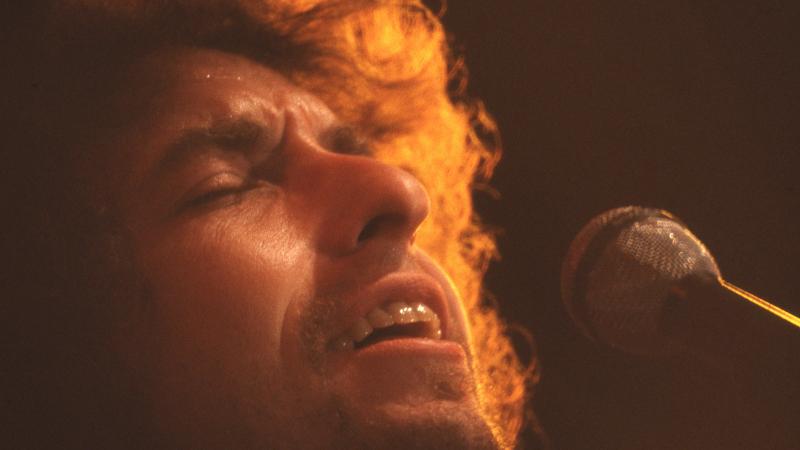 'Religious fervour and impassioned performances'
Dylan's Gospel years inspired and rankled in unequal measure – with the critical brickbats and audience boos often drowning out the strength and beauty of the impassioned musical ministries delivered by Dylan between 1979 and 1981, gathering around him his five-strong chorus of gospel singers, and a crack band tha
t included Little Feet guitarist Fred Tackett, bassist Tim Drummond, Muscle Shoals keyboardist Spooner Oldham and pianist Terry Young, and veteran drummer Jim Keltner.
Filmed at Toronto's Massey Hall and in Buffalo, New York, Dylan's gospel shows have long been a bootlegger's holy grail, and it was only on last autumn's Trouble No More boxed set, the latest volume in the official Bootleg Series, that some of that footage finally found official release. Now that hour-long film has made it to BBC4 as part of Arena's strand, for a Good Friday night of religious fervour and impassioned performances. It intersperses up-close and personal studio rehearsals with exceptionally intimate live footage of some of Dylan's strongest Gospel songs – the likes of "Solid Rock", "Slow Train", "When He Returns" and "Precious Angel" – with slightly contrived but absorbing enough "sermons" written by Luc Sante and performed by Michael Shannon, who plays a lean, mean kind of preacher who wouldn't be out of place in Girl from the North Country, the hit Dylan musical.
A lot of fans abandoned Dylan during his Gospel [de]tours, largely to their own detriment
The subjects for each "sermon" were apparently suggested by Dylan, but it seems the singer had no further part in shaping their texts. A shame. There was a bit of a disconnect between the tone of these spiritual homilies and the music itself, so intimately captured, and so strong and vivid an expression of Dylan's spiritual journey at the time. It might have made more sense to, say, use Hank Williams' Luke the Drifter song-sermons. It was material that certainly chimed with Dylan from an early age ("I could listen to the Luke the Drifter record all day and drift away myself, become totally convinced in the goodness of man..." he wrote in Chronicles).
Director/producer Jennifer LeBeau excelled in choosing the strongest musical performances, all of it prefaced by that remarkable rehearsal footage, and closing with an extremely affecting performance of "Abraham, Martin and John" by Dylan and Clydie King, his then-girlfriend and a Gospel singer whose voice sounds like the female voice of an Old Testament God – tearing the air like paper and raising whatever roof it's under until it hits the ground.
A lot of fans abandoned Dylan during his Gospel [de]tours, largely to their own detriment, but this was a film that put the music's undeniable power up front, in your face and centre stage. Plenty of people back in 1979 and 1980 were talking up the "end times" and we're enjoying a new flavour of "end times" right now, aren't we, in a more solid, indigestible form? In that light, it's fascinating to see and hear these spiritually impassioned songs performed under "the darkness that will fall from on high" that Dylan felt pressing down on him during those Gospel years. But let's leave the last word to one of the men who was there, Fred Tackett. Here's what he thinks of the film: "I was amazed, man. Everything was just so good. They picked the very best songs. Him and Spooner Oldham playing this harmonica and Hammond organ together at the end of 'What Can I Do for You'... it was just so cool and hip, and Bob is playing so great. They found the best stuff and put it in this movie."