theASHtray: Whitney, bin men, and the NPG's 'incautious' acquisitions |

reviews, news & interviews
theASHtray: Whitney, bin men, and the NPG's 'incautious' acquisitions
theASHtray: Whitney, bin men, and the NPG's 'incautious' acquisitions
Yeah butt, no butt: our new columnist sifts through the fag-ends of the cultural week
Saturday, 18 February 2012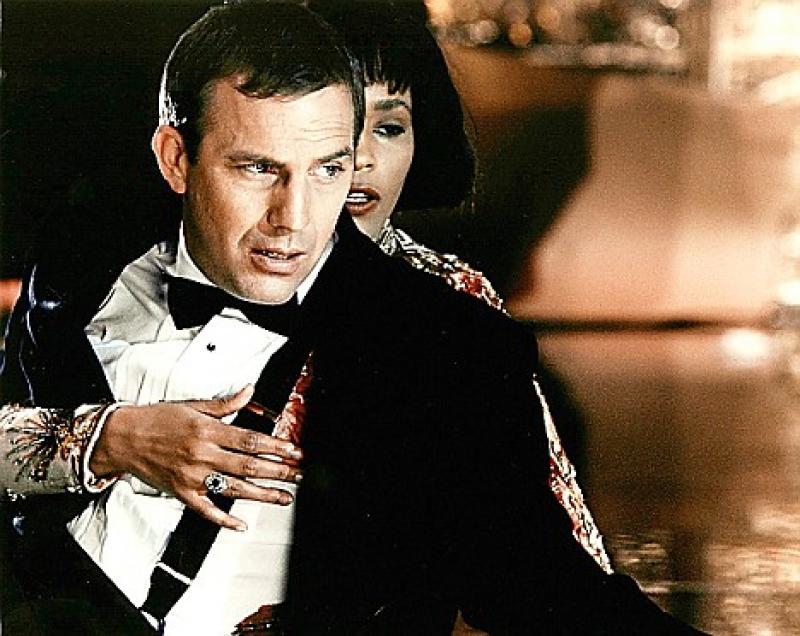 Brace yourself: Houston, we have a problem
Right, out with it: who else had their Valentine's dinner-out ruined by 36 consecutive requests for Whitney Houston? Not even the entire back-catalogue, either: just "(And I-ee-I-ee-) I…", over and over.
I mean, the basic message is all right, I guess; but knowing what one knew about the recently departed – i.e. that she was recently departed – didn't really help with the whole romantic mood (if you know what I'm saying). And then what was on telly when we got home? The Bodyguard. Of course it was. The whole point of which movie being, by the way, that, notwithstanding her bad-girl lifestyle, "recreational" drug-habit and devil-may-care approach to personal security… Miss Houston's character doesn't die. Insensitive, I call it, the entire business.
---
But perhaps you were watching re-runs of Toughest Place to be A… on iPlayer. No? Well, you should. If ever there were a concept purpose-built for crappy, sentimental, voice-over-laden TV, it's this one: The Four Yorkshiremen being despatched to bits of the world that really are shit and discovering that coal, in fact, is a luxury – then getting teary about it. But the bin-man-in-Jakarta episode, at least, was top notch, thoroughly legit and not a single patronising frame: our London-born correspondent genuinely couldn't believe his eyes, was deeply sympathetic, and most importantly – barring the efforts of an unseen translator – wasn't apparently mediated. I shall be watching the other two (fisherman, train driver) just as soon as I've got round to Casablanca.
---
Having steered clear of the Hayward Gallery's Shrigley show on the grounds of finance, and then ducked out of the NPG's Freud exhibition on the grounds of throng, I found myself, early Thursday afternoon, on that odd half-landing behind the Portrait Gallery stairs ("Room 33"), looking at a dozen Elizabethan-type paintings of people who looked exactly like the people you tend to see in paintings of the Elizabethan type. And you know what? They were.
Imagined Lives: portraits of unknown people is a somewhat cheeky attempt on the part of the National Portrait Gallery to finagle some added value out of "incautious" acquisitions – i.e. pictures of people who looked like famous people, but have turned out not to be ("Bloke: formerly known a George Villiers, 1st Duke of Buckingham": talk about a fall from Your Grace!) – by kitting out the newly "unknown" sitters with fresh and alternative biogs courtesy of Fellowes, Banville, Pratchett, Chevalier, Walters, McCall Smith, et al., all retailing in a slim accompanying volume for an equally cheeky £7.99 (though you can get much of it here, gratis). Rather a good wheeze, I thought. And how nice to find an exhibition that actually says something, for a change. Even if what it says – namely, that even the most directly representative artwork gains an unfortunate je ne sais quoi if you actually don't know What It Is – more or less totally contradicts the founding assumption of a national portrait collection.
---
Speaking of national treasures, though, it will have escaped no one that Sir Paul McCartney – Macca, yer old pal, former co-front-man of the "Savage Young Beatles" – has a new album out. It's, like, his 43rd or something, it's mostly comprised of other people's music, and it's called [adopts incredulous, Ricky Gervais voice]… Kisses on the Bottom. Honestly, sometimes I can't decide if Big Mac is just on a dare to piss off everyone under 40, or if he's pushing for some kind of empirical verification, once and for all – even after "Mull of Kintyre", Ecce Cor Meum, and that unfortunate interlude with Heather "Crackers" Mills – that his career as a venerable old timer/musician really can survive just about anything.
Even the most directly representative artwork gains an unfortunate je ne sais quoi if you actually don't know What It Is
Share this article