Design Secrets of Cinderella and The Nutcracker |

reviews, news & interviews
Design Secrets of Cinderella and The Nutcracker
Design Secrets of Cinderella and The Nutcracker
Ballet designers Peter Farmer and John Macfarlane on the challenges of designing best-loved fairytales
One of the three big magic moments for a Cinderella design: John Macfarlane's model box for the new BRB production
The designer of a fairytale ballet is far, far more important than the choreographer. It's those visions that lodge themselves in children's heads, in adults' memories, embedded with the music. And at no time more potently than Christmas when it's time for The Nutcracker and Cinderella.
When people think of ballet design they may think of John Macfarlane, the genius of Birmingham Royal Ballet's
Nutcracker
and the Royal Ballet's
Giselle
, and Peter Farmer, the confectioner of Birmingham's
Coppelia
and the Royal Ballet's latest
Sleeping Beauty
. Both men are stepping up to the plate again this winter, on their mettle.
These men, a Glaswegian and a Lutonian, both painters who bring their palettes and sketchbooks in the traditional way to their stage designs, are the big two in classical ballet, and this autumn they must produce their celebrated best - Macfarlane for David Bintley's new Cinderella at BRB, opening tomorrow, and Farmer for Wayne Eagling's new Nutcracker for English National Ballet, opening on 10 December.
Both productions must delight both the child and the child in the adult who accompanies them, as both designers are heartily aware. They talked to theartsdesk about the ultimate challenge: creating scenic magic for a fairytale ballet. And it is far from child's play to pass this iconic test of theatrical skill. At the end of each interview there is a slideshow of sketches they reluctantly released to tease us.
John F Macfarlane, Cinderella (BRB, Bintley)
John F Macfarlane studied at Glasgow School of Art and subsequently forged strong relationships with Jiri Kylian and Glen Tetley at Netherlands Dance Theatre and with Peter Wright in ballet, wherever Wright goes. Increasingly recently Macfarlane has done opera designs: his Welsh National Opera Hansel and Gretel with Richard Jones won an Olivier award, and for the Royal Opera House he designed Shostakovich's Lady Macbeth of Mtsensk, Puccini's Gianni Schicchi and Ravel's L'heure espagnole. His new Birmingham Royal Ballet Cinderella for David Bintley, opening this week, replaces his enormously loved Nutcracker for Peter Wright, a hard act to follow.
ISMENE BROWN: Cinderella is one ballet that's really full of magic challenges, isn't it?

JOHN MACFARLANE: Having seen the rehearsals actually there are moments that are nothing to do with me but made by David which are magical. As a designer my big magic moments are the second appearance of the Fairy Godmother, with the kitchen dissolving into the night sky with all the stars, and the second one is the end of the ballroom scene, with the clock ticking. That's written into the score as the big magical moment. And the final one is when the slipper fits and the kitchen dissolves, and they have their last pas de deux.
What's been your visual inspiration for the styling?
I tried not to look at any books, obviously there's Arthur Rackham and Edmond Dulac (pictured below, Rackham left, Dulac right). From the outset David and I wanted it to be beautiful and magical but also very dark, because even all the ballroom music is quite creepy, slightly malevolent music. Night sky is the total influence for the whole show, because it is all about darkness, midnight, stars. So the colour pallette is silver, dark blues, indigos. When Cinderella arrives at the ball - hopefully another magic moment - the ballroom opens up to the night, giving a feeling that she's walked out of the night sky.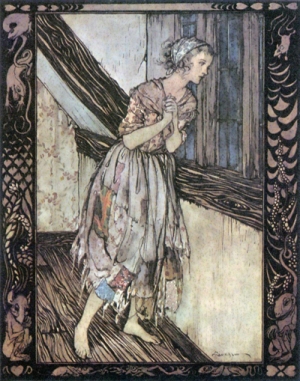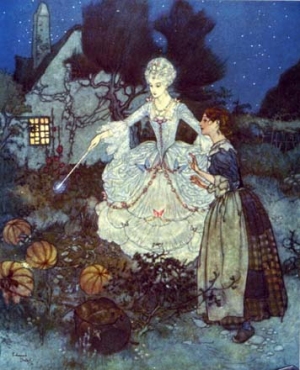 As a designer you really only have two sets, don't you? The kitchen, the ballroom, and the transitions between. What's Cinderella's kitchen like?
David and I both wanted to keep the kitchen believable inside. The problem I've always had with kitchen scenes generally is that they're very high and always take the whole stage, and you can't really believe that there's a house all round it. So this is very much below stairs, like a London house. I've reduced the stage frame by two or three metres - enough to have room for the action but it should feel like this kitchen is a very tight, busy space being invaded by a lot of people. A cupboard, a sink. Quite a lot of dirty dishes in the sink - Cinderella's a bit of a slut really. There's a scene where the sisters come down to push her around at breakfast.


And the sisters are one big challenge, aren't they?
They're girls, not en travesti. The sisters are the same age group, three proper sisters. It is more uncomfortable to watch the taunting and abuse meted out by the sisters and stepmother because the girls are all believably the same age. The other thing that works really well is that the sisters are on pointe. Which gives everything an unpleasant spiky quality for them, while Cinderella looks as if she's in bare feet. It's sort of 18th-century style, with corseted bodices and full skirts, but obviously I take liberties, especially with the Ugly Sisters. The one thing we both wanted was to free them from the panto dame thing where their costumes don't relate to anyone else on stage. So it's been great fun to give them tutus for the ballroom. It's the hardest task to make a ballet-girl fat! The dancers hate the concept of being fat...

Cinderella herself tends to look like Disney's Cinderella in most productions...
(Laughs.) I got that so wrong at first. I was so anxious for that not to happen that I felt she should almost be in a Forties dress. It was for the publicity photo shoot and I had something like a pinny, cross-over at the back. In the drawing it looks great, but then on stage she did look totally Forties. Sod's law. It was returned to 18th-century but I went into the direction of 18th-century underwear look, a corseted simple bodice in linen and linen skirt. She doesn't look raggedy. No laces down the front, not even a scarf on. It's just stained beige, and she's the only stained beige thing on stage. The minimum costume to look abused and very sad.
One of the reasons I wanted the kitchen to be at least believable in scale is that if it's not, you have nowhere to go. Unless you start off with a believable room, once the Fairy Godmother turns up and you fly in something the same size, it's not going to grow to another plane. So we have the removal to the night sky, then the seasons, and at the climax when she goes off to the ball with the Fairy Godmother's warning, the whole stage goes, and you're into just the stars. Act 2 is tricky because the music goes straight into the business, and you haven't had the travelling music. David and I felt you needed to bring the audience slowly into the ballroom, so we have done a sort of transition by having the stars at the front, with the Fairy Godmother music again, and gradually moving into the architecture of the ballroom.

What are your stars like? Do you do much stargazing? Is it hard to make stars look realistic on a set?
I live in the darkest part of Britain so I see stars every night. Bizarrely, the best way to make a star realistic is to paint a star shape. If you paint dots it's just dots. Do a star shape and it actually does look like a star with a hot centre. The big star drop cloth is much more like a realistic painted representation of a night sky. Wonderfully like the Milky Way.
What's the Prince like? You've told me before that they're boring to do!
Yup! I always leave them to last. You're so hidebound by that look: the short jacket and the white tights. I understand it has to be like that. He's got to be the brightest thing on stage and she's costumed to match him. But they're very difficult to do, princes.

At the Diaghilev exhibition you see Nijinsky's prince costumes, with heavy tunics, shorts and even plumed hats. I was wondering when those will return. Perhaps the hats?
Not yet!

Are you going to turn a carriage into a pumpkin?
Yes. I admit we first were saying we wouldn't do a coach, but a friend of mine with a three -year-old child got hefty with me and said, "You don't have a choice, you have to do a coach." I think it falls into the category of you have no option. Just occasionally you have to bow to the expectations of the audience, especially the younger members. And every small child expects a Fairy Godmother and a pumpkin and a carriage.
So the plan is that with each Season Cinderella's given something. Spring gives a circle of flowers for her hair, Summer gives her a cloak of flowers. Autumn gives her a pumpkin, and Winter gives her twinkly shoes. And on the number with all the lizards, mice and dragon flies they rush around her making a fuss and finally she's in a beautiful white twinkly dress. Then we go into the Stars waltz, and during that bits of coach are brought onto the stage, so that when they all meet (like the Channel 4 symbol on telly) they all lock together and it lights up and it's a glass coach. And the last image is her being handed into the glass coach, the frog jumps up to drive and two lizards as footmen.

This is the problem - the music is about 5 seconds long.
It's actually about 22 seconds of music, and you just cannot do it all in that period. And that's the only appearance of the glass coach. But you get bollocked if you don't do it!

And that is the only sight of the coach?
Yes, just for that. But we must do it. Yet the arrival at the ball music is not arrive-in-a-carriage music.

It's not just pictures that matter then - to you it's logistics. It's the number of seconds of music available to make a picture.
God, yes. In ballet more than any other stage art. You get this again in the slipper fitting. You've got to get into the kitchen again after the ballroom and the slipper fitting, and you've got to get rid of half the kitchen upstage behind a drop, and the Fairy Godmother comes... you've got about 37 seconds for that.

How do you move this all around so quickly?
I work it out first. I'll say, the kitchen is five big stage-trucks and a mini-proscenium, and that's designed with its changes: three trucks upstage, fireplace is another, a piece of wall, and a downstage window truck, and a staircase truck. Three of them go out in the first change upstage.

How much of the scenery is done with painting & how much with projection?
All with painting. It's not that I don't like projection - I've used it in opera. But I think here it's that all the bits are very physical and the language here is a painted language, where you physically see objects moving and trucking and flying. Like in the Nutcracker.


Did you have to find cheap ways around expensive problems?
No, absolutely not. The thing I had to compromise quite a lot on was not for budgetary reasons - because I think they've given a very respectable budget - it was where I had to cut back on the volume of some of the set. I'd have loved very deep cornices and mouldings in the ballroom, and they can't handle that because all these pieces have to fly. The fact is that this production will be touring. The pieces are all slightly reduced in profile, but about 5 percent, so I think only me is going to notice that. We've compensated in other ways to give deeper illusions.

You're dependent on magical lighting, aren't you?
I've got the wonderful David Finn, who did Nutcracker. He is one of the designers I've worked most with, apart from Jennifer Tipton. I completely trust him, he's kind of ahead of you in what you want to do. There are times I have to hand the stage over completely to him to light and make the magic. We have lots of chats. He's saying to me, "I think this would be great here... what do you think?" But when we're focusing and hanging lamps I leave David completely on his own.

This is going to tour? Your Nutcracker couldn't tour much, could it?
They tried it. They took it to Lowry and London once. But this Cinderella is designed to tour to the bigger theatres. It's kind of designed to do the Coliseum. In a strange way the Coliseum puts more restrictions on the set than any other place. It's an odd, difficult venue because the lighting grid is a huge bridge that's in a different place from the Birmingham one, and it has less side and backstage space to truck things into.

I notice you have animals in Cinderella.

Mice, obviously, a frog to drive, and I squeezed in the lizards - David looked at me and said, Lizards? I tried to get a rat in but I was told I couldn't do that. Still, I got my two mice, a frog and two lizards. I like doing animals.
Act 1 Kitchen
Act 1 Seasons
Stepmother
Ugly Sister (ballroom)
Act 2 Ballroom
Lizard footman
Mouse
Men's ballroom costume
[bg|/DANCE/ismene_brown/designs_BRB_Cind_JMacf]
Peter Farmer, The Nutcracker (ENB, Eagling)
Peter Farmer, now 69, came into theatrical design sideways, having originally started off non-specifically with a secretarial training, and a first job as a buyer in Welwyn Garden City Stores. After moving with flair into window display he took himself to Luton Art College, and launched himself successfully as a painter and book illustrator. His first theatrical job was for London City Ballet but his burgeoning career in the 1970s saw him a sought-after designer for contemporary dance. In recent years, as contemporary dance moved away from painterly sets to fashion, it is the world's ballet companies who have sought him out when they want a traditional, herbaceous classical design. His new Nutcracker for Wayne Eagling at English National Ballet, opening on 10 December at the London Coliseum, replaces the cartoon-style Gerald Scarfe production with Christopher Hampson.
We must evoke the Christmas we never had but always felt we did. Warmth, safety, heaven
ISMENE BROWN: How do you go about choosing a look for a ballet as well-known as this?
PETER FARMER: I always think of designs for ballet as very basic in a way, you've got to get a message across quickly. Green is for people you mistrust, red is passion, blue is serenity. I dislike yellow - it doesn't stop me using it, but in generating an emotional response, I wouldn't think of a yellow room.
I would have thought yellow a good colour for ballet comedy. It's important that colours have an emotional response?
Immediately. There's no other way. You have no words to describe what's happening, and the music may not be working for the story at every point, so your colour-coding must be definite. And certain people on stage must be picked out instantly and not missed. It's almost common sense.

Nutcracker suggests all the colours.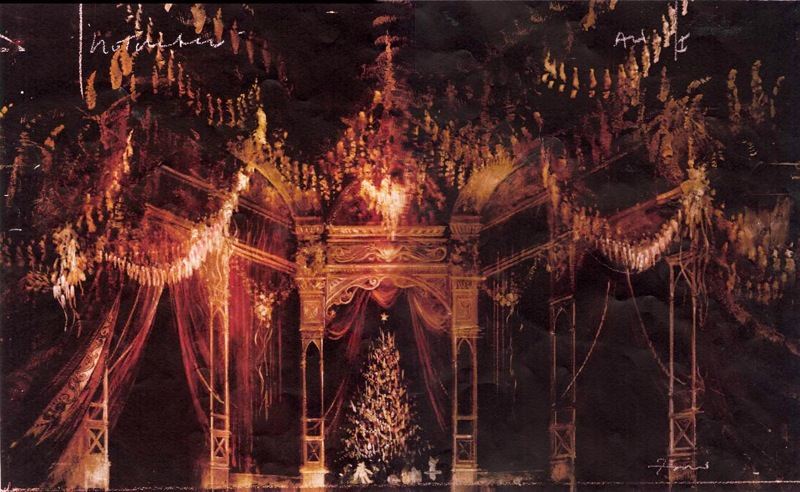 Yes. I'm rather keen on Nutcracker, because the score is wonderful, it's the right length, and it has rather a good story visually. It's not like Beauty, which goes on for so long you want to leave - I dread doing Sleeping Beauty. But Nutcracker is interesting, you must accept it's for children so you've got to delight them. And that growing of the tree music is wonderful - though really it's actually all about the opening up of life... Nutcracker isn't straightforward - there are many areas to go into. That big party scene is for children and parents, so we must evoke the Christmas we never had but always felt we did. Warmth, safety, heaven. And we must have dreadful rats and mice, which I never like doing. I don't like dressing people up as animals. In the party scene I've got quite warm colours, and in the hall scene, which I've done for before it, it's as if the owner has gone in for a fashionable Chinoiserie look.

So we're in a Grand Designs place.
Yes. I don't like that same old 1890s thing. In ballet the pale colours stand out, white, cream, gold, they are good colours. When I first did Giselle, she was always in blue and I had great fights about it, but it was only the influence of Walt Disney. So then I found out the original colouring, brown and creamy-yellowy, and now I notice that not all Giselles are in blue. So maybe I made some poor attempt to influence them.

Designs for children now are exclusively primary-coloured.
I think that's catering to the basic instincts of nursery toys. Bright colours. It's later that they get to be subtle. Most artistic work though is instinctive. If you have any kind of gift, it's in control of you. You can think, "That's right", but you can't really explain why it is. It's by instinct.

Is the Nutcracker doll definitely red?
Yes, he must be immediately recognisable. Actually the Nutcracker is rather beastly, really, to look at, an ugly thing. But it's a fact of life, it's red, gold and white.

Do you go back to your boyhood with delight to do the soldiers?
Not really. Children must recognise they're soldiers immediately, so they must be toy soldiers in style. But in the party scene you can have fun with the women's beautiful dresses and in the snow scene it must all be glittery. It's predictable, really, but I'm doing things in the last act which are slightly different. I've got a sort of toy theatre, when the curtain goes up, and all the diverts will come out of that. And before the waltz of the flowers that giggly stuff is drawn off and I've got hopefully a rather beautiful scene for the Waltz of the Flowers and the pas de deux - grandeur, beauty, seriousness.
Tchaikovsky said about the grand pas de deux, it should be "colossal".
Yes, party games are over.

How do you finish it off?
With a set like a formal garden at night, quite romantic and beautiful. Again, nothing to do with toys. I think the general idea is that Clara is growing up, but when it comes down to it, this is an entertainment. You can't reveal hidden depths, or pretend that Drosselmeyer likes children in the wrong way. it's got to be absolutely innocent.

Because there's not a lot of innocence around in real life. That's what ballet does.
Yes, it makes you a child again. The ENB before had one that Gerald Scarfe designed, but I don't think you can take away the cosyness or beauty of Tchaikovsky.

How did the concept with Wayne evolve?
You have a shorthand between you. Wayne knows my work well, and the nice thing about being 100 years old is that you get jobs because you are trusted, you are not auditioning any more. I just get on with it, show him things, and he'll say, "Yes, I like this one, I prefer that one." If you're doing a modern ballet you're creating something entirely different, but here you're giving your audience what they're hoping to see, so you shouldn't try funny games, it's not in the music. The music is to delight you and make you happy, rather like a box of chocolates. Also experience does count. i've done about nine Nutcrackers now, my first was with Freddie Franklin in Houston in 1950-something. I've lied about my age so often that I don't remember when.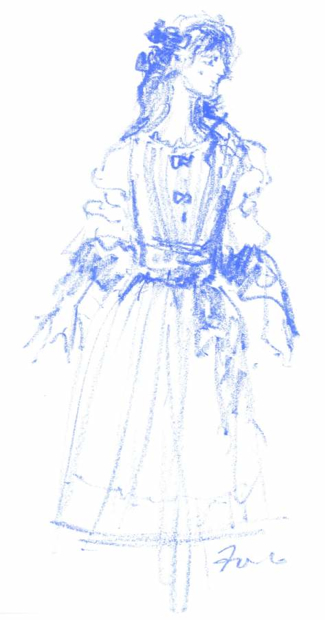 Your costume sketches here are rather sketchy...
(Clara sketch, left)
No, I don't really do them for costumes. I usually work straight into the fabrics with the makers. When you were a beginner in 1924 or whatever, you did drawings endlessly, but the colour of paint can't replicate fabric. I walk into the Wardrobe and I've worked out that I want all blues and greens for Chinese, and we go through all the books of samples, and I choose the fabric. Then I've drawn up black and white drawings, like a diagram, and the makers put the fabrics to the drawings.

You spend a lot of hands-on time while the costumes are being made?
Oh yes, I love it, and if you get the makers on your side they'll move heaven and earth. I don't see how anyone can send in painted sketeches to a wardrobe and expect it done right. I can do a very attractive drawing and still I'll know it's a lousy costume. But I can do a diagram and find the fabric, and I know it'll be wonderful. You need to know the end-result of course. The maker can't constantly be going back saying what was this? And why working with the ballet is so nice is that we've been together so long, me and the makers. The good ones love to follow you about and offer options. It's very much an enjoyment between friends. They phone you and say, "Peter, these sleeves don't look right, what about doing this?"

it's a job that attracts people who love their work.
Yes, they'll do anything to help it be a success. And it's their success as well. I like that.

What happens with Clara and the Sugar Plum Fairy? In some productions they merge.
They're different people. Clara is young and after the first act, which is very strong, it's not much of a story. Clara and Fritz watch the diverts and we're hoping to get them to arrive by balloon, a nice giggly entrance.

What countries have you done shows in?
Chile, Houston, English, Russia, Hong Kong, Australia, Japan. I think ballet is a mixture of visual fantasy, orchestral music, a knockout experience at its best. Balletomanes don't like to admit it, but an interesting triple will never beat a spectacular classic.

Is there much range in taste for styling classical ballet as you travel about?
I think everywhere ballet's most important ingredient is the music. The big scores, they carry the evening forward. When I first did contemporary dance, they were very much against classical ballet, they thought they were the real artists. They were sneery about makeup and costume, they felt artistry didn't need this. I did work with them to make they look sparklingly new and a fresh thing. No, the classical taste I'm asked for is my style, which is nice. I think taste, because of communications, is not as divided as it once was.

Do you ever want to take up the local style - do a classic in Japanese or South American style?
No, I think that would be presumptuous. I do what I like. And I think my view is about delight, over all. Tchaikovsky is not just pretty-pretty, it's about life, death. Things like Swan Lake are seriously emotional experiences. And Nutcracker is there for an audience out for an evening near Xmas with their family. It's not your job to make them think about destiny.

What's the trick up your sleeve with the Christmas tree growing?
It's not a trick - it's just a completely magical tree, the secret was handed to me in Tibet by monks. I guarantee you that it will grow very big and will suddenly turn into a snow-covered tree with a gasp of amazement from the audience. I think that really is the biggest moment of the ballet. It's always a pleasure to design Nutcracker.
Act 1 Hallway
Act 1 Party
Clara
Nutcracker doll
Chinese doll
Sugar Plum Fairy
[bg|/DANCE/ismene_brown/designs_ENB_Nut_PFarm_2010]
Watch the Waltz of the Flowers from the BRB Macfarlane production on DVD (youtube):
A friend of mine with a three-year-old child got hefty with me and said, "You don't have a choice, you have to do a coach".
Explore topics
Share this article