How Manga Comics Became A Dance |

reviews, news & interviews
How Manga Comics Became A Dance
How Manga Comics Became A Dance
Nitin Sawhney and Sidi Larbi Cherkaoui explain how cartoons hold secrets of life
Tuesday, 06 September 2011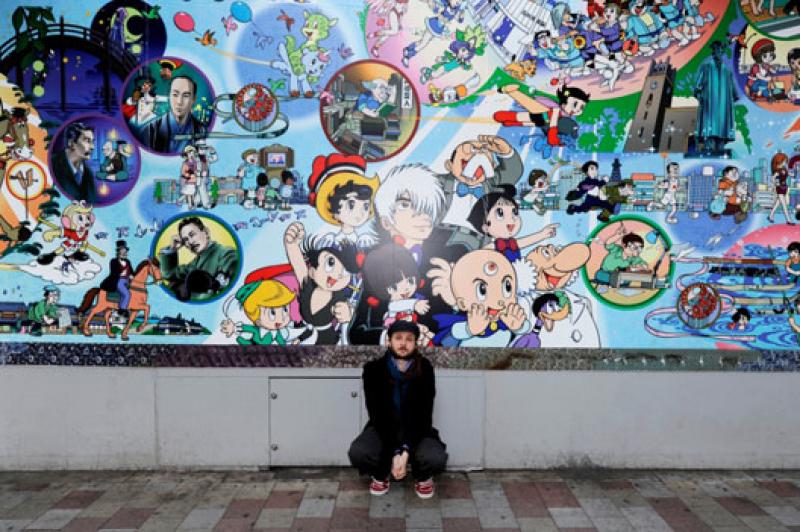 Cherkaoui in Japan: manga seemed a natural world for theatrical treatment
A new production opens tonight at Sadler's Wells based on the graphic novels of Osamu Tezuka, Japan's master of manga art. Choreographer Sidi Larbi Cherkaoui and composer Nitin Sawhney shared a love of comics as a boy that turned into the more sophisticated admiration for the narrative subtlety and precise visions that the best of comics led to. And to Cherkaoui it seemed a compelling world for theatrical treatment.
Tezuka (1928-1989) was the most influential cartoonist in Japanese manga, credited with having invented the "big eye" cartooning characteristic in Japan, itself a deliberate take on Walt Disney's early cartoons of Betty Boop and Mickey Mouse. But Tezuka wove deep, perplexing, even weird stories into his vast output of manga comics, complex characters from serial killers to sexually confused girls, from firebirds that never die to Astro Boy, the kid who barely realises he is half robot. His work veered from the highly dramatic kerpow! style of Black Jack or MW to the delicate decorativeness and almost floral detail of some of the work in the epic Buddha series.
Revered worldwide for his graphic versatility and finish, as well as his unpredictable imagination, Tezuka remains very much a Japanese secret, most of his work not being translated into English and other languages (pictured right, Tezuka by himself).
In the days running up to the opening of TeZuKa, Nitin Sawhney, 47, talked to theartsdesk about his boyhood love of Marvel, which led to his intriguing collaboration with Cherkaoui, 35. But first the choreographer dropped some clues about the particular Tezuka images that inspired his stage piece.
Sidi Larbi Cherkaoui
LARBI on Black Jack (1973-83): Osamu Tezuka studied as a doctor so Black Jack [a doctor who uses superhuman powers to help people] is like one of his alter egos. With the Black Jack manga Tezuka mixes his wealth of medical knowledge with fiction revolving around the subject.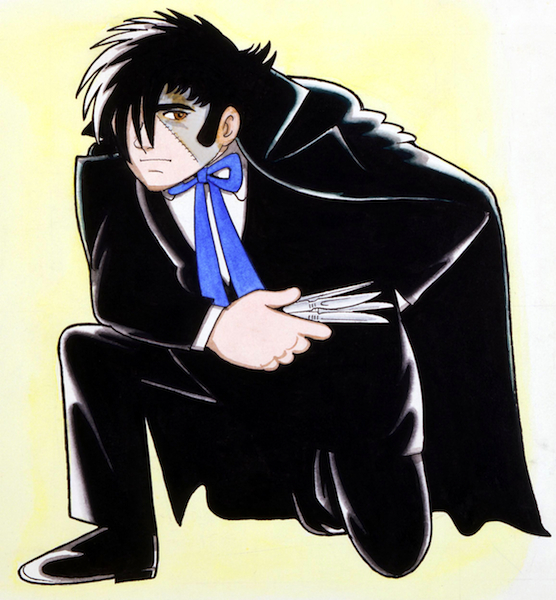 LARBI on Ayako [1972-73]: I like the intrigues featured in Ayako. This manga has the capacity to show what can go completely wrong within a family. It's an incredible portrait of injustice. [Ayako is locked up in the basement for decades by her relations after she discovers dreadful secrets about murder and incest among her family.]
LARBI on MW [1976-78]: I like the daring that Tezuka showed in writing about a relationship between a priest and a serial killer, and in a way that makes them both seem very human. Tezuka shows a lot of empathy and his capacity to put himself in the place of anyone.
]


LARBI on Ode to Kirihito [1966-67]: This is a very tragic story. I was moved by the nobility of the main character. Even though he began to look like a dog he acted like the best of all men. [The medical horror thriller series tells of an eruption of a disease that turns men into dog-like beasts.]
LARBI on Buddha [1972-83]: In this huge epic story of 14 volumes, Tezuka mixes fiction but also manages to give a sense of the history of Buddhism.
Click on an image for full view and slideshow (all images courtesy Sadler's Wells).
[bg|/DANCE/ismene_brown/swt_2011-12_season/Tezuka_manga]
Nitin Sawhney
ISMENE BROWN: Are you very aware of manga?
NITIN SAWHNEY: I've become more aware of it. I love the Buddha stuff I was shown by Larbi, but manga was more in the periphery of my love of comics. When I was a kid I was a Marvel comics fan, and I had Mighty World of Marvel No 1 in pristine condition (pictured right), and The Amazing Spiderman No 1. I went to comic conventions, I was a total freak, and was quite fanatical. I have an obsessive nature, even about music, and I took everything to extremes. So I saved and saved and saved, and aged about nine or 10 went to comic conventions and bought those two comics with everything I had. They were in cellophane. And I told my parents, never throw these out, they'll be worth hundreds of thousands one day. But they did get thrown out. Many years later they were up in the attic and my parents had someone in who was clearing out the attic and I don't think they mentioned the comics. And this person threw out all the comics, including two which were worth a fortune…
There's a lot to learn from that story!
The point I'm making is that I was fanatical about the form, the comics. And that's probably what brought me to writing music for video games. That kind of artwork, that kind of storytelling, has always interested me. And I also got interested in Japanese calligraphy because I learned a bit of Japanese when I went over a few years ago. I learned two alphabets in an evening, Katakana and Hiragana - and it was amazing the next morning to be able to read the signs when I woke up! That was bizarre and wonderful.
What are the rules of Japanese music that are different to Chinese or Korean?
You're limited by the tuning of the instruments, essentially. I haven't gone in determined to abide by Japanese rules. There are points where they play traditional music, but more interesting was to use the instruments.
Do they have an octave?
It's more complex than that. They'll change tuning as they play. Like the sitar in India, you can move the frets around. I'm working to octaves, but they're working on stringed instruments - and I use classical rhythm at one point which is played on dodo, which immediately gives it a Japanese resonance. The singer, if you get her to sing just a note, she still sings it in a Japanese way. We've used Japanese words too, but sometimes it's just in the voice, it's the accent. I try in a lot of my work not to be too culturally specific, so it feels more universal. Sometimes I'll switch things around, so they're not at all traditional. Basically it's working emotionally and thematically with what Larbi is doing.
What images have you liked most?
There was something he sent me almost like a Grimm's tale, like Shockheaded Peter, silhouettes where I almost recorded a whole score to that one part. And when I went over to Antwerp to work with him we worked closely with images of an old man, a wolf, a bear, a rabbit (from Buddha, pictured left). I was trying to find a vocabulary with the musicians, so they could play to these images coming up on the panels. So it's not a case of one image overall - Larbi has tried to create a dynamic movement through all the images, which is how comics work.
We've done a music-box version of something for Astro Boy (pictured below right) and you can even hear the paper going through the box which is lovely. But what Astro Boy represents is very significant - he's part boy, part robot, a new species whom you are never quite sure of. This appeals to me, that somebody isn't who they appear. I am not purely Indian or purely English or anything. At times what Astro Boy represents is that he sometimes has a robotic way of thinking and sometimes he's a little boy.
So it's not the adventures of Astro Boy on stage.
No, no, it's much more layered than that. Larbi does think in layers. You find he's got so many ideas going on simultaneously. Sometimes they clash with each other, sometimes they're complementary. I might be watching two Shaolin monks attacking each other with incredible force, but on the other side of the stage dancers are contorting themselves and interweaving into a kind of giant spider walking across the stage. There are all kinds of crazy images, it's a rich world that he's populated with his own imagination and he's extended the world of Tezuka into a 3D one in a very wonderful way that extends the thinking inside it, and not just the imagery.
Steer me to some key images.
The Buddha comics, because he's applied a lot of those ideas. I could see his attachment to it, the characters of the Zen Master. Then again there's the fun elements of Astro Boy and Black Jack, so it's about the range. Larbi has something very graceful going on with this. He has these moving images on screen and the dancers at times silhouetted, and these paper scrolls hanging down from the roof.
We've brought in Hannah Peel who plays a music box, which is like a pianola, with the paper going through it. The set is very much about paper and putting ideas down on paper, so I like the idea of music being put down on paper too. Also there's an innocence and childlike freshness in Tezuka's work, but a lot of sophistication too. The motifs and ideas are very much about a sense of evolving thought, and developing ideas. Somebody painstakingly coming up with panel after panel of ideas.
Was Tezuka a happy man?
I think he was at peace with himself. I think he used his work to make peace with himself and with the world around him, like any great artist should. I think that was his reconciliation with what had happened in the past, the sadness of Hiroshima and Nagasaki and Japan, and the sense of hopefulness. Yes, they're funny, but they also have an underlying philosophy that's quite powerful too. It's the post-Hiroshima Japan trying to pick itself up. He doesn't moralise, he gets away from morality. The idea of good and evil needed to be re-found in countries like Germany and Japan after the war, they needed to find themselves again. They couldn't just be demonised, and they had to move forward, yet they couldn't move forward without finding their morality.
People invested a lot in those comics.
Yes, because there were hidden depths in there. That's what I loved in comics. I looked for hidden layers in there, even when I was really young. If I think back to some of the ideas behind the Marvel comic characters, I learned a great deal from some of them - not the violent, crazy things, but some of the struggles of identity. Every Marvel character had a weakness, a kind of human frailty. I liked that. And it's interesting, as I'm writing something about Einstein meeting Tagore in Berlin in the 1930s for Sadler's Wells, it's interesting how we set up icons and forget their frailties. Spiderman, The Hulk, seemed invincible but actually had troubles in their lives.
Watch the trailer about the creation of TeZuka at Sadler's Wells
Tezuka wove deep, perplexing, even weird stories into his vast output of manga comics
Explore topics
Share this article