Jig |

reviews, news & interviews
Jig
Jig
Irish dancing documentary treads heavily behind much better dance films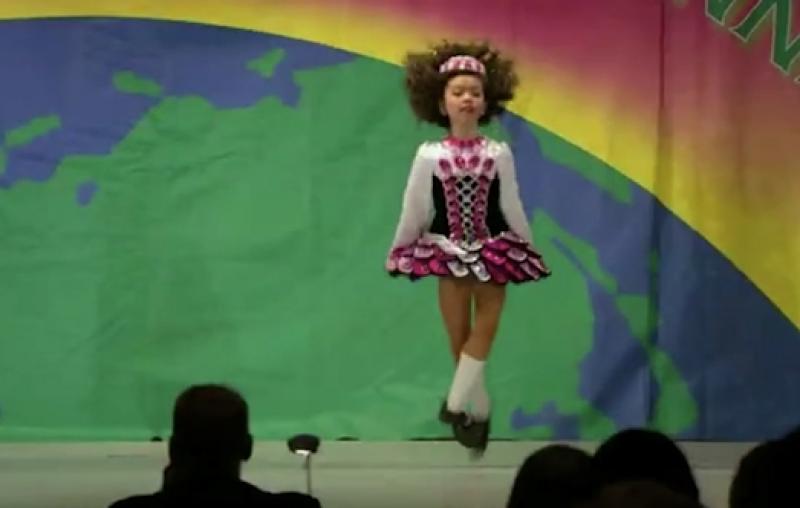 It's all about winning: Julia from New York jigs hopefully for the trophy
Can one enjoy watching a film supposedly about dance in which competition and being Number One is all and the word "artistry" is not mentioned once? And in which performers are nameless numbers? And the documentary-maker shows not a scintilla of curiosity about why this might be? One might, if it were handled with a twisted sense of humour and cutting observation.
Unfortunately, Jig doesn't have that. Sue Bourne's film enters a dance-movie genre that has lately become surprisingly well stacked, but it lacks any of the imaginative lyricism of Wim Wenders' Pina, the dramatic exhilaration of Beadie Finzi's Only When I Dance, the sophistication of Frederick Wiseman's La Danse, or the nutty flamboyance of Baz Luhrmann's spoof, Strictly Ballroom, against which - in entertainment terms - this has to compete. If you succumbed even a little to the show Riverdance - and I certainly did, first time round - you have to be a wee bit curious about the massive desire of sections of folk to stick all their energy in their legs, batten down all other more expressive parts of their body, and kick the bejasus out of the floor.
While the anthropological imperative of Irish step-dancing is pretty interesting, in practice it appears to have evolved into one of the most dogmatic systems of modern anti-dance that I can think of. Entirely driven by competition ethos, it has become a dance sport in which ruthless small girls and docile mothers, or ruthless mothers and docile daughters, chase the Number One spot with gritted teeth and incredibly knotted footwook, and nary a ghost of the real soul and charm of dancing.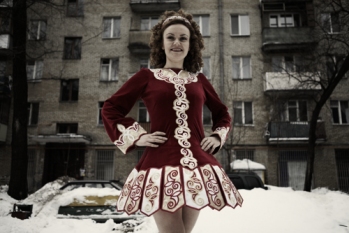 Now, simply as a study of the multiple routes to survival in the jungle, Jig could have had more awareness than Bourne contrives, with her clichéd device of focusing on last year's world championships in Glasgow and following some of the competitors there. They range from ferocious 11-year-olds to sweet but not very good Irish hoofing enthusiasts from Moscow whose hopes of progress in "the worlds" are frustrated by elusive travel visas (pictured left, Muscovite Anna in snowy Moscow).
The tradition of foot-only dancing spans the world, from Durham tabletop dancing and Irish step-dancing, to South African gumboot dancing by mining slaves, and all of them have different and revealing reasons for the constrictions in their movements. The Irish version is said to be influenced by the Catholic church's disapproval of sexuality in dancing, but its stays were loosened when Irish emigrants took it to America and it is one of the parents of black tap dance as well as Appalachian clog dance.
What's allowed some of these percussive foot dances to leap out of their niches into theatre is the play of music and expression through rhythm or the body. These are both areas that the Irish dancing form is particularly inelastic in, which explains why, as against hip hop, say, or tap (both of which are having their moments this week in the stage spotlight in London) it can't leave the juvenilia of competition behind and mature into something of more adult interest than a scoreboard's tally.
And so the "world championships" continue, the huge silver cups remorselessly hunted down by dolls in huge ringleted wigs and blindingly coloured frilled dresses - of which a face-off between a determined Irish tot and her wily New Yorker rival is made the climax in Jig. Context, though, is sketchy and so is inquiry. There is a dreary set-up of competition between three 21-year-olds in the oldest group, in which no one mentions any artistic reason why Simona from London, with her fearsome mother (the pair pictured right), will always be beaten by light-footed Claire from Galway. Nor is any of the technical virtuosity explained.
Of more human interest are the three boys - the joyful little Brummie John, one of six brothers, the 17-year-old Joe whose rich Californian family moved to Birmingham to find him a top teacher, and, most intriguingly, Sandun, the Sri Lankan boy adopted by a white Dutch couple, who has found in Irish dancing a remedial focus for his confused sense of self. Yet you sense that, as blinkeredly as any judge, the film-maker lost her interest in Sandun the moment he didn't make the cut in the competition.
Watch the trailer for Jig