The Little Match Girl, Lilian Baylis Studio Theatre |

reviews, news & interviews
The Little Match Girl, Lilian Baylis Studio Theatre
The Little Match Girl, Lilian Baylis Studio Theatre
Wacky and delightful dance theatre adaptation of classic fairytale
Thursday, 17 December 2015
'Un fiorino per un fiammifero?' Arthur Pita's 'Little Match Girl' melts hearts - and teaches us the Italian word for match
I habitually skipped over Hans Christian Andersen's Little Match Girl in my childhood fairy tale compendium because I couldn't bear the sadness (see also: The Happy Prince *sob*).
Parents of sensitive children will therefore be relieved to know that in Arthur Pita's 2014 dance version, which is back at the Lilian Baylis Theatre at Sadler's Wells this Christmas season, any tears at the titular waif's lonely demise will be vastly outnumbered by smiles at the fun and fantastical world Pita and his imaginative collaborators have conjured up for her to inhabit before
and after
death.
Pita sets the story in his native Italy, but the characters the Match Girl (Corey Annand) meets are familiar types from virtue- and vice-filled Victorian London: a kindly lamplighter, a hardbitten urchin who shows no mercy to a rival, a grotesque middle-class family who scoff eels and champagne and turn up their noses at the poor girl shivering in the snow. Andersen was a great fan of Dickens: his Little Match Girl story is much more social commentary than fairy tale, and while the richly inventive Pita has increased the magic factor in his version, the social point is not lost.
Adults might wince at the panicked guilt-cum-discomfort that crosses the wealthy family's faces when confronted by a child begging, and anyone who travelled to the theatre on a Tube train plastered with adverts for refugee and homeless charities will see in the fictional little girl's snowy death the image of all too many real, cold and shelter-less children. Pita drives home this point with a contemporary reference at the end, and I bet if UNICEF shook buckets outside the theatre, they'd make a fortune.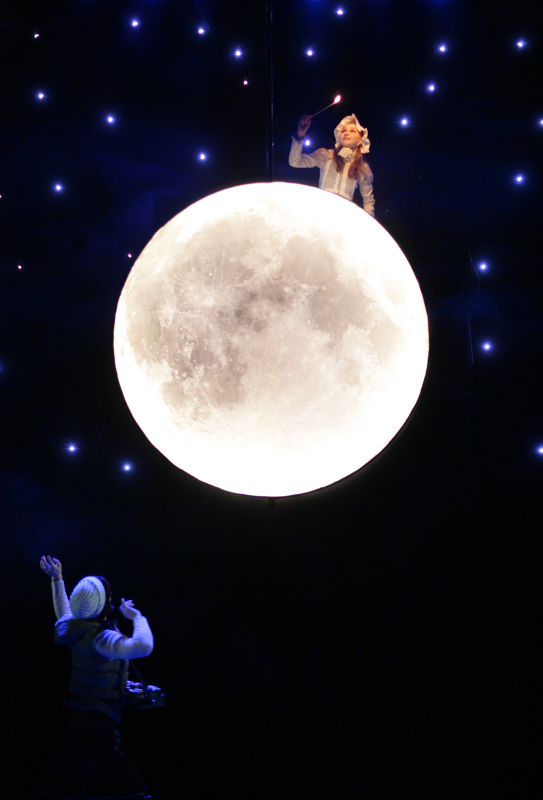 The bucket-shakers would not be met by a sea of sad faces, however – far from it. Rescued from the grave by the spirit of her grandmother, the little match girl spends the last third of the show wearing a glittery mobcap and joyfully dancing on the moon, from whence she can light up the stars with her matches and cheer up other poor children back on earth (pictured right).
Young and old alike will be delighted by the happy ending, and adults will be left admiring the technical accomplishments of all involved. Frank Moon's eclectic score is performed by the composer himself on instruments from lute to theremin, and sung by vocally versatile dancer-actors, among whom Angelo Smimmo stands out for his delightful countertenor performance as the grandmother. Simple props on a mostly-empty stage prove that you don't need loads of glitter or a big budget to make magic.

Simple storytelling done well will enchant anyone, from a five-year-old on her first theatre trip to the Royal Ballet principals and dance glitterati who filled the audience on Tuesday night. Include a tight 70-minute runtime and tickets under £20, and you have a great formula for a Christmas show. On earth or on the moon, this Little Match Girl is a winner.
The Little Match Girl is at the Sadler's Wells Lilian Baylis Studio Theatre until 3 January.
If UNICEF shook buckets outside the theatre, they'd make a fortune
rating
Explore topics
Share this article