Nefés, Tanztheater Wuppertal Pina Bausch, Sadler's Wells |

reviews, news & interviews
Nefés, Tanztheater Wuppertal Pina Bausch, Sadler's Wells
Nefés, Tanztheater Wuppertal Pina Bausch, Sadler's Wells
Bausch makes of Istanbul a production whose jewels don't compensate for the meagre set
Princesses call the shots, while men fetch, carry and manipulate them to fulfil their fantasy
Istanbul, even more than Rome, is the point in the world where tectonic plates of civilisations collide: Europe, Arabia and Asia, Muslim Istanbul and Christian Constantinople, fundamentalists and secularists, 21st-century women and 15th-century men. The smells of hookahs, roses and fish are part of the magic the city has from time immemorial radiated, beckoning traders and dealers, visitors and adventurers, to a place of shifting histories and irresistible mystery.
All of which should make
Nefés
, Pina Bausch's travelogue on Istanbul, one of the more substantial productions of her long series of "World Cities".
First, a cruel disappointment in the set, with expectations roused by the gigantic earthworks, mountains of flowers, vast treetrunks and tumbling rocks in other productions. Here, for the luminous city of Aya Sofia, cavernous cisterns and the Golden Horn, designer Peter Pabst offered an empty black stage with a meagre little pool of water in it. He confessed to Wim Wenders, the maker of the film Pina, that he had felt unable to capture Istanbul - it's a rare failure from him. True, it starts with a sudsy hammam session, and later on we had a glorious water shower, ablaze with light, for a short time, but much more atmosphere comes from the eclectic Eurasian musical assemblage by Matthias Burkert and Andreas Eisenschneider in which Turkish folk, heavy rock and electronica pile Arabic riffs over dark, syncopated beats, and Tom Waits croons "All the World is Green" in a wheezy old-man's voice (see tube at end).
Nefés is, like other "World Cities" productions, a bazaar of impressions and touristy jokes that keeps an eye firmly on its host audience. There's a bazaar scene, a Turkish delight sketch and a hammam. Its view of male-female behaviour tends more to the Mills & Boon (or possibly Turkish equivalent) than I'm quite used to from Bausch. Women are gowned in white and pink, princesses calling the shots, while the men fetch, carry and manipulate them as the sex-goddesses require for their fantasy - that theatrical trope we expect from Bausch, but in the past she'd have got some fairly savage subtext out of it as well.
It's as if the Istanbul culture authorities wanted a recognisable location production from the Bausch factory, and so, rather than do something to surprise and experiment, she obliged her hosts. A trade took place. Being a Bausch, it has episodes of wit and beauty, but being this kind of Bausch the whole doesn't have an authorial embrace around it claiming the material for her own purposes. (This series, from Viktor to ...como el musguito, took her 23 years - have any other major choreographers changed their motifs and devices so little over 23 years?)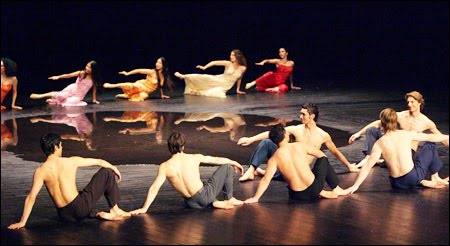 All the same, Nefés is more textured than Ten Chi, or Nur Du either (the Los Angeles one). "Nefés" means "breath", and there's life and sweetness in some of the male-female vignettes. There are also three or four little jewels of choreographed fantasy that ought to be preserved under glass to look at and love forever. A woman bearing water bags on her head apparently climbing a staircase in air, her feet walking in the hands of two men. Another wee creature being treated as a baton one moment and a paper plane another, twirled and launched by a relay of men with impressive dexterity and gravity-defying ingenuity - a child having a whale of a time. An exultant final chain of men shuffling ingeniously along the floor draping their arms over their knees invitingly like Michelangelo's Adam, while the women reciprocate with a line of captivatingly delighted, embarrassed and aroused squirms. (Pictured above left)
If not much of Nefés's choreography or staging feels particularly Turkish it has an intriguing music-hall flexibility to it, bawdy one moment, spooky the next. A funny sequence of a matron turning again and again between doing the washing-up and an exceptionally fast bonk segues faster than you can track into a discomfiting view of men slouching expectantly on chairs while women crawl submissively on all-fours between them. That's more like our Pina.
So is another surreal and arousing scene where the women line up in their pink and white gowns, their long hair entirely shrouding their faces, and the men go up to each and part the hair just enough to find a mouth and kiss it. This is the ambiguous bite, where fantasy comes up against social politics, that harks back to the strength of Viktor, the first in the series, drawing upon Rome 16 years earlier.
The resonant new feature is Bausch's evidently growing focus on younger men, who have some terrific, almost inarticulately thrashing solos where impulses seem to crash against each other and they kick ass against unseen enemies. That part feels personally observed and felt by Bausch, the mother of a son, whose senses were acutely attuned to such things. Young Turkish men must have more irreconcilable pressures than most youths in the world, given Istanbul's overflowing melting-pot of time and traditions. The dancers exhaust themselves - one throws himself into the pond to cool down, panting hard, for it seems Bausch's choreography took him to his limits.
The Pina Bausch World Cities season continues until 9 July

Hear Tom Waits sing 'All the World is Green', as used by Bausch in Nefés
There are three or four little jewels of choreographed fantasy that ought to be preserved under glass to look at and love forever
Share this article